When imagining different ways of staying active and in shape, people often conjure images of barbells, weight plates, and treadmills. However, not everyone can make it to the gym every day or can afford to have a complete home gym set-up. Exercise balls are an affordable and versatile piece of equipment that can cater to a wide set of goals and needs. The holistic involvement of the core, back, and legs makes exercise balls quite popular for use during physical therapy, pregnancy, and even in the office. While they may all look similar, there are subtle but significant differences between some leading brands.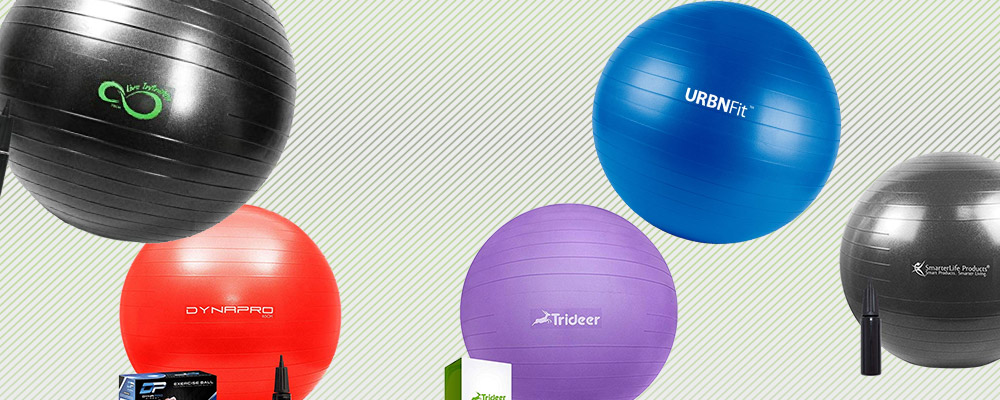 Best for Moms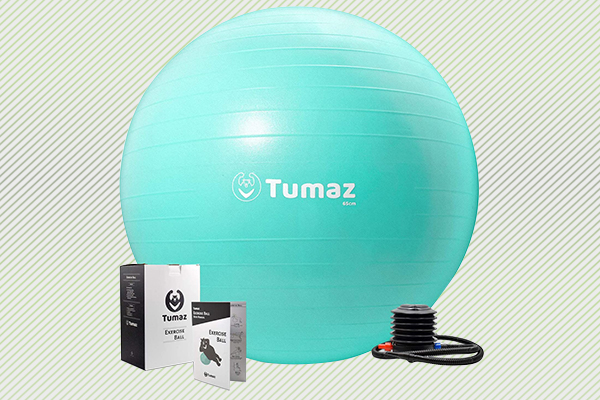 Designed for pre and post pregnancy.
Pros:
The ball includes a "Peri Bottle."
A sturdy ball, this weighs more than the average competitor, even those of a bigger size, as it's designed to improve comfort during labor.
It comes with anti-slip socks (so it's easier to use on hard floors) and a yoga strap to help with flexibility and stability during workouts.
Cons:
The ball's coating may have a pungent smell.
Tube and nozzle can be tedious to fit together.
Best Non-Slip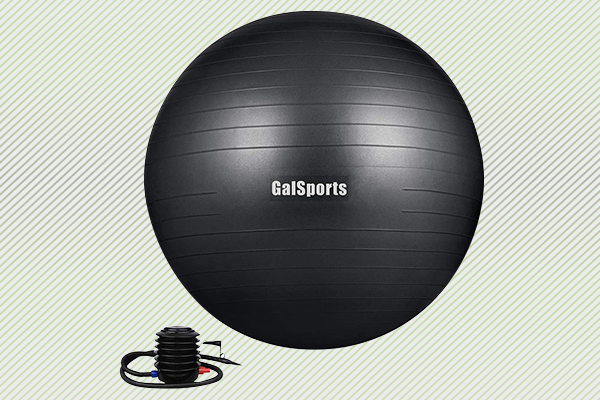 Safety tested.
Pros:
Designed with a honeycomb structure and a frosted, non-slip surface to reduce slipping off during sweaty sit ups.
Able to withstand 2,000 pounds of pressure.
SGS safety certified.
Can be used as a comfortable desk chair replacement.
Cons:
Air pump may be a flimsier than competitive options that also offer pumps.
May have a chemical smell when used in warmer temperatures.
Editor's Choice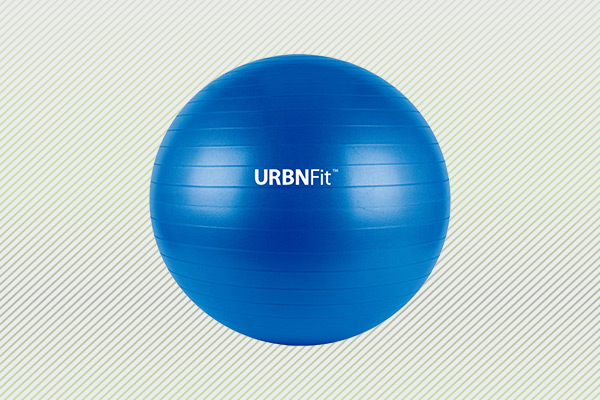 Ten colors, five sizes.
Pros: 
Five sizes that measure 45 cm, 55 cm, 65 cm, 75 cm, and 85 cm. Most competitors either do not make the 45 cm version or the 85 cm version. These are ideal for users who are 4'8" or under or over 6'4".

Vibrant colors. There are ten different color versions of this exercise ball that all share a vivid and rich coloring. The varieties are black, blue, green, orange, pink, purple, red, silver, white, and yellow. Shoppers who are buying multiple balls can color code the exercise balls to their respective sizes for increased organization.

PDF workout guide. This brand provides a handy exercise guide that has details on how to maximize the exercise ball in a variety of different workouts. Some competitors share guides in hardcopy along with purchase, but URBNFit sends a PDF to the buyer so user's have easy mobile access to their workout resources.
Cons: 
Colors don't come in all sizes. The 85 cm exercise ball only comes in black, pink, silver, and white. This shouldn't be a problem if getting a whole set, but users who are only purchasing one might be disappointed that their preferred color doesn't come in the size they need.

Hard to measure size. Users will need to pump up the ball to the recommended size but might have a hard time doing so if they don't have their own ruler or measuring tape. These aren't included with the ball.
The Contender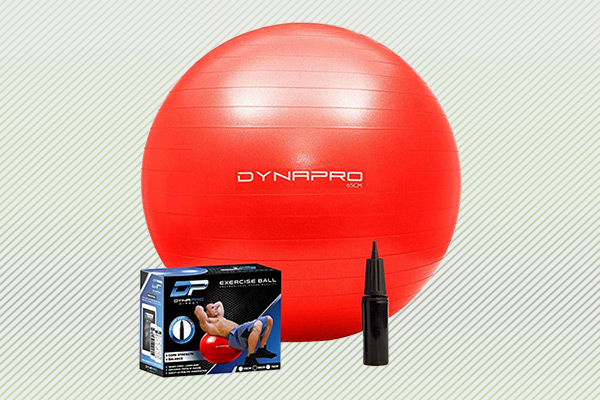 Durable hand pump included.
Pros:
Size guide. This brand has created a handy size guide that can help suggest the proper ball size for all sorts of people. It has a guide for both those who plan on using the ball for exercise and for those who plan on using it as a chair.

Durable hand pump. The pump included with this exercise ball is a simple but sturdy plastic unit that does not employ multiple components in order to function. Some competing exercise balls need to be filled with pumps that are more complicated and require more set-up.

Fitness help. DYNAPRO offers access to work-out guides and videos for their exercise balls (and other equipment). There are also online support groups where people can share exercise tips and interactive fitness challenges.
Cons:
Pump is small. The pump might be a bit too small for the larger exercise balls. Its volume doesn't pump in enough air to quickly fill the largest sizes. It may take a while to fill these.

1,000 pound burst limit. This exercise ball is burst-rated for a 1,000 pound of force limit. Some competitors are rated to 2,000 pounds or more.
Best Bargain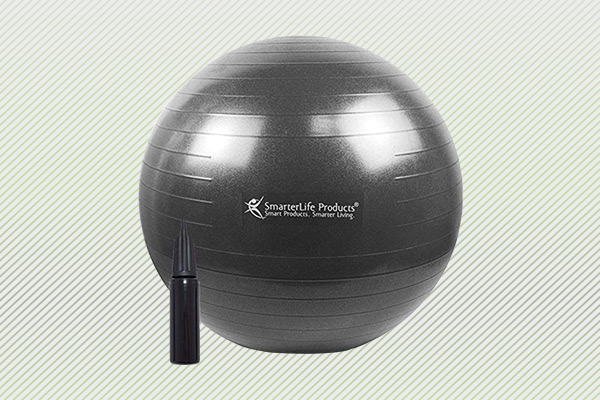 Includes handy measuring tape.
Pros: 
Measuring tape included. A common complaint when purchasers first try to inflate a new exercise ball is that it can be hard to figure out the exact amount of air to pump into the ball and additional applications of a pump may be necessary. This brand provides a measuring tape to help ensure that the ball is pumped to the appropriate amount the first time.

Ebook. Shoppers who purchase this exercise ball from SmarterLife will receive a complimentary ebook in their emails. "The 7 Secrets To Your Ideal Body" is written to inspire people to maximize their own potential and empower them to find a fitness plan that works for them.

Value. For the price, this is one of the best exercise balls available on the market. The face that it is so affordable makes it a great option for those hoping to outfit an entire gym or office.
Cons: 
Coated with PVC. Though not uncommon with exercise balls, this offering is coated in PVC. PVC contain molecules called plasticizers which can degrade some surfaces with extended contact. Users should store their exercise balls in a secure place without leaning them against sensitive surfaces, such as hardwood floors.

Recommended sizes run small. The sizes that the company recommends may end up being too short for some users. It might be wise to consider ordering a size above what they were anticipating needing, especially for those who are expecting to use the exercise ball as a chair.
Best for Heavy Duty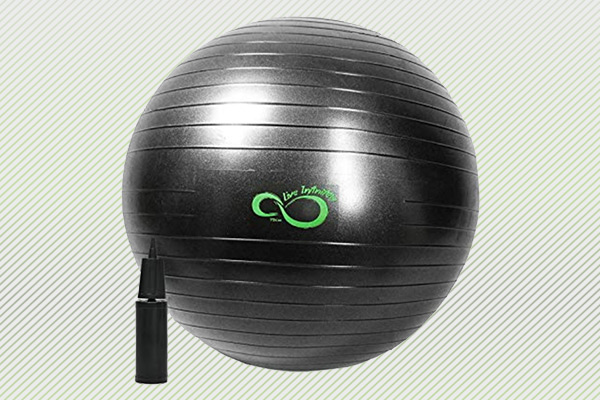 Withstands serious weight.
Pros: 
2,200 pound limit. This exercise ball can withstand up to 2,200 pounds before bursting, about 200 pounds heavier than many competitors. Though users may never breach that number, it is comforting to know that the ball can survive rugged workouts.

Online instructions. While some manufacturers don't include many instructions on how to properly inflate their exercise balls, Live Infinitely has online tutorials. These instruct users on how to inflate the balls properly given the provided tools.

Valve remover tool.

This handy tool helps users remove the valve used to pump air into the exercise ball. Without it, it can be a hassle trying to remove the valves as they tend to get quite affixed into the ball during pumping.
Cons: 
Pump is slippery. It may become frustrating that the pumphas a slick plastic surface and can feel slippery during pumping. Other pumps might be able to do the job easier and more efficiently.

Strong scent. This is not a unique issue only attributed to this specific exercise ball, but there is a distinct scent that is perhaps stemming from the plastic used to manufacture the product. Some may not enjoy the smell and will need to air it out before extended 
Easiest to Pump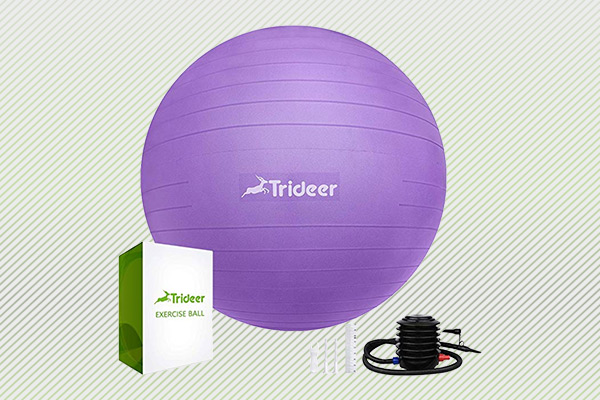 Built thick.
Pros: 
2000 micrometers thick. This ball has a thicker PVC material than many competitors. This increases the anti-burst rating up to 2,200 pounds, allowing more rigorous use.

18 colors. This exercise ball offers more colors than most competitors. Many are pastel and match decor commonly associated with pregnancy and young babies. Colors include: black, dark black, cyan, bright cyan, royal blue, midnight blue, indigo blue, dark blue, fuschia, purple, pink, olive, mint green, green, avocado, red, silver, and turquoise.

Step pump. The pump included with Trideer's exercise ball can be operated with user's feet. This allows the user to be seated while stabilizing the ball with their hands, perhaps being more comfortable for women who are pregnant.
Cons:
Wrinkles. As these exercise balls are folded into a compact form in order to be shipped, they sometimes will still have wrinkle marks after inflating. This is only a cosmetic worry but users may need to get a replacement.

Sizes not labeled on the balls. This will probably only be a concern for those ordering several exercise balls, but the sizes are not marked on the balls themselves. This may make it difficult to keep track of what size each one should be inflated to.
How We Picked
Exercise balls are an affordable and multifaceted piece of workout equipment. Exercise balls can be used to work on any number of muscle groups. They are especially useful in balance training and for the core. Some people are even using them while at the office as desk chairs. Given the wide range of applications, it is understandable that people with different needs may decide on one exercise ball over another. Here are the factors that we used to differentiate the different leading options:
Workout guides
Of all the most popular exercise equipment, exercise balls provide one of the greatest ranges of possible uses. That being said, many first-time exercisers may be a bit confused on how best to utilize their new equipment. Several brands include physical copies of workout guides along with the purchase of an exercise ball. These will guide users through popular routines and uses that should give some new to exercise balls a head start.
Some brands will send you a PDF version, which may be more convenient and is sure to be more durable than a paper copy. There are some companies that go above and beyond by creating an online database of exercises and workout guides. These will unleash countless exercises for different muscle groups.
Size options
Exercise balls typically vary between 45 centimeters and 85 centimeters, though not all manufacturers make the smallest and biggest sizes. This can make a difference however, as those standing 4'8" or shorter and 6'4" and taller will need the smallest or biggest exercise balls available. Not all colors come in every size option, so those looking to find their favorite color may need to shop around to find one that fits their size requirements.
These balls need to be pumped to the appropriate size, as sometimes balls that aren't inflated all the way will fall short of expectations. It is also worth paying attention to the size chart recommendations from the manufacturers themselves. Some will recommend exercise balls that may seem small or big when compared to other company's recommendations.
Pump
Most exercise balls come equipped with a pump in order to fill the ball with the correct amount of air. These pumps usually rely upon a valve going into the ball. The pump is then connected to the valve and the user manually inflates the ball until it is filled to the correct size. Some pumps have multiple components and may be more complicated to manipulate. Many pumps aren't very big and don't fill the balls very quickly.
Pumps included with the exercise balls are usually hand-operated pumps, but can also be pumps that can be utilized by one's feet. These feet pumps may be better for those who would be uncomfortable bending over and pumping for an extended period. Many users may opt for using an electric pump or another means of filling up the ball faster.
Colors
Most exercise balls in the market are colorful and vibrant. This can fill an office or gym with some flare if multiple colors are purchased. Those wanting uniformity can opt to get all their exercise balls in the same color. Sometimes a neutral color like black or silver may be more befitting in an office setting.
Those wanting to color code exercise balls to specific sizes should look for brands that have several colors available. However, not all exercise balls come in every color, so to maintain consistency users should make sure there are enough available in the colors they are assigning to each size.
Tips
Not sure which exercise ball is right for you? Here are some things to consider before making your purchase:
If buying an exercise ball for yourself, it is best to find the correct size. If the exercise ball is too big, it might interfere with the usefulness and safety of certain exercises. It can also bump into the calves of a user while sitting down, making the exercise ball a poor replacement for a chair. If the exercise ball is too small, certain other exercises may not be safe or efficient to perform. An exercise ball that is too small may not work as a desk chair either, unless the desk has customizable height. These pieces of equipment should be filled up all the way to the suggested circumference; otherwise they will not be as useful as intended.

Will you be getting one for yourself or a whole set? Exercise balls are a great way to recover from injury, stay fit without needing a gym membership, or to keep the core engaged while sitting at a desk. These functions can all work in a group setting as well. Exercise balls are relatively easy to clean and store. Users will just need help pumping them full of air if there are lots ordered, as that can take some time. If buying for a gym, studio, or office, it is wise to color code the exercise balls to easily identify the safest and most appropriate one for people of different heights.

Do you need guidance? Several of the leading brands include handy exercise routine guides that can help a novice figure out how to maximize the exercise ball to its fullest potential. These guides can be brief, one-sheet leaflets or PDFS, or they can be immersive online training programs with videos on each type of exercise possible. Those wanting to find out more than is provided by the manufacturer can look elsewhere online and find plenty of other materials.