A hex bar is a hexagon shaped bar with a weight sleeve on each side. It allows the athlete using it to stand inside the hexagon in order to perform deadlifts, shrugs, and more. Some of the benefits of using a hex bar for deadlift training include better perfecting hip-hinging mechanics, less stress on the lower back, and a shorter range of motion due to elevated handles (a good tool for beginners).
For the most part, there is not too much variety in terms of design for hex bars. The most common variance between options are weight capacity, space within the hexagon, and height of the handles. Let's get in a proper stance and find the best hex bar for you.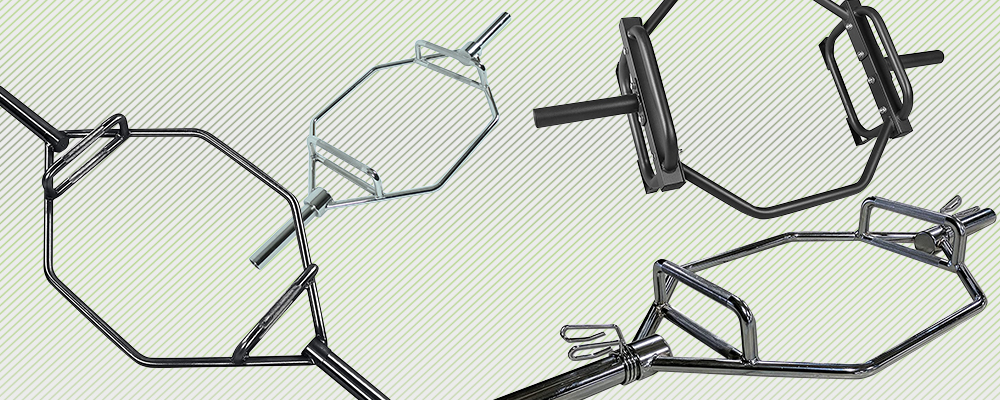 Editor's Pick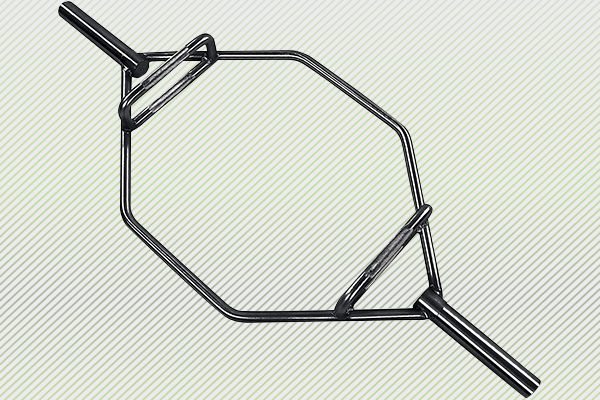 The reliable standard.
Pros:
Knurling on the handles can offer a more secure grip.

Made of solid heavy duty steel (not hollow).

Has both a standard handles (aligned with the weight similar to a barbell) and raised handles.
Cons:
Welding may not always be symmetrical.

Potentially prone to bending when supporting heavier weight.

May not be compatible with bumper plates.
HulkFit Olympic 2-Inch Hex Weight Lifting Trap Bar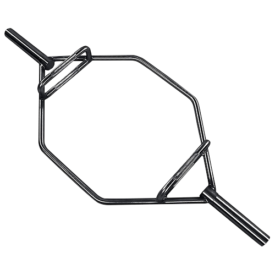 HulkFit Olympic 2-Inch Hex Weight Lifting Trap Bar
This hex bar has a weight capacity of 1000lb, is just over 56 inches in total length, and is offered in two different styles: standard closed and open back. The standard bar weights 45lb with an internal area of 20 inches by 20.65 inches.
Contender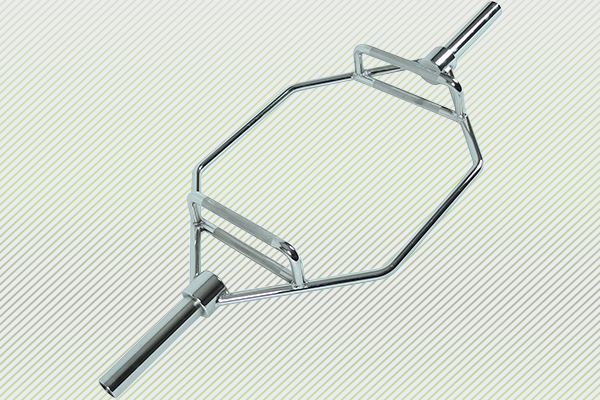 The more spacious choice.
Pros:
Supports a wider center than many competitive options.

May be a more comfortable choice for larger athletes.

Symmetrical welding can offer better balance.
Cons:
750lb weight capacity is less than most comparable options.

Heavier than most of the market at 51.4lb.

A bit more expensive than most options on the market.
Sunny Health & Fitness Olympic Hex Bar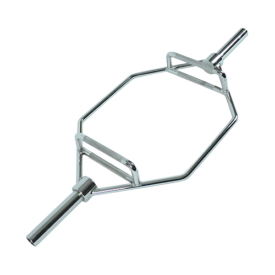 Sunny Health & Fitness Olympic Hex Bar
This bar has a 22.5 inch diameter equipped with two 9.5 inch weight sleeves. It can support up to 750lb. This chrome hex bar is equipped with diamond knurling on both handles which are elevated 6 inches from the floor.
Also Consider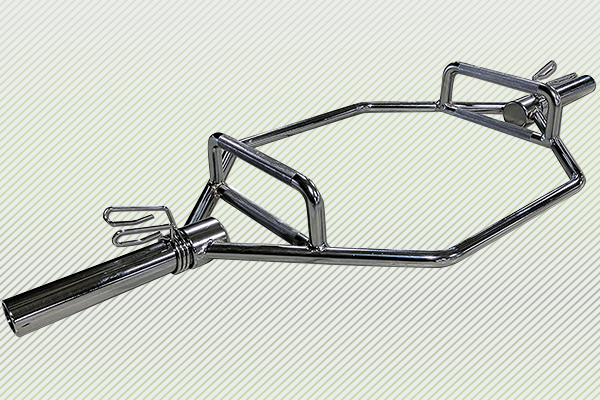 A robust training tool.
Pros:
Utilizes MIG welding to better ensure safe and smooth welds.

Packaging during shipment designed to help prevent any damage in transit.

Includes a pair of metal barbell collars.
Cons:
Thinner handles than several comparable options.

Lighter than a standard Olympic barbell.

On the more expensive end of the market.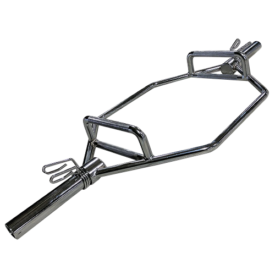 This bar incorporates semi-aggressive knurling on both handles which are designed at ninety degree angles from the weight sleeves. The solid steel bar has a chrome finish and can support Olympic standard weight plates.
Best for Beginners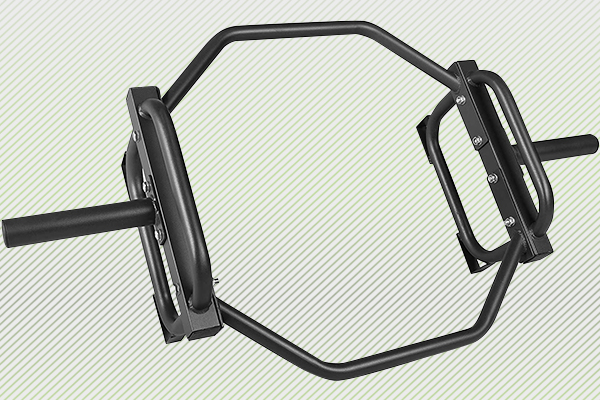 Great for beginners.
Pros:
Shorter length can make it a better fit for smaller home gyms.

Foot supports can help keep the bar balanced during loading and unloading.

On the more affordable end of the market.
Cons:
Lack of knurling on the handles.

Made with a tubular steel rather than solid steel.

Low weight capacity compared to most of the market.
CAP Barbell Olympic Hex Bar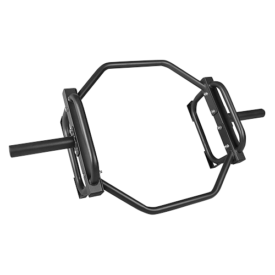 CAP Barbell Olympic Hex Bar
The lightweight bar is 28lb and 50 inches long with a weight capacity of 500lb. It is equipped with neutral grip handles and balance supports to prevent rolling. It is only 51 inches in length with a 29 inch center.
Methodology
Weight Capacity
When it comes to weight capacity there isn't necessarily a particular threshold any hex bar needs to have to be deemed better than another. That will vary from the needs of different athletes. However, there can be a large discrepancy between the amount of weight different hex bars can support — the market ranges from as low as 500lb all the way up to 1000lb.
If you intend to perform heavier deadlifts, it is likely best to keep an eye out for hex bars that are made with solid steel that are not hollow. Hollow bars will naturally be prone to bending more than solid bars.
The opposite may hold true for athletes who don't intend to incorporate heavy deadlifts into their routine. Hex bars with lighter weight capacities are usually hollow and therefore easier to maneuver.
Diameter of the Center
Hex bars diameters can vary anywhere up to 5 inches. Most hex bars will have a center diameter of at least 20 inches. For larger athletes, both in terms of weight and height, it is likely to be more comfortable to lift using a hex bar that has a wider diameter.
When taking into consideration the features of a preferred hex bar, it might be safe practice to compare the center diameter with other potential options being considered to see which has sizing best suited for a given athletes' stature.
Handle Placement and Knurling
The placement and use of knurling on handles is almost entirely subjective to the desires of the athlete but an important consideration nonetheless. If the athlete is more comfortable with handles perpendicular to the weight sleeves, there are many options on the market with that design.
For athletes that would prefer handles angled slightly to offer a potentially more natural grip, there are options available, although fewer than options with handles at 90 degree angles.
Knurling on handles can be helpful for a steadier grip and for athletes that enjoy having knurling, there are options on the market that range from lighter to more aggressive knurling. Likewise, for athletes who prefer knurling absent from the handles, there are hex bars on the market that offer that.
Wrapping Up
Hex bars are a great tool for working the mechanics of your deadlift and can be helpful for those who prefer less stress on their lower back. When looking for the best hex bar to invest in, be mindful of the key hex bar features that would be best suited for you.