A lot has changed over the years, including the quality and variety of protein bars. Long gone are the days when you'd chomp down expecting chalky texture chock-full of artificial flavors and sugars. Now, there are brands serving up delicious bars loaded with muscle-building protein and great flavor. There are protein bars that taste like candy. There are protein bars free of meat products entirely. There are protein bars made of meat.
Whether you're looking to munch on something healthier, fuel a tough workout, or recover from one — there's a bar for you. Check out our list of the best protein bars for muscle gain, taste, low-carb, and vegans below.
Best Protein Bars
Editor's note: The content on BarBend is meant to be informative in nature, but it should not be taken as medical advice. The opinions and articles on this site are not intended for use as diagnosis, prevention, and/or treatment of health problems. It's always a good idea to talk to your doctor before beginning a new fitness, nutritional, and/or supplement routine. Individual needs for vitamins and minerals will vary.
Best Protein Bar Overall
The best protein bar should check many boxes — taste, balanced macronutrients, and minimal sugars, to name a few. We think ONE bar is the best of the bunch.
ONE Protein Bar
These delicious bars pack 20 grams of protein with only one gram of sugar (though they contain six grams of sugar alcohols, which may cause some people stomach discomfort). It's also gluten-free and has three grams of fiber per serving. The macros are eight grams of fat and 22 grams of carbs for a total of 230 calories, making them a filling but low-calorie snack for anyone looking to burn fat.
Best Overall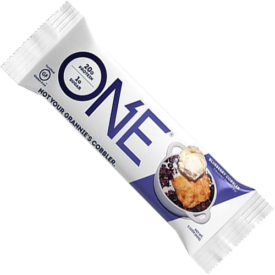 A whey-based protein bar that only has one gram of sugar and a solid macronutrient profile for active individuals.
Who Should Buy ONE Bars
People who want low-sugar bars. ONE only has one gram of sugar (and around six grams of sugar alcohol)
Fantastic taste, which can promote satiety and sweet tooth cravings.
A great macro balance — 20 grams of protein, eight grams of fat, and 22 grams of carbs (based on the chocolate brownie flavor)
Who Shouldn't Buy ONE Protein Bars
Anyone who is bulking up and wants a more caloric bar.
People who absolutely cannot stomach sugar alcohol. There's no a lot per bar, but some people may be overly sensitive.
This great-tasting bar delivers protein with minimal calories and is suitable for a gluten-free diet. It's certainly one of the top picks around.
Best-Tasting Protein Bar
Your protein snack should be enjoyable, so you are actually looking forward to meeting your protein intake. Here's the tastiest bar.
Authentic Bar
Why would someone pick a protein bar over a protein shake when the latter is quicker to consume? Because bars are satiating and often taste better.
Jacked Factory's Authentic Bar really tastes better. It comes in five flavors — Chocolate Chip Cookie Dough, Coconut Cashew, Kitchen Sink, Mint Chocolate Chip, Peanut Butter Candy. Other high notes include the fact that these bars are made with "real" ingredients, are soy-free, and are made without artificial flavors or sugar alcohols.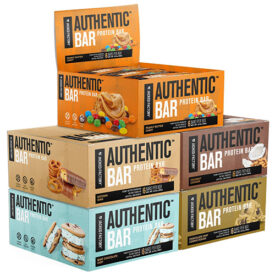 Authentic Bars are made with whey protein isolate, and contain 14g to 17g of protein per bar, depending on the flavor you choose. They are available in five unique flavors and range from 240 to 280 calories each.
Who Should Buy Authentic Bar
People who want delicious-tasting protein bars.
Folks who don't want any artificial flavors and/or sugar alcohols.
People who don't want to or can't eat soy.
Who Shouldn't Buy Authentic Bar
Anyone on a strict cut who may want lower-fat, higher-protein macronutrients.
Anyone allergic to nuts. All of these bars contain some sorry of tree nut.
Flavor meets function to produce these candy-like bars that are also free of artificial flavorings and soy. One potential downside is that these bars offer up between 14 and 16 grams of protein, which some folks may consider lackluster, and between 12 and 13 grams of fat, which is on the high end for some dieters. But on the whole, we think they hit the spot.
Best Crunchy Protein Bar
Texture is a big part of what makes food enjoyable, so we sought out protein bars with a bit of crunch to the bite and landed on Promix.
Promix Puff Bar
If you like the gooey, crunchy texture of a Rice Krispie treat, then you'll want to snag these Promix bars, which offer a familiar mouthfeel but for just 150 calories and 15 grams of protein. Promix also claims that they won't melt in transit, so feel free to toss a box in your bag for your next vacation or road trip. They're also made using premium ingredients like raw cacao and cocoa, grass-fed whey, coconut oil, and tapioca. You can buy four flavors: Snickerdoodle, Vanilla, Mint Chocolate, Chocolate Chips.
Best Crunchy Bar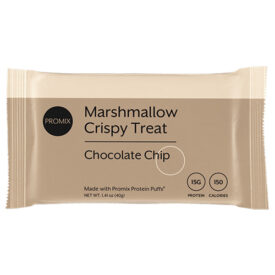 These crunchy bars are reminiscent of a rice crispy treat that's packed with protein and absent all that unwanted sugar. They're a nice change from normal chewy protein bars.
Why Should Buy Promix Puff Bars
Minimal sugar content with only four grams and lower calories than many competitors.
Excellent taste across four available flavors.
They travel well, making them ideal for vacations and road trips.
Who Shouldn't Buy Promix Puff Bars
Anyone who is bulking up and needs a higher-calorie bar.
Folks who don't want a crunchy bar.
Folks who want more than 15 grams of protein per serving.
Satisfy your crunch craving with a Promix bar, which also offers up 15 grams of protein per bar.
Best Protein Bar for Muscle Gain
Muscle gain requires more calories than you're burning per day. So, if you're looking to bulk up, you need a bar that's loaded with carbs, protein, and some fat.
MET-RX 100 Colossal Bars
For anyone looking to cut weight, stay away. These MET-RX BIG 100 Colossal Bars pack over 400 calories, with 30 grams of protein, 45 grams of carbs, and 12 grams of fat (depending on the flavor). Those extra carbs and fat make these a real treat to eat. They also come in awesome flavors, like Crispy Apple Pie, Fruity Cereal Crunch, and Jelly Donut Crunch. MET-RX was also sure to load these bars up with 18 vitamins and minerals since they're meant to be a meal replacement, not just a snack.
Best For Muscle Gain
MET-RX Big 100 Colossal Bars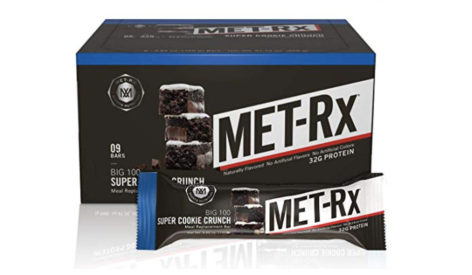 MET-RX Big 100 Colossal Bars
The MET-RX Big 100 Colossal Bar comes packed with over 30 grams of protein and is the perfect pick for anyone in need of calories for muscle gain. 
Who Should Buy MET-RX Big 100 Colossal Bars
Anyone who needs a considerable amount of sugar, which could be useful for glycogen replenishment post-workout.
Tasty and great texture, so they're easy to get down if being in a caloric surplus is the goal.
Folks looking to either bulk up or need a meal on the go. These bars are very high in calories.
Who Shouldn't Buy MET-RX Big 100 Colossal Bars
Anyone who wants to avoid sugar. These have 18 grams or more per bar.
Folks who are trying to lose weight. You can eat more satiating foods (like veggies and chicken breast) for the 400-plus calories these bars provide.
Perfect for when you need a meal on the go or are looking to up your caloric intake, MET-RX bars are loaded with calories, protein, vitamins, and flavor.
Best Low-Carb Protein Bar
Most protein bars (especially the tasty ones) have extra carbs, but that doesn't work for low-carb or keto dieters. These meat-based bars offer up real animal protein with way fewer carbs.
EPIC Bars
There are not too many true low-carb protein bars on the market. Most protein bars will have higher fiber content with minimal carbs, which will be promoted as a lower net carb content. Although, with respect to true carb minimalism, few bars truly accomplish this. At a meager 130 calories per bar, EPIC Bars are the perfect fit for the best low-carb protein bar. You can buy bars made from salmon, lamb, pig, chicken, wild boar, cow, bison, or turkey. They are Whole-30 and Keto approved, are free of GMOs, and pack 10 grams of protein. They're also Paleo-friendly.
Best Low-Carb Bar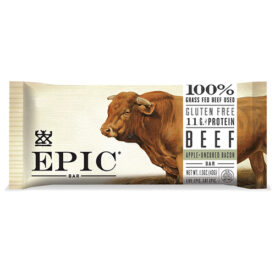 This natural meat-based protein bar is perfect for dieters who want to avoid carbs and lean into fats. 
Who Should Buy EPIC Bars
Any low-carb dieter. These bars only have three grams of carbohydrates.
People who like animal meat. These are made from a variety of different animal meats.
Who Shouldn't Buy EPIC Bars
Vegetarians. This is a meat-based product.
Budget-conscious shoppers. This is a pricier product.
With just three grams of carbs, those who follow a keto diet will be pleased, but so will anyone who wants to get their sugar elsewhere — looking at you strength athletes who love downing tall glasses of orange juice.
Best Vegan Protein Bars
If you follow a vegan diet, you'll want to snag a protein bar that is made from either brown rice, hemp, soy, or another planet-friendly option.
No Cow Protein Bars
These tasty bars come in unique flavors like Lemon Meringue Pie and Raspberry Truffle and are free of dairy and whey. Each bar packs 21 grams of protein, a gram of sugar, 25 grams of carbs, 17 grams of fiber, and just 4.5 grams of fat. No Cow is also gluten-free and free of GMOs.
Best Vegan Bar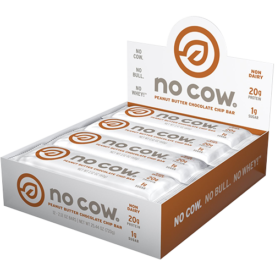 Naturally sweetened and dairy-free, No Cow is surprisingly low in net carbohydrates for a plant-based protein bar.
Who Should Buy No Cow Protein Bars
Plant-based eaters who want a vegan protein bar.
Diet-conscious shoppers. This bar has a great macronutrient profile of 190 calories, 21 grams of protein, 25 grams of carbs, and 4.5 grams of fat.
People who want fiber. This has 17 grams of the stuff per bar.
Who Shouldn't Buy No Cow Protein Bars
Meat-eaters who prefer whey protein or animal protein.
People bulking who want more calories.
These vegan bars are good for plant-based eaters or anyone really who can benefit from a well-balanced macro profile.
Related: Read our list of the Best Vegan Protein Powders
Best Unprocessed Protein Bar
When it came down to which protein bar had a simple ingredient list without anything processed or added sugar tossed in, there was one the rose above the field for its dense texture and strong flavor: RX Bars
RXBars
When it comes to ingredients, you don't get more simple than what RX provides. Their primary ingredients are listed right on the front of the package. Their Chocolate Sea Salt flavor, for example, contains just three egg whites, six almonds, four cashews, and two dates. The fat and carb content is moderate, but at 12 grams, the protein content may be considered a bit low for some athletes. However, the somewhat stick, gooey mouthful, and powerful flavor certainly make for a satisfying snack (but that may also have something to do with the 16 grams of sugar).
Best Unprocessed Bar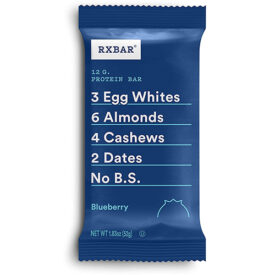 These protein bars try to capture a "natural" and simple approach to deliver bars that are macro-friendly for athletes.
Who Should Buy RXBARs
People who desire a simple ingredient list.
Someone who wants a filling and satisfying snack.
Who Shouldn't Buy RXBARs
Athletes, like bodybuilders, who may need more protein per serving.
How We Picked Our Favorite Protein Bars
The first thing we considered when diving into our favorite protein bars was who we were ranking each section for.
We Need Protein Just Like You
We're recreational strength athletes that are always on the lookout for the optimal snack to power us through workouts, work, and our day-to-day activities. A great protein bar will have macronutrients that promote muscle recovery and satiation while also preferably keeping calories on the lower end.
Another aspect we looked at were ingredients; what was the bar made out of? In reality, finding a completely natural protein bar isn't always incredibly easy, so we considered every bar's ingredients and assessed them with others in their category accordingly. These three major factors helped guide a lot of our top protein bar picks.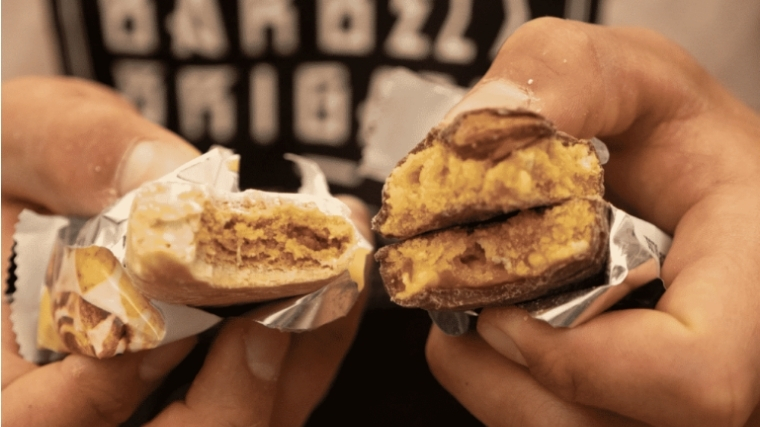 Calories and Macronutrients
There's no denying that protein bars aren't the lowest calorie snacks on the market. Each protein bar will vary in caloric content, but you can expect to get between 150-300 calories for most. This isn't the largest allotment, and we don't necessarily consider more calories as a bad thing, but what we do consider is the context in which the bar is being eaten.
For example, we wouldn't recommend eating a 300 calorie protein bar if your goal is weight loss — save those calories for a meal. We would recommend 300 calories for the athlete in need of a heavier snack for recovery, pre-workout, and muscle/weight gain.
Regarding macronutrients, we like to look for bars that have moderate fat (five to 10 grams) and carbs (20-30 grams) content, and at least 20 grams of protein. Generally, this type of bar will be best for both post-workout or any time of day snack. Consider it the best of all worlds. Higher fat bars are ideal as a snack for folks in need of satiation, while higher carb bars are useful for fueling training.
Ingredients
Ingredients are another factor we considered when reviewing protein bars. It's tough to find the perfect protein bar with all "natural" ingredients because every protein bar will involve some level of processing. What we really considered was how these ingredients impacted how we felt after consuming the bars. Sometimes ingredients like sugar alcohols and added fiber can cause digestion discomfort, so if that's you, then we'd recommend keeping an eye out for these when shopping around.
Each bar that has made our best protein bar round-up has ingredients that vary. We have simpler bars but also slightly more processed protein bars, all making this list. Although very different in their make, they didn't make us feel uncomfortable after eating them.
Finding the Best Protein Bar
Hopefully, this list provided a little more guidance into finding the perfect protein bar for your needs. Once again, the best protein bar will not only taste great, but it should meet your daily dietary needs.
Whether your dietary needs are based on ingredients, macronutrients, or calories, we're confident that there's a protein bar on the market that will match your wants and desires. When consumed mindfully, protein bars can be a great way to pack in extra protein!.
Calculating Your Protein
Protein is the building block of the muscle and is responsible for muscle gain (if you're in a caloric surplus) or muscle retention (if you're in a caloric deficit). Here's how much protein you need depending on your goal:
Minimum protein intake: 1.2 to 1.7 grams per kilogram of body weight, or 0.54 to 0.77 grams per pound.
Average protein intake: 1 gram per pound of bodyweight.
For Fat Loss: 1.1 gram per pound of bodyweight.
You can also use our protein intake calculator to figure out how much you need.
Protein Intake Calculator
Age
Sex
Height
Weight
Goal
Activity Level
Do you know your body fat percentage?
Protein Bar FAQs
What is the best protein bar?
That all depends on your personal goals. But if you want a bar that strikes a balance across a range of wants and needs — from macro splits to taste – we think ONE Bar is the best protein bar on the market.
What makes a great protein bar?
A solid protein bar will have ingredients and macronutrients geared towards assisting performance, satiety, and overall health. The best protein bars will be composed of ingredients that suit an individual's dietary needs best.
Can protein bars be used for weight loss?
It depends! Protein bars can be tools to aid with long-term weight loss in the greater scope of one's diet, but protein bars alone are inherently magic or overly healthy compared to natural, nutrient-dense foods.
Can protein bars replace whole foods?
No. Protein bars can be useful additions to a balanced diet, but they should never replace whole, natural, and nutrient dense foods.
Are protein bars healthy?
Yes and no. Protein bars with a lot of sugar content are not really healthy and there are likely better options for foods to consume. However, if someone is in a bind or traveling and they're an option compared to something like a candy bar, then there's an argument to be made that they are healthier in comparison.