A trap bar, sometimes called a hex bar, is a type of barbell that usually has a hexagon shape with weight sleeves on each side. This type of bar allows the athlete to stand inside the piece of equipment to perform deadlifts, shrugs, and other exercises. Trap bars are beneficial in a few ways, and make a great addition to any home gym. You can use them to practice hip-hinging easier than a straight bar, they typically put less stress on the lower back, and if there are elevated handles that shorten the range of motion, these bars can be beneficial for beginners.
There are many different types of trap bars available with varying designs. Some common variances are the bar's weight, weight capacity, width between the handles, and height of the handles. Many of these differences serve varying purposes, while some are simply personal preferences. Trap bars are useful tools and shouldn't be shrugged off as training devices. We broke down the best trap bars on the market for multiple uses in this list to make it easier for you to choose the best one for you.
Best Trap Bars
Editor's note: The content on BarBend is meant to be informative in nature, but it should not be taken as medical advice. The opinions and articles on this site are not intended to diagnose, prevent, and/or treat health problems. It's always a good idea to talk to your doctor before beginning a new fitness, nutritional, and/or supplement routine. Individual needs for vitamins and minerals will vary.
Best Trap Bar Overall
Selecting the right trap bar can be quite individualized, but there are some things that all the best ones have in common. A solid trap bar has great utility, the handles are ergonomic, the bar is easy to use, and it's made from high-quality materials. The Fore USA Walkthrough Trap Bar hits all those marks and brings some ingenuity, too. That's why it's our pick for best trap bar overall.
Force USA Walkthrough Trap Bar
This trap bar from Force USA is part of a new generation of gym equipment that combines functionality, engineering, and utility to make a great lifting tool. There are a ton of reasons to like this bar, from the open design to the rotating handles. Coming in with an assembled weight of 65 pounds and a weight capacity of 661 pounds, this beefy bar has a loadable sleeve length of 12.8 inches. It does require some assembly, so you can't use it right out of the box, but Force USA estimates the assembly time at about 20 minutes before you can start cranking out the pulls.
The rotating handles allow you to seamlessly transition from higher to lower height on your deadlifts. The open design is great for practicing frame carries if you train strongman or lunges for the more fitness-inclined folks. Force USA included a transition handle on the front of the trap bar, so you can lift it up onto the built-in jacks to load it more easily. The handle also doubles as a place to hold the bar for suitcase carries to train grip and core strength. The engineers made sure to counterbalance the trap bar, so it doesn't feel off balance or tip when lifting either. The Force USA Walkthrough Trap Bar is a fresh take on a staple piece of gym equipment.
Who Should Buy Force USA Walkthrough Trap Bar
Anyone who wants to get a lot of utility out of their trap bar. Sure you can deadlift with this bar, but you can do lunges, frame carries, suitcase carries, and even rows easily with it, as well.
Athletes looking to add a new kind of barbell to their workouts to change up their training.
Those who lift with partners will enjoy the ease of changing the load thanks to the built-in jack.
Who Shouldn't Buy Force USA Walkthrough Trap Bar
Anyone who wants a more lightweight bar may want to look at other options since this is 65 pounds before even adding any plates.
Athletes who like more aggressive knurling may find the Force USA Walkthrough Trap Bar's knurling to be too mild.
Those who prefer the old-school look may not like this more innovative and modern-looking bar.
Force USA put their R&D team to work to make a trap bar for the modern lifter, and they succeeded. The sheer number of different exercises you can do with this bar is greater than many other trap bars due to the transition handle and rotating handles. Having a built-in jack also ups the convenience factor a ton. You likely can't go wrong with this trap bar from Force USA.
Read our full review of the Force USA Walkthrough Trap Bar.
Best Hex Trap Bar with Elevated Handles
Not all pieces of gym equipment are made the same. That holds true for trap bars, as well. Often the handle placement or height can have quite the impact on what muscles are worked more and how the bar functions as a whole. For a trap bar with elevated handles, our pick for the best one is the REP Fitness Trap Bar.
REP Fitness Trap Bar
The REP Fitness Trap Bar may look like your average trap bar, but there's a lot that sets it apart from the rest. Weighing 55 pounds, it's heavier than the average barbell (45 pounds) and lighter than some other trap bars. The loadable sleeve length is a generous 16 inches, so you can load it up even if you're using bumper plates for explosive lifts. Having the dual handle design can help with rehabilitation, or for those who aren't able to get low enough due to flexibility quite yet, allowing you to still get pulling work in without the discomfort or pain that might come with a lower handle height.
The raised handles provide a pick height of 10.6 inches, or six inches for the lower handles. The 25mm handle diameter, which features medium knurling that won't tear your hands to shreds, is smaller than a men's barbell, so this bar is great for women as well. Standing inside of it, the distance from handle to handle measures 28.3 inches, giving even broader athletes ample room to work, which can be a common problem with many trap bars. The REP trap bar has a weight capacity of 500 pounds, and it comes with a five-year warranty against manufacturer defects.
Who Should Buy REP Fitness Trap Bar
Lifters who want access to a trap bar that offers both raised and non-raised handles to offer more versatility in their training.
Anyone who is trying to improve their deadlift form or mechanics can more easily learn to hip hinge with the elevated handles on this bar.
Athletes who want to improve their range of motion in the deadlift gradually can work their way down to the lower handles from the elevated ones.
Who Shouldn't Buy REP Fitness Trap Bar
Big deadlifters might exceed the static capacity of 500 pounds that REP has for this piece of equipment.
Anyone who is looking for an open design trap bar for lunges or other movements may feel confined in this closed design.
Athletes who have larger hands may find the smaller diameter of the handles to be uncomfortable.
REP Fitness kept the look of old-school trap bars, but made a more functional design. The longer-than-average sleeves allow bumper plates to be loaded on for less impact on your floor, and the smaller handle diameter makes this bar great for both men and women. The elevated handles are a good distance taller than the lower handles, measuring 10.6 inches from the ground to help with injury rehab, mobility issues, working on deadlift lockouts, and teaching hip hinge mechanics. If you want a trap bar with elevated handles, look no further than the REP Fitness Trap Bar.
[Related: The Real Pros And Cons Of The Bodybuilding Lifestyle]
Best Hex Trap Bar
Another name for a trap bar is a hex bar, thanks to its hexagonal shape. There have been many changes in trap bar design with technological advances in engineering, and not all trap bars are hex shaped anymore. If you want to stick to the hex shape though, our pick for the best option is the Rogue TB-2 Trap Bar.
Rogue TB-2 Trap Bar
In a complete overhaul of their original TB-1 Trap Bar design, Rogue introduced the TB-2 Trap Bar. The 60-pound TB-2 features a durable hexagonal-shaped frame welded from one-and-a-half-inch square steel tubing with 16 inches of loadable sleeve length. Something to consider with this bar is that you'll have to get specialty collars to clamp on because regular-sized collars will be too big for the SCH 80 pipe sleeves.
As far as the handle width is concerned, there are 25 inches of space separating both sets of knurled upper and lower handles. The handles for the TB-2 are considerably thicker in diameter than many other hex bars measuring about 34mm. This can be helpful to work on grip, but might be a detriment for those who have smaller hands or women looking for a trap bar. Rogue uses their signature black powder coat to finish the TB-2, but wear on the sleeves can develop over time from adding and removing metal plates.
Who Should Buy Rogue TB-2 Trap Bar
Those who want to train grip while also working their deadlift will enjoy the larger handles that work the forearms more here.
Athletes who want a trap bar that isn't as wide as some others will enjoy the 25-inch handle spacing.
People who like to keep their equipment for a long time will appreciate the powder coating that makes this bar more resistant to rust than other bare metal hex bars.
Who Shouldn't Buy Rogue TB-2 Trap Bar
Folks who don't have access to compatible barbell collars, such as Rogue Metal Axle Collars or the OSO Axle Collars.
Those who have smaller hands may not like the larger handle diameter of the TB-2.
Anyone who wants an open-designed trap bar instead of a hex-shaped trap bar may want to look at other picks on this list.
Rogue went back to the drawing board with their revamped version of a hex bar. The TB-2 is a great choice that will last a long time thanks to its rust-resistant powder coat. The sleeves have a generous loading room with 16 inches of space to accommodate thicker bumper plates. Though the handles have a wider diameter than almost any other trap bar, they can be used to train grip at the same time as pulls.
Read our full review of the Rogue TB-2 Trap Bar.
Best Trap Bar for the Money
Trap bars are great pieces of equipment that can elevate your training, but they can get quite pricey — especially those with walkthrough designs. For those who are more budget-conscious, there are some great options out there that are designed well, and won't break the bank. Our pick for the best trap bar for the money is the REP Fitness Trap Bar.
REP Fitness Trap Bar
REP's trap bar is a solid 55-pound hexagonal-shaped bar that offers great versatility and value for the cost. Coming in at around $264.99 before taxes and possible shipping charges, REP's bar has the old-school bare steel look that many lifters like, but with thoughtful improvements. The dual handle design features a lower pair of parallel handles that are six inches from the ground, and a higher pair of handles at 10.6 inches high. Both sets of handles have a 25mm diameter, which is smaller than many other trap bar handles.
If you're just starting out learning how to deadlift or hip hinge, the REP Fitness Trap Bar can help you ball on a budget. This bar has a weight rating of 500 pounds to accommodate most people, but really strong lifters may need to get a trap bar with a higher capacity. Overall, we think this is a solid trap bar option, even without mentioning the friendly price tag.
Who Should Buy REP Fitness Trap Bar
Lifters who want the utility of a trap bar without breaking the bank will appreciate the lower price point of around $264.99.
Anyone who wants knurled handles. The medium knurling on the steel handles can help you grip the trap bar.
People who want an option of both a regular height and elevated handle will appreciate the dual handle design here.
Who Shouldn't Buy REP Fitness Trap Bar
Anyone who wants a painted or coated trap bar to resist rust, specifically in humid environments, may want to look at other options.
Athletes who want an open design for their trap bar to accommodate more movement-based exercises.
People who want a trap bar that weighs less — generally trap bars with more than one set of handles weigh more.
The chrome-colored steel of this trap bar from REP Fitness harkens back to the old-school days of lifting with basic gym equipment. With 16 inches of loadable sleeve space and a 500-pound weight capacity, the REP Fitness Trap Bar is a great bar for the money.
[Related: Hypertrophy Training Sets And Reps]
Best Trap Bar for Multiple Grips
Trap bars have come a long way since they first hit the market. There have been changes in sleeve length, design shape, and materials used. One aspect of a trap bar that has arguably seen the most innovation is the grip. There are now trap bars with rotating handles and multiple grip positions. One of the best on the market and our pick for best trap bar for multiple grips is the Force USA Walkthrough Trap Bar.
Force USA Walkthrough Trap Bar
Force USA designed their Walkthrough Trap Bar with an innovative design to be as versatile as possible. The amount of exercises that you can execute is only limited to your imagination, with options like frame carries, lunges, jump squats, rows, and more. This trap bar includes what Force USA calls a transition handle, which can be used to lift the trap bar up onto its built-in jacks for easy loading and unloading. Another use for the transition handle is to do suitcase carries that train grip, core, and legs all at once. You'll have no trouble carrying your suitcase anymore thanks to this trap bar by Force USA.
Ergonomic, multiple grips are another innovation you'll find on Force USA's trap bar. Low and high rotating lifting handles are featured with medium knurling to help you grip the bar. The engineers at Force USA made these handles rotating, just like the sleeves can rotate for a more comfortable hold.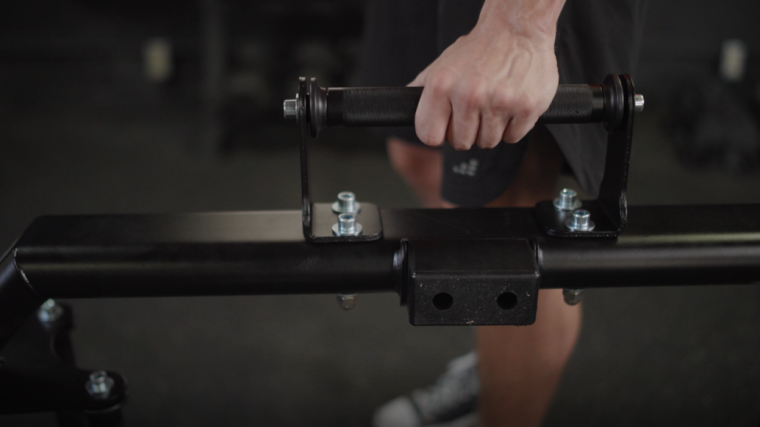 Who Should Buy Force USA Walkthrough Trap Bar
Athletes who want to protect their spine. The more centered distribution of weight compared with a straight bar deadlift produces less shear force on the spine.
Those who appreciate a medium level of knurling to help them grip a bar will like the knurling on this bar.
Folks who are tired of the hassle of loading and unloading plates because a traditional bar jack doesn't work on trap bars will like the built-in bar jack here.
Who Shouldn't Buy Force USA Walkthrough Trap Bar
Those who like a more aggressive knurl on the handles may not like the more passive cut of the knurling on this trap bar.
Lifters who are quite strong deadlifters may need an option with a higher weight capacity. The 660-pound capacity on this bar is fairly high, but still may not be enough for some.
Anyone who is looking for a budget trap bar. Though this bar is competitively priced for its versatility, the may be still too steep for some.
The Force USA Walkthrough trap bar is a highly versatile bar that's a great option for anyone looking to learn proper deadlift technique, or perform a variety of exercises. You can do walking lunges, shrugs, suitcase carries, and even rows thanks to the multiple grips that this bar features.
Best Trap Bar for Knurling
Knurling may be less of a consideration for some on a trap bar than a traditional barbell, but it can still be important. Most trap bars have less aggressively cut knurling, but a more abrasive cut may help improve your grip on the bar. If you're looking for a trap bar with aggressive knurling that feels solid in your hands but won't tear your skin apart, look no further than the Rogue TB-2 Trap Bar.
Rogue TB-2 Trap Bar
The TB-2 from Rogue is a redesign of their original TB-1, in which they added a set of elevated handles, as well as reduced the weight of the bar to 60 pounds. The handles, which feature an aggressive but not abrasive knurl on both sets of parallel handles, are spaced 25 inches apart on center. The TB-2 is like the power bar of trap bars thanks to the rigid construction and more deeply cut knurling on the handles that provide a great grip without feeling too sharp. If you like to train grip while hitting other muscle groups, the handles which measure about 34mm in diameter, will help you do that.
This trap bar is unique in many ways thanks to 16 inches of loadable space on the sleeves and larger diameter handles. It also features a smaller diameter for the sleeves, which are smaller than most Olympic sleeves and require special collars to secure the weights, so be sure you have the right collars to hold the plates in place. One aspect of this bar that isn't as notable as it should be is that it's rackable, so you can shoulder press or bench press with it if you want to use a neutral grip — and it will still feel similar to a barbell in your hand thanks to the deep cut knurling Rogue included on the handles.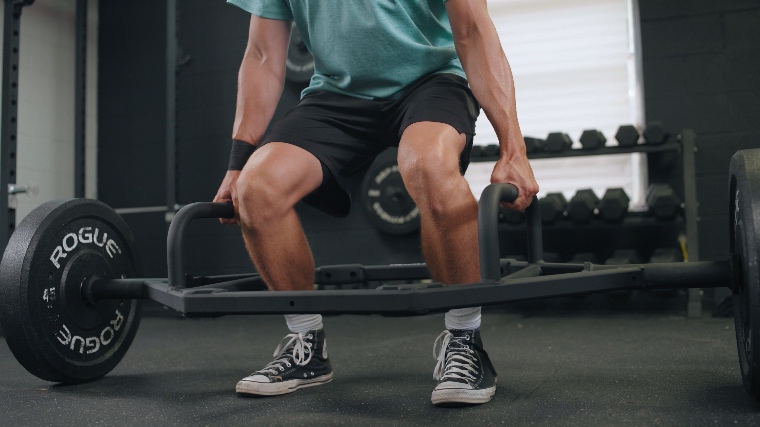 Who Should Buy Rogue TB-2 Trap Bar
Lifters who want a more aggressively cut knurling will like the cut Rogue put on this knurling.
Anyone who has shoulder issues may like the rackable nature of this bar allowing you to bench press or shoulder press with a neutral grip.
Folks who are rehabbing and want to focus on gradually lowering the pick height for their deadlift can make use of the elevated handles.
Who Shouldn't Buy Rogue TB-2 Trap Bar
People who prefer a smaller trap bar as this one is 88.5 inches long from collar to collar.
Lifters who need thinner handles to grip — these handles are 34 millimeters in diameter.
Anyone who is on a budget might want to look at other options on this list. The TB-2 is priced decently at $395, but you'll need to purchase specialty collars too.
Rogue's TB-2 trap bar is a great option for anyone who wants a beefy bar that feels substantial in your hands. The aggressive (for trap bar standards) knurling combined with the bar being rackable make for a unique design that can satisfy most lifters.
Best Trap Bar with Jack
Deadlift jacks come in a variety of shapes and sizes, but they all have one thing in common — they make loading and unloading the bar much easier. Trap bars with an open design have the advantage of being able to tack a bar jack onto the trap bar, improving the value of the piece of equipment. Force USA has done this masterfully, making their Walkthrough Trap Bar our pick for best trap bar with jack.
Force USA Walkthrough Trap Bar
The Force USA Walkthrough trap bar is quite different from the traditional trap bar. It features an open, counterweighted design that allows you to do a variety of different exercises from walking lunges to the more traditional deadlifts. Perhaps the most unique aspect of this bar, however, is the transition handle and built-in jack. The handle allows you to easily stand the bar up on its side to load or unload it, then lower it back down smoothly when done.
The jack portion serves multiple purposes as a counterweight and stabilizes the bar when you stand it up to make putting plates on or taking them off much easier. The lift provided by the built-in jack gives enough clearance to slide your plates on with ease. Dual, fully knurled, and rotating handles allow you to achieve the best grip possible when lifting this bar with a weight capacity of up to 660 pounds.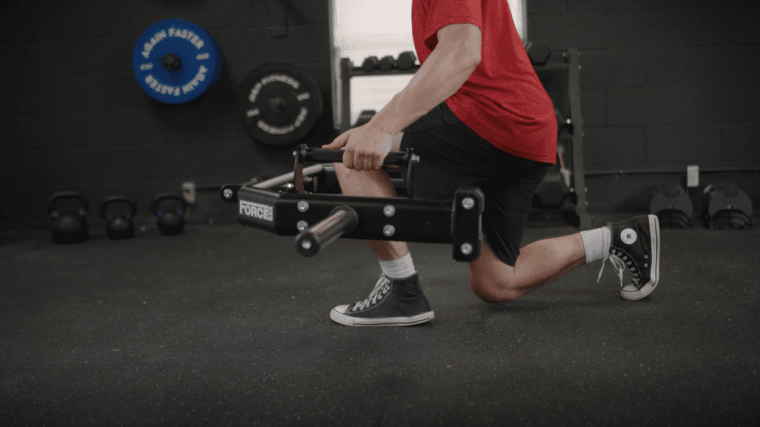 Who Should Buy Force USA Walkthrough Trap Bar
Lifters who want a trap bar that you can more easily load and unload will appreciate the built-in jack.
Anyone who values versatility. This trap bar has five handles in total giving you tons of options to choose from when working out.
Folks who are rehabbing injuries or learning a hit hinge pattern. This trap bar has a higher handle height than some other bars on the market coming in at 10 inches.
Who Shouldn't Buy Force USA Walkthrough Trap Bar
Those who lift with wider bumper plates may find the sleeves to be too short since they're only 12.8 inches long.
Narrower folks or those who have shorter arms may find the 31-inch width between the handles to be a bit far.
Athletes who prefer a more abrasive cut to the knurling of their bars may find this bar's knurl to be too passive.
The built-in jack of the Force USA Walkthrough trap bar may seem like a novelty at first, but its usefulness will quickly become apparent. With a ton of versatility, thanks to the open design and five handles, this trap bar from Force USA brings the total package.
Benefits of Trap Bars
The trap bar can be a very useful tool for athletes of all experience levels, and it's often used when rehabilitating from injury as well thanks to the central opposed to anterior loading. These tools can be used to teach a hip hinge more easily, and people have utilized them for a wide range of exercises — some even come with extra included features and handles to accommodate for this.
Teaches Hip Hinge
Learning how to hinge at the hips for lifting can be difficult if you've never done it before. Trap bars are a great place to start and have been used by strength coaches for years to teach beginner lifters and athletes how to properly perform a loaded hip hinge. The more natural feel of having your arms at your side instead of in front of you makes using a trap bar more accessible than a conventional barbell for teaching purposes.
Centered Load Distribution
When you're standing inside of a trap bar, the load is centered on you instead of being to the front of you as with a normal deadlift. This creates a more mechanically advantageous position for you to lift from and also reduces the stress placed on your lower back, which prevents the weight from tipping you forward.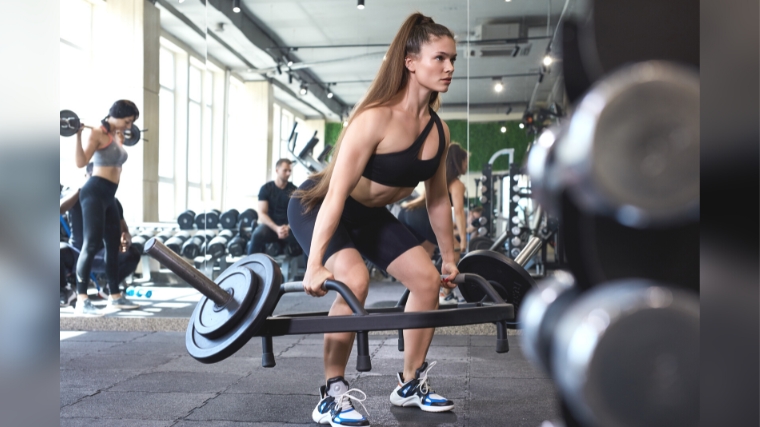 Many people also use trap bars for rehabilitation purposes because of the different load distribution, which is easier on the lower back. Trap bar deadlifts are generally seen as safer to perform because of the centralized load distribution — though we'll leave this one to the experts to determine.
Versatility
Trap bars aren't simply used for deadlifts. They can be utilized to perform lunges, do jump squats, and simulate a frame carry. Some even have a handle built into the front of the barbell to serve as a jack or be used for suitcase deadlifts that challenge the core. Your imagination is the limit to the number of exercises you can perform with a trap bar. One exercise that isn't as widespread but we're big fans of is a trap bar row.