Para Powerlifter Bruno Carra, known by his nickname "Bubu," hails from Salto, Brazil. Born with achondroplasia, also known as dwarfism, the 32-year-old Carra suffered from pain in his knees and hips. Despite the recommendations from his doctor not to, Carra sought training at his local gym to help alleviate his
joint pain
.
Luckily, his training was effective at easing his pain. It even inspired him to branch out further and try his hand at
Brazilian jiu-jitsu
. He noticed that despite his smaller stature compared to others training in the
martial art
, he was stronger than many of his jiu-jitsu partners.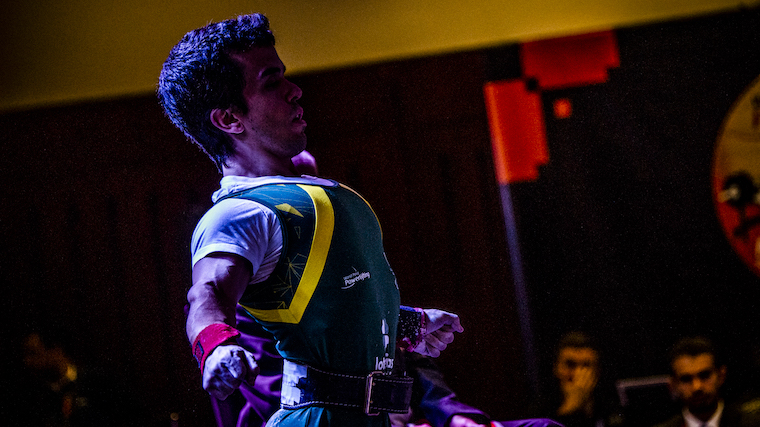 One of those partners recognized his strength and connected him to a powerlifting coach who did not train any Para powerlifters at the time. To Carra's surprise, his coach showed him a lift that he was already doing in the gym as part of his hobby:
bench pressing
. In 2009, he made his International Powerlifting Federation (IPF) debut in the non-disabled category at the age of 21.
In 2010, Carra learned of the existence of World Para Powerlifting through social media. In our interview with Carra, he said:
"It was like love at first sight."
Carra has competed in multiple weight classes since his competitive career began in 2010 including the 65-kilogram class, the 60-kilogram class, the 59-kilogram class, the 56-kilogram class, and the 54-kilogram class, where he currently competes.
His competitive resume includes the following successes:
54-Kilogram Weight Class
2015 Sao Paulo National Powerlifting Competition — First Place
2015 Sao Paulo National Powerlifting Competition — First Place
2016 IPC Powerlifting World Cup, Rio — First Place
2016 IPC Powerlifting World Cup, Kuala Lumpur — Fourth Place
2016 Rio Paralympic Games — Fourth Place
2018 Brazilian National Para Powerlifting Competition — First Place
2019 Para Powerlifting World Cup — Third Place
2019 Parapan Am Games — First Place
2020 Road to Tokyo Para Powerlifting World Cup — Second Place
59-Kilogram Weight Class
2014 IPC PO Hungarian Open Championships — Second Place
2014 PO National Championships, Uberlandia — First Place
2014 IPC Powerlifting World Championships — Eighth Place
2014 PO National Championship, Rio De Janeiro — First Place
2014 IPC PO National Championship, Fortaleza — Second Place
2015 Recife National Powerlifting Competition — First Place
2015 IPC Powerlifting Americas Open Championships — Third Place
2015 Parapan American Games — Second Place
2017 World Para Powerlifting World Cup — First Place
2017 World Para Powerlifting Championships — Seventh Place
2018 World Para Powerlifting European Open Championships — Third Place
2018 Brazilian National Para Powerlifting Competition — First Place
2019 Brazilian National Para Powerlifting Competition — First Place
2019 World Para Powerlifting Championships — Fifth Place
2019 Brazilian National Para Powerlifting Competition Two — First Place
2019 Brazilian National Para Powerlifting Competition Three — First Place
56-Kilogram Weight Class
2011 IPC Second National Stage of Loterias Caixa — First Place
65-Kilogram Weight Class
2013 Sao Paulo Nationals — Second Place
He holds the current IPC Americas record at 54-kilograms — which he has set on five different occasions — with a bench press of 165 kilograms (363.7 pounds). He also holds the IPC Parapan American Games record with a 163-kilogram (359-pound) lift.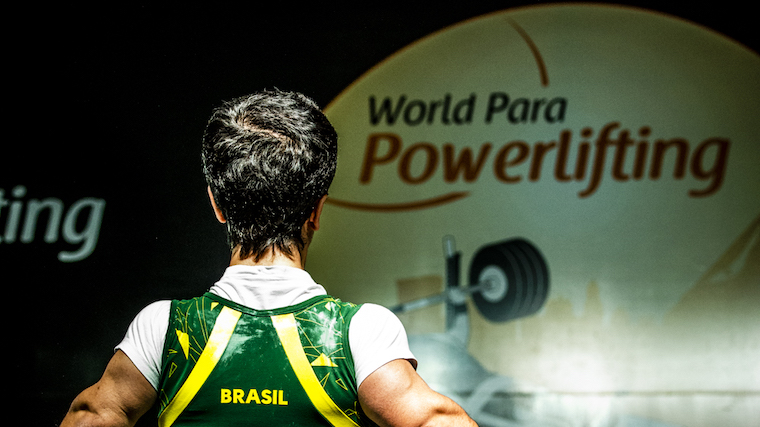 [Related: How Coach Are Feyisetan Trains Nigeria's Para Powerlifting Champions]
Early Challenges
Many of Carra's early obstacles in training came simply from a conventional gym's layout and how equipment is designed without people of his stature in mind. "I [couldn't] reach some [of the] equipment, especially the bench press. When I started to train with my coach, his athletes [had to pass] me the [loaded] bar."
Another challenge that Carra encountered was managing his
sleep schedule
while balancing his training and his day job as a computer engineer. (He holds a computer engineering degree from the University of Sorocaba.) "I passed some years sleeping four to five hours a day and it's not good. My doctor told me to never do powerlifting, but [it] was like a "gas" for me. Here I am stronger than ever."
[Related: Antonio Martin, Untrained 430 Pound Bench Press To Para Powerlifting Superstar]
Training For International Competition
A routine training week varies depending on which event Carra and his coach are prepping for. Each training program and its corresponding workout routines are based on the points they are aiming to improve upon for a given competition. Some of the metrics they consider are injury prevention, recovery time, and bodyweight considerations (depending on the division he is competing in). A "normal" training week in prep will usually consist of nothing less than five days in the gym with each session lasting three to four hours.
Recalibrating Training for COVID-19
The global pandemic leading to the cancelation of many international powerlifting competitions including the delay of the 2020 Paralympic Games to the summer of 2021 altered the training plans for Carra, as it did for most athletes. Carra usually structures his training with a "big plan" and a "small plan."
The big plan involves hitting certain metrics at bigger events such as the WPPO World Championships. The small plan involves ensuring his month-to-month training is setting him up for success in his big plan. The upending on the competitive schedule by the pandemic has led Carra to skew almost entirely towards small plans that focus on ensuring he is still improving his strength without being able to test himself against the best in the world on the competitive stage.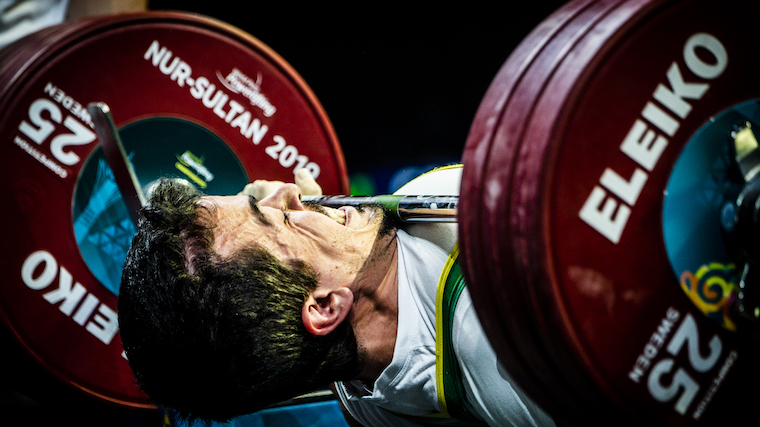 [Related: Multi-Time Paralympian Ali Jawad Talks Training And Anti-Doping Efforts In Paralympic Powerlifting]
Diet
When it comes to what goes into Carra's meals, he enlisted the guidance of nutritionist Rodolfo Peres and sports doctor Felipe Pereira. Carra attributes all of his competitive successes to their work.
I have a clean diet that I love.
Carra not only counts his macronutrients but also his micronutrients and fiber. "[With the] weight categories in our sport, nutrition is the key to [reaching] full potential [in each] bodyweight category."
Some of the foods often included in Carra's diet is a variety of
fruit
, oats,
whey
, and nuts, but he doesn't consider anything a "staple food." He makes sure to keep the contents of his
diet diversified
because he "love[s] to eat almost everything."
He avoids fried foods,
alcohol
, and anything "that can harm [his] body or [his] training." He admits that he splurges with junk food every so often as he loves hamburgers,
ice cream
, and his wife has an affinity for desserts. For the most part, he will save these "bad" foods for special occasions and celebrations.
Moving Weight Classes
Carra is competing currently in the lightest weight class he ever has — 54 kilograms. Right before moving down in weight, he was competing in the 59-kilogram class and the shift was a long process, according to Carra.
"In training, we need be smart. It's necessary to see how your body is responding diet [changes]. When we cut calories our body works differently and it is necessary to be attentive to signals. Training, even though I have a plan, also needs to adapt [accordingly]."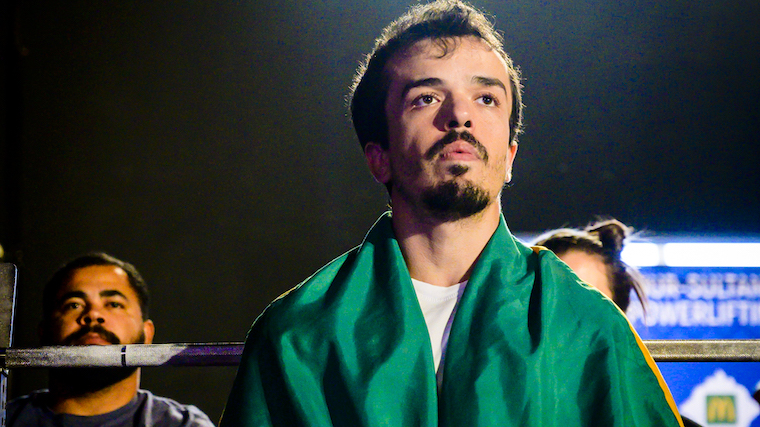 [Related: Para Powerlifter Ahmed Shafik — Army Veteran To Paralympian]
Goals Beyond the Podium
For Carra, the greatest success a Paralympic athlete can have is to "motivate people." He feels that showing the world that he is not defined by his body and his size does not dictate what he can and cannot accomplish.
"We can give hope to disabled people, especially kids. When a disabled kid is born in a family of non-disabled people, they are sometimes treated as a victim that the family/parents need to protect, but not all protection is good…it can lead to [weakness when not facing reality.]"
Carra finds pride in kids with similar disabilities seeing him compete and being successful. "That kid can see that they can do it too and [that gives them] hope for their life. There is no success greater than this."
Editor's Note: This article was published in collaboration with World Para Powerlifting. BarBend is an official media provider for World Para Powerlifting.
Feature image via World Para Powerlifting.