We receive free products and receive commissions through our links. See
disclosures page
.
C4 Pre-Workout is the flagship product from Cellucor, a Texas-based supplement company that's been in the game since 2002. While the company makes a wide range of products — from fat burners to protein powder and BCAAs — C4 is their big ticket item. This pre-workout features 280 percent of your daily intake of vitamin C, 200 percent of B6, and 2,500 percent of B12. While it might not have as much caffeine as some of the heavy hitters out there, the 150mg of caffeine anhydrous found in this formulation can provide the extra boost you need in the gym.
We also can't ignore the 1.6g of beta-alanine, 1g of creatine, and 1g of citrulline, which all have potential links to more power output. This 30-serving pre-workout features an affordable price tag of about $30, but you can save $10 monthly if you subscribe. If you're new to pre-workouts or want a product without a ton of caffeine, Cellucor's C4 might be a perfect fit due to its low caffeine dosage and straightforward approach.
Editor's note: The content on BarBend is meant to be informative in nature, but it should not be taken as medical advice. The opinions and articles on this site are not intended for the diagnosis, prevention, and/or treatment of health problems. It's always a good idea to talk to your doctor before beginning a new fitness, nutritional, and/or supplement routine. Individual needs for vitamins and minerals will vary.
Main Takeaways
The 150mg of caffeine anhydrous can provide that extra spark you need in the gym without making you feel like a jitterbug.
The 1.6g of beta-alanine may lead to an increase in muscular endurance and extra power output.
C4 comes in nine different flavors, meaning there is a solid chance you'll find one you enjoy.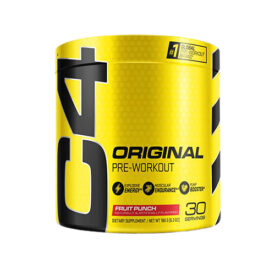 This pre-workout takes a straightforward approach with an eight-ingredient formulation and a low caffeine dosage of 150mg, making it a great option for beginners.
Cellucor C4 Pre-Workout Video Review
Follow along with Nick English as he breaks down everything you need to know about Cellucor C4 Pre-workout.
Cellucor C4 Pre-Workout Highlights
Cellucor's C4 might not have a long list of ingredients like some of its competitors, but don't let that discourage you. The 150mg of caffeine can give you that extra boost when you need it most and is a good starting point for first-time gymgoers, although gym veterans may want a stronger pre-workout. The 1.6mg of beta-alanine is enough to give you a dose of skin tingles, and the 1g of creatine nitrate is a plus for those who don't want to purchase a separate supplement.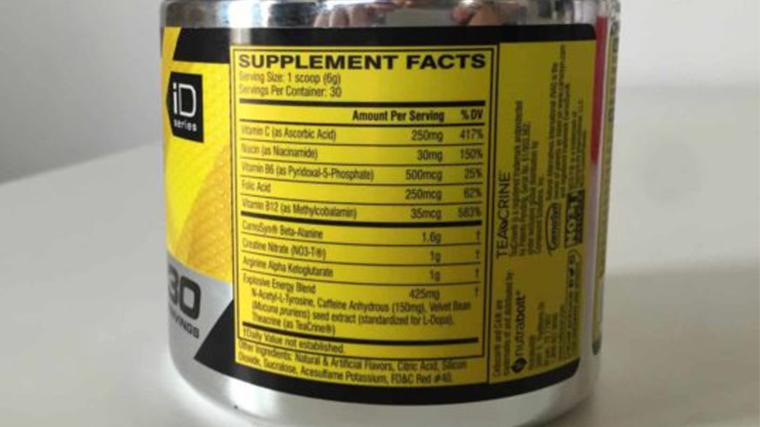 Another prominent ingredient here is the 1g of citrulline malate, which may assist you in increasing lean muscle mass. (1) Cellucor offers C4 in nine flavors: Fruit Punch, Grape, Watermelon, Cherry Limeade, Strawberry Watermelon, Frozen Bombsicle, Icy Blue Razz, Pink Lemonade, and Strawberry Margarita.
Who Should Buy Cellucor C4 Pre-Workout
Folks who don't want their pre-workout to be packed with caffeine will appreciate the relatively low dose of 150mg.
Those on a tight budget will enjoy the budget-friendly price tag of C4 — especially if they subscribe.
Anyone who wants a wide range of flavors to choose from, as this pre-workout comes in nine different options.
Who Shouldn't Buy Cellucor C4 Pre-Workout
Anyone who wants their pre-workout to have more than 150mg of caffeine will want to keep looking.
Those who want to avoid caffeine will want to source a non-stim pre-workout.
Folks looking for potential fat-burning ingredients in the formulation of their pre-workout.
Price and Buying Options
You can purchase one 30-serving tub of C4 for about $30 on the Cellucor website. This is a solid price, as some companies charge double the price for their pre-workout. That said, those more expensive options also consist of a beefier ingredient list. If you want to save the most money possible with this product, opting for the monthly subscription will bring your price down to $20 a tub, or about $0.66 per serving, making it a very budget-friendly option.
Cellucor C4 Pre-Workout Overall
With so many pre-workouts, finding one with the right formulation for your needs can be challenging. While C4 may not have the most robust list of ingredients for some, the straightforward approach here might be ideal for a beginner. Plus, the low dose of caffeine anhydrous can provide extra energy and alertness without giving you a case of the jitters.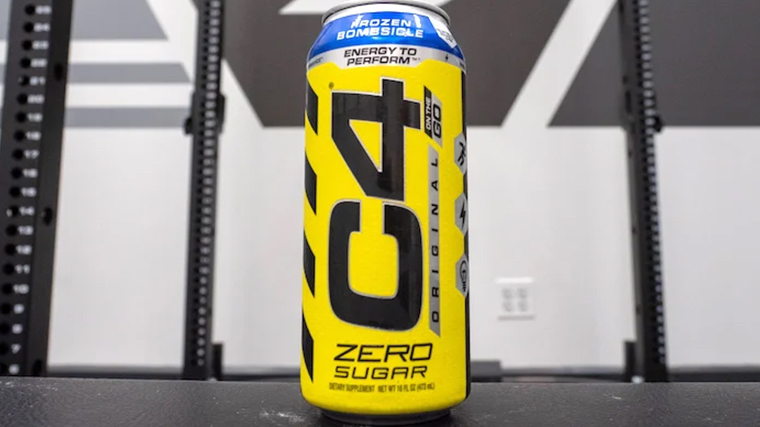 C4 also features three commonly found ingredients in pre-workouts across the market — creatine, beta-alanine, and citrulline. The wide variety of flavors is another nice touch here, as not every company provides nine different options for their products.
Formulation
While some pre-workouts may contain over 20 ingredients, C4 keeps it simple with eight. We wouldn't consider that a negative, though, as they stick to some of the staples in caffeine, citrulline, beta-alanine, creatine, vitamin C, and some B vitamins. Let's break down each ingredient so you understand what to expect from this pre-workout.
Caffeine
One of the main staples of pre-workout is good old-fashioned caffeine. At 150mg per serving, this is a relatively moderate dose compared to other options that feature up to 350mg. The dosage found here is about what you'll get from a small coffee at your local coffee shop. This could be a great place to start for newbies, but others may need to target a more potent option.
Beta-alanine
Beta-alanine is another common ingredient in pre-workouts due to its link to improving overall physical performance. (2) When people often mention their pre is "kicking in," it's due to a tingly sensation known as paresthesia. This is a harmless side effect, and with a low dose of 1.6g, you might not notice it too much.
Creatine Nitrate
Aside from protein powder, creatine may be the most researched supplement out there, and even though you can get it from your diet, it's one of the most popular supps in an avid weight lifters pantry. Creatine has links to improving power output when lifting weights, potentially leading to you becoming stronger and building more muscle. For those who don't know, creatine nitrate is produced by binding creatine to a nitrate rather than a monohydrate — potentially making it more soluble.
While you might assume the 1g falls short of the recommended intake of three to five grams, that's actually not the case. Since creatine nitrate is designed to be absorbed easier than monohydrate, the dosage is dropped to one to three grams daily.
Vitamin C
You'll find 280 percent of your daily value of vitamin C in this pre-workout. For those who don't know, vitamin C is known to assist in growing and repairing your body's tissues, as well as overall immunity support.
Vitamins B6 and B12
Vitamins B6 and 12 are linked to both red blood cell production and supporting a healthy immune system. You'll get 200 percent of the RDI of B6 and 2,500 percent of B12.
Niacin
Niacin is a B vitamin that offers myriad benefits for your body, mainly keeping your skin healthy as well as your nervous and digestive systems. (3) 30mg is twice the recommended daily intake, but you'd have to be taking over 2,000mg a day to experience adverse side effects.
Citrulline Malate
Citrulline is an amino acid that can help with power output and endurance. (4) The one gram per serving found here isn't the most in the world, but it is enough to potentially experience some solid benefits in the gym.
Velvet Bean Seed Extract
C4 contains an undisclosed amount of velvet bean seed extract, which has "shown promise for the treatment of Parkinson's disease, male infertility, and nervous disorders," primarily due to their antioxidant effects. (5)
Theacrine
C4 also contains an undisclosed amount of TeaCrineⓇ (also known as theacrine), a naturally occurring chemical compound with anti-inflammatory and pain-relieving properties. While one study showed it didn't improve muscular strength, power, or endurance, another study found some improvements in time to exhaustion when combined with caffeine. (6) (7)
What To Consider Before Buying Cellucor C4 Pre-Workout
Aside from learning about the potential benefits that the ingredients found in C4 may offer, you should consider a few other factors before biting the bullet and making this purchase.
Price
One 30-serving tub of C4 will cost you around $30, or $1 per serving. This is a fair price, but if you want to lower that cost, subscribing for a monthly restock drops the total to $20, or about $0.66 per serving. This becomes a very affordable pre-workout at that price, as others on the market can be as much as $2 per serving. That said, those more expensive options consist of a more robust formulation, so a little bit of give and take is involved.
Taste
Taste tends to be a significant factor when deciding on any supplement, and that's especially true with pre-workout. Since not everyone wants the same flavor, Cellucor offers C4 in nine different flavors: Fruit Punch, Grape, Watermelon, Cherry Limeade, Strawberry Watermelon, Frozen Bombsicle, Icy Blue Razz, Pink Lemonade, and Strawberry Margarita. With a wide range of options, you're bound to find one that your taste buds approve of.
Dose
The dosage of a pre-workout may actually be the most critical factor during the decision-making process for some, mainly because of how different each person's needs are.
For those who are just entering the world of pre-workouts, the 150mg of caffeine here will likely be an ideal starting point, and the same goes for anyone who is sensitive to caffeine but still wants a little burst of energy. However, those with a strong tolerance for caffeine may find that 150mg is not strong enough and should explore some other pre-workouts. If that's the case, Cellucor also has some stronger options to consider.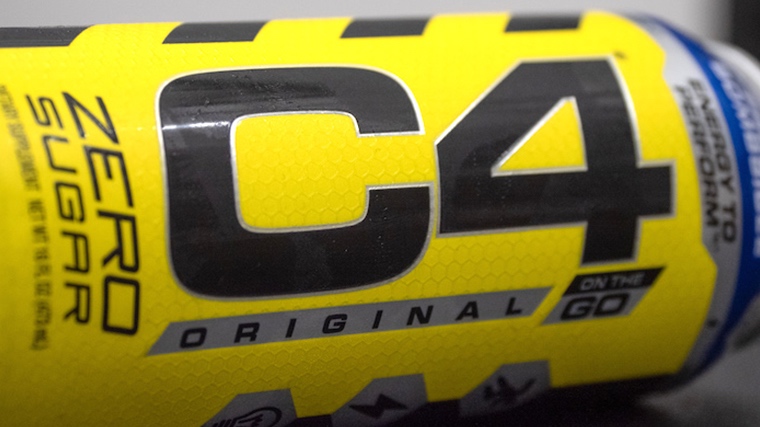 The 1.6g of beta-alanine found in C4 is less than the recommended dosage of two to five grams, so you likely won't have the tingles throughout your body, but it could still improve your performance in the gym. The 1g of creatine nitrate is less than what you'll find in pre-workouts that contain creatine monohydrate, but that's because it's designed to be absorbed easier. This also leads to a lower recommended dosage of 2.5g per day rather than three to five grams of monohydrate.
The 250mg of vitamin C found here is great for immune support and can assist the growing and repairing process of your tissues. There are three different B vitamins found here in the form of B6, B12, and niacin. B vitamins offer many benefits, from helping your body convert food into energy to maintaining healthy skin and brain cells.
Final Word
If you're looking for an affordable and straightforward pre-workout to toss into your gym bag, Cellucor's C4 may be the right fit for you. It features common pre-workout ingredients like citrulline, beta-alanine, and creatine, but the lower dosage of caffeine might be the make-or-break point for some. While 150mg may be enough to give those who are sensitive to caffeine the extra boost they need in the gym, others might need a stronger kick. You could always take more than one scoop, but that will also lead you to spend more money in the long run.
The beta-alanine is also less than the recommended daily intake, but 1.6g might still be enough to experience the positive effects without feeling too tingly. Ultimately, C4 Pre-Workout is an affordable product (especially if you subscribe) that may help you take the next step in your fitness journey.
FAQs
How much does Cellucor C4 pre-workout cost?
One 30-serving tub of C4 will run you around $30, or about $1 per serving. That is a pretty solid price, but if you subscribe for a monthly refill, the price will drop to $20 or about $0.66 per serving.
How much caffeine is in Cellucor C4 pre-workout?
This pre-workout contains 215mg of an "explosive energy blend" with 150mg of caffeine anhydrous, which is similar to a small cup of coffee. This may not be enough for those with a strong tolerance for caffeine, but those new to pre-workouts or who are just sensitive to caffeine might find this the perfect amount.
Does Cellucor C4 pre-workout contain creatine?
Yes, C4 contains 1g of creatine nitrate. This form of creatine is designed to be more soluble, meaning you shouldn't have to take as much compared to creatine monohydrate to experience the benefits.
References
Hwang P, Morales Marroquín FE, Gann J, Andre T, McKinley-Barnard S, Kim C, Morita M, Willoughby DS. Eight weeks of resistance training in conjunction with glutathione and L-Citrulline supplementation increases lean mass and has no adverse effects on blood clinical safety markers in resistance-trained males. J Int Soc Sports Nutr. 2018 Jun 27;15(1):30. doi: 10.1186/s12970-018-0235-x. PMID: 29945625; PMCID: PMC6020314.
Furst T, Massaro A, Miller C, Williams BT, LaMacchia ZM, Horvath PJ. β-Alanine supplementation increased physical performance and improved executive function following endurance exercise in middle aged individuals. J Int Soc Sports Nutr. 2018 Jul 11;15(1):32. doi: 10.1186/s12970-018-0238-7. PMID: 29996843; PMCID: PMC6042354.
Hamoud S, Kaplan M, Meilin E, Hassan A, Torgovicky R, Cohen R, Hayek T. Niacin administration significantly reduces oxidative stress in patients with hypercholesterolemia and low levels of high-density lipoprotein cholesterol. Am J Med Sci. 2013 Mar;345(3):195-9. doi: 10.1097/MAJ.0b013e3182548c28. PMID: 22990043.
Pérez-Guisado J, Jakeman PM. Citrulline malate enhances athletic anaerobic performance and relieves muscle soreness. J Strength Cond Res. 2010 May;24(5):1215-22. doi: 10.1519/JSC.0b013e3181cb28e0. PMID: 20386132.
Stuart, A. (2021) Herbal safety, UTEP. Available at: https://www.utep.edu/herbal-safety/herbal-facts/herbal%20facts%20sheet/velvet-bean.html (Accessed: April 24, 2023).
Cesareo KR, Mason JR, Saracino PG, Morrissey MC, Ormsbee MJ. The effects of a caffeine-like supplement, TeaCrine®, on muscular strength, endurance and power performance in resistance-trained men. J Int Soc Sports Nutr. 2019 Oct 28;16(1):47. doi: 10.1186/s12970-019-0316-5. PMID: 31660991; PMCID: PMC6816173.
Bello ML, Walker AJ, McFadden BA, Sanders DJ, Arent SM. The effects of TeaCrine® and caffeine on endurance and cognitive performance during a simulated match in high-level soccer players. J Int Soc Sports Nutr. 2019 Apr 18;16(1):20. doi: 10.1186/s12970-019-0287-6. PMID: 30999897; PMCID: PMC6472067.
Cellucor C4 Pre Workout
Per Serving: $1.00
Pros
Solid doses of caffeine, creatine nitrate, and beta alanine
May improve blood flow and endurance
Vitamin C may have antioxidant effect
Cons
Contains a proprietary blend
Some ingredients aren't particularly well-supported by scientific evidence
Contains artificial flavors and sweeteners