It's training time, and you're getting ready to crush your leg day workout. You reach for your favorite pre-workout supplement to pop into your shaker, but when you open your tub, something looks or smells a little off. Does pre-workout expire? Yes—and the side effects may be unpleasant, though not necessarily detrimental.
Pre-workout supplements are popular with gym-goers because they can provide a boost of energy to potentially help improve your athletic performance. Like any supplement or product, though, they may have expiration dates and can lose potency if stored incorrectly or kept for too long.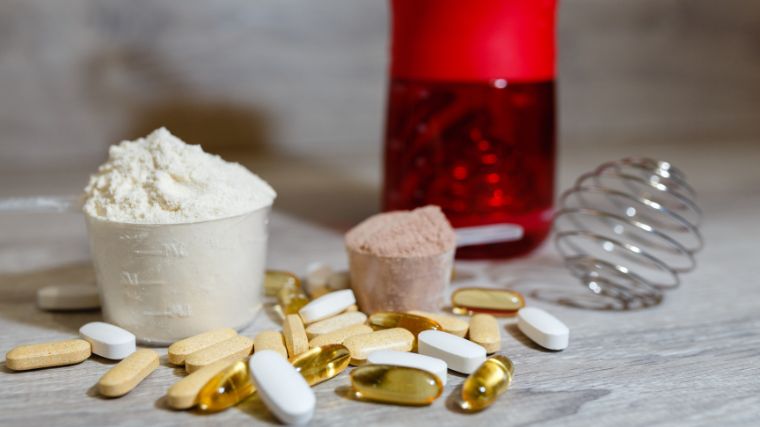 It can be frustrating to have your favorite pre-workout expire, so here's everything you need to know on the topic, including how to tell if it's gone bad, how to properly store it for maximal shelf life, and what may happen if you drink a bad pre-workout.
Editor's Note: The content on BarBend is meant to be informative in nature, but it should not be taken as medical advice. When starting a new training regimen and/or diet, it is always a good idea to consult with a trusted medical professional. We are not a medical resource. The opinions and articles on this site are not intended for use as diagnosis, prevention, and/or treatment of health problems. They are not substitutes for consulting a qualified medical professional.
What Is Pre-Workout?
A pre-workout is a supplement typically made up of a mix of amino acids, caffeine, and vitamins that you can take before training for a motivational boost. Pre-workouts can come in powder, drink, capsule, and gummy form.
Pre-workout supplements are popular among bodybuilders and fitness enthusiasts who take them to help amplify their energy levels, enhance their focus, and increase their blood flow potentially leading to improvements in overall strength performance. (1) If you've been training hard but stalling on progress, pre-workout may even help you break through a training plateau.
Common Ingredients
Pre-workout supplements vary, and different brands create blends of different ingredients. The most common ingredients in multi-ingredient pre-workout supplements (MIPS) were found to be caffeine, creatine, beta-alanine, citrulline, taurine, and tyrosine. (2) Pre-workout supplements also often contain BCAAs, arginine, B vitamins, and other stimulants.
Each of these substances serves a different purported function, and when they are blended together, they may offer exercise-enhancing benefits.
[Read More: Nutrition for Athletes — How to Eat for Muscle and Performance]
Below are some common pre-workout ingredients and how they might boost your training:
Does Pre-Workout Go Bad?
Yes, pre-workout can go bad. Like any ingestible product, pre-workout supplements have a shelf life, and they may lose quality and effectiveness over time.
The U.S. Food and Drug Administration (FDA) does not require supplement companies to list an expiration date, so not all pre-workout supplements will include one. (9) If there is an expiration date, it's helpful to pay attention to the wording.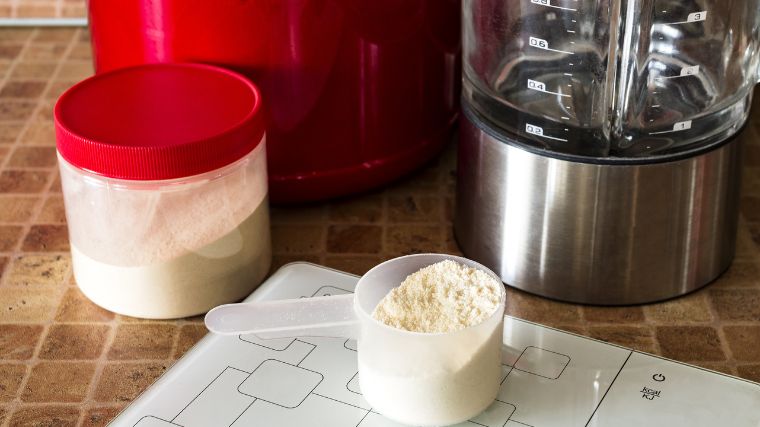 [Read More: 5 At-Home Workouts for Strength, Muscle Growth, Power, and More]
If there is a "use by" date, it may indicate that the product can become biologically spoiled and pose a health threat if ingested after the date. If there's a "best by" date, it indicates that the quality may be diminished, but it's not unsafe to consume. (10)
To minimize confusion, the FDA is encouraging the food industry to use the language "best if used by" on packaged products to indicate that the date is related to quality, not safety. This language suggests that you don't need to discard your product if it's past the date as long as it is stored correctly. (11)
How to Tell if Your Pre-Workout is Bad?
Pre-workout supplements typically last six months to two years, depending on the brand. They can be pricey, so you probably want to be sure it's bad before getting rid of it. Here are a few signs to look for when deciding whether or not to take a scoop.
Check the Expiration Date
If there's an expiration date on your pre-workout, check that out first. Even if you're past the date, if it was "best if used by," it might not necessarily be bad, especially if you've stored it properly or it's unopened. But if it's a pretty old pre-workout and has already been opened, it might not be good anymore.
Check for Mold
A major sign of bad is moldy pre-workout. If you see any mold, chuck it.
Check for Clumps
Is your pre-workout clumpy? If so, it's not necessarily bad, and you may be able to smooth them out. But pre-workout should generally be a fine powder, so clumps can be a potentially bad sign.
Check for Smell and Color Change
If you notice a bad smell when you open your tub, it may be done. Take a look at the powder as well and notice if the color has changed at all. Both can be signs of a good pre-workout gone bad.
Pay Attention to Potency
This one is tough because it's pretty subjective, and there are many reasons that pre-workout may affect you differently. Pre-workout may lose its potency over time, so if you start to notice it's not working as well as it used to, that's a potential sign.
How to Keep Your Pre-Workout From Going Bad
There are a few steps you can take to keep your pre-workout from going bad too quickly. Optimal storage is key to keep out moisture and sun, which can lead to the dreaded mold. Here are a few tips to help your pre-workout last longer.
Store in a Cool Dry Place
Keep your pre-workout in a cool and dry place. Humidity can lead to moisture, which leads to clumps, mold, and a general decrease in quality. Choosing a cool, dry cabinet away from your bathroom, sink, and stove may help.
Keep Out of Direct Sunlight
Direct sunlight on your pre-workout can expose it to heat and humidity. Keeping it in a closed cabinet away from a window can prevent degradation due to too much sun.
Close Tightly
Close your pre-workout tub as tightly as you can. If it's in a tub, screw on the top well. If it came in a package with a vacuum seal, try your best to seal it up in between uses to keep out moisture.
Keep the Silica Packet
Your pre-workout may come with a silica packet—don't get rid of it. It helps absorb moisture and prevents clumping and mold.
Can You Drink Expired Pre-Workout?
You can drink expired pre-workout, especially if it doesn't have any other signs of going bad: mold, clumps, bad smell, or changed color. However, if it's expired and has one or more of these signs? It's probably best to get rid of it.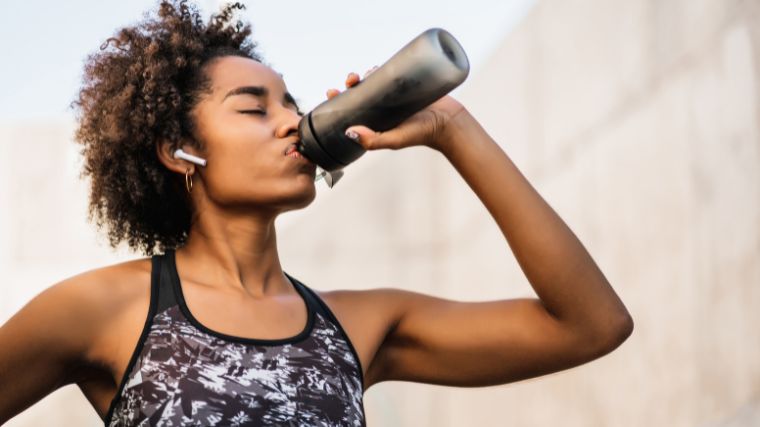 [Read More: What Are Workout Splits and Which Is the Best One?]
Drinking expired pre-workout may intensify some of the side effects — particularly an upset stomach. It may also lose its potency and effectiveness, so you may notice you're not getting the energy boost you used to back when you first bought it.
Wrapping Up
There are plenty of pre-workout supplements to choose from to help you feel energized and focused to crush your workouts. Maybe you go through a phase where you're not using it for a while, and then you go to grab your tub and notice it's past its expiration date. If you take it anyway and later get an upset stomach, it may have been bad.
Next time, open it up and inspect the quality. Look for clumps, mold, bad smells, or changing colors. If it passes all those tests—you should be good to go. To help it last longer and prevent any spoiling, store your pre-workout in a cool, dry place away from direct sunlight. Seal it up tight to keep moisture out. Shake it up and hit the gym.
FAQs
Let's answer some common questions about pre-workout going bad.
Is it OK to take an expired pre-workout?
If the expiration date says "best if used by," the product may still be safe, but the quality may have diminished. If your pre-workout doesn't show any other signs of going bad, including clumps, mold, bad smell, or changed color—it's probably okay.
How long is pre-workout good for?
Different brands of pre-workout have different shelf lives. They're typically good for anywhere from six months to two years. Always check the date and inspect your product for quality.
Can I still use clumpy pre-workout?
If you notice clumps in your pre-workout, but it's not past the expiration date or showing other signs of spoilage, try smoothing out the clumps. It may still be okay to use.
How do you store pre-workout?
Always store your pre-workout in a cool and dry place away from direct sunlight. Keep the silica packet and seal the container as tightly as you can in between uses. These steps will keep moisture and humidity out to prevent spoiling your pre-workout.
References
Martinez N, Campbell B, Franek M, Buchanan L, Colquhoun R. The effect of acute pre-workout supplementation on power and strength performance. J Int Soc Sports Nutr. 2016 Jul 16;13:29. doi: 10.1186/s12970-016-0138-7. PMID: 27429596; PMCID: PMC4947244.
Jagim AR, Harty PS, Camic CL. Common Ingredient Profiles of Multi-Ingredient Pre-Workout Supplements. Nutrients. 2019 Jan 24;11(2):254.
Harty PS, Zabriskie HA, Erickson JL, Molling PE, Kerksick CM, Jagim AR. Multi-ingredient pre-workout supplements, safety implications, and performance outcomes: a brief review. J Int Soc Sports Nutr. 2018 Aug 8;15(1):41.
Gonzalez AM, Townsend JR, Pinzone AG, Hoffman JR. Supplementation with Nitric Oxide Precursors for Strength Performance: A Review of the Current Literature. Nutrients. 2023 Jan 28;15(3):660.
Kreider RB, Kalman DS, Antonio J, Ziegenfuss TN, Wildman R, Collins R, Candow DG, Kleiner SM, Almada AL, Lopez HL. International Society of Sports Nutrition position stand: safety and efficacy of creatine supplementation in exercise, sport, and medicine. J Int Soc Sports Nutr. 2017 Jun 13;14:18.
Hoffman JR, Emerson NS, Stout JR. β-Alanine supplementation. Curr Sports Med Rep. 2012 Jul-Aug;11(4):189-95.
Santos CS, Nascimento FEL. Isolated branched-chain amino acid intake and muscle protein synthesis in humans: a biochemical review. Einstein (Sao Paulo). 2019 Sep 5;17(3):eRB4898.
Tumilty L, Davison G, Beckmann M, Thatcher R. Oral tyrosine supplementation improves exercise capacity in the heat. Eur J Appl Physiol. 2011 Dec;111(12):2941-50.
FDA. Dietary Supplement Labeling Guide: Chapter I. General Dietary Supplement Labeling. U.S. Food & Drug Administration.
Zielińska D, Bilska B, Marciniak-Łukasiak K, Łepecka A, Trząskowska M, Neffe-Skocińska K, Tomaszewska M, Szydłowska A, Kołożyn-Krajewska D. Consumer Understanding of the Date of Minimum Durability of Food in Association with Quality Evaluation of Food Products After Expiration. Int J Environ Res Public Health. 2020 Mar 3;17(5):1632.
FDA. Confused by Date Labels on Packaged Foods? U.S. Food & Drug Administration.
Featured Image: Aleksey Korchemkin / Shutterstock