Consider Sept. 25, 2021, Atlas Stone day. No, it is not because 2021 World's Strongest Man (WSM) champion Tom Stoltman lifted heavier than his 286-kilogram (630.5-pound) world record. Nor is it due to three-time World's Strongest Woman (WSW) Donna Moore surpassing her 171-kilogram (378-pound) world record. It is because Dylan Miraglia — brother of strongman marathoner and endurance athlete Michael Miraglia — loaded a 192-pound stone 194 times in one hour.
After performing his 194th rep, Miraglia's feat of strength and endurance culminated in a total of 37,470.8 pounds. He told BarBend he submitted the evidence of his performance to the Guinness Book of World Records® for verification — a decision is expected to take 12 weeks.
View this post on Instagram
[Related: Josh Silvas, Nicolas Cambi (U105KG) Win 2021 America's Strongest Man Contests]
Most Weight Lifted By Atlas Stone Lifts In One Hour
Heading into this challenge, Miraglia knew the world record for total weight to beat was 13,805.1 kilograms (30,435 pounds) set by Nick Mallory of the UK on Oct. 28, 2011. The record forbids the use of tacky and requires the following movement standards using a four-foot platform:
The athlete must disengage with the stone once it's lifted to the platform — hands must touch your hips between reps.
Any size stone is allowed.
Only one stone may be lifted on and off the platform at a time.
Miraglia's body weight on the day of the challenge was 194 pounds. He stands five feet, 10 inches tall. On the day of the record attempt, Miraglia had a timekeeper and someone to count each rep. The entirety of his attempt was filmed via two GoPro cameras.
Training for the Record
On May 30, 2021, Miraglia walked into GYM N°5 in Boulder, CO, and lifted a 31-pound personal record in the Stone of Steel — 154.7 kilograms (341 pounds). Three months later, he might have etched his name into the Guinness Book of World Records®. When he lifted the Stone of Steel — which is loaded with weight plates rather than made of concrete like a typical Atlas Stone — he did not wear any tacky or cover his forearms with any cloth or material. For his Guinness World Record® attempt, he wore a pair of arm sleeves. He still, however, did not use knee sleeves, elbow sleeves, wrist wraps, or a lifting belt.
To get a sense of just how much weight Miraglia lifted in one hour, it would be equivalent to Tom Stoltman hoisting his world record Atlas Stone 59.4 times or Moore lifting her world record Atlas Stone 99.1 times. Of course, there is a big difference between lifting maximal weight versus lifting for volume, but 18.7 tons is still gigantic. That's just a little over a ton shy of equaling the weight of the train the 2021 WSM competitors pushed in the Train Push event.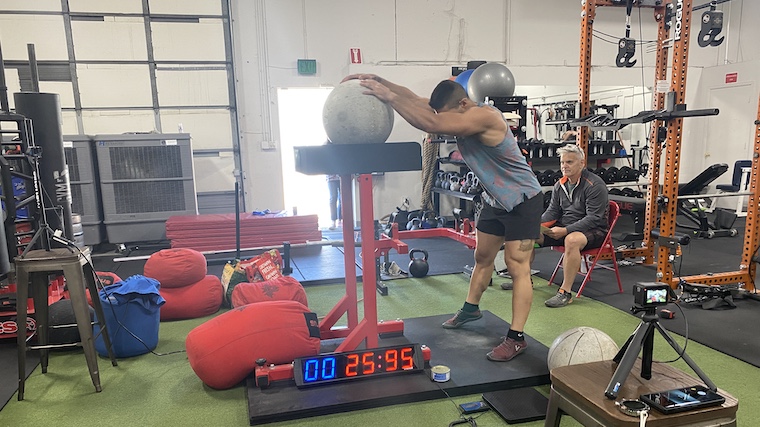 [Related: How to Watch the 2021 Arnold Strongman UK — Roster, Events, and More]
Inspiration for the Atlas Stone World Record
Miraglia's inspiration to attempt this world record arose at his brother, Michael's, fourth of July event. According to Dylan Miraglia, "Every fourth of July my twin brother throws a 150-pound sandbag over shoulder for every year America has been free. So this year it was 245 reps of ground to over shoulder sandbag reps." Dylan Miraglia decided he would join his brother for this feat and decided to train specifically for it three and a half months prior.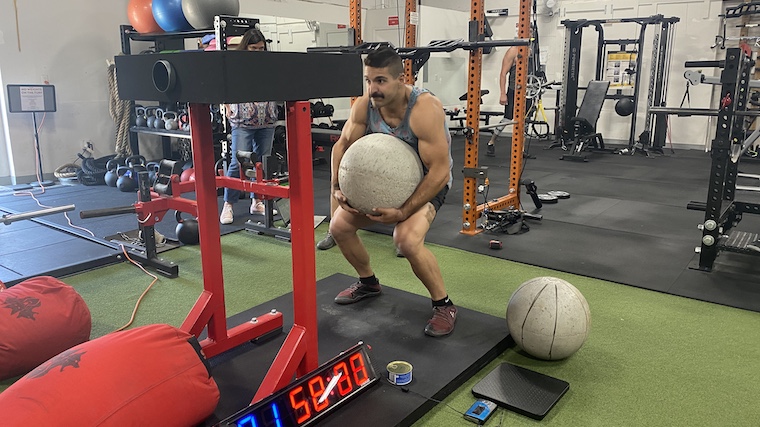 Miraglia's training included Zercher Squats, Jefferson Curls, and a focus on strengthening his spinal support through the use of maximal Atlas Stone lifts. Part of that was his 154.7 kilogram (341-pound) Stone of Steel lift as well as a 174.6-kilogram (385-pound) Atlas Stone. The training paid off as he won the fourth of July sandbag face-off against his brother by completing all 245 reps in 29 minutes and 20 seconds. His natural prowess lifting the Atlas Stone led him to seek out the pound-for-pound Atlas Stone world record.
The 193.2-pound Atlas Stone Miraglia used was less one of choice and more of convenience:
I already owned a 193.2-pound Atlas Stone that I bought from a CrossFit gym, so I used that. I would have liked a 225-pound stone, but tough luck.
In the first 10 minutes of the challenge, Miraglia performed four-rep EMOMs (every minute on the minute). That pace was deemed "a little taxing" and was dropped to three reps instead for the remaining 50 minutes.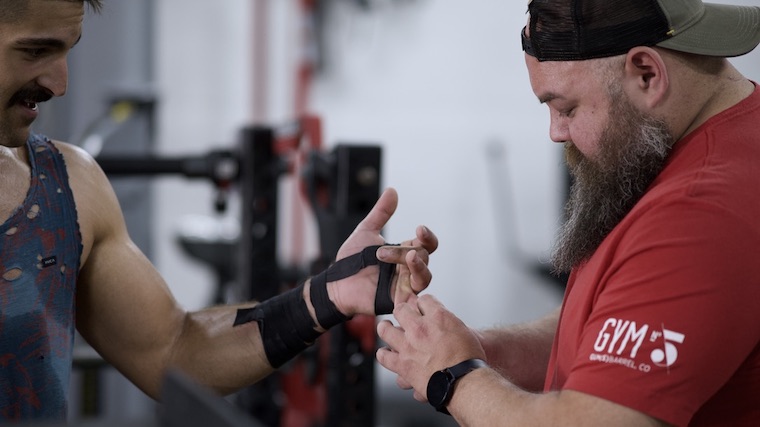 Despite the workload, Miraglia never encountered any issues with his back. The main issue was with his hands:
My skin was ripping more and more each rep. By the 50th minute, it felt like pins were being dug into my fingertips.
We will update this article when Guinness World Records® makes a decision whether to verify Miraglia's attempt or not. Miraglia is already planning his next feat of strength: to create the "heaviest Atlas Stone lifted per bodyweight."
Featured image: @gym5_teamthick on Instagram