We receive free products and receive commissions through our links. See
disclosures page
.
Greens First is a greens supplement by Ceautamed Worldwide, a Florida-based company that is intended to "alkalize" your body and deliver "the phytonutrient and antioxidant benefits of a diet rich in dark greens and brightly colored fruits and vegetables in one, easy-to-use product."
So what does the actual science say about Greens First? Let's find out.
Ingredients
There are 49 different foods that are arranged into seventeen categories, some of which only contain one ingredient. Each category has its weight listed next to it to help give you a rough idea of the dosage.
There's the "greens blend" of barley grass juice powder, chlorella, and spirulina. Next is a vegetable blend of juice powders from carrots, cauliflower, broccoli, spinach, parsley, and kale. Then what's called an "OxiSure™" blend that I believe is another word for an antioxidants, which contains ingredients like green tea extract, powdered berries, and powdered cruciferous vegetables.
Next are separate blends of fiber, non-GMO soy lecithin, digestive enzymes, probiotics, sprouted barley, a resveratrol blend, more green tea extract, quercetin, milk thistle seed, red beet root, cinnamon, aloe leaf powder, turmeric, kelp, and licorice root.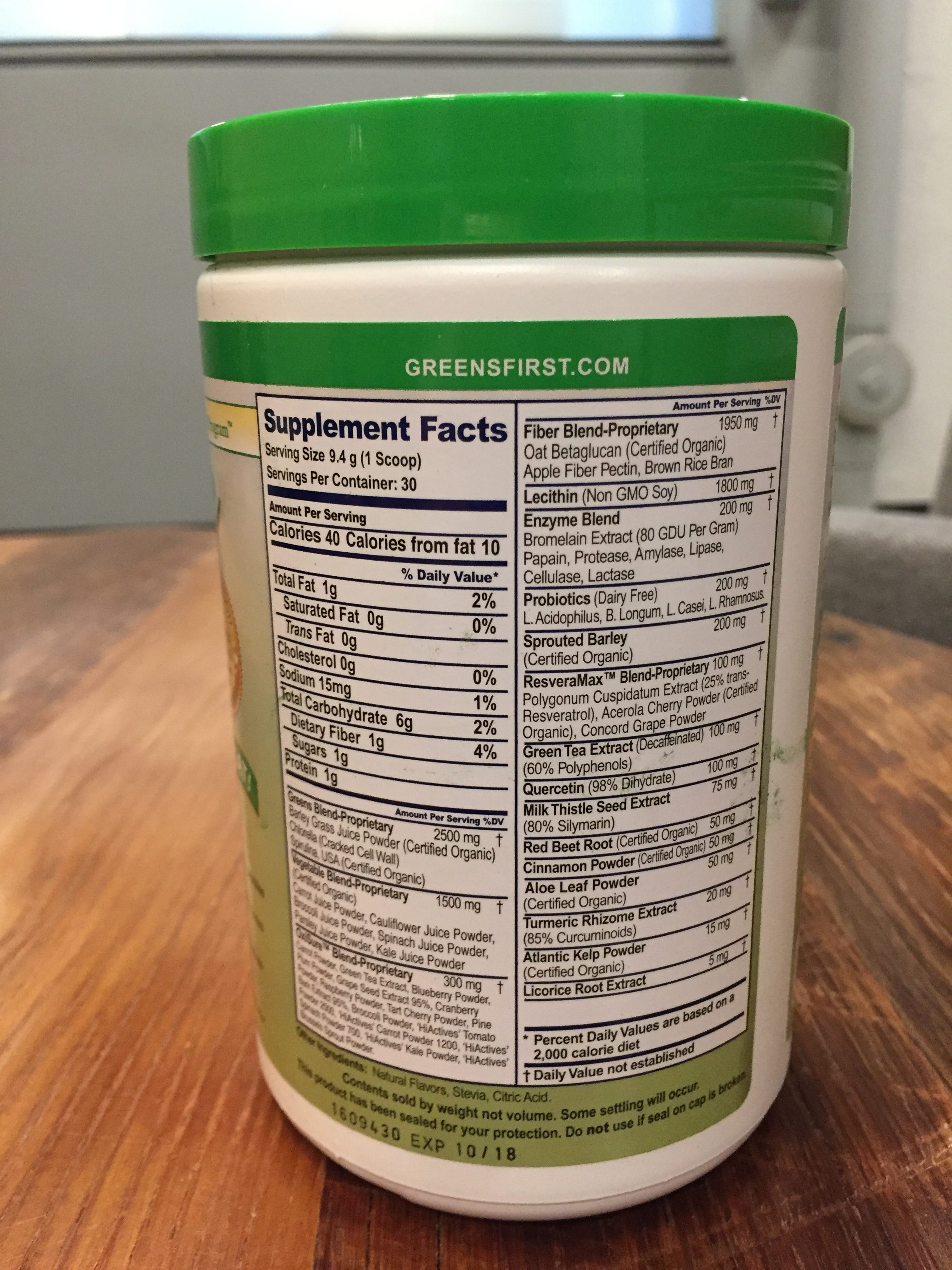 The ingredients are diverse and tick most of the boxes that greens powder aficionados usually look for: the grass juice powders, the algaes, the antioxidants, the digestive enzymes, and the probiotics. Everything is non-GMO, vegan, and free from artificial ingredients, sweeteners and preservatives.
One scoop contains 40 calories, 1 gram of protein, 1 gram of fat, 6 grams of carbohydrates, and 1 gram of fiber.
(We tried 47 brands: check out our best green superfood powder picks!)
Taste
A very refreshing spearmint flavor. I should note that there's a large sticker on the container to advise me that "with each season's harvest, every blend (…) has a uniquely vibrant taste all its own," so it's possible that your Greens First will taste different. The one I received is a pretty pleasant (though not subtle) blast of mint.
Effectiveness
First, the pros: there's just about everything you might want in a greens powder as far as ingredients go: grasses, seaweeds, antioxidants, enzymes, probiotics, and even milk thistle, which has been linked to liver health (and remember that the liver is what actually "detoxifies" the body).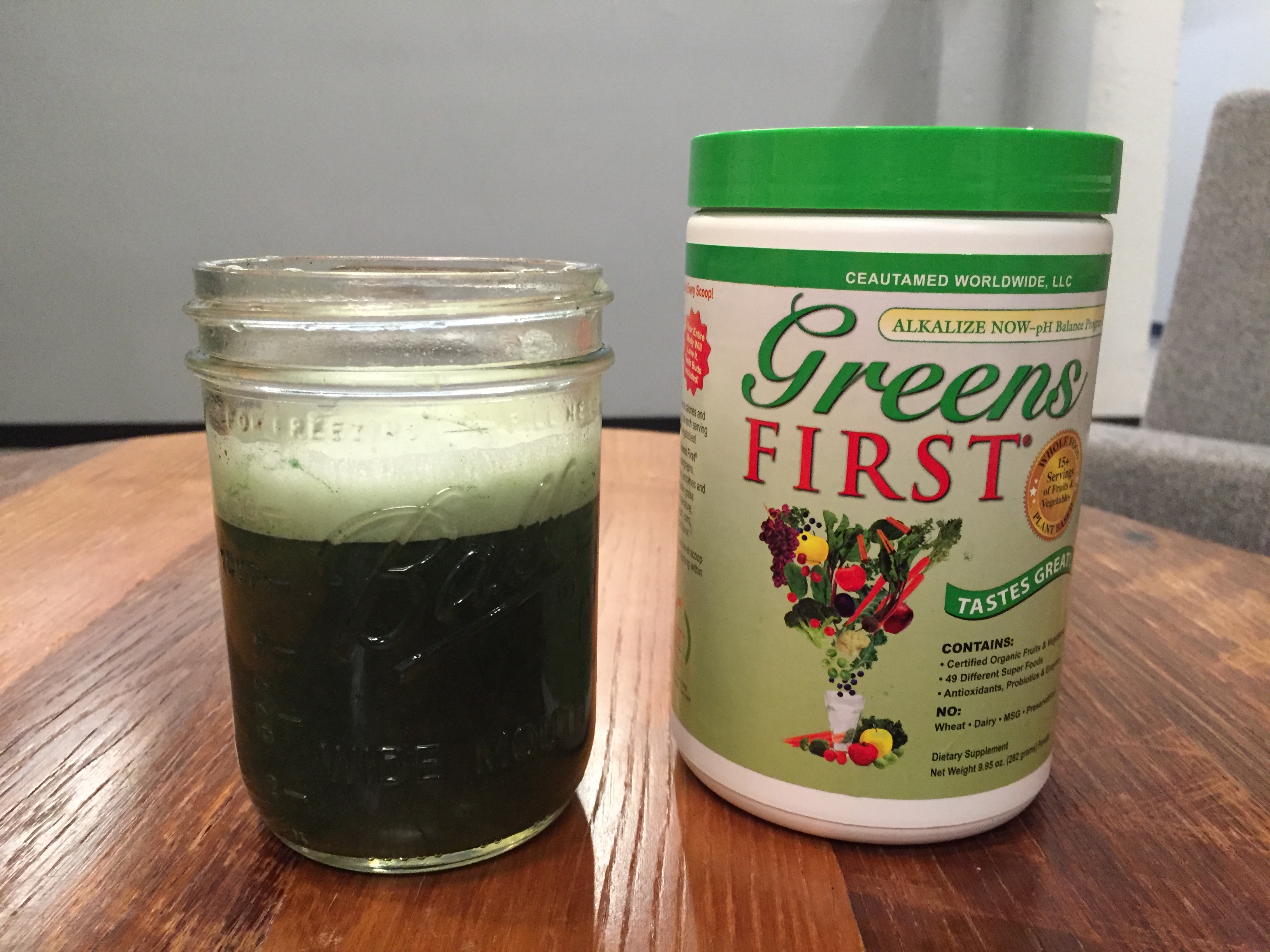 The ingredients list is also pretty descriptive as far as dosage goes. Let's keep using milk thistle as an example: what's nice is that you know that each serving contains 75mg of the stuff. However, the dosage that's most commonly recommended for benefits is at least 100mg three times per day, so you're probably not getting much benefit in that regard.
You do know that it contains 2.5mg total of barley grass juice powder, chlorella, and spirulina, which is probably an effective dose for some benefits to your cholesterol and blood sugar. You do need to do your own homework to figure out the effective dose of whatever ingredient you're most interested in, but at least the packaging is relatively descriptive regarding dosage.
The downside of this product is that it makes some unfounded claims. The biggest problem I saw Greens First is that there is no micronutrient information on the label. That means I don't know whether or not Greens First provides any vitamins or minerals besides sodium. It probably does, but there's no way to know exactly what and how much; all it tells me is the macronutrient content (carbs/protein/fat) and the sodium content (15mg, or 1 percent of your daily intake).
There's also no information about how many antioxidants or probiotics it provides, and those two components being relatively high is usually something you can count on in a greens powder.
This makes the label's claim that it provides "naturally occurring and easily absorbed vitamins, minerals and macronutrients" and "15+ servings of fruits and vegetables" more difficult to justify. Not even the most nutritious greens powders (the ones that do disclose their nutrition info) approach the nutrition of 15 cups of vegetables, and Greens First doesn't even try to support that claim by providing nutrition info.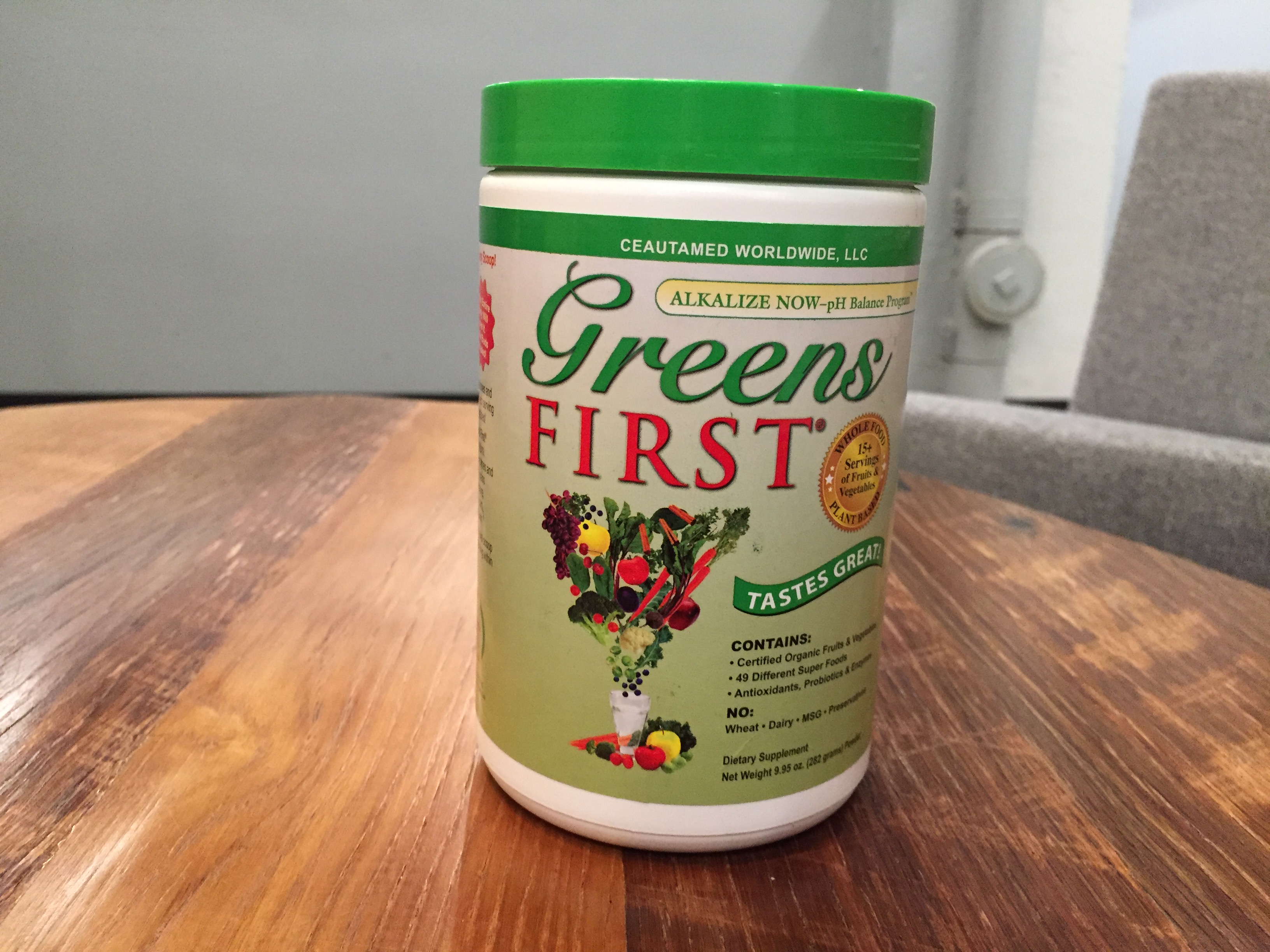 Then there's Greens First's big claim that it helps you "Alkalize Now!" While there's no harm to consuming more alkaline foods (they tend to be fruits and vegetables, after all) there's no real consensus in the scientific community that this is an aspect of your nutrition that you should really be focusing on. Acidic food may make your urine more acidic, but it probably isn't making the rest of your body more acidic and in any case, different parts of your body vary in how alkaline or acidic they are. There's not really a set point, and your blood only falls out of its slightly alkaline state if you're in certain disease states.
It's not like there's absolutely no point to consuming more alkaline foods. Studies show there may be some benefit in reducing morbidity, but a lot more research needs to be done — alkalinity is certainly nowhere near as important as vitamins and minerals, an area in which Greens First falls flat.
Price
It's $37 for thirty servings, or $1.23 per serving. That's not very cheap, particularly given how little I know about the vitamin and mineral content — there's no way for me to tell if it's a smart financial decision because it combines the benefits of other supplements, for example.
Compare that with Athletic Greens ($4.23 per serving), Onnit's Earth Grown Nutrients ($2.30/serving), Patriot Power Greens ($1.96/serving) AI Sports Nutrition Red & Greens XT ($1.33/serving), Green Vibrance ($1.08/serving), ORAC-Energy Greens ($1/serving), PharmaFreak Greens Freak ($1/serving), All Day Energy Greens ($0.96/serving), Sun Warrior's Supergreens ($0.55/serving), and Amazing Grass's Green Superfood ($0.52/serving).
The Takeaway
Given the ingredients label, this greens powder contains practically everything you might buy a greens powder for, if ingredients are what's most important to you.
Given the lack of a nutrition label, you can't know if the ingredients are providing any benefit. I wouldn't recommend a health supplement that provides so little information about its nutrition.