On the very last day of the International Weightlifting Federation's Youth World Championships, a young woman who is based in San Francisco won a bronze medal for the United States.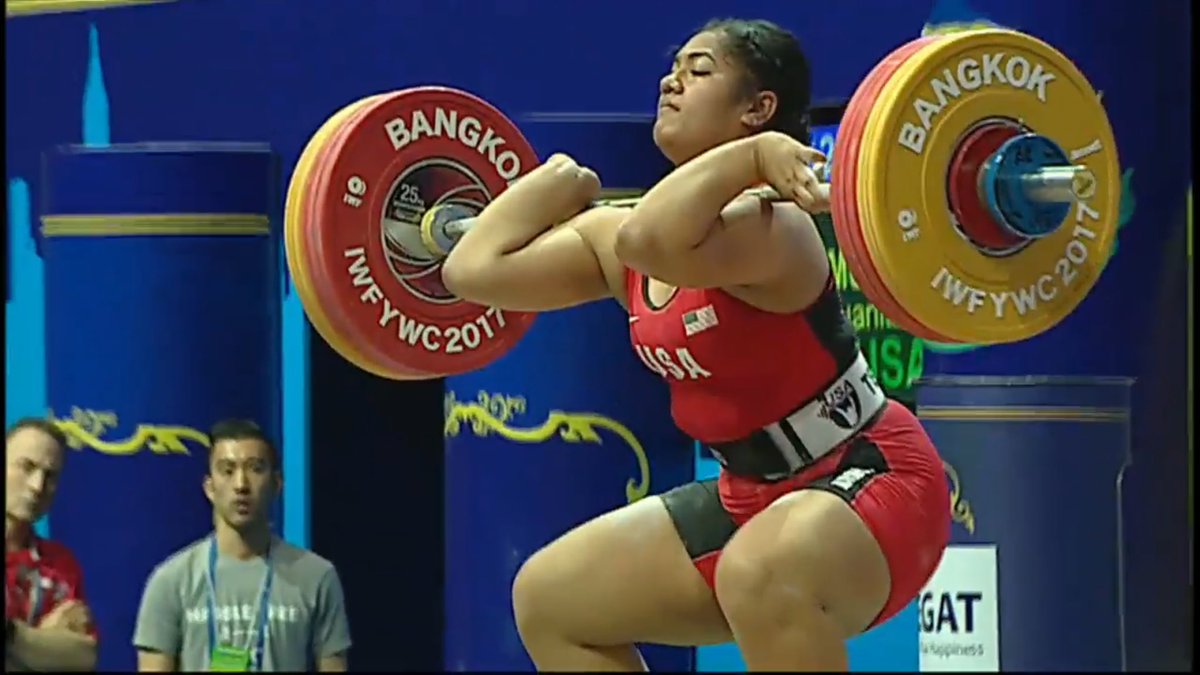 Lifting in the +75 kilogram class and weighing in at 97.8 kilograms (215.6 pounds), Kuinini Manumua delivered personal records across the board: a snatch of 93 kilograms (205 pounds), a clean & jerk of 117 kilograms (258 pounds), and a total of 210 kilograms (463 pounds).
Manumua trains out of Hassle Free Barbell Club in San Francisco, California, and is of Tongan descent. She posts infrequently on social media, but her latest Instagram post was a PR three months ago of a 115 kilogram (253 pound) clean, a record she went on to break in Bangkok.
https://www.instagram.com/p/BPvnHYmD7hj
In February, Manumua attended the USA Weightlifting's National Junior Championships in Kansas City, Missouri, where she weighed in a little lighter at 95.4 kilograms and snatched 87 kilograms (191.8 pounds) and clean & jerked 112 kilograms (246.9 pounds) for a total of 199 kilograms (438.7 pounds), earning he fourth place overall. You can watch her snatch below, courtesy of the Hassle Free Barbell Club's Facebook page.
"I think this girl is probably the most talented weightlifter in the United States," says Kevin Doherty, who trains Manumua at Hassle Free Barbell Club. "She just hasn't been lifting as long as the other medalists. CJ and Harrison are awesome, but they've been lifting since they were 11. Kuinini only started two years ago. On the women's side, we have a bunch of very talented young women, but we don't have women who are that big and move that well at that young an age, which is a huge advantage in terms of when you get to the World Championships."
As the 2017 Youth World Championships draws to a close, we've seen a lot of stellar performances from the world's best young weightlifters. The most notable were CJ Cummings (69kg) and Harrison Maurus (77kg), both Americans who came first in their weight classes and set new world records while they were at it.
The United States now holds three youth world records: CJ Cummings' 185kg (407.8 pound) clean & jerk, Harrison Maurus' 192kg (423.3 pound) clean & jerk — both set in Bangkok — and Cheryl Haworth's Youth World Record 125kg snatch, which was set at the 2000 Olympic Games in Sydney.
"It was an unbelievable day," USA Weightlifting Assistant Director of National Teams Mike Gattone said after Maurus won his category. "Harrison came in and was off the charts. After watching the American Flag raised and the Star Spangled Banner played two nights in a row, I told our team we have to believe we all have what it takes to be World Champions. It was an emotional way to end the day."
Congratulations to Cummings, Maurus, Manumua, and every competitor who took part in the contest.
Featured image via @limaaxoxo on Twitter.