Want to gain mass but you're weirded out by artificial ingredients? This might be the product for you.
Legion is an solid supplement company for a few reasons, one of the most notable is that they have completely transparent labeling — there are no proprietary blends here. They're also committed to avoiding artificial ingredients and they're great at providing science-backed sources for the claims they make about their products so that consumers can feel more comfortable with the products they consume.
We've tried many of their products including their fat burner, pre workout, whey protein, and creatine, which we named as the market's best creatine supplement.
Their mass gainer is something else:  it not only contains 18 micronutrients and no artificial ingredients, but it's whole food based and has a big dose of probiotic bacteria and digestive enzymes. Let's take a look.
Get discount!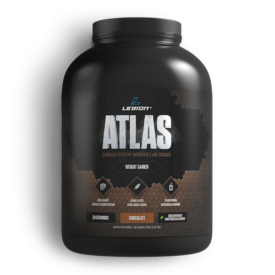 Free of artificial ingredients and packed with micronutrients, Legion's mass gainer stands out from the crowd. Use the code BARBEND10 to save 10%!
Legion Atlas Nutrition
Two scoops is 118.36 grams and will provide the following calories and macronutrients:
Calories: 370
Protein: 38g
Carbs: 51g (2g fiber)
Fat: 6g (3g saturated)
But there's also a suite of 18 vitamins and minerals in here as well.
Vitamin D: 50% RDI
Vitamin K1: 50% RDI
Thiamine: 100% RDI
Riboflavin: 100% RDI
Vitamin B6: 100% RDI
Folate: 30% RDI
Vitamin B12: 1208% RDI
Pantothenic Acid: 100% RDI
Calcium: 48% RDI
Iron: 10% RDI
Iodine: 25% RDI
Magnesium: 24% RDI
Zinc: 25% RDI
Selenium: 50% RDI
Copper: 25% RDI
Manganese: 28% RDI
Sodium: 13% RDI
Potassium: 9% RDI
[See where Atlas landed in our list of the 7 best mass gainers on the market!]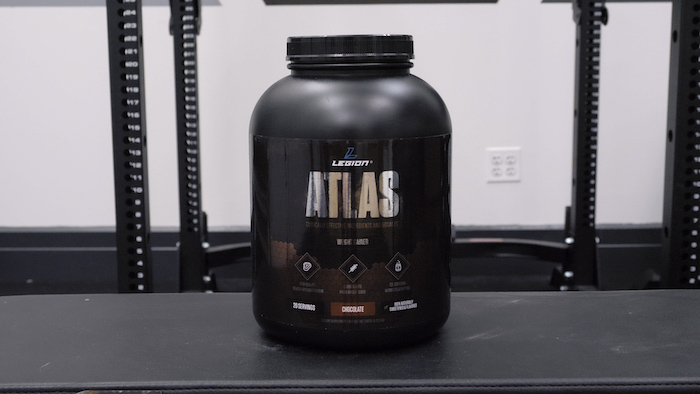 Legion Atlas Ingredients
Here are the main sources of the macros:
Protein: Whey and casein (19.8 and 29.6 grams respectively)
Carbs: Potato starch and oat flour (38 and 12.7 grams respectively)
Fat: Coconut oil and flaxseed (4 grams each)
There's also 500mg of taurine, 200mg of betaine hydrchloride, 200mg of inositol, 200 and 500mg of the digestive enzymes bromelain and fungal lactase, and 500mg of probiotic bacteria from three strains (Lactobacillus acidophilus, Lactobacillus casei, and Bifidobacterium lactis.)
The "Other Ingredients" are flavors, gums, sweeteners, and a couple of extra carb sources: cocoa bean powder, erythritol, natural flavors, maltodextrin, salt, stevia leaf extract, xanthan gum, soy lecithin, and tapioca starch.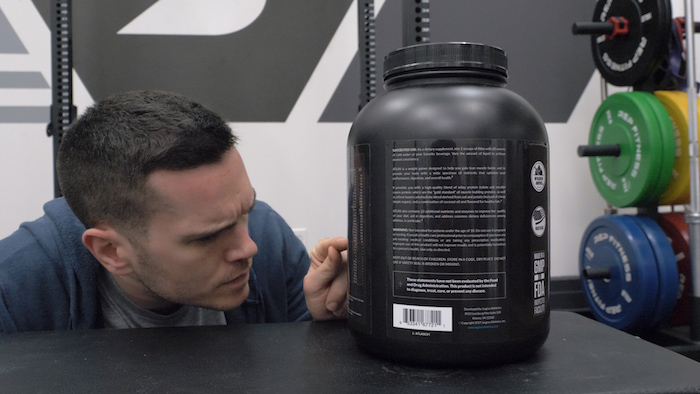 Legion Atlas Benefits & Effectiveness
The big angle here is that the ingredients list is whole food based. There are no artificial flavors or sweeteners to be found, although it's possible that some may take issue with the soy lecithin. (Many believe it can affect your testosterone, but it's almost certainly not true.)
It's unusual for a mass gainer to have such a wide variety of micronutrients, and they aren't haphazardly thrown in. Two interesting additions are the Vitamin D and Vitamin K, nutrients that most people don't get enough of and which appear to act synergistically to improve bone strength.(1) There's a good amount of magnesium added as well, which is important for recovery and sleep quality. In short, these are nutrients that seem to be useful for athletes.
But the most remarkable aspect of Atlas is the emphasis on digestion. For starters, the blend of whey and casein means that there's a mixture of fast and slow digesting protein, which makes it a bit more filling and means amino acids will be released into the bloodstream over a longer period of time.(2)(3)(4)(5) But there are also ingredients for digestive health: the probiotic bacteria, for instance, has been linked to everything from better nutrient absorption to lower levels of inflammation, and the digestive enzymes may also reduce the odds of experiencing indigestion, particularly for lactose sensitivities.(6)
That's not a guarantee, but it may bring peace of mind to some folks with sensitive stomachs, especially as consuming hundreds of liquid calories at a time can increase the likelihood of indigestion for certain consumers.
The main potential downsides are that some people would rather not consume a mass gainer with soy and that at 370 calories, it's actually not especially high in calories for a mass gainer. It also doesn't disclose the sugar content or how many probiotic bacteria it contains.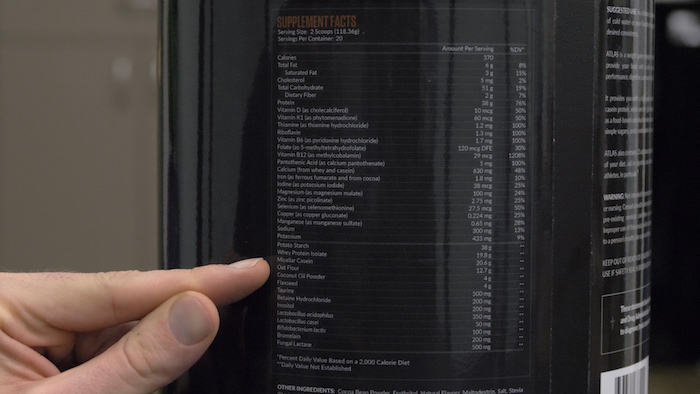 Legion Atlas Price
Between $60 and $70 for 20 servings, so that's about $3.25 per two-scoop serving or roughly 85 cents per 100 calories.
That's on the pricier side for a weight gainer. It's not the most expensive I've ever seen, but there are plenty that are more like 20 to 40 cents per 100 calories. But of course, those are typically low in vitamins, bereft of digestive support, and high in artificial ingredients, so you may find Atlas's price worth it.
Get discount!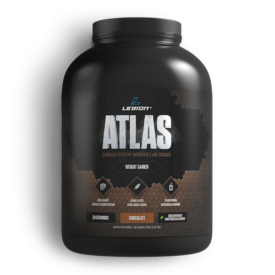 Free of artificial ingredients and packed with micronutrients, Legion's mass gainer stands out from the crowd. Use the code BARBEND10 to save 10%!
Legion Atlas Taste
There are a lot of upsides to Atlas, but I wouldn't say the taste is one of them. Unusually for a product with this many carbohydrates, it's not especially enjoyable: it's chalky and has a surprising black cherry flavor to it. With two scoops in 20 ounces of fluid there's a lot of this to drink and I wasn't the biggest fan. If you like chocolate cherry flavor you might like this, but I'd rather focus on the ingredients than the taste.
Legion Atlas Pros & Cons
Pros
All natural
Full of vitamins and minerals
Full of ingredients for digestive health
500mg of taurine per serving
Cons
Lower in calories than some competitors
Pricey
So-so taste
No info on amount of sugar or probiotics present
Contains soy lecithin
I think the pros outweigh the cons with Atlas. It's jam packed with nutrition, it has a ton of ingredients link to digestive benefits, and it's whole food-based. If you're looking for an alternative to the super high carb mass gainers that are almost entirely whey and maltodextrin, this is worth the extra cost.
References
1. van Ballegooijen AJ, et al. The Synergistic Interplay between Vitamins D and K for Bone and Cardiovascular Health: A Narrative Review. Int J Endocrinol. 2017;2017:7454376.
2. Fabre M, et al. Effects of Postexercise Protein Intake on Muscle Mass and Strength During Resistance Training: Is There an Optimal Ratio Between Fast and Slow Proteins? Int J Sport Nutr Exerc Metab. 2017 Oct;27(5):448-457.
3. Hoffman JR, et al. Protein – Which is Best? J Sports Sci Med. 2004 Sep 1;3(3):118-30.
4. Wilborn CD, et al. The Effects of Pre- and Post-Exercise Whey vs. Casein Protein Consumption on Body Composition and Performance Measures in Collegiate Female Athletes. J Sports Sci Med. 2013 Mar 1;12(1):74-9.
5. Boirie Y, et al. Slow and fast dietary proteins differently modulate postprandial protein accretion. Proc Natl Acad Sci U S A. 1997 Dec 23;94(26):14930-5.
6. Zhou Z, et al. Inhibition of Epithelial TNF-α Receptors by Purified Fruit Bromelain Ameliorates Intestinal Inflammation and Barrier Dysfunction in Colitis. Front Immunol. 2017 Nov 10;8:1468.