Team China has inked itself into the weightlifting record books … again. On Friday, Sep. 15, weightlifter Liang Xiaomei set the first Senior world record in the Women's 81-kilogram division. She lifted 159 kilograms (350.5 pounds) in the clean & jerk at the International Weightlifting Federation's (IWF) 2023 World Weightlifting Championships (WWC) to win the competition outright.
Not only was this lift a new 1-rep max in competition for Xiaomei, but it is also the latest in a string of records set at the 2023 WWC and the first in history in the Women's 81s.
[Related: The Best Weightlifting Shoes on the Market in 2023]
Xiaomei capped off an intense session in the 81s, a category that has been relatively quiet over the last few years as it wasn't previously recognized as an Olympic division in 2020.
Prior to Xiaomei's landmark performance, no weightlifter in the world had been able to exceed the pre-set "World Standards" for the 81s set forth by the IWF when the category was minted in 2018. The snatch and Total standards sit at 127 and 283 kilograms, respectively, and remain unclaimed. But the 81s are on the docket for Paris 2024 — Xiaomei, and her competitors, are lifting accordingly.
2023 World Weightlifting Championships | Women's 81-Kilogram
Xiaomei's 159-kilo split jerk is both a competition personal record and a significant uptick in her performance from last year's WWC, which she won as well. In 2022, Xiaomei Totaled 270 kilograms by way of 118 in the snatch and 152 in the clean & jerk. This year in Riyadh, Saudi Arabia, she advanced her Total by a full 11 kilograms:
Women's 81-Kilogram Podium
Liang Xiaomei (CHN): 281KG (122/159 WR)
Wang Zhouyu (CHN): 277KG (122/155)
Eileen Cikamatana (AUS): 256KG (110/146)
[Related: 2022 IWF World Weightlifting Championships Results & Highlights]
Xiaomei is a relative newcomer to the international scene. The 2022 WWC was her first Senior meet ever and, after Riyadh, has only three IWF performances to her name. Despite being a fresh face, her performance rocketed her to the top of the IWF's ranking leaderboards. She also bested teammate 2020 Olympic Champion Wang Zhouyu, who declined to take her final clean & jerk attempt.
Autralia's Eileen Cikamatana rounded out the podium in the 81s after 202o Olympic Champion Neisi Dajomes Barrera withdrew from the competition due to an injury sustained during the snatches. USA's Mattie Rogers was the runner-up, finishing fourth with a career-best international Total of 252.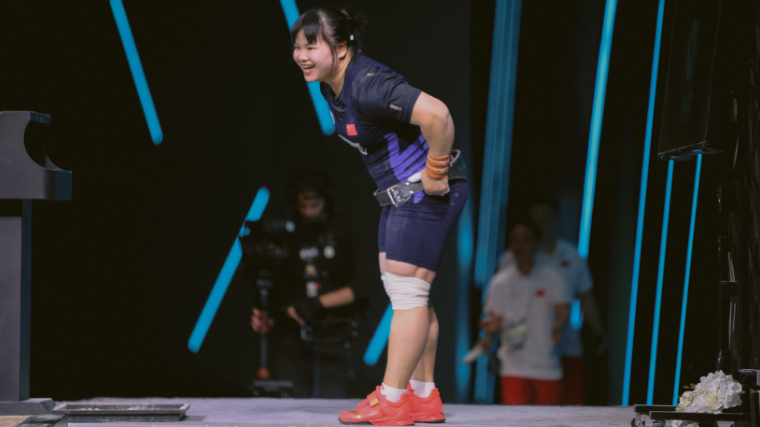 [Related: The Ultimate Guide to Pre-Workout Supplements (2023 Update)]
Despite such a commanding performance in the 81s, Xiaomei isn't a guaranteed pick for the 2024 Olympics, which kick off in a little under a year. Each country may only send three weightlifters in either gender division to the Games in Paris — Xiaomei's result in Riyadh will be measured against her teammates in other weight categories to determine who can most reliably bring home another gold medal for the winningest nation in weightlifting.
More Weightlifting Content
Featured Image: William Johnson / @barbellstories