Sometimes you need a little extra push when working out from home. You might run a little slower or cut your runs a little shorter. Something is better than nothing, right? Yes, but if take too many shortcuts, you probably won't meet your goals within the timeframe you want. The NordicTrack Commercial 2450 can help with that.
With 50 different classes to choose from and an iFit subscription that allows runners to take classes with a trainer, the NordicTrack 2450 can help users stay engaged and accountable. Its powerful motor, all-steel frame, and strong belt can also support many different users throughout all those different classes they take. If you're looking for a treadmill for your home with a lot of features, our review of NordicTrack's 2450 treadmill might help make your decision a little easier.
Main Takeaways
The NordicTrack 2450 comes with 50 pre-installed classes and a free one month subscription to the iFit app with daily immersive and interactive classes.
This treadmill has a 14-inch HD touchscreen display that delivers high-quality resolution.
Its 4.0 horsepower motor helps the belt of the 2450 to move smoothly even with runners of up to 300 pounds.
NordicTrack 2450 Highlights
With 50 pre-installed classes and an iFit subscription to thousands of daily interactive workouts, the 2450 brings the atmosphere and engagement of an in-studio class workout, an outdoor run, and a personal trainer inside your home. Add a 4.0 hp motor, a 22-inch wide running area, and the option to turn on and off the belt's cushioning, and you have a treadmill that should support you throughout all the different classes you take. Homeowners looking to save some space will be happy to know that even with all its features and large build, the 2450 is foldable and can free up some floor space.
Commercial 2450
NordicTrack Commercial 2450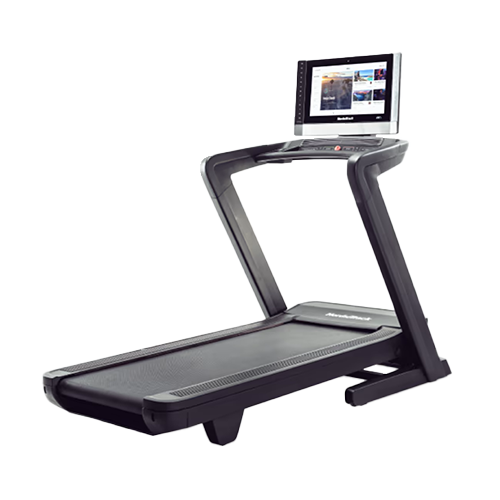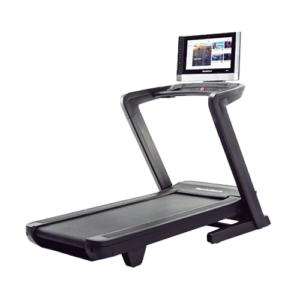 NordicTrack Commercial 2450
Who Should Buy the NordicTrack 2450
Anyone who loves home workouts.
Runners looking for more variety in their runs.
Folks who prefer fitness equipment with the latest in virtual fitness.
Who Shouldn't Buy the NordicTrack 2450
Experienced or competitive runners who don't necessarily need such an extensive library of running programs.
Buyers on a tight budget. The 2450 is a little more expensive than some other treadmills.
Price
While the 2450 might not be the most affordable treadmill, its $2,299 price (on NordicTrack's website) is quite reasonable considering its modern features and iFit subscription. This treadmill can also be found on Amazon for $2,498 (delivery costs included).
Overall Build and Quality
The Nordic Track 2450 is built to be solid. With an all-steel frame, this treadmill should be durable enough to withstand various users and remain sturdy no matter how long or fast they run.
Features
From 50 pre-installed workouts to a touchscreen display, the NordicTrack 2450 offers its runners many modern conveniences. This treadmill can help both beginner and advanced users stay engaged in their runs by giving them the option to find and create the workouts that are just right for them, or take classes with a trainer via iFit.
Incline range
For those wanting to add resistance to their runs, the NordicTrack 2450 provides runners with both incline and decline settings. The incline can be increased to 12% and decreased to -3%. The one-touch buttons on the side of the display help users adjust their inclines by full levels and they can also use the lower control panel to change the treadmills gradients by 0.5% increments.
Speed range
Runners can hit fast speeds with the Nordic Track 2450. This treadmill can reach speeds of 12 miles per hour for those sprinters wanting to improve their stamina. This treadmill's speed can also be increased or decreased by full increments with the side buttons on the display or by 0.1% increments through the lower control panel.
Included workouts
Runners can really change their routines without having to buy a streaming service since the 2450 comes with 50 pre-installed workouts. These programs will feature some of the classic workouts found in standard treadmills like fat burning, hill training, and intervals and will take you on routes all over the world by displaying photos of those locations while you run. Programs are categorized under heart rate control, calorie-burning, speed, incline, and high intensity and should keep any runner motivated to hit their goals and even work through plateaus.
Display
Users can enjoy their selected routine on the HD display of the 2450. This display will give clean readouts of metrics such as incline, time, calories burned, distance, pace, heart rate, and more. The HD display should help runners feel fully immersed in their runs as it delivers crisp views of routes outdoors.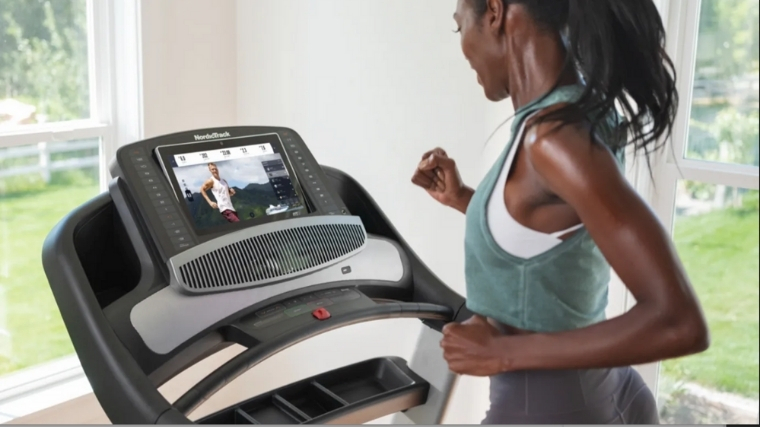 This 14-inch screen is also a touchscreen making it easy for users to adjust their workouts while running. Users can tilt their display to accommodate their height better and to help reduce overhead glare.
Fans
This treadmill comes equipped with two cooling fans located right below the display. These fans can be controlled manually and can be set at low, mid, high. An auto setting allows the fans to adjust its output according to the runner's workout pace.
Heart Rate Monitoring
The 2450 helps runners track their heart rate with grip monitoring. Located below the control panel, runners can grab the EKG pulse grips to measure their heart rate. A chest strapped heart rate monitor used to come included with the 2450 so buyers might be able to get their hands on one if they purchase an older model. The chest strap heart rate monitor must be purchased separately when buying the latest version of the 2450 and will cost $80.
HDMI, USB, and Other Inputs
Runners are going to have to set their phones on low battery mode when running on this treadmill. The 2450 does not come with a USB port to charge your phone or tablet. An AUX cord can be used to plug your phone to play music through the speakers.
Bluetooth and Audio Options
The Nordic Track 2450 has two speakers located below the fans. They are Bluetooth compatible, so runners will be able to play their music from their phones through the speakers.
Users will have a little more control over the sound of their routines through the iFit subscription. Upon selecting any of the classes in iFit, runners can adjust the overall volume, the background music, and even choose to silence the trainer's voice.
Water Bottle, Cup Holders, Tablet and Phone Holders
The 2450 provides runners with plenty of storage space. It offers two water bottle holders on either side of the display. There are also two accessory trays, one located below the display and the other underneath the console.
Product Specs
Though the NordicTrack 2450 is a home gym treadmill, its construction would make you think it's more suitable for commercial use. With such a powerful motor, vast running space, and cushioning options, this should be a treadmill that runners log a lot of miles on.
Motor Size
This treadmill has a 4.0 hp motor that powers the treadmill to provide such high running speeds. The motor also includes self-cooling technology allowing the user to run for extended and intense runs without the motor burning out.
Running Area
Runners can enjoy a spacious running area with the 2450. This treadmill has a 22-inch wide by a 60-inch long belt. This gives runners plenty of space to try out different movements while running and not feel restricted by the console or its handlebars.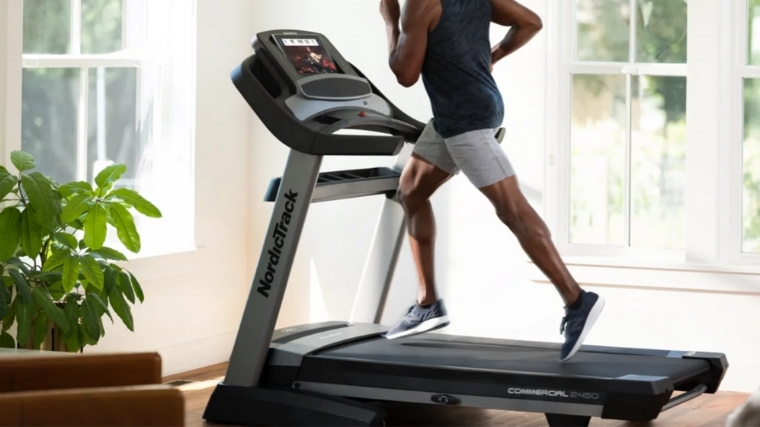 Weight Capacity
With its strong motor and steel frame, the 2450 can support runners of up to 300 pounds.
Folding Options
Shoppers will be happy to know that even with all its running space, the 2450 is foldable. Users can fold the treadmill by lifting a metal bar right under the deck. From there, the EasyLift Assist technology will help the treadmill to fold and unfold itself gently.
Footprint While In Use vs. Folded
The NordicTrack measures in at 81″x 39″x 69″ when in use so it will definitely take up some space in your gym. It can be folded to 42"x 39"x 72" in case the user needs some floor space whenever they're not using the 2450.
Electrical Requirements
The NordicTrack 2450 can be plugged into a 120-volt, which is pretty standard to most homes. It's recommended though to use a surge suppressor with the treadmill. A surge suppressor helps prevent voltage surge damages to the treadmill, which can be brought up upon the weather or other appliances in the home.
Warranties
NordicTrack provides warranties for different aspects of the 2450. The frame is protected for 10 years, while parts are covered for two years. Buyers also get a one year warranty for labor.
Belt Information and Roller Size
With so much variety that can serve many different users, there's no surprise that the Nordic Track has a much stronger belt than some other treadmills on the market. Its two-ply belt is stretch-resistant and glides over 2.5" rollers to help the belt last longer. The rollers can also ease motor tension if used consistently and during long runs.
Cushioning and Feel
The NordicTrack 2450 gives runners the option to adjust the cushioning of the belt. Through the Runners Flex Cushioning system, the runner can turn the cushioning on for a softer tread and off to simulate running outdoors. A metal bar under the platform will tighten or loosen the hold of the deck depending on whether the user turns the lever on or off. When the bar is not activated, the belt will give more cushioning to the runner and can help to reduce the impact on joints by 30%.
Workout Apps and Compatibility
Even with its 50 onboarded classes, the 2450 offers its runners even more variety through an iFit subscription. As long as there is a Wi-Fi connection, runners can enjoy an unlimited number of interactive and immersive workout routines with the iFit app.
This app should make runners feel like they have a personal trainer every time they workout. Users can follow a running coach as they lead a class in-studio or at a remote location anywhere within the seven continents. The treadmill will then simulate the terrain so that users get a fully immersed experience.
Runners have the option to customize their runs. Using Google Map, users can map their runs to create their own routes however they like. The 2450 will also mimic the surface of the course they created by replicating its inclines and declines.
Users can also use the iFit app to schedule their classes. They can add workouts and register for live classes to stay consistent with their runs. They'll also have access to iFit's blog that offers wellness tips, nutritional videos, and monthly challenges.
Subscription Options
Runners will be granted a free one month subscription to the iFit app once they buy the 2450. It'll allow them to download their workouts and classes anytime they want. After the month, subscribers can pay$15 or $39 per month to use iFit, depending on if you want an individual or family membership.
Places to Buy
The 2450 can be purchased right off of the Nordic Track website. It can also be bought from Amazon and Dick's Sporting Goods.
Company Information
Nordic Track produces high-quality cardio and strength training equipment. Through their interactive classes, they specialize in bringing personal training to anyone's home.
Return Policy
Nordic Track gives buyers 30 days to return their treadmill. There is a $250 shipping fee for the return and a 10% restocking fee. There may also be additional fees for any damage or wear and tear.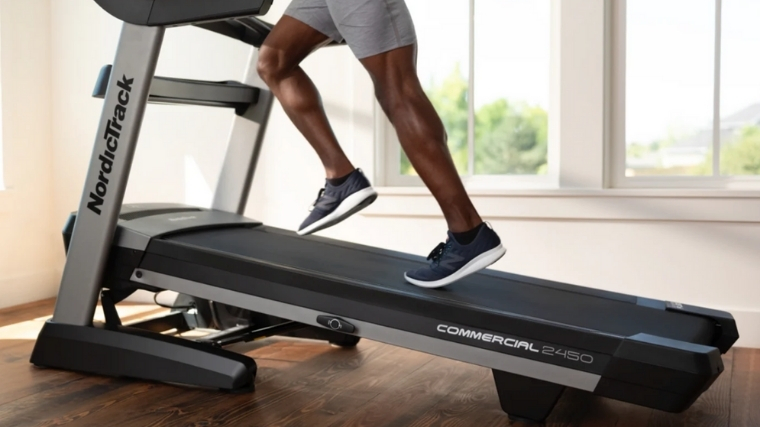 Contact
NordicTrack can be reached either by phone or on their website. Clients can call NordicTrack at 1-888-308-9616 or live chat with a representative on their website.
Wrapping Up
The NordicTrack 2450 is not your standard treadmill. The 2450 is a modern treadmill that should serve many different users for a long time. With its unlimited classes, spacious running area, and powerful motor, it's no wonder this piece of fitness equipment is highly rated and considered one of the best treadmills out there.
FAQs
Is the 2450 expensive?
The 2450 is just a bit more expensive than some other treadmills on the market. Standard treadmills range anywhere between $1,000 to $2,000. Those few extra hundred dollars spent on the 2450 will grant you more classes and modern features that are probably not available in lower-priced treadmills. 
Is this treadmill heavy to move?
The 2450 weighs in at 339 pounds. It is easier to move once folded since it features wheels for portability, but it is recommended to have another person's assistance.
Does the 2450 require a lot of maintenance?
It is recommended to clean the 2450 after every use. NordicTrack suggests wiping the exterior with a damp cloth and a mild soap and then passing a dry soft towel over the treadmill. They also recommend lubricating the belt after every 12 or 15 hours of use. Such lubrication should be bought from or approved by NordicTrack.