Fitness equipment manufacturer NordicTrack — known for their treadmills, ellipticals, and exercise bikes — announced the launch of their new interactive free-standing home gym fitness mirror studio called "Vault." Vault is a rotating 60-inch by 22-inch mirror — with a built-in 32-inch touchscreen for navigation — that provides users the ability to workout with their iFit trainers.
NordicTrack's release of the Vault is in line with the current trajectory of the at-home fitness market, which is currently burgeoning. According to an Oct. 28, 2020 report by Arizton, the home gym equipment market is expected to be valued at $31 billion by 2025. COVID-19 pushed many consumers into training at home as they either don't feel comfortable training at a public gym or because many gyms, such as 24-Hour Fitness and Gold's Gym, had to file for bankruptcy or permanently close their doors.
[Related: Will Apple Fitness+, Peloton, And Others Spell the End For Fitness Studios?]
How to Train With Vault
The NordicTrack Vault Complete costs $2,999* and includes the following:
*NordicTrack offers a standalone version of the Vault for $1,999. This version doesn't come with equipment.
The equipment can be stored behind a vertical dumbbell rack that is concealed behind the Vault. The NordicTrack Vault also offers a variety of training programs through the interactive fitness platform iFit. Once the user sets up their iFit account, they'll have access to the following types of training:
Users access the iFit library of personal trainers and workout programs through the built-in touchscreen, select their trainer and workout of choice, and then perform it facing the Vault. The Vault incorporates this "reflective training" for immediate visual feedback, meaning users can see themselves, helping users improve their form in real-time. This is different from training with just a workout video, as users might not realize their form is failing while performing the movements.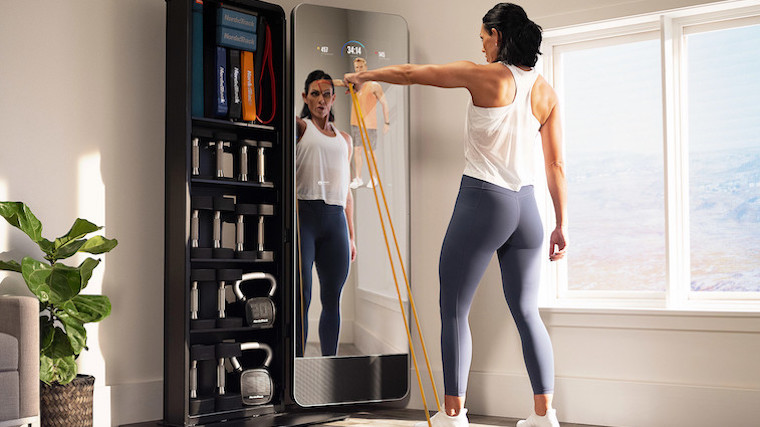 [Related: This Bed Transforms Into a Space-Saving Home Gym]
Bringing the Gym to You
There are some limits to virtual training, however. For example, some studies have shown that although in-person supervision (live, personal training) and at-home training both improve a client's balance, the "supervised program was superior to the home program in restoring functional activities and isometric muscle strength." (1) By embedding a virtual trainer into the mirror, NordicTrack (and other brands with a similar product) are more closely mimicking in-person training. Though there aren't studies on the effect of these specific virtual training tools, they are a step closer to recreating the feel of real-life personal training compared to training at home alone.
NordicTrack is not the first fitness equipment manufacturer to get into the mirror home gym space. They have jumped into a growing market space as more and more people are dropping their gym memberships in favor of technology that provides the convenience of at-home training. Here is a list of other fitness companies that have broken into the virtual training space:
NordicTrack's Vault may just be what you need to find the motivation to train at home (if that's your thing.) It's currently available for pre-order to be shipped in February 2021.
[Related: Performance Wearable Giant WHOOP Raises $100 Million In Financing]
References
Enas Fawzy Youssef, Alsayed Abd elhameed Shanb. Supervised Versus Home Exercise Training Programs on Functional Balance in Older Subjects. Nov. 2016. The Malaysian Journal of Medical Sciences. doi: 10.21315/mjms2016.23.6.9.
Feature image courtesy of NordicTrack.