PUMPSURGE is one of the many pre-workouts on offer from Jacked Factory, a company based in Newfoundland in Canada, and the tub claims that it will provide "laser focus, muscle growth, powerful pumps, (and) endless endurance."
What's interesting is that despite those promises there's no caffeine or stimulants anywhere to be found in the product. So what does it offer?
PUMPSURGE Nutrition & Ingredients
There's no calorie information, but one tub provides citrulline (4g), betaine anhydrous (2.5g), glycerol powder (1.25g), rhodiola rosea (200mg), alpha GPC (100mg), black pepper fruit extract (5mg) and Huperzine A, made from toothed clubmoss aerial parts extract (50mcg). I'll discuss all their effects in the next section.
The other ingredients are just an array of natural and artificial flavors, sweeteners, and anti-caking agents. Note that it contains the artificial sweeteners sucralose and acesulfame potassium, which some people try to avoid. On the plus side, it's naturally colored with fruit and vegetable juice.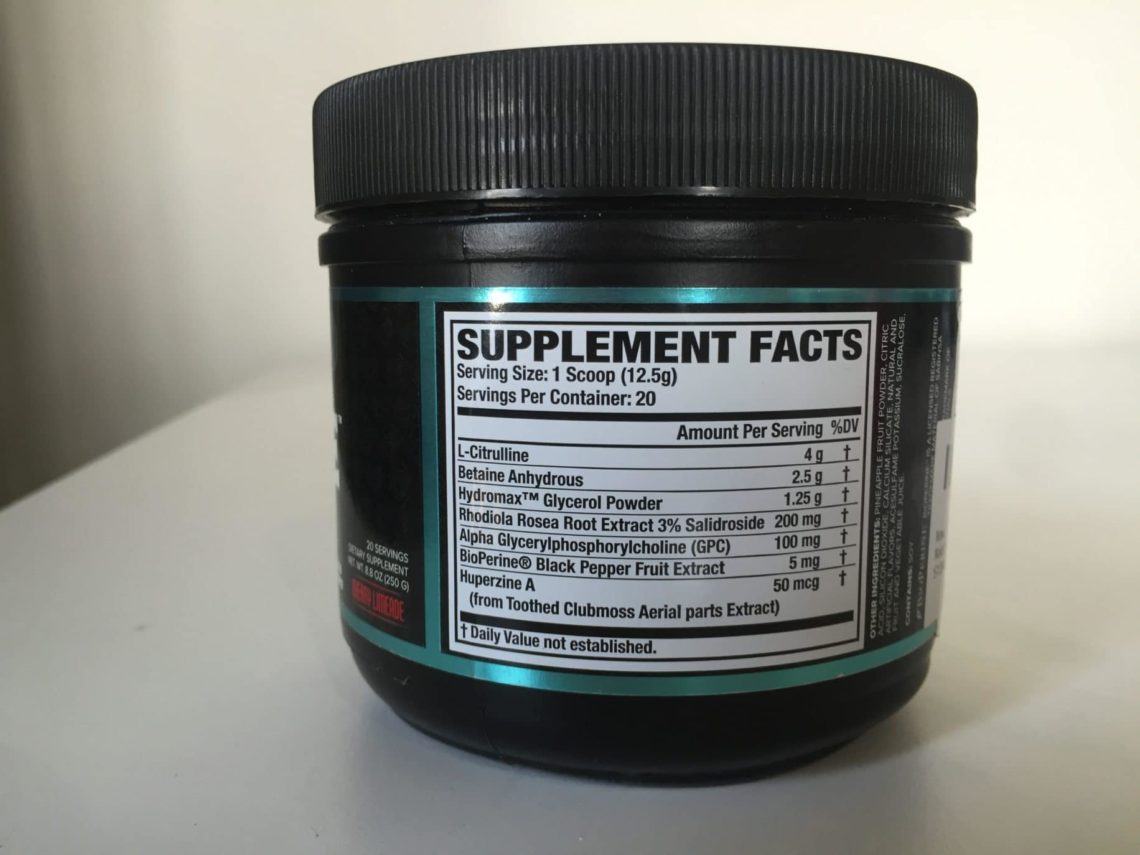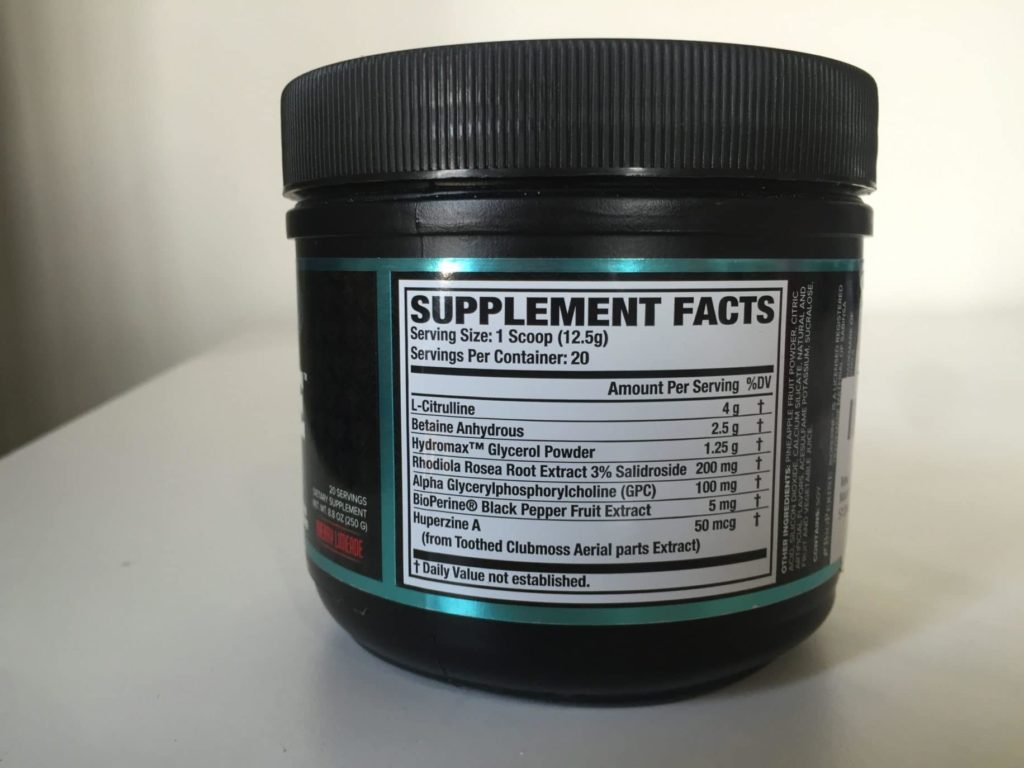 PUMPSURGE Benefits & Effectiveness
There are quite a few ingredients that are linked to power output here, specifically the betaine anhydrous, alpha GPC, and to a lesser extent the citrulline — the latter is usually used for improving blood flow, but there's some evidence that it can also affect power.
I really liked the rhodiola rosea. It's a Scandinavian plant that has a pretty strong link with improved focus and reduced fatigue. (It's also a main ingredient in Optimum Nutrition's Gold Standard Pre-Workout.)
There's not so much evidence behind the toothed clubmoss, a plant that's often used for its purported effect on focus. There haven't been a lot of human studies.
PUMPSURGE Pre Workout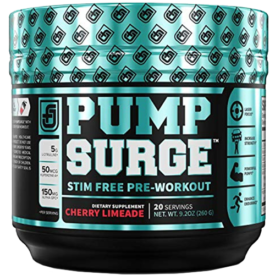 All pump, no stimulants, this is heavy on ingredients linked to both pump and, through the betaine, power output.
The glycerol has a link with endurance and it might improve hydration, and finally, the black pepper extract helps everything else to absorb better.
The main issue I had with this product is that a couple of the dosages aren't very well supported by evidence. There's 100mg of Alpha GPC (the few studies that have shown an effect on power used over 500mg) and the citrulline is pretty low as well, with studies suggesting you need about 50 percent more per dose to have an acute effect on a workout.
The other ingredients seem to be dosed pretty effectively, except for the toothed clubmoss, of which there's little consensus on what would constitute an effective dose.
See Our Top Pre Workout Picks Here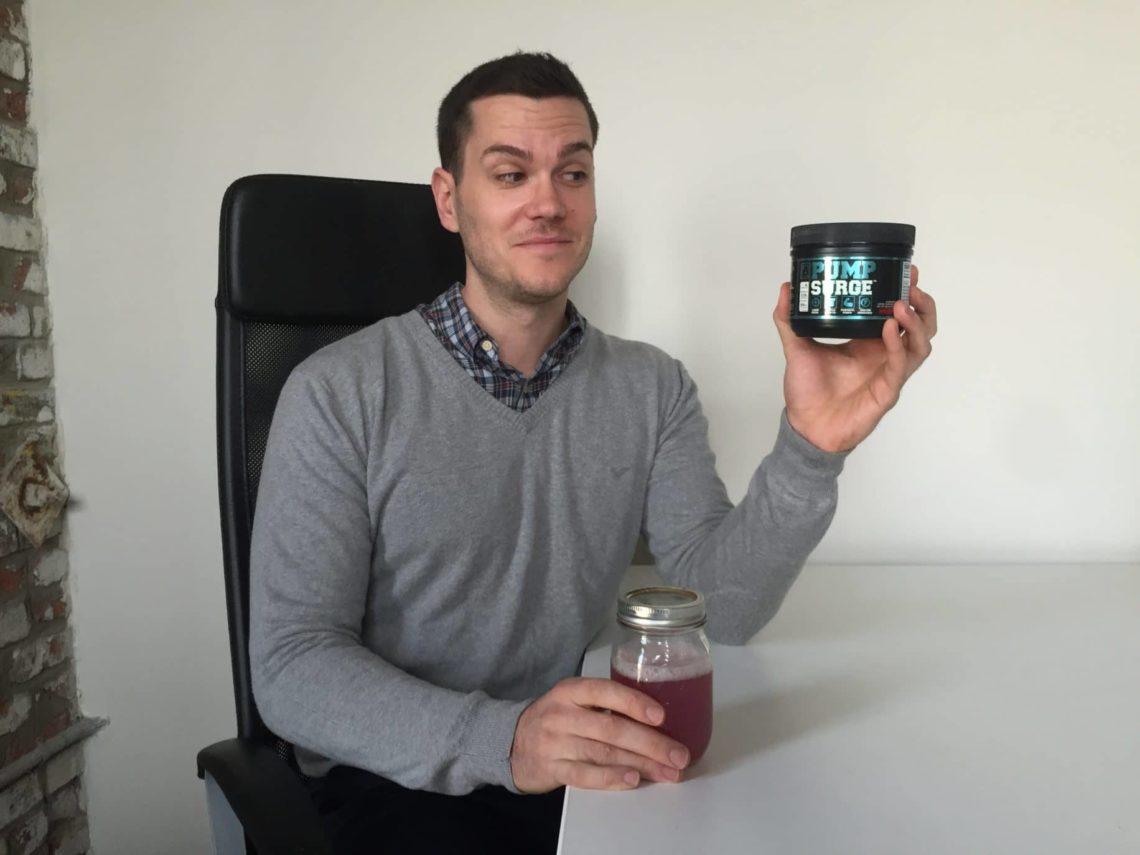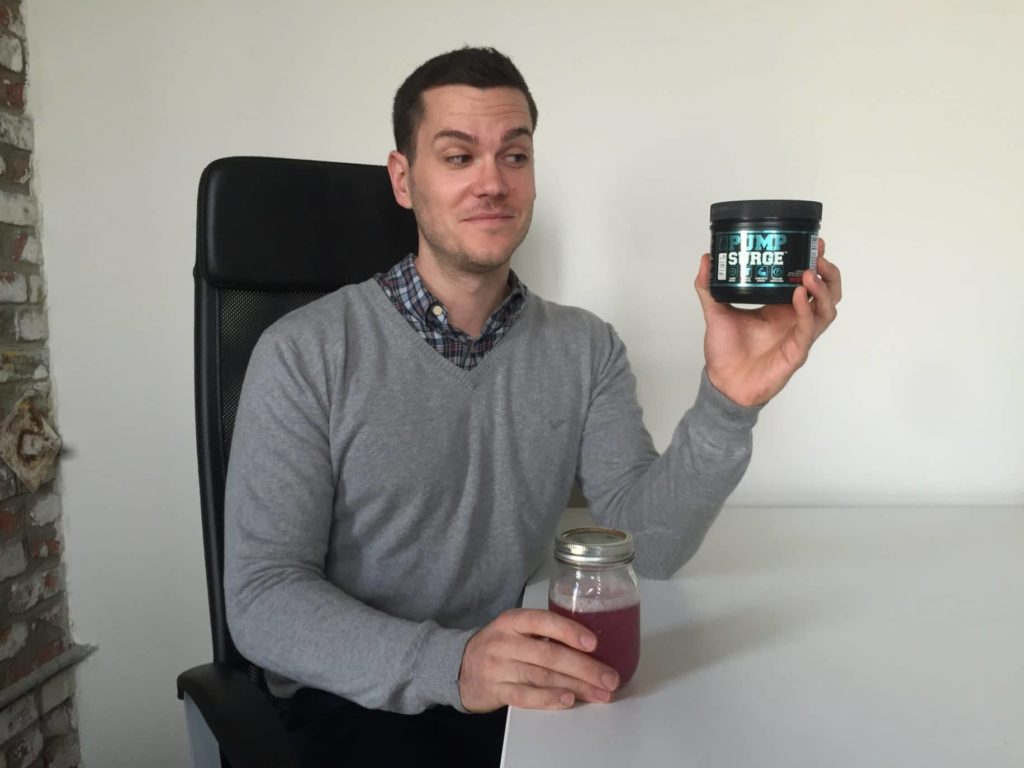 PUMPSURGE Price
You can pick up 20 servings for $25, or $1.25 per serving. That's somewhat pricy; most pre-workouts cost between 80 cents and $1 per serving.
PUMPSURGE Taste
I picked up the Cherry Limeade flavor, which was tasty, though a lot heavier on the cherry than the lime. The aftertaste had a slightly bubblegum-like flavor, but overall I'd say it was like cherry-flavored candy.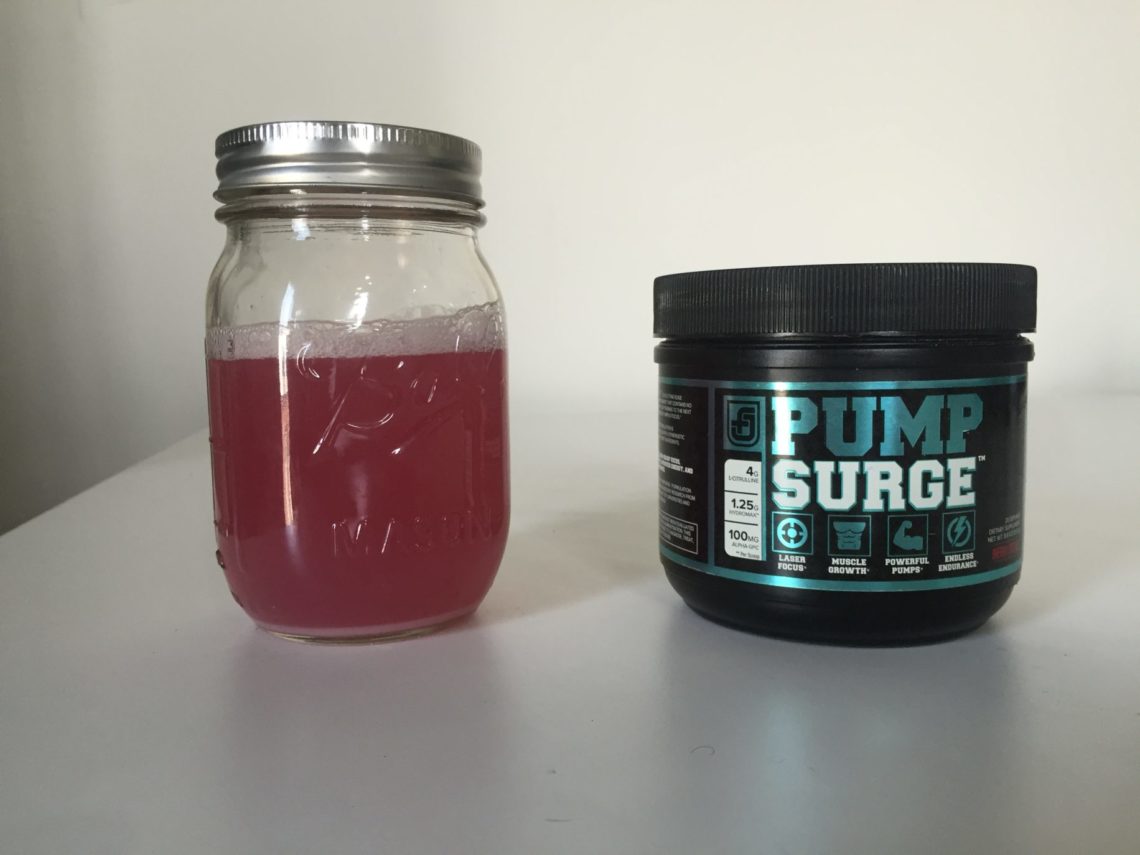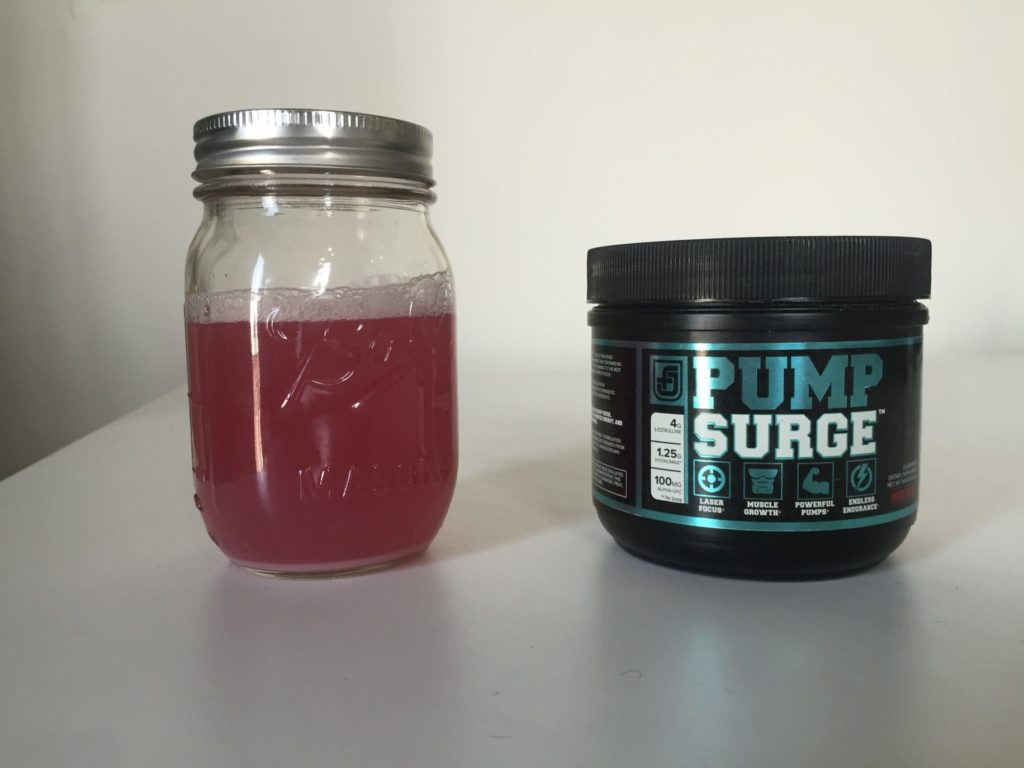 The Takeaway
As far as caffeine-free pre-workouts go, there are more potent options on the market but there aren't many that are this cheap, so I'd feel comfortable recommending it as a way to boost your workout without taking stimulants. Given the solid doses of betaine, rhodiola, glycerol, and black pepper, it's a decent choice for athletes who want to reduce their caffeine intake.