Today we're hosting a battle of the low carb protein powders: Isopure and Quest. They're both very popular names in the supplement industry but for different reasons.
Isopure has a well-deserved reputation as perhaps the most popular whey isolate on the market. Their Dutch Chocolate flavor is low carb with about 1.5 grams of carbs for a serving of 25 grams of protein but they're perhaps best known for their zero carb varieties, which we've also tried out.
Quest, on the other hand, is a household name not because of their protein powder but because of their protein bars, which are among the most popular in the industry — check out our review of them here. But they've also released a protein powder that has an unusual emphasis on bake-ability.
So which one is right for you? Let's take a closer look.
[Don't miss our roundup of the best whey protein powders on the market.]!
Quest Protein Powder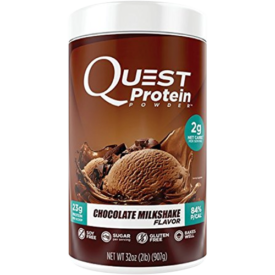 Ultra low in carbs, Quest's protein is unusual in that it can be used in baking as well as in protein shakes.
Isopure Low Carb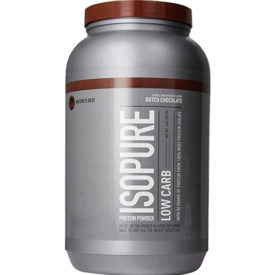 Isopure protein powder isn't just low in carbs, it provides more vitamins and minerals than many of its competitors.
How We Decide the Best
What actually goes into assessing a protein powder's quality? Believe us, we take this stuff seriously.
Protein Sources
Different people want different things when it comes to protein. If you're looking to save cash you might be fine with whey concentrate, the least processed form of this protein. It also has the most carbs, lactose, and fat, which is why some prefer whey isolate, although it's typically a bit pricier.
There's also casein — another protein sourced from milk — and plenty of protein powders also include egg, rice, hemp, and others. We don't make value statements on these, but we do point them out in case it matters to you.
Protein Per Calorie
Pure protein has 4 calories per gram, so a lot of people like their protein powder to contain as close to 4 calories per gram of protein as possible — meaning, they like protein to have as low in carbs and fat as possible.
Again, we won't say there's anything necessarily wrong with a fattier protein, just that plenty of folks want their protein powder to be as protein-dense as physically possible. (One of these products is.)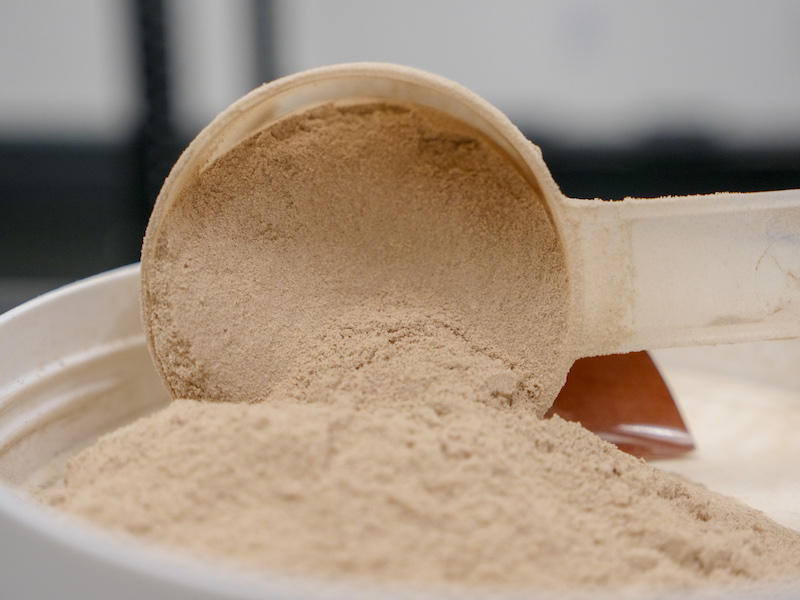 Sweeteners
Some use stevia, some use sugar, the overwhelming majority use the artificial sweeteners sucralose and/or acesulfame potassium. Many people consider this relevant information.
Additives
Is there soy? Is there gum? Are there vitamins? What else makes the list? All of these are noteworthy as well.
Taste
Obviously, this is an important consideration when comparing edible goods! Some companies do a great job making a perfect milkshake flavor, others not so much. We don't hold back in our assertions here because we know you wouldn't either.
Price
We're talking about protein powder here — you're buying them for the protein and protein per serving can vary, so we measure cost by cents per gram of protein and compare the cost to the product's biggest competitors.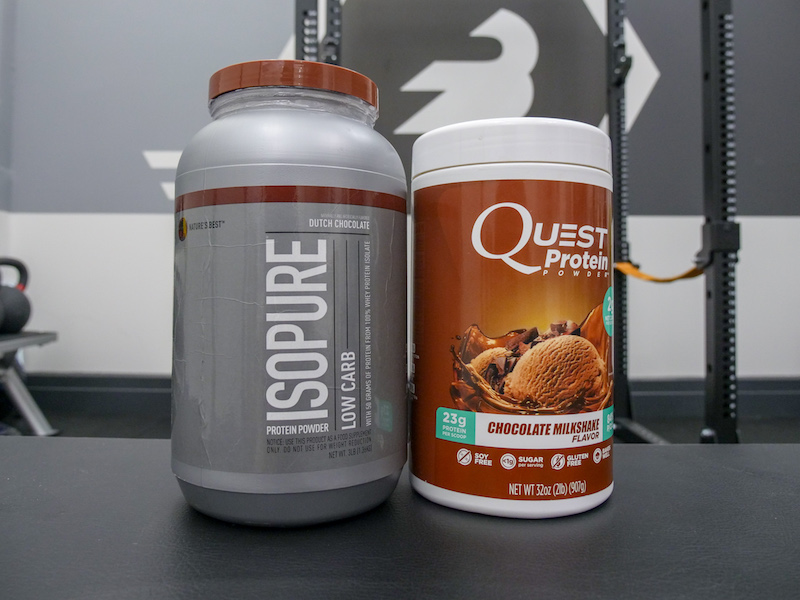 The Companies
The Isopure Company
Formerly known as Nature's Best, the business was first launched by Ernie Geracie and Hal Katz over 30 years ago, allegedly when they would churn their supplements in a garage with a cement mixer. In 2014 Glanbia, the same cheese company that owns Optimum Nutrition, bought out Isopure and added them to their considerable roster of sports nutrition companies.
Isopure has an innovative variety of products that include whey-coffee blends and clear, protein-infused, flavored water, but their flagship products are their low carb and zero carb whey isolates.
[See how Isopure compares to Optimum Nutrition in our comparison of the two.]
Quest
Quest, again, is definitely best known for their protein bars. The company started in 2010 when they launched the first two flavors of their Quest Bars and eventually expanded their roster to well over a dozen different flavors that use inventive combinations of sugar alcohols, fibers, and zero-calorie sweeteners to provide bars with some of the lowest carbohydrate counts in the industry.
Eventually they released protein powders as well, and they have an unusual emphasis on their ability to be use as flour substitutes in baked goods, but they're meant to work just fine in shakes as well. So, do they? Let's look at the nutrition.
Nutrition
Isopure
Isopure Low Carb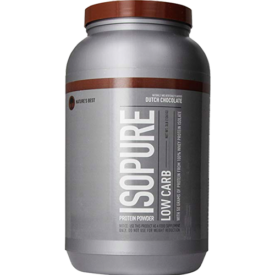 Isopure protein powder isn't just low in carbs, it provides more vitamins and minerals than many of its competitors.
Their Dutch Chocolate flavor contains 110 calories per scoop : 25 grams of protein, 0.5 grams of fat, and 1.5 grams of carbs with 1 gram of fiber. That's 4.4 calories per gram of protein.
The Creamy Vanilla Zero Carb has 100 calories per scoop: 25 grams of protein and zero carbs or fat. That's 4 calories per gram of protein: as high in protein as you can possibly get.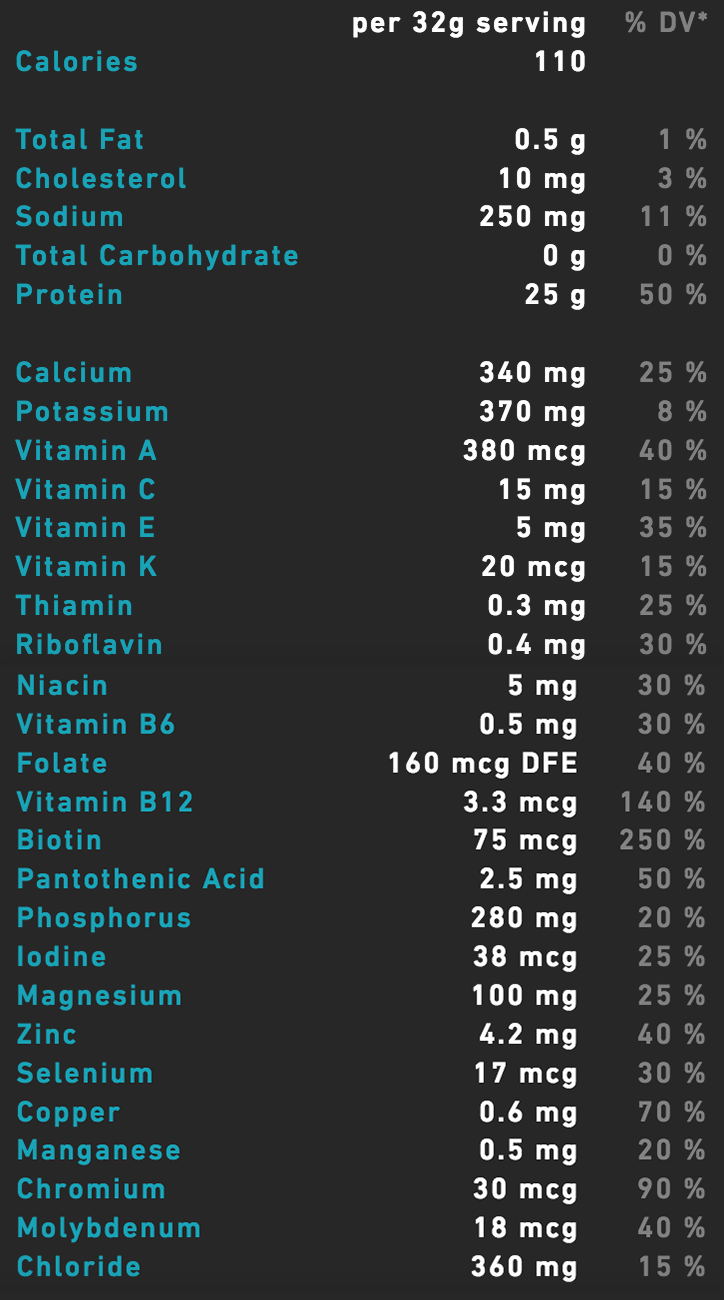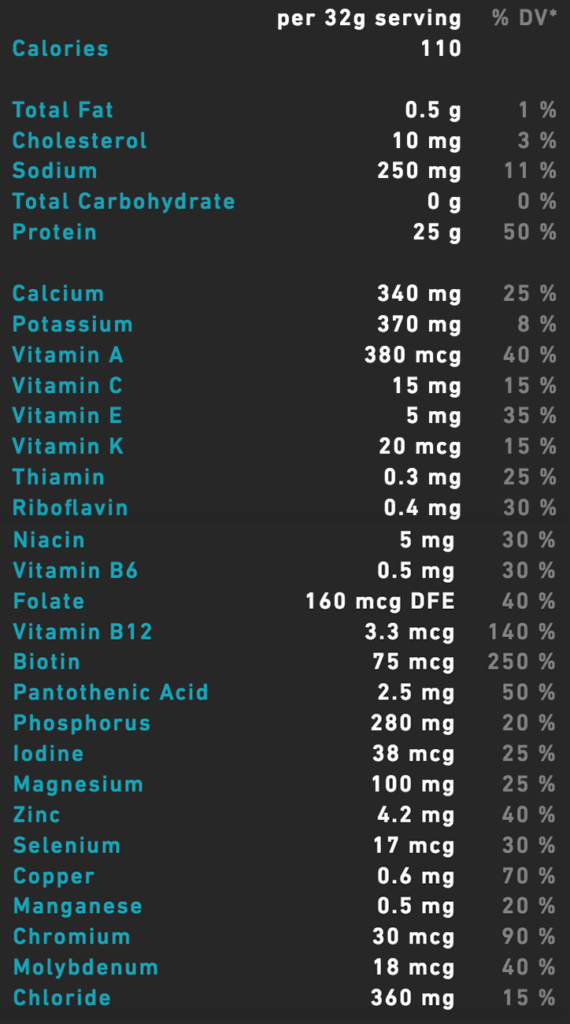 Both retain about 3% of the RDI of cholesterol but what's really remarkable is that both products have a suite of about two dozen added vitamins and minerals. You can expect about 30 percent of the RDI of everything from Vitamin A to zinc, and there are even less common nutrients like chloride and chromium that often don't make it into multivitamins, let alone protein shakes.
Quest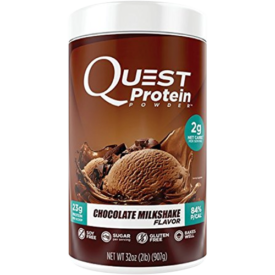 Ultra low in carbs, Quest's protein is unusual in that it can be used in baking as well as in protein shakes.
One scoop has 110 calories: 23 grams of protein, 0 grams of fat, and 4 grams of carbs with 2 grams of fiber and under a gram of sugar. That comes to 4.8 calories per gram of protein.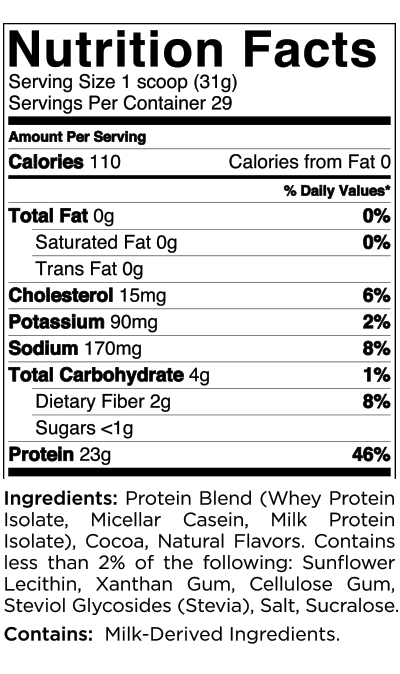 Like most protein powders there aren't many micronutrients here: 35% of your calcium RDI and 20% of your phosphorus with about 5% of the iron and magnesium RDIs. It's also a little higher in cholesterol (6% RDI) but lower in sodium (8% versus 10%).
So when comparing the two, Isopure is lower in carbs while Quest is lower in fat and higher in fiber, but with all those vitamins and minerals Isopure certainly provides more nutrition in many respects.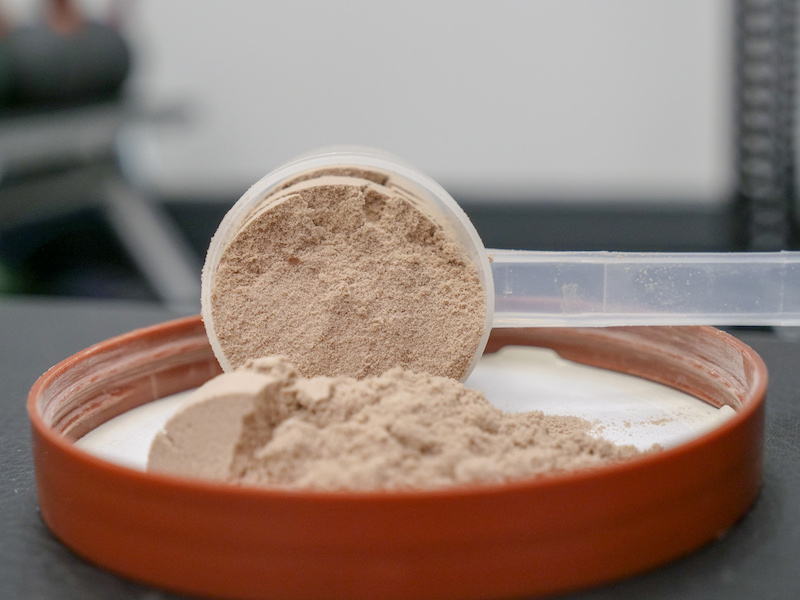 Ingredients
Isopure
Both Low Carb and Zero Carb have the same ingredients: whey isolate, a blend of vitamins and minerals, soy lecithin (to help with mixability), the amino acid glutamine, natural and artificial flavors, the artificial sweeteners sucralose (a.k.a. Splenda®), xanthan gum, a thickener and stabilizer.
Quest
Unlke Isopure, Quest has a blend of several kinds of protein: whey isolate, micellar casein, and milk protein isolate. Milk protein is 80 percent casein and 20 percent whey and according to the ratios on the side of the tub — and props to Quest for being this transparent — this is 52 percent whey and 48 percent casein.
So, what's the difference?
We made this pretty great video comparing the two, but long story short: whey digests relatively quickly while casein digests relatively slowly.(1)(2)
Plenty of people like to take casein before bed so that they can have amino acids released throughout the night, whereas the same person might prefer taking whey right after a workout because it digests faster and can get to your muscles a bit quicker.
Practically speaking, taking whey before bed and casein post workout instead probably won't make much of a difference for the average person, but nonetheless that's what the science says. Isopure digests quickly whereas Quest has a mixture of fast and slow digesting proteins. Relatively speaking.
As for Quest's other ingredients it's got natural flavors, sunflower lecithin, xanthan gum, cellulose gum, stevia, sea salt, and sucralose. So the other notable differences here are that Quest is soy free and has no artificial flavors. It also combines both natural (stevia) and artificial (sucralose) sweeteners.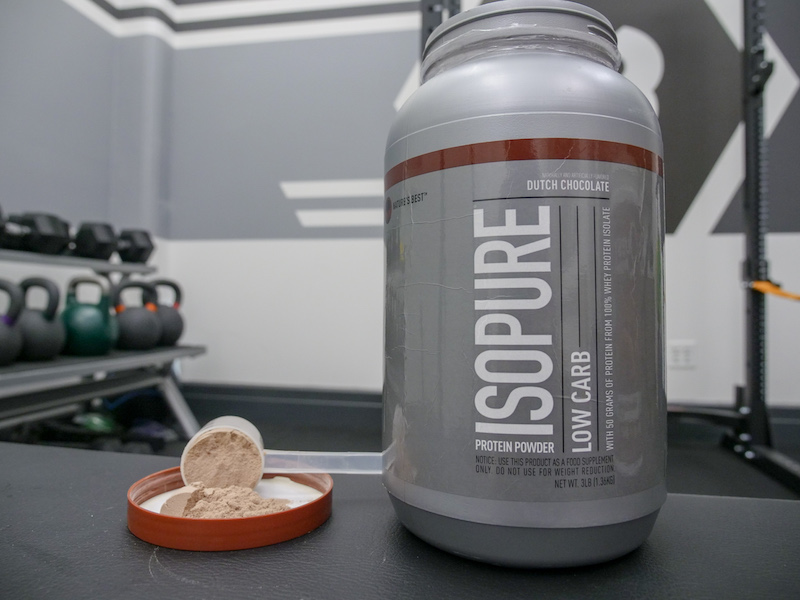 Taste 
Isopure 
Dutch Chocolate has a relatively mild flavor, even if you follow Isopure's instructions and mix one scoop with just 7 ounces of water. It's thick, but it still tastes pretty close to the flavor of a scoop of cocoa mixed with water. It's perfectly tolerable but it's nothing to write home about.
As for Creamy Vanilla, the zero carb whey did a good job of tasting creamy but the vanilla part of the flavor was pretty mild — with water it tasted like, well, watery cream. Both flavors taste great with milk but with water these do not fall into the elite category of "protein powder that tastes good with water." But few do.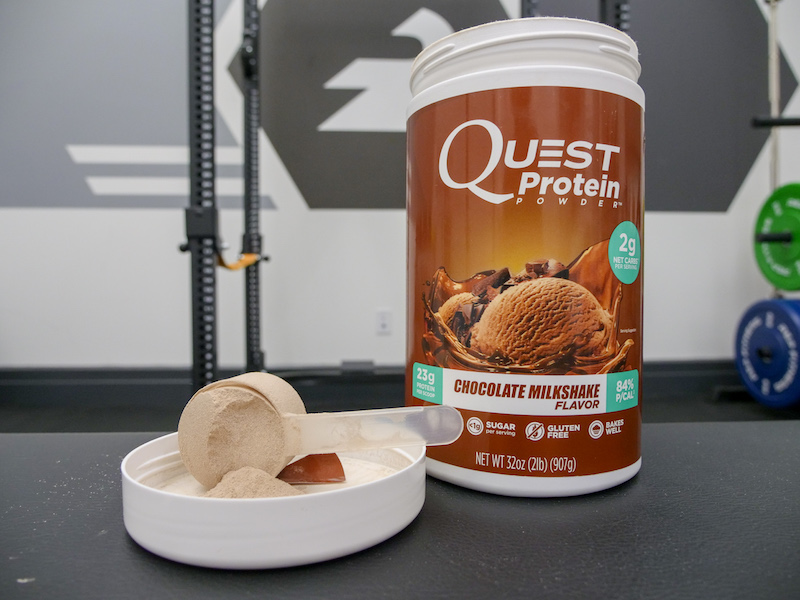 Quest
As the product with more carbs, I was expecting it to be the best tasting but I think it's clear that Quest was focusing more on making something that's useful for baking. The protein powder market is pretty saturated and the bake-ability is their hook.
Mixed with water (per their instructions) I didn't love the taste. The mixture of stevia and sucralose made for an unusual taste that somehow amplified the artificial flavor. I found the taste chalky and it reminded me of Space Food Sticks.
So neither brand is great with water but I don't think Quest is great with milk, either. Both Isopure flavors are delicious with milk, though.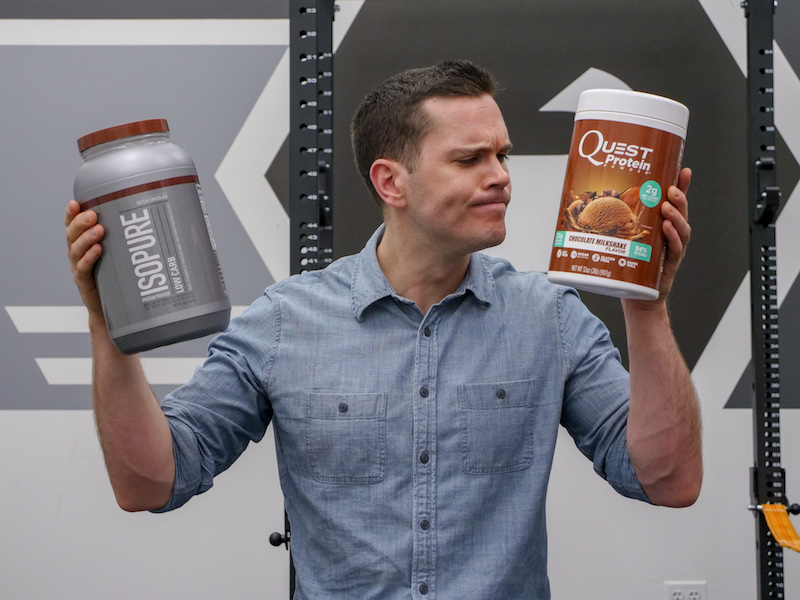 Price
Isopure
Isopure is available in plenty of sizes but the default one is 3 pounds, delivers 42 scoops, and costs between $35 and $45 on average. That comes to about $1 per scoop or roughly 4 cents per gram of protein. That's about the same cost as the most popular whey blend on the market so for a pure isolate, particularly with all those extra vitamins, the pricing is very competitive.
Quest
We've seen the standard two-pound tub on sale for $30 to $40, so that's about $1.20 per serving or a little over 5 cents per gram of protein. Casein is a bit more expensive than whey so it's not too surprising, plus they use sunflower lecithin instead of soy lecithin which adds to the price.
Nonetheless, it's clearly the more expensive of the two.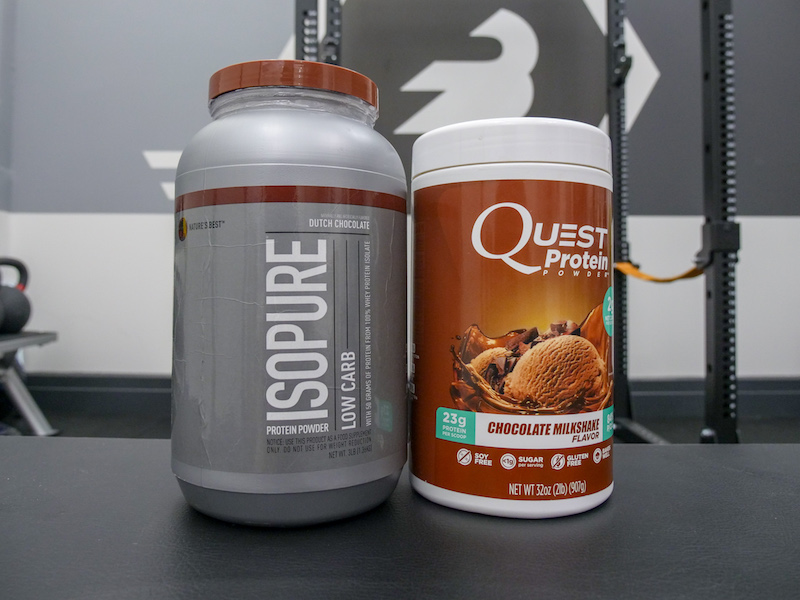 The Verdict – Which Is Best for Whom?
Isopure Pros & Cons
Cheaper
More vitamins and minerals
Lower in carbs
More protein per calorie
Tastier
Quest Pros & Cons
No fat
No soy
More fiber
No artificial flavors
Better for baking
Longer term protein release
Both of these are solid products but their effects are quite different. If your priority is a nutritious, inexpensive, high-protein supplement then Isopure is for you. If you're more interested in a longer term protein release, if you're against consuming soy, or if you want to try baking with protein powder, then lean toward Quest.
Isopure Low Carb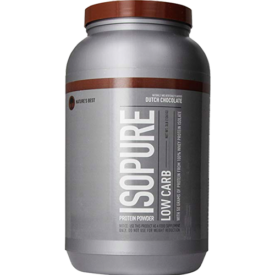 Isopure protein powder isn't just low in carbs, it provides more vitamins and minerals than many of its competitors.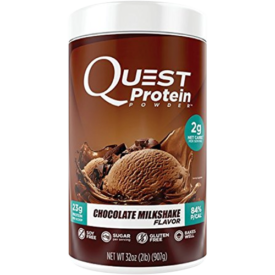 Ultra low in carbs, Quest's protein is unusual in that it can be used in baking as well as in protein shakes.
References
1. Boirie Y, et al. Slow and fast dietary proteins differently modulate postprandial protein accretion. Proc Natl Acad Sci U S A. 1997 Dec 23;94(26):14930-5.
2. Hoffman JR, et al. Protein – Which is Best? J Sports Sci Med. 2004 Sep 1;3(3):118-30.