Gear doesn't make the athlete. The athlete makes the gear. Cliches aside, however, you better believe that CrossFit competitors care about the shorts, training shoes, and tank tops that they're wearing during every thruster, kipping pull-up, and handstand push-up. Few people know that better than the employees at Reebok — a CrossFit partner and the gear-provider of the 2020 CrossFit Games.
They work year-round to design a product line that is comfortable, functional, and supportive. With less than a week to go before stage one of the Games, here's every piece of gear the athletes received:
Men's CrossFit Games Clothes
ActivChill Tees
ActivChill + Cotton Tees
ActivChill + Cotton Tanks
Myoknit Tees
Austin II Shorts
Epic Base Shorts
Myoknit Shorts
Control Hoodie
Women's CrossFit Games Clothes
PureMove+ Bra
CrossFit Myoknit Medium Impact Sports Bra
CrossFit Skinny Strap Read Medium Impact Bra
CrossFit Low Impact Micro Bra
One-Piece Swimsuit
MyoKnit Tights
ActivChill + Cotton Tank Top
ActivChill+ Cotton Tee
LUX ¾ Tights
LUX 7/8 Tights
CrossFit Shorts
CrossFit Chase Bootie Shorts
Control Hoodie
CrossFit Games Accessories
Face masks
Games Trucker Hats
Backpack
Gym Sacks
Socks
Reebok Footwear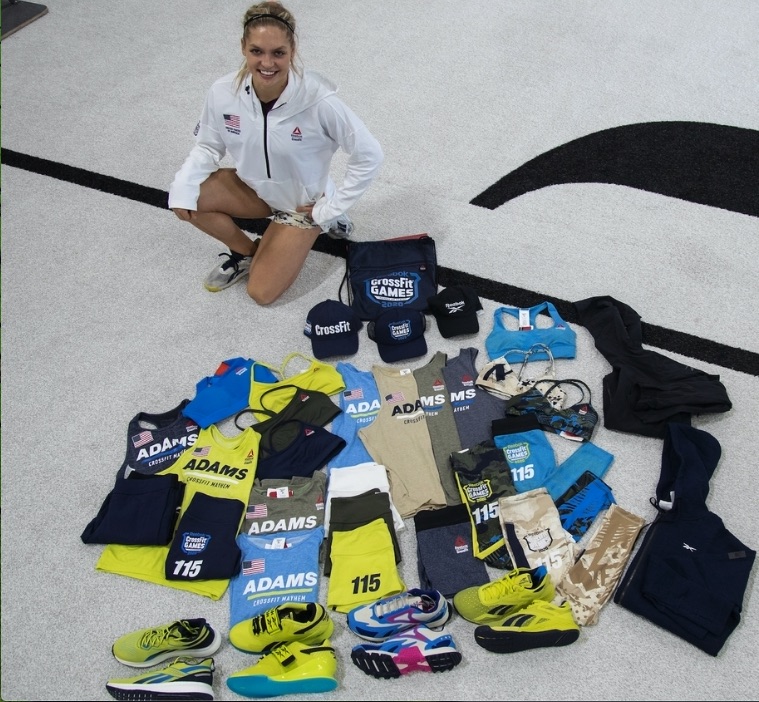 [Related: 2020 Reebok CrossFit Games Stage One Events 1 Through 4 Announced]
This year's CrossFit Games is unique in that stage one will be completed virtually. Instead of competing in one location, all 60 athletes will record their workout and send it to CrossFit HQ.
Still, the gear selections made by Reebok ultimately were not affected by this dramatic shift in format. That's according to Ben Horgan, a product manager at Reebok that helps oversee the Games apparel collection.
"We create products 18 months ahead of time, so it was prior to COVID happening," Horgan says. "As far as the execution of the product and getting the product delivered to international locations, that was the part [of the process] that was altered."
In-Depth on This Year's Reebok CrossFit Games Gear
Fit, practical technology, and sizing are at the top of the priority list for the designers at Reebok, says Horgan. Sizing, in particular, is a unique challenge since most CrossFit athletes have physiques far different from your Average Joe or Jane.
"These athletes work out so much that they tend to have pretty unique body shapes," Horgan says. "So they might have really thick quads but really thin waists. A lot of our line caters directly to the body shape of that CrossFit athlete."
To find the ideal shape, Horgan said that designers at Reebok scanned multiple male and female athletes to come up with a standard sizing guide for competitive CrossFit athletes. Here are other key points about the Games gear:
Vivid Colors and Graphics
This year's gear is bold and bright, as it was inspired by rally sport, which is a type of motorsports racing. The gear features sports striping, pops of color, and graphics. As for colors, Reebok opted for a base of neutral colors like beige, horizon blue, navy, green, and pops of chartreuse.
Reebok is also known to design Games gear with unique prints. This year, Reebok went with a "legacy camo," which is essentially a mashup of popular past prints.
Key Considerations
CrossFit athletes have special needs when it comes to their clothing. Here's a look of what those needs are, according to Horgan: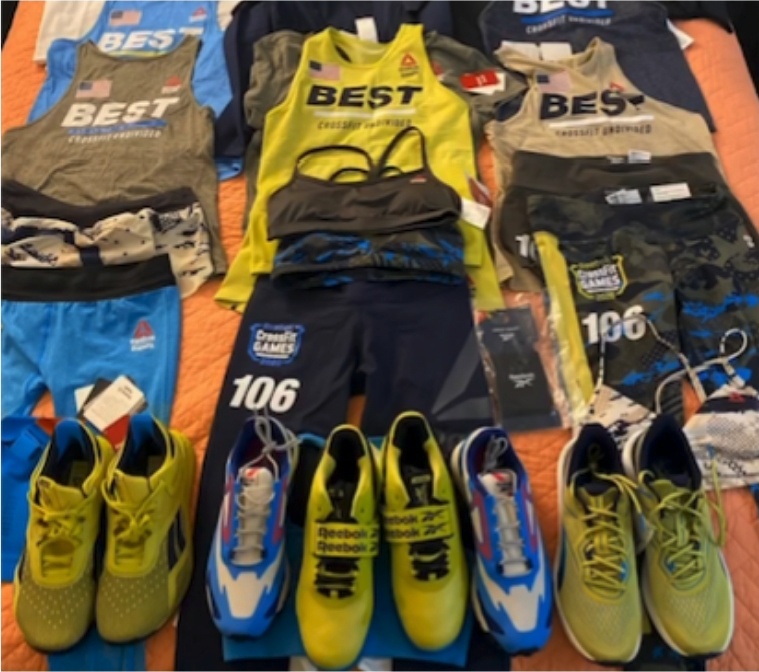 [Related: Here's Every Athlete Competing at the 2020 Reebok CrossFit Games]
Comfortable Fit:

"The fit is really important as well because these athletes are doing such intense movements over the course of [the] events," Horgan says. "We have to have the apparel fit so that it's not falling down anywhere or getting in the way of the athletes as they're competing. So for us, that's been really important."

Durability: It's

also essential that the clothing is designed to be remarkably durable, as it's continuously rubbed up against by barbells, dumbbells, and rope.

Mobility:

Athletes are consistently getting in positions like a deep squat or a handstand, so Reebok designed shorts with exceptionally high slits in their shorts. For women, bras are created with thin straps to fit comfortably around their shoulders and offer the correct amount of support.

Breathability:

If you've ever watched the Games, you know shirts aren't a popular choice for athletes, but Horgan says that they still ensure their clothes are as breathable as possible for the athlete's comfort.
Athlete-Focused Technology
With all that in mind, here are the primary technologies that Reebok uses for the Games gear collection:
ActivChill:

Reebok treats their t-shirt fabric with a unique formula that keeps it cool to the touch. "Because it's made out of nylon, some athletes find it a little slick," Horgan says. So, last year, Reebok introduced a cotton version of this popular shirt.

Seamless Shirts:

Horgan says that both men and women's t-shirts are knitted around a tube to — as the name implies — eliminate any seams. Seams can cause irritability if they rub against the competitors, so Reebok just got rid of them.

Myoknit:

Look closely, and you'll see that shirts, leggings, bras, and shorts have a "zoned pattern." These zones are thinner than the rest of the shirt, and therefore more air is allowed in and out to make the fabric extra breathable.

PureMove:

This sports bra debuted in 2018, and it's a gamechanger for female athletes. Not only is the PureMove + Bra available in 20 sizes, including half sizes, but has MotionSense technology that gets looser or firmer depending on the athlete's activity level. (We mean, come on.)
Final Thoughts
Gear may be a minor detail in the grand scheme of things, but it's an important one. Without comfortable gear, athletes risk being distracted. And seriously, do you really want to miss a rep because your shirt is too slick? Also, it's fun to geek out over the newest threads and treads. Be sure to watch the gear be put to use in stage one of the Games, which takes Friday, September 18th. Shirts optional.
Featured image from Haley Adams