We receive free products and receive commissions through our links. See
disclosures page
.
If you're looking for a solid squat rack that folds away, so your home gym space can stay functional when you're not working out, then the Rogue RML-3W Folding Squat Rack is a great choice. When you're transforming your space from a garage, basement, or spare room into a home gym, the amount of room you have will end up dictating the type of equipment you buy. It would be awesome if everyone had three-car garages with tons of room for a giant power rack with plate storage and cable attachments, but that's not the case, sadly.
This tough yet space-saving folding squat rack can fold both inward and outward to/from the wall to match your space needs. It only comes five inches off the wall when folded back and folds out in less than a minute so there's minimal set-up required. When installed properly, this rack can support nearly anything you may throw at it, like pull-ups, dips, squats, presses, and anything else you can do with a regular squat rack. Anyone looking for a sturdy yet space-conscious folding squat rack that can last a lifetime should take a serious look at the Rogue RML-3W Folding Squat Rack.
Main Takeaways
Don't let the space-saving design here fool you. This rack is strong and constructed with 3×3-inch 11-gauge steel. That's the same steel you can find in heavy-duty power racks.

The uprights can fold both in and out, allowing you more versatility when it comes to storing the rack when not in use. The rack only comes five inches off the wall when folded away.

Even if you've never set up a folding rack before, the instructions and included video from Rogue make it easy. We highly recommend purchasing the optional stringer if you've never installed a folding rack as it simplifies installation a ton.
Rogue RML-3W Fold Back Wall Mount Rack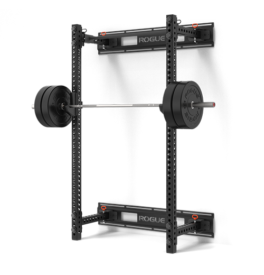 Rogue RML-3W Fold Back Wall Mount Rack
A full retractable, wall-mounted power rack with a quick attach pull-up bar, locking pin and hinge system, and profile that folds to just 5 inches deep when full retracted. A solid and extremely sturdy feeling option for spaces where a fully assembled squat rack is desired but too large as a permanent fixture.
Rogue RML-3W Folding Squat Rack Highlights
The RML-3W is one of Rogue's most popular squat racks with over 1,000 reviews and an average of a 4.9 out of 5-star rating on their website — and it's easy to see why. The rack itself is heavy-duty and made from 11-gauge steel featuring 3×3-inch uprights, much like you'll find on high-end power racks.
Thanks to the rack's size, it can accept attachments from the Rogue Monster Lite series, making this rack even more versatile. The Monster Lite series is a line of racks that Rogue manufactures that all have the same measurements for their uprights and hole spacing — meaning they can all use the same attachments. The laser cut holes offer Westside spacing through the bench press area for more accurate J-cup placement, and Rogue even includes UHMW plastic caps on the bottom of the upright posts to protect your floor.
For depth, you can choose between 21.5 inches and 41.5 inches deep. The 21.5-inch depth may not leave enough space for larger folks or those who like to squat low-bar style. For most other people, the 21.5-inch space should be sufficient. When folded away, both only come five inches off of the wall for extra space savings. The unique hinge-and-pin system allows for a quick and easy setup or fold away of under a minute, so you're ready to lift in no time.
The uprights, when installed according to the instructions, stand just over 90 inches tall. Though there's an optional adjustment room of up to two inches to cater to sloped or uneven floors — great for garages or basements, which aren't always the most level surfaces. The lateral support to keep the rack from swaying left and right comes from the quick-attach pull-up bar, which you can put on the rack with hitch pins in seconds. This rack is an ideal solution for those who are limited in space but still want the benefits of a fully functional squat rack.
Who Should Buy the Rogue RML-3W Folding Squat Rack
Those who are working with limited space and still want the functionality of a squat rack (like the ability to add attachments and a pull-up bar, as well as Westside hole spacing). This allows you to have the best of both worlds without compromise.
Folks who are concerned with stability and durability will like how solid this rack feels when installed properly thanks to its beefy uprights and thick 11-gauge steel.
Anyone who likes to purchase everything from the same place. Rogue has nearly everything you could need for your gym including accessories, weight plates, and bars to use with this rack.
Who Shouldn't Buy the Rogue RML-3W Folding Squat Rack
Someone who's on a tight budget may be able to find a more cost-effective folding rack since Rogue is generally a bit pricier than other brands.
People who have short ceiling heights may want to look for options that can accommodate lower ceilings.
Those who are looking for the security of a full, four-post power rack may want to check out other options if they have the room.
Price
The Rogue RML-3W Folding Squat Rack is priced at around $610 for the 21.5-inch depth rack. If you opt for the deeper, 41.5-inch version of the RML-3W, you can expect to pay about $710 before taxes and shipping. Your purchase includes Monster Lite J-hooks and everything you need to install the rack — though Rogue does not include the optional 11-gauge steel stringer. You can either choose to use wood or steel you already may have for a stringer, though we highly recommend purchasing the stringer from Rogue for an extra $110 to make installation much easier.
For anyone who's wondering what exactly a stringer is, it's a piece of wood or metal that you attach to the studs in your wall to spread the load and force out over a wider area. Stringers are essential when installing a wall-mounted rack as it increases the durability and decreases the likelihood of the rack becoming unattached from the wall due to shear force.
Overall Build and Quality
Rogue constructed the RML-3W to be a tank with 11-gauge steel and 3×3-inch uprights — much like one would expect to find on a high-end, heavy-duty power rack. The uprights are 90.375 inches tall with an inside depth of either 21.5 inches or 41.5 inches, depending on the option you select. You've got ample space to work within the uprights with 43 inches on the inside and an overall width of 56 inches when folded out for use.
When stored away, the RML-3W only sticks out five inches from the wall, leaving lots of room for activities, parking your car, or whatever else you need to use the space for. Though Rogue doesn't provide an exact weight capacity for the rack, we'd venture to say that this rack can easily support over 500 pounds when properly installed. Some sources online say it can even hold up to 1,000 pounds, but that may be pushing it. Always test the rack to make sure it's secure and sturdy with the weight you're using before stepping under it.
Features
Though the Rogue RML-3W seems like a pretty straightforward and bare-bones rack at first glance, having the same upright size as the Monster Lite family opens up the possibility for tons of attachments. The stringer is also an optional feature to keep in mind, along with the included quick-attach pull-up bar.
Stringer
Stringers are used for mounting brackets that distribute weight over a larger area. Many folks simply use 2×4 lumber to act as a stringer, and that works well. For a more polished look and some added creature comforts, such as specialized, laser pre-cut slots and a powder-coated finish, we like the Rogue Stringer, which you can add on for about $110 before tax and shipping. Rogue even has handy videos on their website for easy installation and the stringer comes with all the required hardware, so you won't have to run to the hardware store five times because you keep forgetting things.
Quick Attach Pull-Up Bar
This piece serves two purposes for the RML-3W — acting as a pull-up bar and providing a solid amount of lateral stability. Since the pull-up bar attaches with hitch pins to the top of both uprights, it holds them together and prevents a significant amount of side-to-side swaying. As a pull-up bar, the bar is non-knurled and 1.25 inches in diameter, making for a somewhat lackluster pull-up bar, but it still serves its purpose in a minimalist way. The lack of knurling could be good for those who like to perform kipping pull-ups, but we wouldn't advise that on a wall-mounted rack as the jostling could cause some problems where the rack attaches to the wall.
Attachments
Since the RML-3W is made with the same size uprights as the Monster Lite series of racks, it's compatible with the same accessories and attachments — though some won't work because of the folding nature of this rack.
Some of our favorite attachments for this rack are safety spotter arms, landmine attachment, leg roller, hip thruster bench, and matador dip bar. There are dozens of other accessories (78 in total, though some are very similar to others) and attachments to choose from, but use your best judgment when purchasing accessories. A weight storage pin, for example, will fit on the RML-3W, but may not be the most practical attachment available.
Spacing
The spacing for the holes here is two inches on center, then Westside spacing through the bench press area. Laser-cut holes in the rack for accepting attachments and hardware measure ⅝ of an inch, making this rack compatible with many other brands' accessories too as this is a common size.
Depth
The rack comes in two depth options, but since it's a folding rack, it does not come with spotters built-in. You can opt for either the 21.5-inch depth or the 41.5-inch deep version. The main reason to choose the deeper option is to allow more space between your uprights and the wall. People who may want more space are low-bar style squatters, or those who have a long torso, and may need additional room for bench press or incline bench press.
While the Rogue RML-3W doesn't come with safeties, you can purchase a pair of safety spotter arms for use with this rack. The Monster Lite series spotter arms measure 24 inches long and are lined with UHMW plastic to protect your bar at a price of about $195 before tax and shipping.
Product Specs
This rack measures 90.375 inches tall with a width of 43 inches between the uprights on the inside of the rack, and either 21.50 inches or 41.5 inches deep (depending on your selection). The RML-3W only comes off the wall five inches when folded away and not in use. Despite the space-saving dimensions, this rack is highly versatile and can support nearly any type of lifting or exercise.
Materials
The Rogue RML-3W is constructed from heavy-duty 11-gauge steel formed into 3×3-inch uprights. The hardware you receive is also made from solid steel with ⅝-inch bolts and hitch pins for a very secure attachment. The 11-gauge steel used in this rack, as well as the larger 3×3-inch uprights, are considered to be the optimal size and thickness for racks. Many other companies skimp on the steel and opt for thinner, 12-gauge, or even 14-gauge steel. The thinner steel is more prone to rusting through and bending over time. Overall, the rack is well made and intended to stand the test of time and last for many years, evidenced by Rogue's limited lifetime warranty on the rack.
Dimensions
At over 90 inches tall (90.375-inches to be exact), some folks may not be able to fit this rack into their space if they've got lower ceilings, so be sure to measure your ceiling height before finalizing your order. Nearly anyone will be able to fit this into their space if the ceiling height isn't an issue though, as the rack's footprint measures 56 inches wide with 43 inches of working space between the uprights, and only five inches from the wall when not in use.
Weight Capacity
Rogue doesn't list an official weight capacity for this product, but we can venture an educated guess that when properly installed this rack should be able to easily support 500 or more pounds. We've seen claims that it can support up to 1,000 pounds, but it seems unlikely anyone lifting 1,000 pounds would want to do so out of a folding rack, so we don't suggest trying it. Make sure you test that the rack can handle the weight you're loading on it before getting under the bar for a lift, and follow the instructions when installing the rack.
Warranties
The RML-3W is covered under Rogue's limited lifetime warranty for structural welds and the frame of the rack, so you can feel confident that your purchase will last for many years to come.
Places to Buy
The RML-3W is available for purchase directly through Rogue's website.
Company Information
Rogue has been at the forefront of innovation in the fitness equipment industry since they began in 2006. They now supply equipment for USA Weightlifting, World's Strongest Man, the Rogue Invitational, and a host of other competitions. They remain dedicated to producing the highest quality equipment and finding solutions to problems through innovation. They're based in Ohio, and you can reach out to their support team at 614-358-6190 or live chat with a team member on their website.
Final Word
Some people have tons of room for large pieces of equipment, and they don't have to worry about a wall-mounted folding squat rack. For the rest of us, we have to be smart about how we use the precious space we have and Rogue made the RML-3W exactly for that reason. It's tough, easy to use, and made from the same high-quality materials you'd find in full-blown power racks.
The RML-3W may not be the cheapest option on the market, but it's certainly a top contender for best value thanks to how well it's made and how versatile it is. There are tons of attachments from the Monster Lite series that you can add to meet your needs, as well as universal ⅝-inch attachments. If you spend the extra money up front, this rack can provide you with a lifetime of lifting, all while staying out of the way when it's not needed.
FAQs
Why should I purchase the Rogue RML-3W over other more cost-effective options?
There is a common phrase in the home-gym community and it goes, "buy once, cry once." This seeks to say that even though you'll spend more money up front, you'll only have to do it once. Buying a cheaper or bargain folding rack that's not made from the same high-quality materials as the RML-3W may save you money initially, but you'll spend more in the long run when you have to replace the rack in a few years.
How much does the Rogue RML-3W cost?
The Rogue RML-3W starts out at about $610 before taxes and shipping for the 21.5-inch deep version. If you're looking for more room in between the uprights and your wall, you can upgrade to the 41.5-inch deep version for $100 or $710. Add on a stringer to make attaching the RML-3W to the wall easy and aesthetically pleasing for an extra $110. 
Should I purchase a wall-mounted rack like the Rogue RML-3W even if I have room for a regular squat rack?
That depends on what you intend to use the rack for. If you're a strongman competitor and perform rack pulls and log lockouts regularly, then you may want to consider a regular squat rack or even a full, four-post power rack. On the other hand, if you train for powerlifting or general fitness, then a wall-mounted rack may work well enough for your needs and leave more room for other equipment. Try to envision how you'll be using the rack daily over time before making a final decision.