Sun Warrior launched in 2008 and with a commitment "to making the best plant-based proteins and superfood supplements." They sell a lot of interesting products, including a few devoted to digestive health, some stuff for immunity, and a greens powder that we've tried out, but their Warrior Blend is one of their more notable protein supplements.
It's plant-based and contains goji berries for extra nutrition, but one of the hooks is that it contains some medium chain tryglycerides (MCTs) in the form of coconut, "for a huge added boost to your energy, stamina, and recovery."
Let's take a closer look at the Vanilla flavor of this vegan protein powder.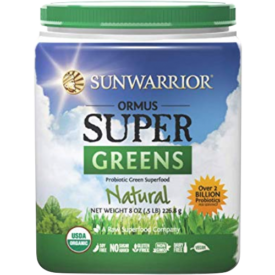 Unusually low carb and high in iron, this should please vegans and omnivores alike.
Sunwarrior Warrior Blend Vegan Protein Nutrition Info
One scoop has 100 calories: 18 grams of protein, 2 grams of carbohydrates (1 gram of fiber, no sugar), and 2 grams of fat (0.5 grams of saturated fat, 1 gram of polyunsaturated fat).
As far as micronutrients go, there's only information on some minerals: 15 percent of the sodium RDI, 30 percent of your iron, and 2 percent of your calcium.
There's also a lot of information about all the amino acids it contains, which includes a little over 5 grams of branched chain amino acids.
[Make sure to check out our rundown of the top protein powders for every type of athlete!]
Sunwarrior Warrior Blend Ingredients
Everything here is organic and non-GMO: the protein blend is made from pea, hemp, and goji berry. Then there's vanilla flavor, guar gum (a thickener and stabilizer made from guar beans), salt, stevia extract, and whole ground coconut.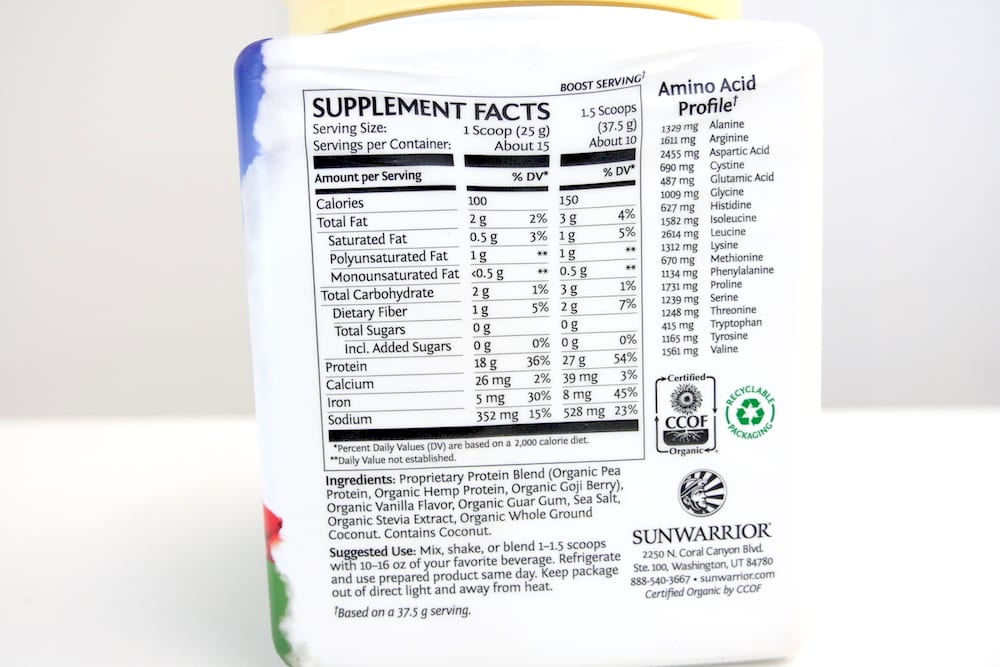 Sunwarrior Warrior Blend Benefits & Effectiveness
The first thing that leapt out at me from the nutrition panel is the iron: one scoop has thirty percent of your daily intake. That's huge, and it can be particularly good news for vegans, since the iron RDI can be a little tricky to meet without animal products.
I confess I was disappointed with the other micronutrients. The marketing emphasizes that Sunwarrior included goji berries because they "come full of vitamin C and flavonoids." (The formula used to have cranberry, which they changed in 2016 because they were having trouble finding organic cranberries that weren't too expensive.)
But there's no mention of Vitamin C or any other vitamins in the nutrition info. That's particularly annoying because it's smart to include a good source of Vitamin C with vegan (or "non-heme") sources of iron to help them absorb better. Is Warrior Blend a decent source of Vitamin C? I don't know.
We also don't know how many MCTs are contained in a serving or whether or not it's an effective dose.
That said, there's a lot that's impressive about this product. Besides the iron, 18 grams of protein with two grams of carbs is remarkable, especially for a vegan protein powder, and especially since half the carbs are fiber. The five grams of BCAAs is about as much as you'll find in a scoop of whey protein, and the ingredients are all-natural, non-GMO, organic, vegan, gluten-free, and soy-free. That's a lot of boxes ticked, though it may contain nuts and tree nuts.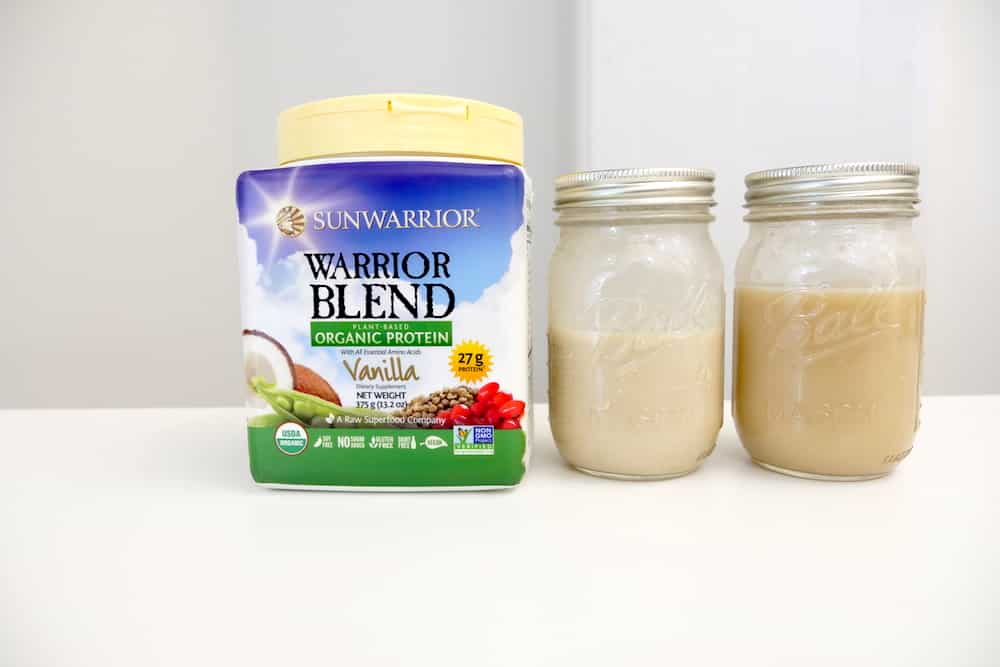 Sunwarrior Warrior Blend Price
I picked up a tub of 13.2 ounces for $22, which contained 15 servings. That comes to $1.46 per scoop or 8.1 cents per gram of protein.
That's a tiny bit expensive, since I've found the average price for an all-natural organic vegan protein is closer to between 6 and 7 cents per gram of protein. But it's not outrageously expensive, and if you get a larger tub of 40 servings the price drops down to 6.2 cents per gram, which is a great price.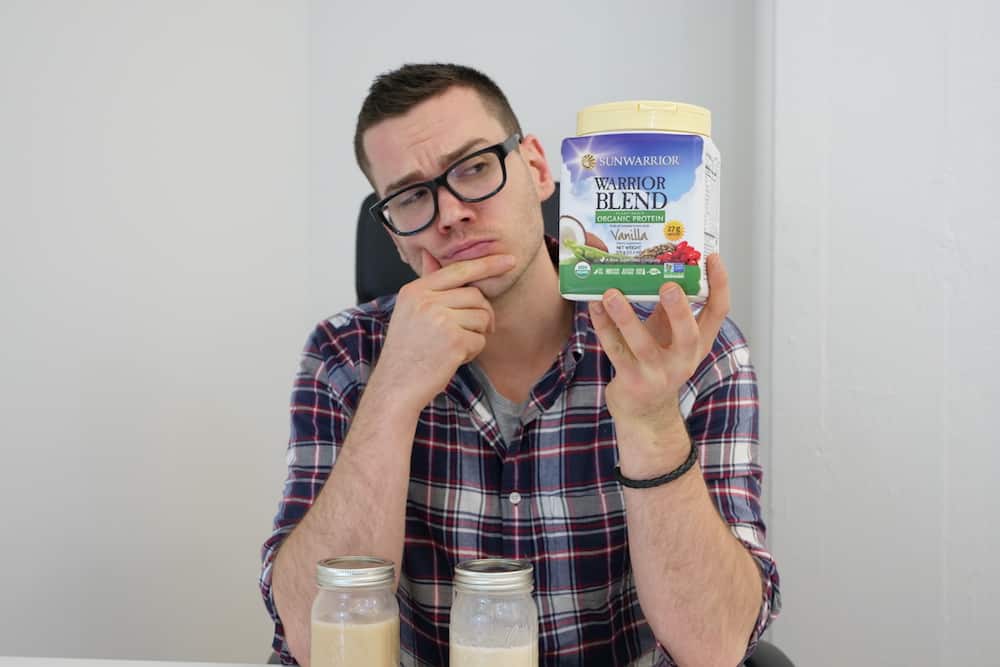 Sunwarrior Warrior Blend Taste
The vanilla flavor tastes like most other vanilla-flavored vegan proteins, which is to say it's way more nutty than vanilla-y. Mixed with almond milk, it tasted a lot like sacha inchi nut or defatted peanut butter. With water, I found it mixed a lot better and the taste was more enjoyable; there nuttiness was subdued and a little more of the coconut came through. Personally, I much preferred it with water.
The Takeaway
Mixed with water, I'm pretty happy with this product. It mixes well, the taste is fine if not particularly remarkable, the protein to calorie ratio is great, it's low in carbs, and it's extraordinarily high in iron.
I think the nutrition info is a little lacking — I would have liked to know the vitamin and MCT content of one scoop. Besides that, it's a pretty solid product that's pretty reasonably priced.
Other Great Protein Powders Reviews
Related Best Protein Powders Content