On November 17th, USA Weightlifting published the latest (and hopefully final) athlete start list for the 2016 American Open, to be held December 8th to 11th of this year in Orlando, Florida. Noticeable for this year: It will be the first significant national or international event in world to include the woman's 90KG (198lb) weight category, which was added earlier this year.
Over 850 athletes will competed over this weekend. As you can see on the chart below, 107 Youth and Junior athletes will compete in special "Trials" sessions on Thursday afternoon. Over the remainder of the weekend 354 men and 395 women will compete in the actual American Open Championships, a total of 856 athletes on 3 platforms over 4 days.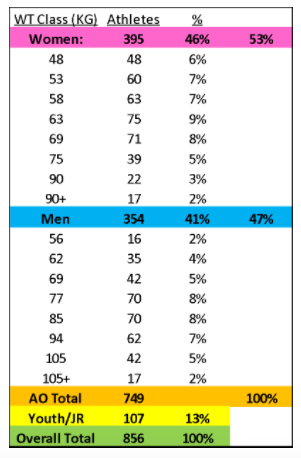 One reason for the massive amount of athletes is that this is the first competition that will serve as a qualification event for several events in 2017. If you an American citizen, and meet eligibility requirements, this will be the first opportunity to qualify for:
2017 Senior Pan American Championships in Miami, Florida USA
2017 FISU World University Games in Taipei, Taiwan
2017 Junior World Championships in Tokyo, Japan
2017 Junior Pan American Championships in Guayaquil, Ecuador
2017 Youth World Championships in Bangkok, Thailand
In addition to serving as a qualification event, this is also a drug-tested open competition. Athletes who are not American citizens, yet have a total to qualify for the competition, are able to register and compete in the competition. Looking at the start list, this year there are athletes who currently or have recently represented the national weightlifting teams of Chile, Colombia, Cuba, Kyrgyzstan, the Marshall Islands, and Tajikistan.
This article will attempt to showcase the top athletes in each of the 16 weight categories, as well as point out storylines fun facts to keep in mind. Myself, and everyone at BarBend wishes the best of luck to all the athletes, coaches and officials going to Orlando.
48KG
On paper, this is a three way race between 2015 USA World Team member Kathleen Winters, Junior American Record holder Megan Seegert, and 2016 Olympian Okoeva Zhanyl of Kyrgyzstan's National Team. All three athletes are entered with 160KG (352lb) or more; Winters has the highest entry with 168KG (370lb).
Zhanyl did not have the best competition at the Rio Olympic Games as she finished in 10th place with a total of 169KG (372lb). However at the 2016 Asian Championships this April in Tashkent, Uzbekistan, she totaled 177KG (389lb). If she is healthy and lifts to her abilities she will be tough to beat. In early November Seegert snatched 78KG (172lb), which is 5KG (11lb) over her current Junior American Record, and 5KG away from the Senior American Record held by 2016 Olympian Morghan King.
Look out for: 2016 Youth World Bronze Medalist Hayley Reichardt. The 17 year old totaled 152KG (334lb) last month to win her first international medal. In her relatively young career, she has already medaled at the Senior National Championships and is a former Junior American record holder.
53KG
The top entry total in this weight class is 180KG (396lb) and held by Cortney Batchelor. At the 2016 Olympic Trials, she snatched 86KG (189lb), which technically only tied the American Record. However, the current record holder is Charis Chan, who allegedly has been linked to a failed drug test dating back to the 2015 American Open where she set the record. If the United States Anti-Doping Agency (USADA) finishes investigating and the rumor holds true, Batchelor would be the current American Record holder.
The top three is rounded out by Alyssa Ritchey of Team Juggernaut, with 175KG (385lb) and Jourdan Delacruz, a former resident athlete at the US Olympic Training Center (USOTC) with 174KG (383lb). Delacruz won a silver medal at this year's Pan American Junior Championships, and placed 5th overall at this year's Junior World Championships.
Look out for junior athlete Sydney Goad, daughter of Olympian Robin Goad and USA World Team member Dean Goad. At the age of 19, she has already represented the USA on 2 Youth world teams and 2 Junior World Teams. She is entered with 163KG (359lb) total, however if someone has a bad day, Goad could sneak into a medal position.
58KG
In theory and on paper, this weight class should be called the "Jessica Lucero show". Lucero currently owns all of the senior level American records in this category; what's more, she has the highest entry total with 208KG (458lb).
The second highest entry total belongs to 2016 Olympian Mattie Sasser with 199KG (438lb). Sasser, who is still a junior aged athlete, has dual citizenship between the United States and the Marshall Islands. She placed 7 th at this year's Junior World Championships and 11th at the Rio Olympics. The current junior American Records are 83KG (183lb) in the snatch, held by 2008 Olympian Carissa Gump, and 108KG (238lb) in the clean and jerk, held by 2016 Junior Pan American champion Maddie Myers. Unfortunately since Sasser is not eligible to compete for Team USA, she is not eligible to set any new American Records at this meet. The ironic part is that she could be the best junior lifter with American citizenship; however she would not be eligible to compete for the USA until next year at the earliest.
In the past, the InternationalWeightlifting Federation (IWF) has had a stipulation that if an athlete has dual citizenship, they cannot switch their representation without a 2 year inactive period. The same rule held true for Pat Mendes when he wanted to represent Brazil after previously representing the USA, along with Norik Vardanian after he wanted to represent the USA after being a 2012 Olympian for Armenia. This rule was recently terminated going into 2017, so if Sasser chooses to do so, she may be eligible to compete for Team USA if the Marshall Islands Federation grants her release to compete for another country.
The third highest entry total belongs to Sarabeth Phillips with 196KG (431lb). Phillips, who is a star in the GRID League on the New York Rhinos functional fitness team, is a very technically strong weightlifter. She won a silver medal at the 2016 USA National Championships, and earned a spot as an alternate to the Pan American Championships.
Look out for Stephanie Lemmen, who recently placed 8th for Team USA at the World University Championships in Mexico, totaling 186KG (409lb). She placed 4th at this past year's National Championships, as well as at April's test event in Rio de Janeiro, Brazil in advance of the Olympic Games. More recently, she was the top female athlete at July's RVA Open in Richmond, VA where she won first place prize money of $2,000.
63KG
This category could be wide open to whoever makes the most lifts. The top 6 athletes are within 7KG (15lb) of each other. The top entry total belongs to Maddy Myers, a Junior American Record holder and the current Junior Pan American Champion. She totaled 209KG (460lb) at that competition, and my intuition tells me if she lifts to her abilities this is her competition.
Mary Peck, the 2016 US National Champion, is entered with a 200KG (440lb) entry total. This past week, she set new American University Records in this category. This past September, she was the top female athlete at the Hassle Free Invitational sponsored by Caffeine and Kilos. The third highest entry total belongs to Heather Farmer with 195KG (429lb). In addition to being a multiple time national qualifier, this past October, Farmer was the best female lifter at the Metropolitan LWC Championships in New York City.
Look out for Jacky Bigger, who is entered with 188KG (414lb). She is a former University National Championship team member at Lindenwood University, who currently trains with the Mash Mafia Weightlifting Team. In October, she was victorious at the Midwest Strongest Unicorn Competition, where she totaled 201KG (442lb). I would be surprised if she did not end up on the medal podium.
69KG
In a nutshell, this is her weight class, and will be for the foreseeable future. She currently holds all three Senior American records, topped off with a 239KG (526lb) total that she accomplished this past June in Colombia at the Pan American Championships. This past week she became the World University Champion with a 235KG (5177lb) total. That being said, I don't think it's likely she will total 230KG+ twice within one month. My guess is she lifts enough to win a championship in her hometown – however she is easily the most exciting American Woman in the competition.
The top three athletes are rounded out by Danielle Hudes, with a 206KG (453lb) entry, and Jaclyn Long with 198KG (436lb), respectively. At last year's competition, Hudes was your champion in this category with 199KG lifted, and she also won a silver medal at this year's National Championship behind Olympic Rogers. Long is a 2015 Bronze National Medalist in the 63KG category, and recently moved up a weight class, where she has looked stronger and made bigger lifts.
Welcome back to the platform Erin Andica (nee Wallace) after a 3 year hiatus from USAW competitions. Her entry total of 195KG (429lb) is tied for 5th highest entry. Andica is a two time National Champion and three time World Team qualifier for the USA from the LSU-Shreveport program; most recently in 2013. She will be joined by husband Carlos Andica, a two time Olympic Team member for Colombia.
Look out for 17 year old Madison Stenbo in the A session. At last month's Youth World Championships in Malaysia, she placed 8th overall with a 187Kg (411lb) total. While she is a long-shot to be on the podium against ladies almost twice her age, she is one of the top up and coming female athletes to watch.
75KG
The overall volume of women in this weight class is no doubt lower than in previous years due to the emergence of the new 90KG category. That being said, the level of competition will still be high. Amy Hay has the highest entry total of 217KG (477lb), last year she won the bronze medal at this competition. 2013 National Champion and fellow BarBend.com contributor Samantha Poeth, is next with 210KG (462lb). Next come 6 women who are entered with 200KG (440lb) entry totals. Most noticeable is former USOTC resident athlete Jessie Bradley – last year's champion and 2016 Junior Pan American Champion. At this year's Junior World Championships, Bradley totaled 210KG on her way to an 8th place finish.
90KG
The newest weight class will be making its world debut here in America. Sarah Hopping Estrella and Emelie Parker share the top entry total of 205KG (431lb). Estrella is a multiple time medalist at the National Championships and the American Open, as well as placing 9th this year in the California CrossFit Games Regional competition. Parker joins this weight class after previously being a (very small) heavy weight. She finished in 4th place at the 2016 National Championships while competing against women significantly bigger than her in body weight. The third position is held by Samantha Kleinschmidt, a young up and coming lifter who is representing Catalyst Athletics; her entry total is 202KG (44lb).
90KG+
The last category has some of the best talent in America of any age. Top seat Marissa Klingseis is only 21 years old, however she's already competed on 3 Senior International Teams and was the 2015 Junior Pan American Champion. Her entry of 240KG (528lb) will be heard to compete against. She just won a silver medal at the World University Championships, and if she competes to her abilities it will be very difficult for anyone to knock her of the top of the podium.
Up for the challenge will be 17 year old Shala McMillan, who won a bronze medal in the snatch at last month's Youth World Championships. This Florida native is bringing a 219KG (482lb) entry total to the party. Emily Malinowski of Dog House Weightlifting has the third highest entry at 212KG (466lb). Needless to say, these women will be ending the competition on Sunday with some big lifting.
56KG
In the most exciting weight class of the competition (this author's biased opinion) – 2014 US National Champion Michael Fox has the highest entry total with 239KG (526lb). He is one of the few American men in this category capable of a triple digit snatch and a 300lb (137KG) clean and jerk. He has been training with Coach Max Aita of Team Juggernaut, and I expect those lifts to continue to improve.
The next two athletes on the start list are Andrew Cheung and Brian Reisenauer – both entered with 215KG (473lb) entry totals. Cheung won a bronze medal at this year's National Championships with a 215KG total. Reisenauer won a silver medal at the 2015 American Open with a 204KG total.
To put things in perspective, five or so years ago when I competed in this category, a 180KG (396lb) total would probably take you onto the podium. You possibly could even win a National Championship if Darren Barnes did not show up. These men are totaling 20% more and they are not even guaranteed to make the podium due to the competition. The growth of depth does not only pertain to the 56KG category; however it is fascinating to see.
Look out for Joseph Garcia from Team Muscle Farm in Miami. He has a 214KG (471lb) entry total, and every time I see him compete he is stronger than ever. His coach is Pablo Roman, a former Cuban National Team member on their Senior World team. For my money, the influx of Cuban weightlifting knowledge into South Florida and the country as a whole is a tremendous resource for USAW. He's not the only one; at Waxman's Gym in Los Angeles, Coach Juan Martinez has helped turn that team into a national powerhouse. In the Philadelphia area, Coach Victor Gallego has been producing elite athletes for over twenty years in the USA. All learned their coaching skills in the Cuban system.
62KG
As we have grown accustomed to in recent years, the top entry total belongs to 5-time National Champion Derrick Johnson. The last time we saw this multiple time American World team member, he was setting a double body weight American Snatch Record of 124KG (273lb). If you have seen any of his training videos on social media, he may be 31 years old biologically, but physically he is in better shape than most 21 year olds in the iron game. I expect to see him make some big lifts in Orlando.
Closely behind with a 255KG (561lb) entry total is Syrgak Abdyramanov of the Kyrgyzstan National Weightlifting Team. At the 2016 Asian Championships he totaled 277KG, however that was as a 69KG athlete. At last year's World Championships in Houston, he totaled 265KG in the 62KG category. Needless to say, he will add another layer of excitement to this competition. If he is in shape I expect his to be a serious threat to Johnson for a gold medal.
The third highest entry total belongs to Sean Hutchinson, who happens to be the two time defending American Open Champion in this category. At last year's event in Reno, he totaled 251KG (552lb), however he was sidelined from the 2016 National Championships due to sickness.
Welcome back to the platform three-time Senior National Champion Aaron Adams after a 5 year hiatus from USAW competitions. His entry total of 230KG (506lb) is the 6th highest entry. Adams was on the 2009 Senior World Team, and many times on Junior and Youth International World Teams. This will be the first national event since the 2011 University Nationals for the New Jersey native.
Look out for Junior National Champion John Stang; he is in the A session with a 235KG (517lb) entry total. At the Junior Nationals in February of this year he totaled 247KG (543lb) – so he is capable of pulling off some big lifts. If one of the more seasoned veterans ahead of him has a bad day, Stang could find himself on the podium.
69KG
Blatantly speaking, this is his weight class, and will be for the foreseeable future. He currently holds the Clean & Jerk (182KG / 400lb) and total (317KG / 697lb) Senior American records in this weight class. Last month in Malaysia, he won his second World Championship this year and re-set the Youth World Record in the Clean & Jerk and the Total. Let me mention he is only 16 years old, and while that sinks in, I'll let you know he entered the competition with a conservative 300KG total. In October, I felt it would be difficult for him to have an elite performance of 317KG twice within 5 months; he informed me I was mistaken. That being said, I am not expecting him to total 317KG again at the American Open because there is no need to do so. However, CJ is a competitor and when he is on the platform all bets are off.
The next highest entry total is entered by Long Island's own James Corsitto at 268KG (590lb). James is a previous medalist at the American Open and multiple time National Championships qualifier. The third highest entry is 265KG (583lb) and is held by Aaron Addison. This past week, Aaron placed 6th at the World University Championships with a 272KG (598lb) total in his international debut.
Look out for 16 year old youth athlete William Cohen; son of 1980 US Olympian Michael Cohen, lifting out of the A session with a 250KG (550lb) entry total. He is the 2016 Youth National Champion, and in October he competed in his 3rd Youth World Championships where he placed 16th overall.
77KG
By far, this is the most interesting weight class simply because of the high level of talent that is expected to compete. The top two entry totals are over 330KG (726lb) and are held by athletes who have competed multiple times internationally for their native countries. The top entry of 335KG (737lb) is owned by Yadier Nunez, a Cuban national who has lived in San Antonio, Texas for the last year and coaches and trains with Team 210 Weightlifting Club and Coach Steve Galvan. At the MIA Soul Classic in Miami this past October, Nunez was the best lifter with a 342KG (752lb) including a 192KG (422lb) clean & jerk.
The American Weightlifting community was a buzz with excitement over that lift, since it signified a 1 kilo improvement on the current American record. That being said, the normal process towards citizenship takes five years in a best case scenario, and if the process started when he moved to America last year – he still has 4 years before he could represent the USA in international competition. Citizenship aside, the guy is a beast and won a silver medal at the 2015 Pan American Games and 2014 Pan American Championships for Cuba. I love watching him lift, and he is one of the nicest people in general – regardless of language or citizenship.
One athlete who is fully capable of surpassing Nunez is Colombia's World Team member Yony Andica. Andica, the brother of Olympian Carlos Andica; is entered with a 330KG (726lb). His resume includes placing in the top 20 at the World Championships, winning the Pan American Championships, and being a former Arnold Weightlifting Championships money winner. If he is in shape, he will be a pain in the side of Nunez and worse case should win the silver.
Third on the entry list is Chile's Bastian Lopez with 311KG (684lb). Over the last several years, the Chilean National team has had several training camps at the US OTC and Lopez is well known with American athletes in their early 20s. He is a former Pan American Junior Champion, and he placed 5th at the 2016 Pan American Championships. It will be great to see a world class competition between himself and America's own Harrison Maurus. Maurus, who is entered with a 307KG (675lb) total, placed 2nd overall at last month's Youth World Championships in Malaysia.
This weight category is going to be a slobber knocker. All 4 men at the top are world class athletes. It does not get any better than this; I fully expect this session to be standing room only. If you are a weightlifting fan in Orlando, DO NOT MISS THIS.
85KG
After the 77KG category, we still have more high level lifting to look forward to. National Champion Anthony Pomponio has the highest entry total listed at 336KG (739lb). He is a former US OTC resident athlete, however several months ago he moved back to his naïve Southern California and has been training with Team Juggernaut and Coaches Max Aita and Chad Wesley Smith. Aita and Smith are two of the best in the overall strength business, and Pomponio's lifting has reflected that. When I saw him at September's Caffeine and Kilos Invitational, he set his PR total of 336KG and he definitely had more in the tank.
Next on the start list is US World team member Travis Cooper at 329KG (724lb). He recently won a silver medal in the clean and jerk at the World University Championships and placed 4th overall. He is a three time US National Champion between the 77KG and 85KG categories. I saw him over the summer at the RVA Open; he informed me that for the American Open he is going into the competition with the mindset of just having fun and seeing how training goes. Going forward he still expects to be a 77KG athlete for significant events.
The third best athlete (in some order) is James Tatum. For some reason, Tatum entered the competition with a 295Kg entry total; however I expect that by the technical meeting on Thursday December 8th, his entry will have been increased. Currently he is scheduled to lift in the B session, which is not where an athlete of his caliber belongs. Tatum placed 2nd overall at the World University Games, and when he is at his best, is capable of snatching in the neighborhood of 160KG (352lb). Or he may drop out of the competition all together; however I put more stock into an entry increase than anything else.
94KG
The top entry of 360KG (792lb) belongs to former US OTC resident athlete Colin Burns. In past years, there would be a collection of top American talent in this category; including Olympians Norik Vardanian and Kendrick Farris, Jared Fleming and D'Angelo Osorio. However this year, due to injuries and other reasons, Burns is first on the list by 18KG (40lb) over the next athlete. Burns, who has been described as a snatch specialist, recently competed in Finland where he snatched 173KG (381lb) while weighing 96KG. Technically if he was 2KG lower in body weight, it would represent a 1KG increase on Vardanian's current American Record in the snatch. I fully expect Burns to win, however without a battle with an athlete his caliber, he may compete down to the rest of the field.
The rest of the field is led by multiple time Junior National Champion and superstar on the rise, Nathan Damron at 342KG (752lb). He recently snatched 160KG (352lb) which represents an unofficial American record. This past year, Damron, who is still probably a true 85KG athlete, placed 9th at the Junior World Championships and 2nd at the Junior Pan American Championships. If Burns is a snatch specialist, Damron has a dominant clean & jerk of 200KG and then some. If Damron can keep the competition close in the snatch, he has a valid opportunity to out clean and jerk Burns and steal a gold medal. Burns clean and jerked 194KG (427lb) at the 2016 National Championships, yet missed at 202KG (44lb) twice.
Third on the entry list is newly minted 94KG athlete Robert Blackwell of California Strength at 339KG (746lb). His resume includes a silver medal at the 2014 National Championships and he has been a corner stone barbell specialist for the Los Angeles Reign of the National Professional Grid League (NPGL).
Look out for junior athlete Tom Summa, who has become a key member of the Mash Elite Weightlifting Club's youth movement. He placed 5th at the Junior Pan Am Championships this year, and 8th overall at the Junior World Championships. He is 5th on the start list with a 330KG (726lb) entry total; however he does what he wants- which means that he will be competitive until the last lift of the session.
105
The top entry of 365KG (803lb) belongs to 2016 Pan American team member Wes Kitts. In training on November 18th, Kitts unofficially broke the American Record in the snatch with 174KG (383lb) – 1 more than the record currently held by Ian Wilson. The great thing about Kitts is that he is still very new to the sport, and very raw. He has nicely progressed over the last few months while training at California Strength under Dave "The Godfather" Spits, one of the top coaches in today's USAW. I am pleasantly expecting to see some big lifts from Kitts in Orlando.
The second highest entry total belongs to Asniel Jimenez with 350KG (770lb). Jimenez is another Cuban national who moved to San Antonio last year and trains at the 210 Weightlifting Club under Galvan. He is a former Junior Pan American Champion, and he placed 5th at the 2015 Pan Am Games with a 364KG (801lb) total. I am not sure what to expect from Jimenez because the data on him is not recent, however he is smart and knows how to train. He probably is going to Orlando with the expectation of winning the competition and I am sure he knows what Kitts is capable of.
Junior World Team member Joshua Ji has the third highest entry total with 345KG (759lb). At this year's Junior World Championships, he placed 8th overall in his category. Additionally he was a silver medalist at the Junior Pan American championships.
Look out for junior athlete Dylan Cooper, who is 5th on the start list with an entry of 330KG (726lb). He is a bronze medalist at the last two Junior Pan American Championships, and finished in 15th place at the 2015 Junior World Championships; all in the 94KG category. He is another up and coming Junior American athlete that is part of the Mash Elite Weightlifting Program.
105+
The easy favorite is "The Dragon" – 4X National Champion Caine Wilkes, who brings a 370KG (814lb) entry total to the table. At this year's Pan Am Championships, he places 2nd with a 385KG (847lb) total. His best ever total is 416KG (915lb), which he accomplished at the 2015 National Championships in Dallas, TX. I do not expect to see a total in that range, however if Wilkes is serious about starting the quad on a high note, a 400KG (880lb) total should be seen on the platform.
The second highest entry total belongs to Ethan Harak, a newly minted superheavyweight athlete, with 350KG (770lb). He placed 4th overall at the 2016 National Championships in the 105KG category. The third highest entry total belongs to Michael Kreatsoulas, also with 350KG (770lb). Kreatsoulas won a bronze medal at the 2016 National Championships and has medaled multiple times at the American Open.
Look out for Junior Athlete Ryan Sennett, who is a student athlete at the University of Northern Michigan on their Olympic Weightlifting team. He is the owner of several Youth American Records, and competed at the 2014 Youth Olympic Games. He won a bronze medal at the 2015 Junior Pan Am Championships.
Correction: This article previously implied the 58kg lifter Sasser is eligible to set American Records, though she is not currently eligible to do so. We have updated the text to reflect this fact.
Featured image: @IWFnet on Instagram