When you think of home gyms, what comes to mind? More than likely your mind fills with pieces of equipment like barbells, squat racks, plates, you know the bigger objects, and rarely do barbell clamps top this list. However, barbell clamps are an incredibly important piece of equipment to have in the gym for both performance and safety.
Contrary to popular belief, not every barbell clamp is created equal. This is why it's incredibly important to make the right decision when building out a great home gym. The last thing a fitness enthusiast wants is a clamp falling off mid-lift, as this could impede success and create the potential of injury with plates sliding off of one side. Everyone trains differently, and having clamps to secure weight on the bar with any strength, power, and conditioning exercise is a must for success.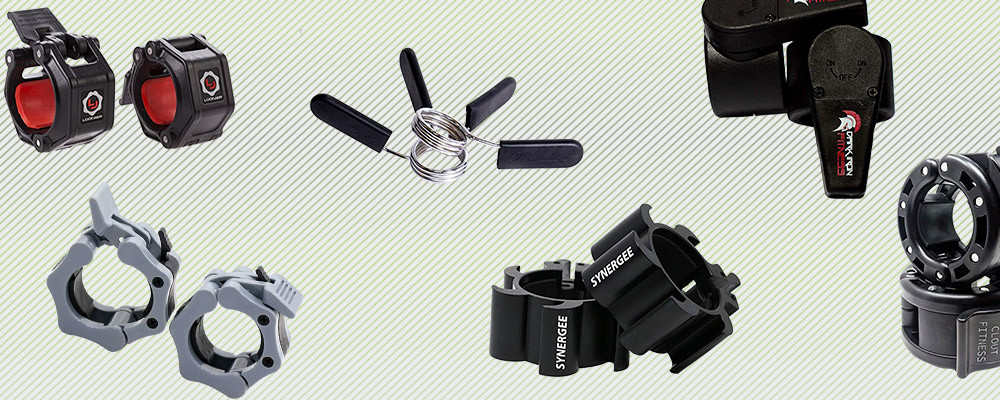 Best Color Variety
Jazz Up Your Barbell
The inexpensive barbell clamps from Day One Fitness come in six colors: black, blue, green, hot pink, pink, and red. So they're great for those who like to jazz up their barbells, plus they come in both 1″ and 2″ sizes so they can fit smaller barbells.
Pros
The collars come in a variety colors.
Customers have options for collars that fit either 1″ or 2″ bars.
Cons
Some customers suggest they're not ideal for slamming the weight onto the ground.
Best for Olympic Weightlifting
Drop Your Bar All You Want
Made from reinforced plastic and solid resin abs, these collars have hundreds of five-star reviews because they deliver results without adding a lot of weight to the bar. Make sure you leave them in the "open position" between uses to maintain the clamps' tension.
Pros
They're durable, made of a solid resin abs frame with injection molded pressure pads.
The collars can be adjusted quickly and easily if they do slip.
Ideal for functional fitness workouts, weightlifting, and workouts where you're dropping a bar from overhead.
Con
Some find them a bit too tight to open and close, a downside of their strength.
Editor's Choice
For Fast Transitions
The Clout Fitness Quick Release Barbell Clamps are a great, secure option for every fitness enthusiast. These clamps have steel pins throughout them to ensure security and longevity. In addition, the inner construction has rubber coating to promote barbell security. 
Clout Fitness Quick Release Barbell Clamp Pros
Durable steel pins throughout. 
Internal rubber coating. 
Lifetime replacement.
Clout Fitness Quick Release Barbell Clamp Cons
May not be great for weightlifting. 
Best Versatility
Easy to Use
The Greententljs Olympic Barbell Clamps are a solid option for the lifting enthusiast that cares about security, value, and efficiency. These clamps are made out of a reinforced plastic and offer an easy clicking mechanism for security. 
Greententljs Olympic Barbell Clamps Pros
Cost-efficient. 
Durable construction. 
Easy locking mechanism. 
Greententljs Olympic Barbell Clamps Cons
May not be the best for Olympic weightlifting. 
Most Secure
For Serious Weight
The Lock-Jaw Barbell Collars are a good option for the serious lifting enthusiast that wants security and a somewhat cost efficient clamp. This clamp has an internal rubber construction for security and quick release clips for ease of use. 
Lock-Jaw Barbell Collars Pros
Secure inner rubber construction. 
Easy locking clamp. 
Durable construction. 
Lock-Jaw Barbell Collars Cons
Slightly more expensive than cheaper clamps. 
Best No Frills
Just the Basics
The CAP Barbell Spring Collars are a great pair of "traditional" barbell collars. These collars offer a no frills approach to securing weight and are one of the most cost efficient options out there for the avid lifting enthusiast. 
CAP Barbell Spring Collars Pros 
Rubber grip handles. 
Simple construction. 
Durable springs. 
CAP Barbell Spring Collars Cons
May be limiting with max loads.
Not ideal for weightlifting. 
Best Warranty
Secure and Cost-Efficient
The Dark Iron Fitness Barbell Clamps are a great option for any level of fitness enthusiast. These barbell clamps are secure and cost-efficient, but also offer a lifetime warranty, which is awesome for anyone wanting their investment to go the distance. 
Dark Iron Fitness Barbell Clamps Pros
Durable construction. 
Secure inner rubber strip. 
Lifetime warranty.
Dark Iron Fitness Barbell Clamps Cons
May not be the best for Olympic weightlifting. 
Also Consider
Lightweight and Longlasting
The Synergee Aluminum Barbell Collars are a great lightweight training option for every level fitness enthusiast and have a great warranty. These barbell collars are designed with an inner rubber construction for security and an outer aluminum for durability. 
Synergee Aluminum Barbell Collars Pros
Lightweight aluminum construction.
Secure rubber lining.
Easy-to-use locking mechanism. 
Synergee Aluminum Barbell Collars Cons
May not be the best for Olympic weightlifting.
How We Picked
At BarBend, we cover a variety of sports that entail a variety of exercises. From dropping bars overhead, to holding maximal weight, we considered barbell clamps on three main review premises: security, durability, and versatility.
Security
Security is pretty straight forward and entails how well the clamp holds weight on the bar. Ideally, you want a barbell clamp that doesn't slide whatsoever or shift when executing any form of movement.
For example, if you jerk a weight overhead and drop the bar, you don't want to plates sliding off at the end or shifting, as this can be problematic for completing multiple reps and is very annoying when it comes to efficiency.
To assess security, we check out the material that the muscle clamp is made out of and the locking mechanism it uses. A great clamp should have construction that is heavier in nature and should have an inner material that securely hugs a barbell.
The locking mechanism should "lockdown" with no signs of becoming easily loose. Generally, great clamps will have a lever that clicks in place when locked on a barbell.
Durability
On top of security, we also assess durability. While barbell clamps might not be an incredibly pricey home gym item, they're still worth looking into to ensure your investment goes the distance. After all, the last thing anyone wants are clamps that break within a month of buying them
Durability for clamps come down to the main material they're constructed with. To no surprise, metal clamps will typically be best for durability, and heavier plastic clamps will also be a good bet. Spring clamps can be okay, but more prone to bending, however, they are the most cost efficient.
If you want your investment to go the distance and you perform a variety of exercises, then we'd recommend looking into higher quality clamps. They might not be as cost-efficient as basic spring clamps, but their durability will make up for their price with the longer
Versatility
Versatility is the component that ties durability together with security. For barbell clamps, versatility entails how a clamp can be used in various workouts. This is where it's important to understand how you intend to use the barbell clamp in the first place.
For example, if you need a clamp for things like Olympic lifting, heavy squats, and routine accessory work, then you'll want to pick up a strong quick release, or bolted collar. If you're a fitness enthusiast that performs routine lifts where weight isn't being dropped, then quick release or spring collars will suffice.
When we assess versatility we rank clamps in a hierarchy based on how they'll be used more often for a variety of users.
BarBend Tips
What is a barbell collar?
Barbell collars are the pieces of equipment designed to hold plates securely on a barbell when lifting. Every collar will offer a various level of security.
What's the best type of barbell clamp?
The best barbell clamp should be determined by how you lift. Let your lifting style dictate the barbell clamps you use. If you're dropping weight frequently from overhead when performing Olympic lifts, then look for more secure clamp options. And if you're recreationally lifting sub-maximal weights and want to save money, then opt for cost-efficient spring collars.
What type of collar should I use for Olympic lifting?
Opt for a quick release collar that has rubber inner construction. These collars will offer a high level of security and the internal rubber construction can be useful for resisting durability issues when dropping weight from overhead, as they can absorb some of the force when dropped. Of course, weighted competition collars are another thing entirely, and it may be worth getting some practice in with those to replicate meet conditions.
Are quick release collars better than spring collars?
It depends. Each type of barbell clamp will come with a various level of security and each best use's will be determined by the activity being pursued. Quick release collars will be more secure than spring clips, however, they'll bee slightly more expensive.