When it comes to getting that extra edge in the gym during intense training, adding a pre-workout supplement to your cabinet can be hugely beneficial — if you know what to look for on the label. BSN, which stands for Bio-Engineered Supplements & Nutrition, has been a power player in the supplement game for many years, and their N.O.-XPLODE pre-workout is one of their flagship products. That said, we broke out the microscope to see if this popular pre-workout is still worth the hype.
Main Takeaways
BSN is a well-known name in the supplement industry, lending credibility to their N.O.-XPLODE Pre-Workout from a quality control standpoint. 

The caffeine content is a bit higher than average for most pre-workout powders.

A long list of secondary ingredients and multiple proprietary blends offer a litany of extra perks, though the tangible benefits are a mixed bag.
BSN N.O.-Xplode Pre-Workout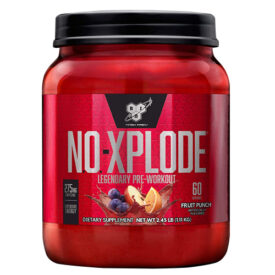 BSN N.O.-Xplode Pre-Workout
BSN N.O.-XPLODE is a popular, highly formulated pre-workout that has been on the market for many years. It covers the essentials you'd expect to find in a pre-workout, plus some added extras that should give athletes a big energy boost.
Who Should Buy the BSN N.O.-XPLODE
Athletes with a fair bit of experience in the gym looking to enhance their workouts.
Anyone wanting a pre-workout that can also boost focus and mental clarity in addition to providing energy.
Those with a high caffeine tolerance or who are specifically looking for a product with a bit more caffeine.
Who Shouldn't Buy the BSN N.O.-XPLODE
Customers that are wary of their caffeine intake or who would prefer a more natural energy booster.
Anyone looking for a product that can deliver incredible pumps.
Buyers who prefer a more transparent product with each ingredient clearly listed on the nutrition label.
BSN N.O.-XPLODE Pre-Workout Video Review
We go through a lot of detail and explanation of BSN's flagship pre-workout in this article, but if you'd like to get a first hand glance and see how it mixes and tastes, check out our video review.
BSN N.O.-XPLODE Pre-Workout Overall
BSN mostly hits the mark with their N.O.-XPLODE pre-workout, although there are some areas where there's more to be desired. Its high caffeine content and the inclusion of critical components such as beta-alanine, taurine, niacin, and creatine are welcomed, but it does come up short in a few areas. The long list of added vitamins and extra blends are welcome, but do not necessarily help fulfill the primary purpose of the product.
BSN N.O.-XPLODE Pre-Workout By the Numbers​
Servings: Available in a 30-serving or 60-serving tub.
Pricing: The 30-serving tub comes in at just under 30$.
Flavors: Up to nine flavors are available on BSN's website, although stock can be limited from flavor to flavor.
Caffeine: Each serving contains 275mg of caffeine.
Price and Buying Options​
The BSN N.O.-XPLODE pre-workout can be found in a 30 or 60 serving tub, with the latter being a slightly better deal if you're committed to the product and want to get the most for your money. BSN N.O.-XPLODE comes in at about a dollar per serving, which is quite reasonable when compared against some of its peers such as Legion Pulse ($1.71/serving) or MyProtein THE Pre-workout ($1.33/serving).
Formulation​
When taking a closer look at the ingredients label, BSN N.O.-XPLODE stands out — for better and for worse. We've already mentioned the caffeine content, coming in at a hefty 275mg dosage per serving, but it's really the extra ingredients and blends that demand a closer look.
Proprietary Blends​
BSN N.O.-XPLODE comes with multiple proprietary blends that claim to boost endurance and maximize performance. While the weight of the blends themselves are disclosed, the compositions are not, making it questionable to determine the true efficacy and purpose of these blends since the exact dosages are not available.
Beta-alanine
This oft-mentioned amino acid has been linked to increasing athletic endurance by potentially reducing the rate accumulation of lactic acid in muscle tissue, making it a welcome and reliable addition to BSN's pre-workout.
Taurine
Commonly included in both athletic pre-workout supplements and many standard energy drinks, taurine is purported to help "smooth out" the effects of high caffeine dosing. It may significantly reduce the unstable spurts and crashes associated with caffeine consumption and provide a smoother experience that allows for better focus in the gym. While its exact amount in BSN N.O.-XPLODE is unclear, it is listed prominently as part of their Myogenic Matrix blend.
Citrulline Malate ​
For a product name that echoes nitric oxide as a selling point, BSN N.O.-XPLODE contains a relatively scant amount of citrulline malate, which has been closely linked as one of the main drivers of nitric oxide production. As a driving force behind increasing blood flow to muscle tissue, the low citrulline content in N.O.-XPLODE may make it underwhelming when it comes to creating skin-tearing pumps.
Creatine Content
BSN N.O.-XPLODE, like many other pre-workout supplements, contains a notable but unspecified amount of creatine monohydrate. While this is likely due to the long list of purported benefits of creatine, it is not known for its acute effects on performance specifically. The inclusion is welcome, but it probably shouldn't replace a standalone creatine supplement.
Related: Does Caffeine Really Cancel Out Creatine?
Vitamins and Minerals
It is becoming more and more common for athletic performance supplements to include added vitamins and minerals as a selling point, and BSN N.O.-XPLODE is no different. It comes with a high amount of Calcium, Magnesium, Vitamin B12, and other helpful additives. For an increasingly health-conscious consumer industry, this is certainly a plus, though it bears mentioning that vitamins and minerals should be ingested via whole food sources when possible. They also aren't known for acute performance enhancement and thus add little to the product's signature purpose.
Factors to Consider Before Buying
If you're on the edge when it comes to adding N.O.-XPLODE to your stack, here's a list of the most important things we think you should consider before you make your final decision.
Brand Recognition
BSN's name recognition should make this a safe purchase if you have quality control concerns. Their N.O.-XPLODE Pre-Workout is a flagship product that's been on the market for decades, so you know it's a tried and true pre-workout that has stood the test of time.
Formulation Quality
The formulation of N.O.-XPLODE is acceptable and covers most of the critical bases. Not everything on the label is directly relevant when it comes to creating a good pre-workout, but the nuts and bolts are all there.
Nutritional Specificity
While the BSN N.O.-XPLODE does disclose the exact amounts of important ingredients like caffeine and carbohydrates, the specificity of the blends is lacking. The quality of the blends is comprehensive, but the dosages themselves are somewhat obscure.
Taste
Taste and texture may not be the most important criteria when selecting a pre-workout supplement, but it does bear mentioning. Many reviews cite the taste of N.O.-XPLODE as more sugary than expected.
Value
With many supplements boasting higher prices these days with the dubious promise of added quality, N.O.-XPLODE goes in the opposite direction. The value of your dollar goes a long way here for what you get, especially if you're on a budget.
Wrapping Up
These days it can seem like every supplement company is fighting to make the most hyperbolic, attention-grabbing claims possible about the potency of their products, and BSN is no different. However, their N.O.-XPLODE pre-workout has been available on the market for almost two decades. Such a longstanding tenure speaks to its quality and popularity among users, a reputation that is mostly backed by the formulation on the label.
A strong dose of caffeine is the hallmark of most effective pre-workout supplements, something that can be found here in spades. Many other beneficial compounds are also present, such as popular amino acids beta-alanine and taurine, though the vague nature of proprietary blends makes it difficult to really determine just how much consumers are getting beyond a big dose of caffeine-induced energy. While not the perfect product, BSN delivers a pre-workout that has worked for buyers for many years, and is a solid pickup for most athletes seeking to crank their gym performance up a notch.
FAQs
Will I see gains from BSN N.O.-XPLODE Pre-Workout
The compounds included in BSN N.O.-XPLODE are well-known and thoroughly researched; caffeine, beta-alanine, and taurine are all recognized for their positive effects on energy, focus, and endurance during bouts of strenuous activity.
Is BSN N.O.-XPLODE Pre-Workout safe for beginners?
If it's your first time stepping into the gym, a pre-workout supplement may not be necessary. However, BSN N.O.-XPLODE is safe for anyone without underlying health conditions, or anyone particularly sensitive to caffeine intake. While the label warns against taking more than two scoops at any time, one half scoop might be a good place to start, especially if it is your first experience with this kind of supplement. 
Should I take BSN N.O.-XPLODE Pre-Workout every time I go to the gym?
It depends. While many people certainly take pre-workout supplements for each training session, the accumulation of tolerance to its effects may dampen its efficacy over time. If you aren't training for a highly competitive event, it is probably best to reserve this (or any) pre-workout for harder, more demanding sessions when possible.
BSN N.O.-Xplode Pre-Workout Igniter
Per Serving: $1.00
Pros
Effective doses of caffeine, beta alanine, and nitrate
Contains extra vitamins and electrolytes
Relatively inexpensive
Cons
May be too high in caffeine for some people
Proprietary blend
Contains artificial flavors and sweeteners