Kate Nye is on a mission. At only 22 years of age, the Detroit-area native has experienced a meteoric rise to the top of the field in American weightlifting since her competitive debut only five years ago at the 2016 USA Weightlifting National Youth Championships, where she placed third.
An athletic background in gymnastics led Nye to pursue CrossFit from a young age, wherein regular exposure to the Olympic lifts fostered a love for the sport itself that inspired her to make a full-time switch in the summer of 2016.
Since then, Nye has gone on to earn medals and records both domestically and abroad. Nye currently holds the belt in nine different categories of American weightlifting. She is also an international medalist in both the Junior and Senior divisions, as well as being the youngest female athlete to ever claim the overall title at a World event. Now, she'll rep Team USA at the 2020 Tokyo Olympic Games for the first time in her storied career.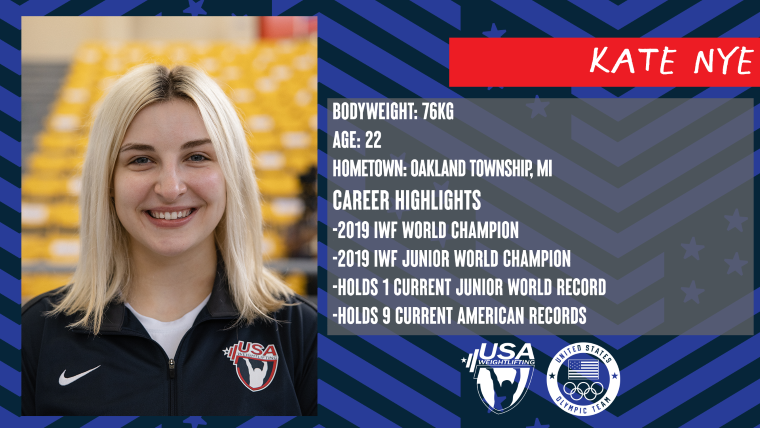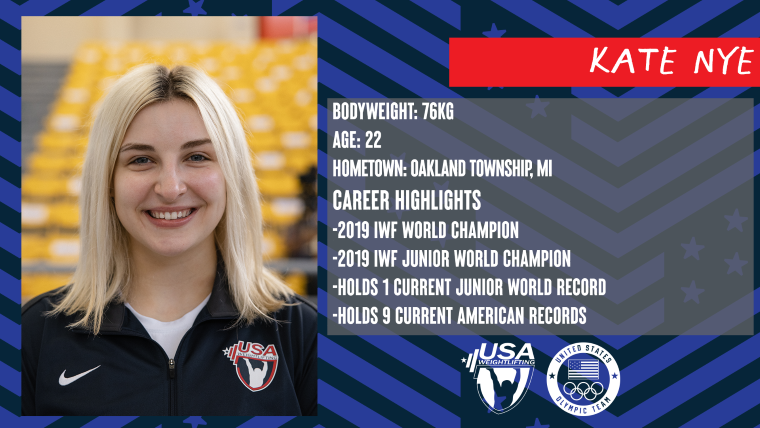 Nye is currently ranked as worldwide second in the 71-kilogram category according to the International Weightlifting Federation (IWF) but will compete in Tokyo in the highly competitive 76-kilogram class. (Seventy-one kilograms is a non-Olympic weight class). In 2019, she was named the IWF Female Lifter of the Year.
[Related: Katherine Nye Named to Forbes' 30 Under 30]
Weightlifting Career
Since her bronze medal at the 2016 Youth National Championships, Nye has steadily increased her performance in the Youth, Junior, and Senior divisions, both in American competitions and while representing Team USA overseas.
Kate Nye Best Lifts
Snatch — 112 kilograms (247 pounds) Junior World Record
Clean & Jerk — 137 kilograms (302 pounds)
Total — 248 kilograms (547 pounds)
She currently maintains the American Record snatch, clean & jerk, and total in the Women's Senior 71-kilogram division, as well as the 71 and 76-kilogram Junior American Records in both lifts and the total.
Nye is also a five-time international medalist, with three gold medals (2019 Pan American Championships, 2019 Junior World Weightlifting Championships, 2019 Senior World Weightlifting Championships) in the total, alongside one silver (2018 Junior World Weightlifting Championships) and one bronze (2019 Pan American Games).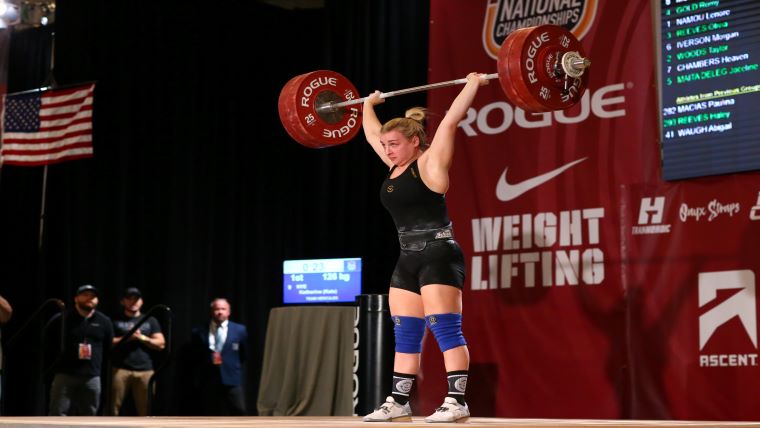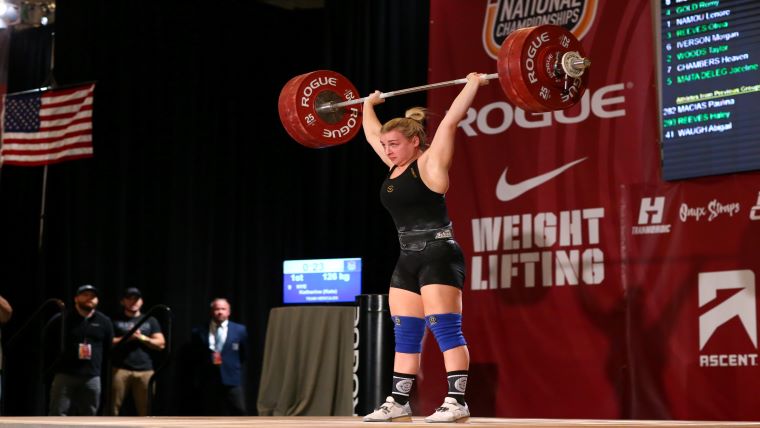 Her overall win at the World Championships in 2019 (as a Senior) marked the end of a multi-decade drought for the USA — it was the first time a woman had claimed the title at a senior World event since 50-kilogram athlete Robin Byrd in 1994.
[Related: Kate Nye and Mattie Rogers Open Up On Olympic Postponement]
Competition In Tokyo
Despite her high placement in the 71-kilogram rankings, Nye will compete at the 2020 Olympic Games in the exceedingly competitive Women's 76-kilogram category, largely due to structural changes to the sport in 2018. Here is the full roster for the 76-kilogram category in Tokyo:
76-Kilogram Olympic Roster
Katherine Nye (United States)
Neisi Dajomes (Ecuador)
Aremi Fuentes (México)
Iryna Dekha (Ukraine)
Kim Su-hyeon (South Korea)
Darya Naumava (Belarus)
Patricia Strenius (Sweden)
Kristel Ngariem (Canada)
Emily Muskett (Great Britain)
Kumushkhon Fayzullaeva (Uzbekistan)
Jeanne Gaelle Eyenga (Cameroon)
Megan Signal (New Zealand)
Mahassen Fattouh (Lebanon)
Nancy Genzel Abouke (Nauru)
Of the athletes above, three are former Olympians (Dajomes, Fuentes, and Naumava) from the 2016 Rio Olympic Games. Nye will make her first Olympic appearance in Tokyo.
76-Kilogram IWF Rankings
Neisi Dajomes — IWF Ranked #2
Iryna Dekha — IWF Ranked #3
Kim Su-hyeon — IWF Ranked #5
Darya Naumava — IWF Ranked #7
Katherine Nye — IWF Ranked #8
Patricia Strenius — IWF Ranked #9
Aremi Fuentes — IWF Ranked #11 (Tied with Hellen Andrea Escobar Aguirre, who is not competing in Tokyo)
Kumushkhon Fayzullaeva — IWF Ranked #16
Though Nye is ranked at number eight, her 243-kilogram total that determined her placement here is only 12 kilograms behind that of leader Dajomes, the highest-ranked 76-kilogram athlete appearing in Tokyo.
76-Kilogram World Records
Snatch: Rim Jong-Sim, 124 kilograms (273.4 pounds)
Clean & Jerk: Zhang Wangli, 156 kilograms (344 pounds)
Total: Rim Jong-Sim, 278 kilograms (612 pounds)
Neither Jong-Sim nor Wangli will appear in the 76-kilogram class in Tokyo. The People's Republic of Korea has opted out of the event altogether citing concerns related to the COVID-19 pandemic, and Team China did not select a 76-kilogram athlete as part of their weightlifting team.
[Related: Romanian Weightlifting Federation Suspended Ahead of Tokyo Olympic Games]
Onto the Olympic Games
Weightlifting at the Tokyo Olympics is shaping up to be one of the fiercest competitions in recent memory. By selecting athletes like Nye, Team USA has deftly assembled one of their strongest rosters in the history of the sport. The Women's 76-kilogram class will take place on Sunday, August 1, 2021 — Group B will occur at 12:50 a.m. EST and Group A will occur at 6:50 a.m EST.
Note: BarBend is the Official Media Partner of USA Weightlifting. Unless otherwise specified on certain content, the two organizations maintain editorial independence. This article series represents a collaborative effort from both parties.
Featured Image Courtesy of USA Weightlifting