Many home gyms, including both Tempo Studio and Tonal, now offer state of the art technology — like Artificial Intelligence (AI) — that can help take your workouts to the next level. With tools like virtual training, these smart home gyms are now bringing the luxury of having a personal trainer right to your living room. Tempo and Tonal — both founded in 2015 — allow you to work out every part of your body, and are loaded with a wide variety of virtual strength and conditioning workouts for you to choose from. While power racks can also provide the ability to work out however you please, you are on your own in terms of counting reps and monitoring your form. These smart gyms feature 3D motion sensors that track your movements and provide corrections in real-time, minimizing the risk of injury and helping you progress.
Tempo Studio and Tonal offer similar workouts, but the equipment that comes with each smart home gym is quite different. Both companies include virtual personal training, as well as classes in a live or on-demand format. These workouts include yoga classes, HIIT workouts, cardio and an array of upper and lower body workouts. Tempo and Tonal both feature a large touchscreen monitor where you can select your workout, and they both provide feedback on your form via 3D sensing, ensuring your movements are correct. So what's the difference you might ask? While Tempo and Tonal place a heavy emphasis on strength training, the two companies took a different approach in how they provide their resistance.
Tonal Home Gym Highlights
Tonal is also an adaptive piece of equipment that learns how to adjust to your body over time. After completing a strength assessment, you never have to worry about figuring out how much weight to lift on your own again. Tonal will provide a suggested weight for each workout you choose, increasing over time as you become stronger. Tonal offers their classes in a live or on-demand format with a leaderboard that spans over 30-days. This leaderboard will update in real time as you complete your workouts while also keeping track of how many hours you spent exercising, allowing you to compete with other Tonal athletes.
The Tonal is an interactive home gym that delivers up to 200 lbs of total electromagnetic resistance with the use of two maneuverable pulleys. What's most impressive is that it adapts as you progresses, which means you'll always be pushing closer to your fitness goals. 
Main Takeaways
Tonal's electromagnetic resistance means you don't need to deal with the hassle of loading and unloading your barbells or dumbbells.
This home gym includes a set of handles, a barbell, rope attachment, workout bench, foam roller, and workout mat.
A set of 17 sensors reads your form and provides suggestions on where to improve and how much weight to lift, automatically adjusting the weight resistance to ensure you're pushing yourself.
Tempo Studio Home Gym Highlights
The great thing about Tempo is that it is tailored to your specific needs. This product will adapt over time, and will suggest weight depending on your form and overall strength so that you can progressively overload your muscles. The leaderboard function is great for those who strive for competition: Your "place" will be determined on your performance in any live class you take.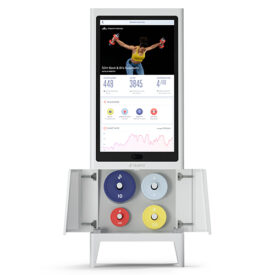 Tempo Studio offers a complete home gym — weight plates, a barbell and dumbbell, and more — plus hundreds of classes led by AI trainers. These trainers can even offer trainees form feedback virtually.
Main Takeaways
Tempo's 3D motion sensing technology captures your form and offers feedback on where to improve as well as weight suggestions.
The interactive touch screen allows you to select the workout of your choice.
Tempo is free-weight based, and includes a set of weights and adjustable dumbbells, and a barbell if you choose the Plus or Pro package.
What Are the Big Differences Between Tempo and Tonal?
Both companies were founded in 2015, and offer a product that is similar in nature with their own equipment and coaching. However, Tempo and Tonal each have features that are unique to their brand, along with price differences and specific equipment that comes with each home gym.
Free Weights vs. Electromagnetic Resistance
Tonal decided to take a new approach by not including any type of free weights or stacked weights for resistance. Instead, it uses electromagnetic resistance pulleys that adapt to your skill set over time, and will increase the resistance (up to 200 pounds) as you progress.
Tempo provides dumbbells, kettlebells, and a barbell for you to load with your weight plates. Your Tempo purchase includes a starting set of weights, and you always have the ability to upgrade to accommodate heavier lifts. This starting set depends on your purchase — you can choose from the Starter, Plus, or Pro. Each package includes a workout mat, two adjustable dumbbells, a set of barbell collars to lock your weight plates into place, and 75 pounds of weight plates.
While that is all that is included with the Starter, the Plus also includes a 25-pound barbell, six collars, two 25-pound competition plates, a recovery roller, a heart rate monitor, and a folding bench. The Pro features the most accessories, providing everything the Plus has with the addition of a folding squat rack, adjustable kettlebell system, weight plate storage, and two 45-pound competition plates.
There's a Price Difference
While both of these home gyms are very pricey compared to your standard home gym, there are a few differences between the two. With Tonal, you are looking at a starting price of $2,995 before adding on the recommended equipment which consists of two smart handles, a smart barbell — which both allow you to turn the digital weight "on" and "off" when you are in position and ready to lift — a rope attachment, weight bench, roller, and workout mat. This will cost you an additional $495, while shipping and installation will cost you an additional $295, and the membership to access the personal training and virtual classes will cost you $49 per month, bringing your purchase total to $3,490.
With Tempo, the pricing is all based on which package you choose. They offer three packages — the Starter is $2,495, the Plus is $3,245, and the Pro is $3,995. Each package comes with its own set of starting weights – the Starter has the smallest variety and the Pro has the most. The Starter has 75 pounds of weight resistance, the Plus has 125 pounds of resistance to go along with the 25 pound barbell, and the Pro has 215 pounds of resistance in the form of weight plates.
As mentioned, you can always purchase more weight plates to increase your resistance. A set of four 10-pound competition plates is an additional $145, a set of two 45-pound plates is $175, or you can choose the "essentials" bundle for $375, this includes four 10-pound, 5-pound, 2.5-pound, and 1.25-pound plates, reaching a total of 75 pounds in additional weight. The monthly membership is not included and will cost you an additional $39 per month. Luckily, both companies also offer monthly payment options through Affirm for those who don't want to spend all of that money up front.
Leaderboards
While both companies offer leaderboard capabilities, they operate differently. With Tempo, you are able to track your stats in live classes and see where you rank compared to others who are in your class. Your "place" will change in real time depending on your efforts as you perform each exercise. With Tonal, your leaderboard runs over a 30-day span. You can track this ranking in the Tonal mobile app, which factors in the number of workouts you do as well as how long you have worked out. This allows you to compare yourself to other athletes — if you outperform others then you will see yourself move up the leaderboard in real-time.
Different Classes
One of the best things about these products is that they offer a wide variety of virtual training options. While Tempo and Tonal both offer strength training, cardio, HIIT, yoga, and prenatal workouts, there are a couple options that each offer exclusively. With Tonal, you have access to kickboxing, dance cardio, postnatal, pilates, and even classes that can help you train for a triathlon. While Tempo may not have those classes, it does feature cardio boxing classes, which are easy to do anywhere, even if you're on the go. The beauty of both products is that all classes are led by certified professional trainers that can help motivate you as you train.
Tempo vs. Tonal Streaming Services
While both Tempo and Tonal offer live and on-demand classes — as well as leaderboard interactions that track your progress — there are two main differences in how each company tracks that progress: monthly leaderboards with Tonal, and live in-class leaderboards with Tempo. When participating in a live class, Tempo will allow you to see how you stack up with the other athletes in your class through a point system. Points are awarded in a few different ways, for weight training classes you will receive a point for each completed rep — maxing out at 10 reps — your volume will also increase your score (the more you weight you lift, the higher your score; if you complete 10 reps of 50 pounds then your score will be sitting at 500 points). Both companies allow you to select your workouts at your own leisure thanks to an interactive touchscreen.
User Experience
When it comes to navigation, there isn't much that separates Tempo from Tonal. With both, you are able to scroll through the available workouts on the touchscreen display and choose between live or on-demand classes for each workout.
Leaderboard Capabilities
Tempo allows you to track your progress in live classes and ranks you on a leaderboard compared to your classmates. Your "place" will depend on your performance and completion of each rep — this is tracked by the 3D motion sensors that pick up on form and provide feedback when needed. While Tonal doesn't offer a leaderboard for each live class, they do offer a leaderboard for overall performance based on your dedication to working out over a 30-day span. Your rank changes based on the total number of workouts you complete, as well as how much time you have spent working out. Both leaderboards offer a great system for those who like a little taste of competition — your choice should depend on whether you prefer daily competition, or a more overarching look at your progress.
Classes
Tempo and Tonal both offer thousands of classes for you to experience. You can scroll through the available classes on the touchscreen, and select which class is best for your schedule and training program, whether that be in a live or on-demand format. Tonal offers a feature in which you are able to create your own custom program — you can choose from full-body workouts, or create your own splits for a full week. Tempo doesn't offer that feature, so you are limited to the workouts that are available through the menu if you want to track your progress within their system.
The Equipment Compared
Tempo and Tonal both specialize in weight training and cardio classes that are exclusive to their brand. They both do a good job of implementing their equipment within their specialized workouts. Tempo focuses on free weights for their training, which in the long run, may offer more versatility. Tonal is more compact and uses electromagnetic resistance for its workouts, using two pulleys on either side of the machine. Tempo and Tonal both provide feedback on your form using AI technology in the form of 3D motion sensing, which can help you correct your form in real time.
Weight Training
Tempo offers free weights, and depending on which package you choose, you will receive an assortment of weighted plates for your included dumbbells and barbell, coming in sets of 1.25, 2.5, five, and 10 pounds. The Starter comes with a workout mat, two adjustable dumbbells, 4 collars for your weight plates and 75 pounds of weight plates. The Plus takes it up a notch and includes a 25-pound barbell, six collars, two 25-pound competition plates, a recovery roller, a folding bench, and a heart rate monitor. The Pro package includes everything the others have and even comes with a kettlebell system, folding squat rack, weight plate storage, and two 45-pound competition plates.
Tonal offers pulleys that use electromagnetic resistance to reach a max weight of 200 pounds, which may be plenty for most recreational athletes, but not enough for more elite powerlifters. Your accessories are all tied in with your original purchase, consisting of a pair of smart handles, a smart barbell, and a rope that can be used for tricep extensions, each accessory attaches directly to the two pulleys, and you also receive a weight bench, a roller and a workout mat with your purchase. The smart handles and smart barbell both allow you to turn the digital weight "on" once you are ready and in position, or "off" if you find yourself struggling.
Technology
With the technology in both of these smart home gyms, you have access to personal training without needing to leave the comfort of your home. With Tempo, you can receive feedback on form via the 3D motion sensing that also provides weight recommendations based on your progress and how much you lifted in the previous workout.
Tonal also offers personal training in the form of motion sensing technology thanks to the 17 sensors that provide real-time guidance focused on form, range of motion, and pace. Your weight for each set is pre-determined by the machine based on your previous workout and will increase on its own over time. After your initial exercise assessment, the machine will guide you heavier as you get stronger.
Trainers
All of the classes available feature professional trainers that provide motivation to help you go that extra mile. The trainers for both Tempo and Tonal will not only lead you through the workouts, but also a warm-up and cool-down. Tonal even offers a virtual spotter that will adjust when it senses you're struggling to complete a rep. The machine automatically reduces your weight to help you finish your set, allowing you to truly lift until failure.
Console Features
Tempo and Tonal both feature a touchscreen monitor that allows you to interact with the product, and select your workout for the day. Tempo features a 42" monitor while Tonal comes equipped with a 24" screen. You can always have the audio of your classes playing through the installed speakers, but with Tempo, you can connect your phone via Bluetooth, and play your own music, as well. Tonal allows you to connect your Apple Music or Amazon Music membership directly through their product instead of using your phone.
Storage
The beauty of both of these smart home gyms is that they require minimal space, and they make storage easy. With Tempo, your weight plates that are under 45 pounds can easily be stored on weight horns that are built underneath the touchscreen, and are hidden by cabinet doors. Your barbell clamps to the back of the screen, and your weight bench easily fits behind. You also have an external storage box for your weight plates that are over 10 pounds.
With Tonal, you have the option of purchasing a storage shelf for your accessories. If you opt to include this in your purchase, you can simply hang your handles, rope, and barbell from individual hooks, and you can also place your roller and workout mat on top of the shelf. As of now, Tonal does not offer a solution when it comes to storage for your weight bench, so you will need to get creative and find an area to tuck it out of sight.
Accessories
When it comes to accessories, these two products are pretty different due to their varying forms of resistance. Since Tonal relies on two pulleys, you only need the handles, rope, roller, workout mat, and barbell that are included with your purchase.
With Tempo, your accessories will vary depending on which package you decide to go with. If you decide the Pro package (the highest level package) is the one for you, then you will receive a barbell, two adjustable dumbbells, an adjustable kettlebell, a workout mat, and additional weight plates. This may seem like a lot, but like we said earlier, Tempo makes storage easy for their products.
Dimensions
Both Tempo and Tonal offer space-friendly products for those who are concerned about how much room their equipment will occupy. The dimensions for Tempo are 72" x 26" x 16" with a 4'2" x 1'4" footprint. This is about the size of an average refrigerator, but Tempo does require six feet of space between you and the equipment to best ensure the motion sensors can pick up on your movements. Since Tonal mounts to your wall, you only need to accommodate for the recommended 7' x 7' workout space in order for the sensors to pick up on your movements.
Price
One of the biggest differences between these two products is price. Tempo's price depends on which package you choose, and the prices range from $2,495 to $3,995 — the price goes up as the package size increases. This doesn't include the $39 monthly membership, or the $250 "white glove service" for installation.
With Tonal you are looking at a base price of $2,995 for the machine, and $3,490 once you add all the accessories you need. Plus, they cover one month of their $49 monthly membership fee. However, shipping is an additional $250, and the installation needs to be handled by a professional since the product requires mounting.
Which Brand is the Better Option?
Both products have pros and cons, but the answer to this question is going to come down to your personal preference and training needs. Tempo's highest level package is more expensive, but storage is easy, and there is more potential to grow with free weights as opposed to the max resistance of 200 pounds with Tonal. Tonal only requires storage for a handful of accessories, but the weight does cap out at 200 pounds.
If you are looking for the best deal, Tonal may be your answer. While the Standard package with Tempo is cheaper than Tonal, it still features less weight resistance, and you will likely need to add more weight plates eventually as well as a barbell, weight bench, and squat rack.
If your focus is on progression, you have the most room to grow with Tempo. The Pro package comes equipped with everything you need to take a big leap in your fitness journey, and allows you to overload your muscles more than Tonal can — the Pro package with Tempo features 215 pounds of weight plates, as well as a 25-pound barbell and the two 7.5-pound dumbbells, for a max weight of 255 pounds — and you can always purchase more weight plates to go up from there.
Both offer a wide variety of classes, and when it comes to the virtual training features, you will find that both products are fairly similar. If you can afford the hefty price of Tempo's Pro package, you may see more muscle growth in the long run, but Tonal offers a more compact home gym option that doesn't require as much storage. In the end, it's just important you match your goals and budget with the equipment — that will provide the "better" option for you.
Is AI Virtual Fitness Worth the Hype?
Interactive personal training is an awesome way to receive motivation to go that extra mile in the gym. With AI personal training, you can receive all the benefits of a trainer without leaving your living room. The incorporation of AI training in both of these products can help correct your form when it senses you are doing an exercise improperly, and even pushes you by giving weight recommendations for your next workout. You'll see prompts on the screen that give suggestions on what you need to fix. In addition, for instance, if you need to be more on your heels during a squat, these same prompts will also suggest increasing or lowering the weight you are lifting to help your performance.
With live and on-demand classes at your disposal, you can get that feeling of being in a class at a professional gym or studio in the comfort of your own home. The memberships Tonal and Tempo offer may also be cheaper than some trainers would cost, making this a great option if you are new to working out and want instruction without leaving the comfort of your home. However, this type of instruction is not for everyone as some people thrive off of in-person interaction. In the end, AI training is a great asset, but if it's "worth the hype" depends on your personal training style.
Can You Just Use the Streaming Service Without the Equipment?
With both Tempo and Tonal, what you see is what you get. To gain access to their workouts you must purchase their equipment. While Tempo does offer their more minimal "Move" option without the large screen, that package still includes their equipment, which consists of two adjustable dumbbells, four 1.25-pound weights, four 2.5-pound weight plates, four 5-pound weight plates, four weight collars, a weight storage cabinet, Tempo Core — a small docking station for your phone — and an HDMI cable. This package is $395 dollars and is only compatible with an iPhone.
This may be frustrating to some who already have their own equipment and are just looking to incorporate the coaching aspect that both companies offer. There are other streaming services you can use for this — but if you want the AI virtual training that these two companies offer, you'll have to purchase the additional equipment to go along with the monthly streaming membership.
Final Word
Tempo and Tonal are leading the way when it comes to the integration of AI technology and what it has to offer. Both lines of equipment are great options for at-home fitness, but they come at a hefty price point.
Before committing to any expensive purchase, it's always best you weigh your pros and cons. If you are someone who lacks motivation or is hesitant to join a mainstream gym, either one of these products would be a good alternative for you. Tempo is best for those who want free weights with less limitation on how much weight you can lift, while Tonal is a little more compact since it uses a pulley system — but the weight with Tonal does cap out at 200 pounds. In the long run, both products will likely pay for themselves over time, but the right choice for you will depend on your personal goals and preferred training style.
FAQs
What are the limitations with Tempo and Tonal?
With Tonal, you reach a max resistance of 200 pounds. This may be plenty for recreational athletes, but for more elite athletes, you may want to look elsewhere. With Tempo, you always have the ability to purchase more weight plates when needed. This, of course, will make this already expensive product even more pricey, but it offers you more room to progress.
Between Tempo and Tonal, which one requires less space?
Both products require minimal space. Since Tonal mounts to the wall, it only requires 7' x 7' of floor space, and you only need to worry about finding a place to store your weight bench and the handful of accessories that come with your purchase.
The dimensions for Tempo are 72" x 26" x 16" with a 4'2" x 1'4" footprint which is about the size of an average refrigerator. And the sensors do require six feet of space to properly provide feedback during your workouts, but storage is also easy thanks to built in weight horns and the barbell attaching to the rear of the monitor. All in all, Tonal requires less space overall, but both are fairly small.
How do Tempo and Tonal provide feedback?
Thanks to 3D motion sensing technology, both products provide feedback instantly during your workout,  and can even count your reps. The suggestions will simply pop up on-screen allowing you to correct your form. While the trainers are not the ones who provide the feedback, this still provides the feel of an actual trainer coaching you.