And that's a wrap for day two of the 2021 World's Strongest Man (WSM) competition. There is one day left of the qualifying stage, where the remaining roster, broken up into five groups, will compete for a shot at the Finals. The top two me in each group will advance to the 10-man Finals. Unfortunately, 22 of the original 25-man line-up remains. On June 14, Graham Hicks dropped out due to an injured groin. On June 15, Luke Richardson hurt his biceps and Terry Hollands said he was withdrawing (and retiring from WSM altogether). On June 16, South African competitor Chris van der Linde also dropped out.
WSM has announced the results on its Facebook Live show: World's Strongest Man: BACKSTAGE LIVE Presented By SBD. (You can purchase the seven-episode live show for $2.99. It's hosted by 2019 WSM winner Martins Licis and former BarBend Editor Nick English.) Below, you'll find the three events and the results of each group.
Related: 2021 World's Strongest Man Leaderboard and Results
2021 WSM Day Two Events
Here are the two events that took place during day two of the Qualifying stage.
Groups One, Four, and Five
Athletes race to flip over five Fingal's Fingers, which ascend in weight —

320-lbs, 340-lbs, 350-lbs, 360-lbs, 380-lbs.
Train Push
Groups Two and Three
Competitors race to push the front of a train, weighing about 20 tons, 20 meters in the fastest time.
Here are the results for the events after day one of the competition:
Fingal's Fingers
Brian Shaw was the only man out of 13 athletes capable of completing all five fingers. He now sits firmly atop Group One with 13,5 points after two days. With an impressive four-fingers performance, Aivars Smaukstelis trails Maxime Boudreault by just half a point.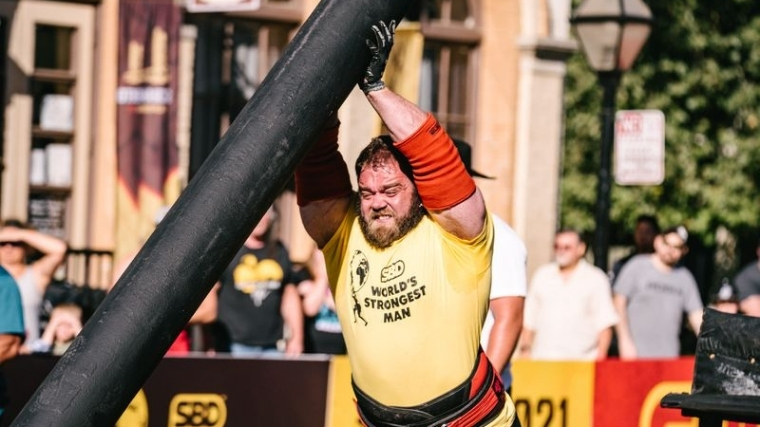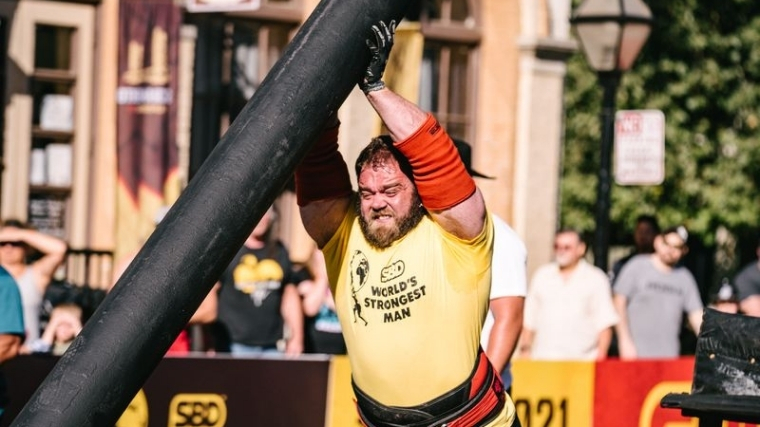 After a lackluster showing during the first day, 2020 WSM champ Oleksii Novikov barely inched out a win over Luke Stoltman. As of now, Bobby Thompson and Stoltman are tied for first place with 11 points in Group Five. Novikov and Kevin Faires are tied up below them with 10 points. Ervin Toots could only complete three fingers and sits in last place with three points.
With van der Linde and Hollands both out of Group Four, it came down to Konstantine Janashia and Jerry Pritchett, who now sit in first and second place, respectively. Adam Bishop is in third place with nine points.
Group One
Brian Shaw — five fingers, 40.47 seconds
Aivars Smaukstelis — four fingers, 31.38 seconds
Travis Ortmayer —four fingers, 37.75 seconds
Maxime Boudreault — four fingers, 41.07 seconds
Gavin Bilton — four fingers, 46.62 seconds
Group Five
Oleksii Novikov — four fingers, 28.44 seconds
Luke Stoltman — four fingers, 28.92 seconds
Bobby Thompson — four fingers, 36.25 seconds
Kevin Faires — four fingers, 36.31 seconds
Ervin Toots —three fingers, 39.44 seconds
Group Four
Jerry Pritchett — four fingers, 41.19 seconds
Konstantine Janashia —three fingers, 26.48 seconds
Adam Bishop —three fingers, 27.21 seconds
Train Push Results
Due to an issue with the brakes and then the competitor's general inability to move the full train, the event was changed to a train push. The head of the train was detached from the body and competitors had to push it as quickly as possible for 20 meters.
Group Two
Johnny Hansson

— 35.36

Trey Mitchell

— 36.31

Tom Stoltman

— 37.83

Evan Singleton

— 39.73

Mark Felix

— 42.58
Group Three
Eythor Ingolfsson Melsted — 37:00
Robert Oberst

— 37.53

JF Caron

— 41.19

Mikhail Shivlyakov

— 44.12
World's Strongest Man Day Three
The competition will resume tomorrow, with groups taking on three more events — an Overhead Medley, Pickaxe Hold, and Stone-Off. All five groups will participate in the Overhead Medley, Pickaxe Hold, and the Stone-Off. The athletes in second and third place will attempt to load a stone over the bar for as many reps as possible. The winner moves on to the Finals.
BarBend will be providing robust coverage for World's Strongest Man throughout the week, so stay tuned.
Featured Image Courtesy of World's Strongest Man