There is no best home gym. For some, their perfect training space will be a fully decked-out garage filled with dumbbells, kettlebells, barbells, and racks to support their strength goals. Others want an all-in-one machine. The beauty of a home gym is it comes down to your personal goals and preferences. And no matter what you choose, a home gym offers convenience, savings, and a place to call your own.
Home gyms are also a big investment. To help you build your personal house of gains, we listed the best gym equipment for your abode — from all-in-one machines to a treadmill to a foldable power rack to a smart gym. It's up to you to choose your ideal setup, but we're happy to offer you a spot.
Best Home Gyms
Best Home Gym Power Rack
Squat stands are great, but serious strength athletes know stable, four-pillar power racks can provide even more stability and versatility in training.
Rogue RML-390F Monster Lite Rack
Rogue's RML-390F Monster Lite Rack provides stability, a customizable pull-up bar, Westside Hole spacing, and is a bit more home gym-friendly than others you may have seen. Customers will be pleased to find out it comes with a pair of Rogues Monster Lite J-Cups and a pin/pipe safety system. Rogue's RML-390F Monster Lite Rack is compatible with a wide variety of additional strength training attachments, making this the cornerstone of a home or garage gym setup that can grow with you over time.
Who Should Buy the Rogue RML-390F Monster Lite Rack
Lifters who want a slightly more robust option than a minimalist squat rack.
Athletes who may use many additional strength training and equipment attachments.
Lifters who want their setup to come with safety bars for squatting.
Who Shouldn't Buy the Rogue RML-390F Monster Lite Rack
Athletes who are very limited on space and have low ceilings (height is 92 inches).
Lifters who will be moving their squat stands very frequently, as this generally requires two people to move.
The RML-390F model is a compromise between a truly minimalist setup and the more complex power racks you may see in a collegiate weight room or commercial gym.
Best Smart Home Gym
If you're looking to upgrade your home gym with modern tech, there are more smart gym options than ever before. Here's our top pick.
Tempo Studio
This sleek-looking studio gym contains everything you need for a kick-ass workout — 75-pounds worth of weight plates, a 25-pound barbell, dumbbell handles, a heart rate monitor, a yoga mat, foam roller, and barbell collars. Get set, and then let the AI trainer of your choice guide you through a workout in real-time. This three-square-foot studio offers hundreds of classes and flashes metrics on the screen so you can monitor your performance. Tempo — which is available in either white or black — requires you to purchase a yearly membership that will cost you $39 per month.
Who Should Buy Tempo Studio
Folks who prioritize convenience. Tempo provides everything you need — from warm-up to cool down — to get a quality workout in.
Those who want don't program for themselves. Tempo offers hundreds of classes taught by AI trainers.
People who want to record their metrics, such as calories burned and heart rate.
Who Shouldn't Buy Tempo Studio
Powerlifters, strongmen, and bodybuilders who need more weight and more equipment to compete in their respective sports.
Budget-conscious buyers. In addition to being a lot upfront, Tempo also requires a yearly membership fee.
It may be expensive, but Tempo offers in-home personal training and equipment all bundled into a stylish piece of hardware.
Best Home Gym For the Money
If you're new to working out or don't want to break the bank, opt for an all-in-one, weight stack-based home gym. They offer plenty of functionality and are typically space-efficient as opposed to something larger and/or more difficult to set up.
Gold's Gym XRS 50 Home Gym
The XRS 50 Home Gym features comfortable padding in the seat, leg rollers, and chest station. You can perform basic exercises such as leg extensions, pulldowns, and chest presses with a weight stack that goes up to 280 pounds — plenty of weight for many people. The best part? It's affordable, especially considering you can work out your entire body on it. You can invest early, make some gains, and then eventually outgrow it without feeling like you didn't get your money's worth.
Who Should Buy the Gold's Gym XRS 50 Home Gym
Athletes who want a multitude of movement options all in one machine.
Newer lifters for whom 280 pounds of resistance is plenty.
People who are budget conscious. This is by far the most affordable gym on our list.
Who Shouldn't Buy the Gold's Gym XRS 50 Home Gym
Athletes who prioritize free weights over machines.
Highly experienced athletes who might need a larger weight stack for resistance.
With up to 280 pounds of resistance, a four-roll leg developer, both high and low pulleys, and a vinyl-coated weight stack, we think the XRS 50 has everything a beginner might look for in a weight stack home gym at a competitive price point.
Best Home Gym for Bodybuilding
Bodybuilders need a gym that allows them to hit all of their muscles from multiple angles, with plenty of cables and attachment options.
Force USA G3 All-In-One Trainer
When Force USA says All-In-One, they mean it. The G3 is about as close to a complete gym as one can get. It's equipped with a power rack, smith machine, cable pulley system, pull-up bar, weight plate storage, and even bands pegs for accommodating resistance. Force USA also offers an additional leg press, stability bar, straight chin-up bar, and lat pulldown seat. Whether it's leg day, chest day, or a total body day, the equipment is there to satisfy any workout regimen.
Who Should Buy the Force USA G3 All-In-One Trainer
People who want all of the options that they can find at the gym in one total package.
Bodybuilders who want a machine that offers cable pulleys with plenty of angle options.
Folks who want a power rack and stack weights.
Who Shouldn't Buy the Force USA G3 All-In-One Trainer
Those who are just beginning their fitness journey and don't know where to start.
People who don't have a lot of space in their homes for a big and serious piece of equipment.
It's hard not to like the Force USA G3. It provides all of the options that the gym does — to help your muscles grow — without the wait for someone else to finish using the machine.
Best Folding Squat Rack
A foldable power rack allows you to get your lift on without sacrificing space in your garage. It also affords you more space for other home gym purchases.
Rogue Monster Lite RML-3WC Power Rack
Perfect for garage gyms, Rogue's power rack folds flat up against your wall to save space for your car or general storage needs. This is a quality squat rack, forged from steel, that is also equipped with a pull-up bar. You bolt it into your wall, fold it out, adjust the included J-hooks, and then get to squatting and pressing. The rack is available in three different depths (9″, 21.5″, and 41.5″), stands 90″ high, and comes in 11 unique colors.
Who Should Buy the Rogue Monster Lite RML-3WC Power Rack
Serious strength athletes who want a power rack for all their squatting, benching, and pressing needs.
Anyone who is building a home gym in their garage and wants to save space while still owning a power rack.
Who Shouldn't Buy the Rogue Monster Lite RML-3WC Power Rack
Non-strength athletes who don't need a power rack for heavy lifting.
Anyone who doesn't have access to a sturdy wall. This rack needs to be bolted into the wall and then support hundreds of pounds of weight.
Level-up your home gym setup with a quality power rack that won't cost you much space.
Best Portable Squat Stand W/Pull-Up Bar
It's nice when your squat stand isn't just a squat stand — but also equipped for pull-ups, bench presses, cleans — and is easy to move, too.
Rogue SML-2 Monster Lite Squat Stand
Rogues Lite Squat Stand can support 1,000 pounds, has a pull-up bar, and comes with safety bars that can be adjusted to suit squatting, bench-pressing, and overhead pressing. Though it's a squat stand by name, this is really a versatile rack that supports any strength athlete — from powerlifting to strongman to CrossFit. It stands 92″ tall, is 49″ wide, and only weighs 166 pounds, so you don't have to keep it in just one spot. Note: This rack does not come with a barbell or a bench, but Rogue lets you add those items for an additional cost.
Who Should Buy the Rogue SML-2 Monster Lite Squat Stand
Folks who desire a squat rack for their home gyms.
People who want their squat rack to come with a few extras.
People who move their squat stand around frequently.
Who Shouldn't Buy the Rogue SML-2 Monster Lite Squat Stand
Anyone who doesn't see themselves squatting with a barbell.
Though it's not entirely cumbersome, some lifters may prefer a foldable rack to save space.
Affordable, light (relatively speaking), and loaded with a pull-up bar — the Rogue SML-2 squat rack is a great option for serious lifters.
Best Portable Home Gym
You shouldn't have to choose between a life on the go and staying fit — and you don't have to. There are plenty of portable gym options out there, and this one is among the best.
Hyfit
Hyfit combines the convenience of resistance bands with the modern tech found in today's home gym setups. You press, row, squat, and curl these bands to your heart's content. Or, you can opt to take one of Hyfit's classes with their roster of trainers. Either way, the adjustable bands will track metrics such as calorie burn, weight used, sets and reps, and your pace all to the Hyfit app in real-time. With a database of over 500 exercises, Hyfit is about as close as you can get to a full gym in your hotel room.
Who Should Buy Hyfit
People on the go who need a multi-use piece of gym equipment.
Folks who prefer to have trainers lead the workout (through an app).
Individuals who want to track key workout metrics in real-time.
Who Shouldn't Buy Hyfit
People who want more than bands to get a workout in.
Or, folks who are cool with bands but don't want the extra tech.
If you're looking to keep up with your workout routine while on the go, then you won't do much better than the Hyfit band set.
Best Home Gym Treadmill
If you're a runner or cardio junkie — or a lifter looking to perform more cardio at home — then a quality and durable treadmill may be more up your alley.
NordicTrack Commercial 1750
NordicTrack's Commerical 1750 model is equipped with a 10″ touchscreen that you can stream classes on. (Your purchase comes with a yearlong iFit membership). You can take a live class and compete against others on a leaderboard or opt for a solo run that mimics outdoor terrain. Other perks: The cushioning is adjustable to mimic the rigors of road running or allow for a more cushioned run. This mid-priced treadmill is foldable (which is nice since it's on the larger side).
Who Should Buy NordicTrack Commercial 1750
Folks who want to take live running classes.
Anyone who wants to be able to adjust their cushioning.
Runners who want to mimic different types of outdoor terrains.
Who Should Buy NordicTrack Commercial 1750
People with a small home gym space. This isn't a space-efficient treadmill.
Folks who run the distance and want a phone charger on their treadmill. This one isn't equipped with one.
Reasonably priced, comfortable, and equipped with live classes, the Nordictrack Commercial 1750 is a quality home gym pick for runners.
Best Home Gym Rower
Rowers are an increasingly popular cardio machine that allows users to engage their entire body while breaking a serious sweat.
Concept2 Model D
If you want to engage your back, arms, and quads while building serious conditioning, then look no further than the almighty rower. This rower can fit into most spaces comfortably (it suggest at least nine-foot by four-foot space), tips upward for simple storage, and support up to 500 pounds. The performance monitor, which has Bluetooth connectivity, tracks all of your relevant performance marks (meters rowed, calories burned, power output), and the fan lets you adjust the resistance.
Who Should Buy the Concept2 Model D
Folks who want a cardio workout that also recruits certain upper-body muscles and their legs.
Functional fitness athletes, such as CrossFitters, who routinely use the rower in WODs or competition.
People with limited space. This rower can fit in a nine-foot by four-foot room.
Who Shouldn't Buy the Concept2 Model D
Strength athletes who need weights to lift for strength gains.
Bodybuilders who need to isolate specific muscles with a variety of equipment.
Folks who may prefer another means of cardio, such as a treadmill or ski erg.
Functional fitness athletes or any athlete looking to incorporate lower-impact conditioning will love having a space-friendly rower at their disposal.
Best Home Gym for Powerlifters
Luckily for powerlifters, the amount of equipment needed to deadlift, squat, and bench press is relatively low-profile. However, stability and durability should be top of mind, which is how we decided on our top home gym for powerlifters.
Titan Fitness Competition Bench and Squat Rack
This squat rack and bench assembly from Titan Fitness is durable, solid, and low profile while still offering plenty of adjustability for powerlifters who want to lift and train in their homes. It's also forged with competition standards in mind, so if you do compete, you're able to mimic a powerlifting completion more closely in training.
Who Should Buy the Titan Fitness Competition Bench and Squat Rack
Lifters who want a basic but solid setup to build on their bench press and squat.
People who don't need a lot of bells and whistles and prefer to use a barbell in their workouts.
People looking for a cost-effective home gym setup that also saves on space.
Who Shouldn't Buy the Titan Fitness Competition Bench and Squat Rack
People who want more options in their home gym equipment, like crossover cables and pull-up bars.
Folks who don't compete. You can opt for a different, and possibly more affordable, model.
While this home gym setup from Titan landed our top pick for powerlifters, it's also a great solution for people who don't have a lot of space in their homes and enjoy powerlifting-style barbell training.
Best Beginner Home Gym
Bowflex built its brand on the idea that gym-goers would trade in the gym membership for a home gym that was affordable and space-saving. Here's which one we think is the best of the best.
Bowflex PR1000
Bowflex offers everything a gym newbie needs to get started and nothing more. Its unique rod system allows for up to 200 pounds of resistance (more than most beginners need), and the machine can accommodate over 25 different exercises. One thing worth mentioning is that lower-body exercise selection seems to be lacking compared to upper-body options. Though, you can do leg curls and extensions on it.
Who Should Buy the Bowflex PR1000
A beginner to strength training who wants to start testing their workout ability.
People who are on a budget and want a workout machine at home.
Those who want to train but don't want to use barbells or other free weights.
Who Shouldn't Buy the Bowflex PR1000
Athletes who want to exercise with a barbell and need rack equipment
Strength athletes who need well over 200 pounds of resistance
Folks who want more leg exercise options.
The Bowflex PR1000 is a great home gym. It's quiet, flexible, maneuverable, and offers a variety of training options. The casual fitness enthusiast will find the Bowflex to be a fantastic piece of equipment for their everyday needs.
Best Home Gym Kettlebells
Whether you're new to kettlebells or love the tried and true stimulus cast iron bells can provide, we found the absolute best kettlebell for your home gym.
Kettlebell Kings Powder Coat Kettlebell
This kettlebell is best in class for its ability to take chalk well, its textured handle for optimal gripping, and matte finish/coating that prevents unwanted nicks or cuts. Kettlebell Kings also offers a lifetime warranty, so you can rest assured that this brand believes in the durability of the Powder Coat Kettlebell (which is in part thanks to the single-cast casting process).
Who Should Buy Kettlebell Kings Powder Coat Kettlebell
Athletes that want a bell to go the distance. This kettlebell comes with a lifetime warranty.
Lifters need a kettlebell that will perform well in every setting with a handle that works with and without chalk.
Users that want to work out at home and need a kettlebell with a nice flat bottom finish.
Who Shouldn't Buy Kettlebell Kings Powder Coat Kettlebell
Someone on a budget. This kettlebell is priced higher than most others.
Beginners who are just getting into kettlebell training and might use a kettlebell once in a blue moon.
Folks who want to buy multiple sets of kettlebells. The cost will add up quickly.
Best Home Gym Dumbbells
Dumbbells are a gym staple, and the best for your home gym are durable, stable, and no-frills.
Poly Hex Dumbbells
The rubber coating of these Poly Hex Dumbbells makes them more floor-friendly than other iron models. The hexagonal shape allows them to stabilize on the floor, so they don't roll around between sets and for moves like renegade rows. You can buy pairs that range from as light as five pounds to as heavy as 125 pounds (and kudos to you if you can lift those). Of course, buying individual dumbbell pairs can add up, which is one downside.
Who Should Buy Poly Hex Dumbbells
Lifters who train without rubber flooring and want to help prevent scrapes and scuffs.
Folks who prefer hexagonal dumbbells for their stability.
People who are seriously strong and can lift over 100 pounds.
Who Shouldn't Buy Poly Hex Dumbbells
Folks who don't want to buy multiple pairs of dumbbells.
People who don't need a lot of weight and may benefit from an adjustable pair of dumbbells.
These tried-and-true rubber-coated dumbells get the job done and ensure durability, stability, and lots of weight options.
Best Home Gym Resistance Bands
Resistance bands can be used on their own for pump-inducing workouts in even the smallest of spaces.
Hyfit
Hyfit's bands can be anchored to any stable point — be it a power rack or sturdy pipe — and pressed and rowed. Or, you can stand in the middle of them for curls and overhead presses. The Hyfit app also offers trainer-led courses — featuring a 500-plus exercises database — so you'll never be at a loss for how to train.
Who Should Buy Hyfit
People who have limited space to train. Resistance bands are space-friendly.
Folks who want to take trainer-led classes on an app.
People who want a pair of resistance bands that can scale in resistance.
Who Shouldn't Buy Hyfit
People who want more than bands to get a workout in.
Or, folks who just want a pair of bands without the frill.
Bands can make a great addition to your home gym, and Hyfit offers bands on a whole other level.
The Benefits of Home Gyms
Not sold on shelling out for your own iron paradise? Here are some benefits of owning your very own home gym.
Home Gyms Are Convenient
Above all else, convenience is probably one of the major benefits of owning a home gym. You wake up in the morning, have your pre-workout, and then walk 15 steps to your garage so you can start clanging and banging. You'll never have to wait for the curl bro to get out of the squat rack, nor will you have to wipe another person's flop sweat off the rower. And because of this convenience factor, it's safe to assume that you'll be more dedicated to your workout program. Maybe not, but when you don't have a 20-minute drive ahead of you, it's a lot easier to get under the barbell for 45 minutes.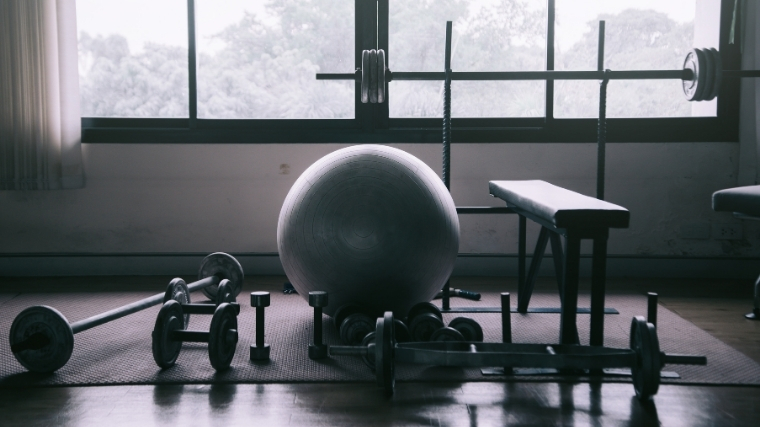 You Can Customize it
The beauty of owning your own home gym is that it's yours. All yours. Into CrossFit? Buy a simple squat stand, a plyo box, some rings, and a few kettlebells. More into powerlifting? Then opt for a more robust power rack, a quality barbell, and lots of plates. See where we're going with this? Your home gym can be as minimal or equipped as you'd like — and you won't have to answer to anyone.
It's Cheaper in the Long Run
The final major home gym benefit is long-term savings. Home gym equipment's price can be high, but it's an investment. Over a long period of time, owning your own equipment can save you money in two ways. First, more than likely, you can drop your gym membership fee, and over time that can add up. Second, it saves you the time you'd be driving to and from the gym, along with the time you have to wait for equipment. For most, this extra time can turn into energy and time invested in other areas of their life.
Is a Home Gym Right for You?
The questions below will help you decide if investing in home gym equipment or building your own gym is a wise, financially savvy choice.
What are your strength goals?
If you're looking to be the next Brian Shaw, then you need to really think about what that takes. You'll need to invest in Atlas stones, logs, hundreds of pounds of weights (eventually), farmer's handles — all sorts of strongman tools. In this instance, you may be better off just finding a local gym with the myriad of equipment you need. That's not to say you can't be elite and have your own home gym — but building that set up will take time and money.
How much space do you have?
This question should help guide you to what equipment will be best for not only your goals but your lifestyle, too. If you're living in a one-bedroom, then maybe an option like Tempo or resistance bands are better for now. On the other hand, a two-car garage affords you a lot more space to build a more complete set-up.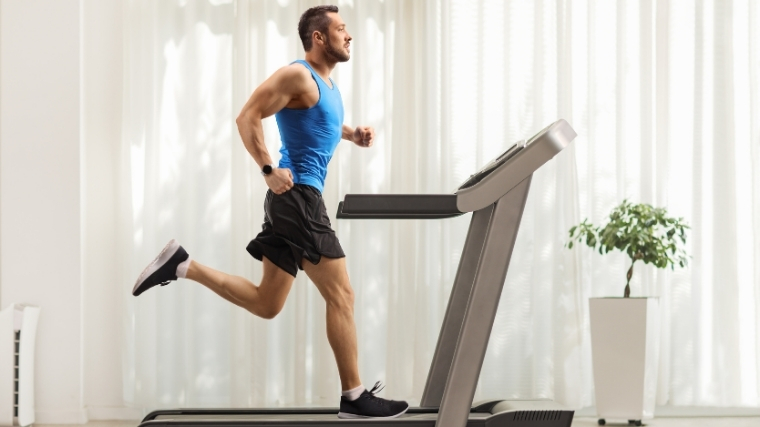 What's your budget?
This question is simple and will vary from person to person. Before investing in home gyms, we recommend realistically calculating your current gym expenses, consider the price of equipment and how much you're willing to put into a home gym. Of course, you don't need to buy everything at once. You can start with a squat stand, barbell, some weights, and a bench, and then go from there.
FAQs