Home gyms comes in many shapes and sizes. For some, it's a fully decked out garage filled with dumbbells, kettlebells, barbells, and racks to support their strength goals, while others have one or two pieces of equipment like a cable rack. We don't list treadmills, ellipticals and bikes here.
What a home gym actually is will depend on the user or consumer. Most people searching for a home gym might think of a decked out basement or garage, but that's not always the case. Standard lifting equipment, elaborate machines, resistance-based machines, and even elastic bands are all technically forms of home gym equipment. If you're using strength equipment at home to work out, then you're technically utilizing a home gym; it just may not be in the form of the traditional definition or idea.
Here's our list of favorite home gyms for a variety of consumer needs, goals, and wants.
The Best Home Gyms
Note: Manufacturers and fitness companies are experiencing unprecedented demand. We're updating this list frequently and to the best of our ability to reflect items that are in stock or available on short backorder. Thank you for your patience.
Best Home Gym Squat Stand With Pull-Up Bar
So you're looking for the perfect home gym setup that doesn't require a lot of creativity? A great home gym setup should tick a lot of boxes without a ton of thought, and it all starts with a great squat rack that suits many attachments and — hopefully — a pull-up bar.
Rogue SML-2 Squat Stand
The SML-2 Squat Stand is a stable, versatile cornerstone for the avid strength athlete at home or in a garage gym setup. (Though it holds up well in commercial environments, too.) It's constructed to be strong and stable, support a variety of attachments, and easily double as a high-end pull-up bar. If squats, presses, pull-ups, and other compound movements with free weights form the bulk of your training, this setup can suit you well.
Who Should Buy the Rogue SML-2 Squat Stand
Avid fitness enthusiasts that want to build and expand their home gym over time.
Lifters that take training seriously and need a setup to match that.
Recreational lifters that have some room to expand and build upon their home gym.
Who Shouldn't Buy the Rogue W-4 Garage Gym
Lifters with very low ceilings (total height is 92 inches).
People who don't want to build a home gym setup around a squat stand.
Rogue Fitness aims to save an athlete some time by providing a list of equipment that someone frequently buys together to build their home or garage gym in this case. They include things like a customized rack, bench, plates, safety bars, and much more.
Best Home Gym Power Rack
Squat stands are great, but serious strength athletes know stable, four-pillar power racks can provide even more stability and versatility in training.
Rogue RML-390F Monster Lite Rack
Rogue's RML-390F Monster Lite Rack provides stability, a customizable pull-up bar, Westside Hole spacing, and more in a footprint a bit more home gym-friendly than others you may have seen. Customers will be pleased to find out it comes with with a pair of Rogues Monster Lite J-Cups and a pin/pipe safety system.
Rogue's RML-390F Monster Lite Rack is compatible with an extremely wide variety of additional strength training attachments, making this the cornerstone of a home or garage gym setup that can grow with you over time.
Who Should Buy the Rogue RML-390F Monster Lite Rack
Lifters who want a slightly more robust option than a minimalist squat rack.
Athletes who may use a number of additional strength training and equipment attachments.
Lifters who want their setup to come with safety bars for squatting.
Who Shouldn't Buy the Rogue RML-390F Monster Lite Rack
Athletes who are very limited on space and have low ceilings (height is 92 inches).
Lifters who will be moving their squat stands very frequently, as this generally requires two people to move.
The RML-390F model is a compromise between a truly minimalist setup and the more complex power racks you may see in a collegiate weight room or commercial gym.
Best Cost Effective Home Gym Package: Fringe Boot Camp Essentials
If bootcamp-style workouts are your jam, Fringe Sport has assembled a fantastic, customizable package that gives you the equipment to get swinging, jumping, slamming, crunching, and more.
Fringe Boot Camp Essentials
Fringe Sport makes it easy to get in a high-intensity workout with a package that includes a kettlebell, slam ball, med ball, ab trainer, and jump rope. Optional add-ons include foam rollers, plyo boxes, and agility ladders. Whether you're taking an online class or programming your own sweat sessions, this is a great package that'll get you moving right out of the box.
Who Should Buy Fringe's Boot Camp Essentials
People who want fitness class style workouts right at home
Folks looking to make an initial home fitness investment
Customers light on space, as the entire package can be stored in a small area
Who Shouldn't Buy Fringe's Boot Camp Essentials
Hardcore lifters; the weight options aren't especially heavy, and there is no barbell
People who are looking to train barbell movements specifically
Best Power Rack for the Money: Get Rx'd Pro Power Cage
Power racks (or power cages) can form the center point of a great home or garage gym setup. But they can also run on the pricer side. Here's a great option if you're looking for a cost-effective solution.
Get Rx'd Pro Power Cage
This cage from Get Rx'd is the highest value-to-cost option we've seen on the market. It includes J-cups, spotter arms, bumper pegs, and a pull-up bar, all for under $300 base price.
Who Should Buy the Get RX'd Pro Power Cage
Lifters looking for a versatile, cost-effective cage/rack for squats, bench pressing, and more
Customers who want the basics (hooks, spotter arms, etc.) included in one purchase
Who Shouldn't Buy the Get RX'd Pro Power Cage
Lifters who will routinely be using loads above 500 pounds
Folks who want a more robust or wider base to help protect their floors
Best Home Gym for Garage
When building the base for a garage gym, we recommend starting with a versatile and strong squat rack/pull-up bar combo. Included attachments and extra plate storage are big bonuses.
Get RX'd Guillotine Squat Rack w/Storage
It's a great squat rack with some additions that could reduce the need for buying additional equipment. Included plate storage, pegs (for resistance bands), two different pull-up bars, included spotter arms, J-cups, and a stable base make the Guillotine from Get RX'd a setup you can build around.
Who Should Buy the Get RX'd Guillotine Squat Rack w/Storage
People who want a versatile rack as the center focus of their gym.
Customers who do several types of workouts, including banded barbell movements.
Lifters who want some convenient bumper plate storage attached to their rack.
Who Shouldn't Buy the Get RX'd Guillotine Squat Rack w/Storage
Folks with very limited space or workout areas that need shallower squat rack setups.
People who want several specific pieces of equipment instead of a more one-size-fits-most approach.
Best Beginner Home Gym
New to training and want a machine to acclimate and start out with? Beginner home gyms should help guide newer lifters verse leaving them confused.
Marcy MWM-990 Home Gym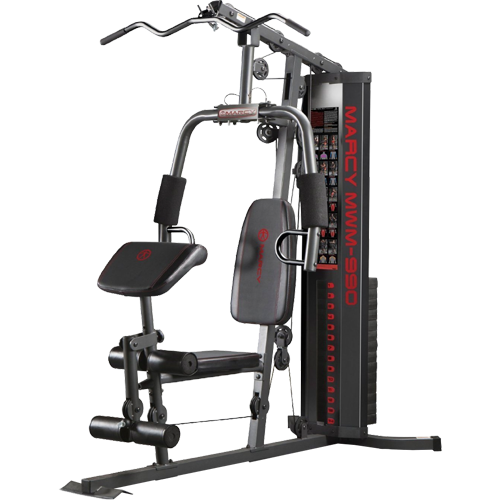 The Marcy 150lb Multifunctional Home Gym machine makes our number one pick for a couple reasons. First, we like how simple the machine is, and how affordable it is. It's a good choice for the strength athlete who may be newer and wants to learn basic movements.
Second, we like the 150 lb weight stack, as it's not going to be incredibly easy for a beginner to max. Lastly, it has images of exercises on the machine, so a beginner can navigate movements with ease.
Who Should Buy the Marcy MWM-990 Home Gym
Beginners that need a simple machine with adequate loading.
Home gym owners that like having equipment for specific tasks.
Who Shouldn't Buy the Marcy MWM-990 Home Gym
Serious strength athletes that need barbells for their sport.
Athletes that require more than 150 lbs of loading.
Best Beginner's Home Gym: Gold's Gym XRS 50 Home Gym
Weight stack-based home gyms can be a convenient way to harness the functionality of multiple machines in one space-efficient package. And this particular model allows exercisers to perform a number of great movements without breaking the bank or having to invest in something larger and/or more difficult to set up.
Gold's Gym XRS 50 Home Gym
The XRS 50 Home Gym is newly updated to provide up to 280 pounds of resistance, a 4-roll leg developer, both high and low pulleys, and a vinyl coated weight stack. It's got everything a beginner might look for in a weight stack home gym at a competitive price point (and with a spacing footprint that's compatible with even smaller homes and apartments).
It also features comfortable padding in the seat, leg rollers, and chest station. It's not the most complex weight stack machine on the market, which can actually be a plus for newer athletes looking for something they can grow into.
Who Should Buy the Gold's Gym XRS 50 Home Gym
Athletes who want a multitude of movement options all in one machine.
Newer lifters for whom 280 pounds of resistance is plenty.
Athletes who want a comfortable, padded setup for numerous movements.
Who Shouldn't Buy the Gold's Gym XRS 50 Home Gym
Athletes who prioritize free weights over machines.
Highly experienced athletes who might need a larger weight stack for resistance.
Best Portable Home Gym
Looking to take your workout on the road? Heavy plates and dumbbells aren't the most portable option. Fortunately, resistance band systems can provide a great workout on the go.
BodyBoss 2.0
When portability is the name of the game, the BodyBoss 2.0 is a resistance band-based package with loads of attachments, all in an easy-to-carry package you can fit in your luggage or car trunk. The base, handles, door anchor, and bar attach to resistance bands to simulate compound and isolation movements you'd generally perform with barbells, dumbbells, or cable machines — without hundreds of pounds of weight to bring along.
Who Should Buy the BodyBoss 2.0
People who frequently travel and want a consistent, reliable setup for resistance work.
Athletes who prefer working out with resistance bands.
Customers who want something that's easy to set up and easy to adapt.
Who Shouldn't Buy the BodyBoss 2.0
If heavy training is the name of the game, this might not be the system for you.
Strength athletes who want to train barbell, kettlebell, or dumbbell movements, or who want a traditional weights feel.
Best Apartment Home Gym
Great home gyms for apartments need to be small in nature and should accommodate for basic apartment-dwelling asks.
Bowflex PR1000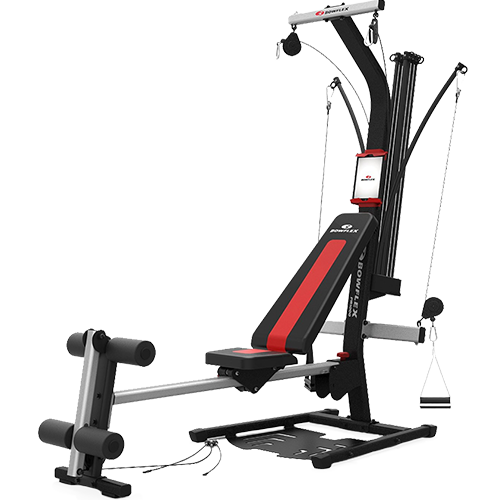 Someone living in an apartment will have limited space, and more than likely not have the ability to slam weights on the ground. The Bowflex machine provides one with resistance and the ability to workout quietly.
We thought Bowflex PR1000 was a great machine for someone who may be in an apartment with ample room, but still the need to remain relatively quiet.
Who Should Buy the Bowflex PR1000
Apartment dwelling individuals that want to equipment to track their whole body.
The casual lifter that wants a piece of equipment to tackle multiple goals.
Financially conscious lifters with smaller spaces that want a lot for their money.
Who Shouldn't Buy the Bowflex PR1000
Serious athletes that need more than one piece of equipment to train with.
Lifters that have extremely limited space.
Best Bodybuilding Gym
So, you want a home gym to target muscles in isolation that can also adequate resistance? The best bodybuilding gym will facilitate all of these.
Marcy Diamond Elite Smith Cage Gym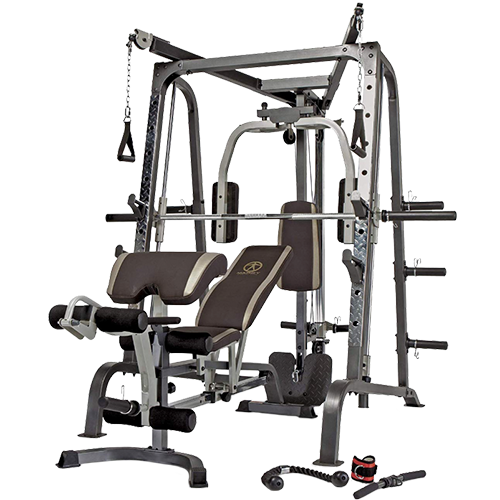 We like the Marcy Diamond Elite Smith Cage Gym machine because it comes in one large piece and has multiple tools a bodybuilder could use to benefit their gym progress and build muscle.
There are multiple attachments this type of athlete can use to provide their body with plenty of time under tension. The mixture of cables, smith machine cage, and free weights is what earned this as our top pick for bodybuilding athletes.
Who Should Buy the Marcy Diamond Elite Smith Cage Gym
Serious lifters that want a "best of all worlds" style piece of equipment.
Recreational lifter with an adequate room that wants a machine to last for multiple years.
Who Shouldn't Buy the Marcy Diamond Elite Smith Cage Gym
Serious lifters that want a "best of all worlds" style piece of equipment.
Athletes that want a barbell to train and no limitations that a smith machine can have.
Best Folding Squat Rack: Rogue RML-3W Fold Back Wall Mount Rack
If you want the feel of a full power rack but don't have a space where it can remain assembled when not in use — smaller garages come to mind — then a retractable rack could be a fantastic option to build your home gym around.
Rogue RML-3W Fold Back Wall Mount Rack
Rogue's RML-3W Fold Back Wall Mount Rack uses thicker steel and features more robust construction than many other folding squat racks on the market. Even so, its profile is just 5 inches off the wall when fully folded. The pull-up bar is easy to attach once it's folded out, and the Westside hole spacing makes utilizing additional attachments a breeze.
It also comes in two depths for the fully unfolded version: 21.5″ and 41.5″, customer's choice.
Who Should Buy the Rogue RML-3W Fold Back Wall Mount Rack
Lifters that want the feel of a full rack but can't leave it assembled all the time.
Powerlifters who are used to Westside hole spacing.
Athletes who don't want to compromise a sturdy feel when looking for a space-saving option.
Who Shouldn't Buy the Rogue RML-3W Fold Back Wall Mount Rack
Customers who want something that doesn't require any installation.
People who want a pull-up bar handy all the time without any extra steps (pull-up bar requires rack to be unfolded).
Best Home Gym for the Money
Home gyms can be expensive, so finding options that are versatile and can help save the wallet are important for budget-conscious shoppers.
Gold's Gym XRS 50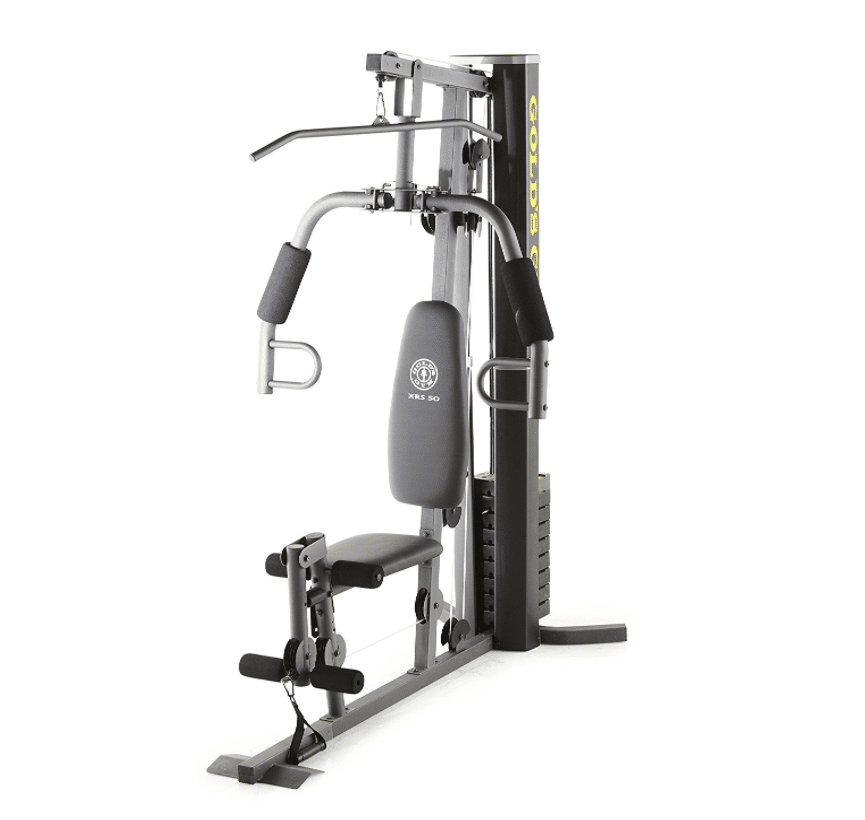 One of the best home gym picks for the money is the Gold's Gym XRS 50. This machine provides good overall value.
If you're interested in achieving somewhat of a rounded workout, then this piece of equipment may serve you best. XRS 50 machine offers tools for training legs, back, chest, and more. In addition, they offer a three and four year protection plan, which is a nice feature to ensure this machine will last for a while.
Who Should Buy the Gold's Gym XRS 50
Beginners that want a versatile piece of equipment for a cost-efficient price.
Lifters that have a tight budget, but want a piece of equipment to last multiple years.
Who Shouldn't Buy the Gold's Gym XRS 50
Serious lifters that need barbells and other forms of resistance training to excel.
Fitness enthusiasts that have experience and will be limited by the total amount of resistance provided (280 lbs).
Home Gyms: Are They Worth It?
There are multiple settings and scenarios where one can set up and use home gyms or equipment. Picking a good place shouldn't be a challenge. If someone is making a complete gym at their home, then a garage, basement, or empty guest room is usually the setting it takes place. On the other hand, for those with limited space, then they may have one versatile machine for a workout, or composition of smaller equipment pieces that sit in an area with ample space for them.
In terms of equipment, it's not an easy feat clarifying what's the most popular, or typical for users to keep in their house to exercise. Although, one can define what's most typical by the type of gym and strength goals they have. For example, if someone has a garage gym, then you'll often see a squat rack, barbell set, and possibly dumbbell sets as the most common/typical pieces of equipment to build muscle.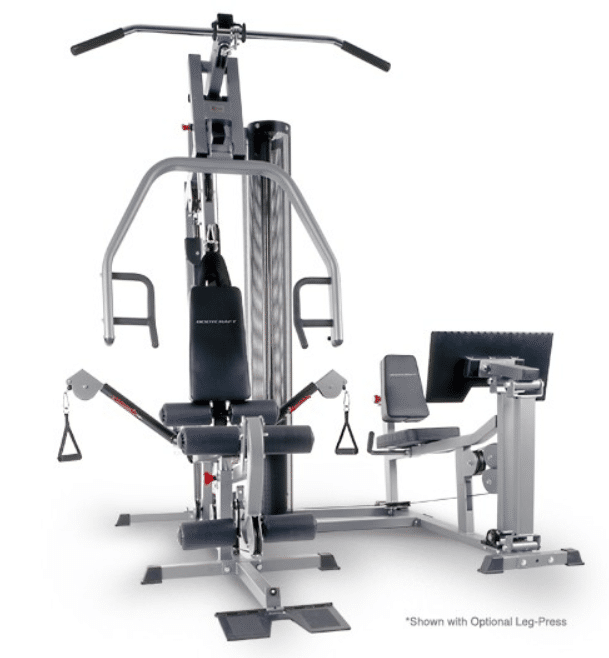 Conversely, the individual who lives in an apartment setting, or doesn't have as high of strength aspirations may use one of the popular versatile machines like a BowFlex, or cable machine. For this setting, these pieces of equipment would be considered typical. Then for an older individual, they may utilize a seated cable chair, or other forms of elastic band setup. Either way, it's not easy to claim what's the most typical until you break down an individual's strength goals, training age, and gym setup location.
Home Gym Benefits
There are multiple reasons why home gyms can be beneficial, and a lot of them will vary from person to person. Possibly the most common benefit of a home gym is the convenience factor. If someone is busy, or doesn't want to attend a gym but wants to build muscle, then picking out one of the best home gyms is an easy way to achieve fitness goals, while saving time and working out at home. Additionally, there will never be a wait for equipment, which can be a major time saver.
[Complimenting treadmills for home gyms? Check out the best treadmills on the market!]
Home gyms Versatility. An individual can completely customize their setup to match their needs and workout goals. Since they're designing their own workout space, then they can purchase only what they need. Plus, there are multiple types of equipment for a variety of settings, so an individual can be as creative as they'd like when building out their home gym with the space available.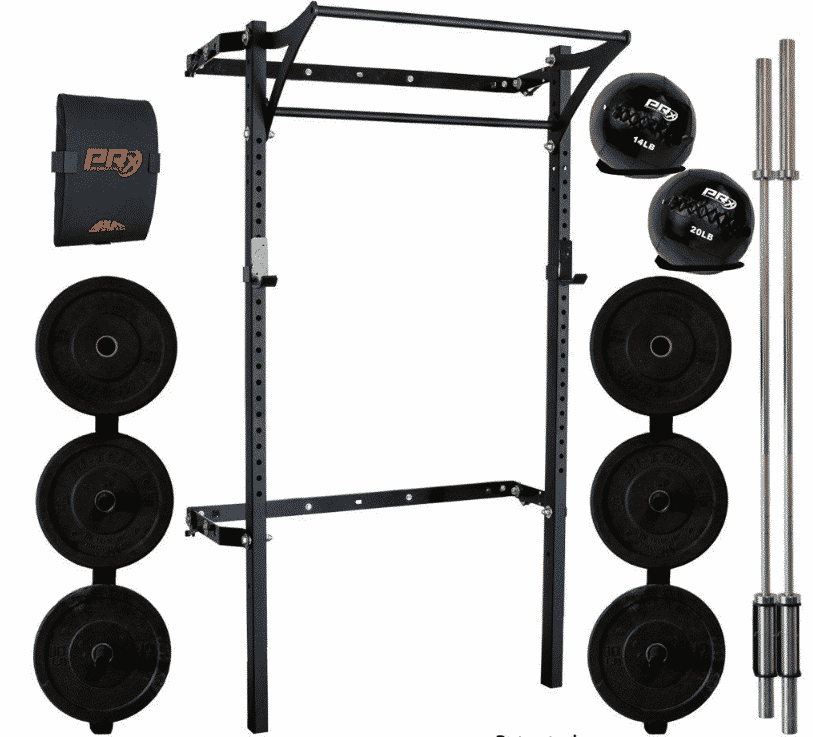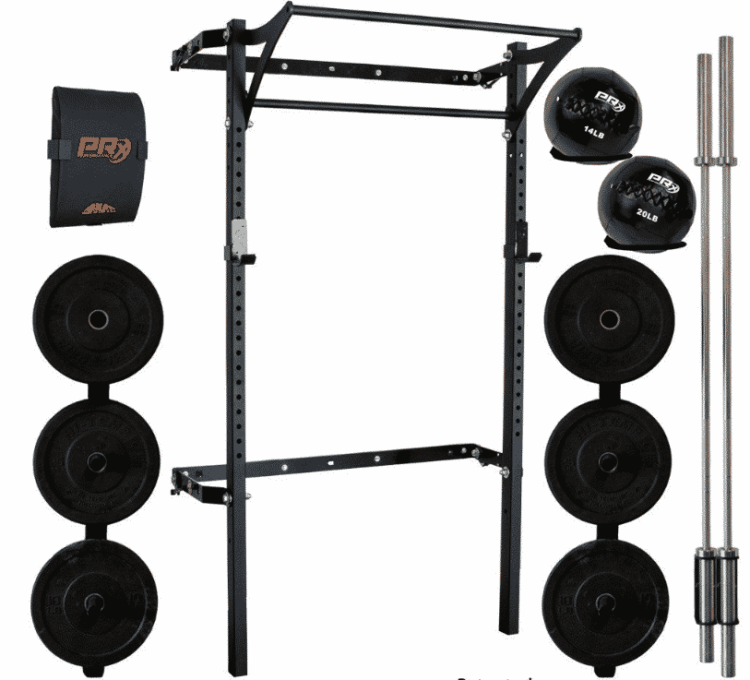 The final major home gym benefit is long-term savings. Home gym equipment's price can be high, but it's an investment. Over a long period of time, owning your own equipment can save you money in two ways. First, more than likely, you can drop your gym membership fee, and over time that can add up. Second, it saves you the time you'd be driving to and from the gym, along with time you have to wait for equipment. For most, this extra time can turn into energy and time invested in other areas of their life.
Is a Home Gym Right for You?
A better way to look at this question is to break it down into three smaller questions. The questions below will help you decide if investing in home gym equipment, or building your own gym is a wise realistic financially savvy choice.
What are your strength goals?
If you have very committed strength training goals, then you'll probably realize that building your home gym will take a little more effort and money. More than likely, you'll need equipment that complements your goals. But on the opposing side, after the initial purchase of equipment, then you'll have your perfect setup for your fitness goals.
And if you're someone who just needs a piece of equipment to maintain a certain level of fitness, then your effort and finances will be much lower, which makes buying home gyms a little easier.
How much space do you have?
Another question to ask yourself is how much space you have. This is a question that can help guide you into what equipment will be best for not only your goals, but resources. Take into account that one machine can perform many functions. Someone with more room can be a little more lenient with what they purchase, while someone working with limited space will have less options to choose from.
What's your budget?
This question is simple and will vary from person to person. Before investing in home gyms, we recommend realistically calculating your current gym expenses consider the price of equipment and how much you're willing to put into a home gym.
How valuable is your time?
The final and last question is slightly bias towards the individual in question. But how much do you value your time? You may think that the price of home gyms in the shop is too high but your time worth money too. It's a no brainer that home gyms can save you time in the long run, so how much is your time worth? If you're someone who needs something quick and versatile, then you may find a home as a sound wise investment.
Best Home Gym Ideas
There are multiple companies that are designed to help equip someone with their perfect home gym. All of them cater towards different levels of fitness, or strength athlete with different weight options. For example, Rogue Fitness offers equipment that's designed to support a variety of strength athletes, but also slightly more elite athletes. They offer multiple racks, garage packages, CrossFit packages, plate & bar sets, along with individual pieces of equipment for full body workout.
A similar company that has built a strong name for themselves in terms of home gyms is American Barbell. If an athlete is considering building their own top home gym, then they should consider every aspect they need to exercise and look into different packages these companies offer.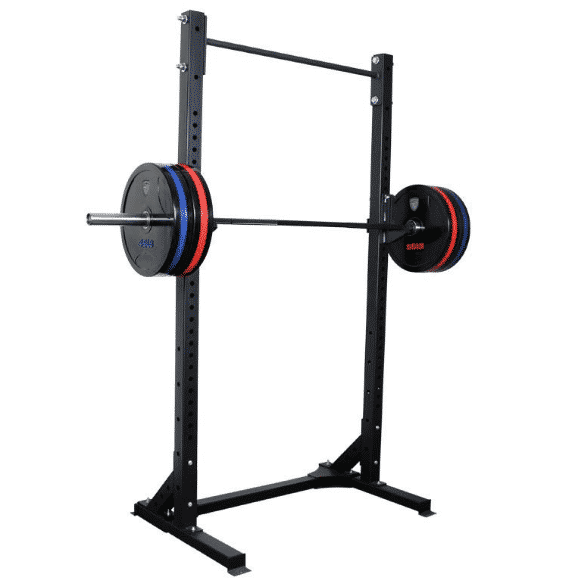 Image courtesy americanbarbell.com.
Another good resource for building a top home gym is PRx Performance. This company focuses on providing you with a variety of equipment and packages for workouts, but also offer the ability to finance. For most, building a home gym can be a daunting experience, so the finance option adds a nice feature for softening the upfront money blow that may come with a big purchase.
Home Gyms Wrap Up
Home gyms can be defined as anything a lifter utilizes at home to pursue their fitness goals. You can train body, improve your health, build muscle at home. Working out at home can be a great long-term way to workout and save time and money, but building your perfect gym can be a daunting experience.
If you can break down your fitness goals, needs, wants, and budget, then finding the best home gyms can seem slightly easier. Then it shouldn't be a challenge. Hope that our reviews of home gyms were helpful.
Home Gym FAQs
Related Home Gym Content