The Bowflex Revolution is one of the most versatile home gyms on the market. Offering over 100 different exercises and 400 different variations, there are few limits when it comes to the workouts you can accomplish with this machine. The SpiraFlex™ Technology designed for NASA allows for the weighted plates to work independently from gravity, providing resistance without inertia. The Freedom Arms™ move independently, creating 10 different positions with up to 170 degrees of adjustments at your disposal. The Bowflex Revolution also features a leg press station with up to 600 pounds of resistance to go along with a preacher curl attachment, vertical bench press, and leg extension.
While this machine is bigger than a few sets of dumbbells, it is fairly compact for the number of exercises and variations it offers, making it a solid option for those who may be a little tight on space. One of the best features at your disposal might be its foldability — you can fold the bench vertically to create a smaller footprint. If you're looking for a compact home gym that offers weighted resistance, options for attachments, and weight plates to load as you progress, the Bowflex Revolution Home Gym may be for you.
Main Takeaways
The Bowflex Revolution can accommodate over 100 exercises with up to 400 variations.
The bench on this machine folds up to allow for more floor space in your home gym.
Upping your resistance is simple — just add more plates to build up to 600 pounds of weighted resistance.
Bowflex Revolution Home Gym Review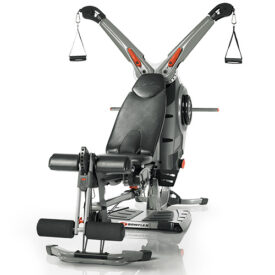 Bowflex Revolution Home Gym Review
The SpiraFlex Technology here allows for the weighted plates to work independent from gravity, providing resistance without inertia. This machine's Freedom Arms move independently, creating 10 different positions with up to 170 degrees of adjustments.
Bowflex Revolution Home Gym Highlights
Thanks to the SpiraFlex Technology, the Revolution doesn't rely on gravity for resistance. The plates slide onto the bar and lock into place, and once you begin lifting, they twist, without using inertia to create resistance. The Freedom Arms adjust up to 170 degrees and move independently of each other, allowing them to be positioned at the exact height and angle you are looking for. Plus, you can even use one at a time if that better suits your workout.
Once you unfold the bench, and it is flat, the seat will move along the rails, so you can perform rows. This feature also allows you to lock the seat for lower body exercises, such as leg curls and extensions. The optional preacher curl attachment creates the ability to use the bench in a kneeling position and perform bicep curls just like you would in the gym.
The Bowflex Revolution does have a lot of parts for installation, so for those who want to spend a little extra money ($299) to have their home gym installed by a qualified technician, it may be worth avoiding the headache that many customers have reported during self-installation. In addition, since this machine is operated by pulleys, form is crucial, which means those who are just learning to lift may need to focus extra hard to get their moves right on the Revolution.
Who Should Buy the Bowflex Revolution Home Gym
Anyone looking for a home gym that provides the ability to exercise their full body will likely find the 100 exercises and 400 variations to be beneficial to their gains.
People who are limited on space — when folded, this product has a footprint of 55" x 38" x 73", which is comparable to the size of a refrigerator (which while still large, is much smaller than many power racks or other home gyms).
The rails on the Revolution allow for easy adjustability, so you can quickly switch between workouts without losing momentum.
Who Shouldn't Buy the Bowflex Revolution Home Gym
Those who want a media rack to store their phone as this machine does not have that feature.
Anyone looking for their home gym bundle to include all additional accessories. The Revolution does have a couple accessories that aren't included, such as a tricep rope and a mat that can go underneath the equipment.
Anyone who is really limited on space is better off opting for some adjustable dumbbells, a kettlebell or two, or maybe even some resistance bands for home training.
Price
The Bowflex Revolution is normally listed at around $2,900 before adding on the optional $299 for in-home assembly by a qualified technician. Sometimes Bowflex offers limited-time deals that allow you to save $300. This includes free shipping and a free resistance upgrade (two 40-pound weight plates), bringing the price down to $around $2,600. Bowflex also allows you to create a credit card, so you can pay off your purchase over time. This would break your payments up into around $145 per month over an 18-month period.
Overall Build and Quality
Weighing in at 336 pounds, the Bowflex Revolution is a very sturdy home gym. Crafted from high-grade carbon steel, you won't have to worry about this product breaking down on you, and as long as you take care of it, it could be the only home gym you'll ever need. The folded footprint is one of the best features the Revolution has to offer. When folded, it only takes up 4.5 feet in length and just over three feet in width, which is about the size of a refrigerator. This could be a huge plus for someone who is limited in available space.
The padding on this product is meant to provide adequate cushion in all of the right places, ensuring you aren't uncomfortable during your workout session. In its standard configuration, the Revolution offers 220 pounds of resistance, when upgraded it bumps up to 300 pounds, and with the leg press, you can go up to 600 pounds of resistance.
Features
Bowflex has always been known for their innovation when it comes to their products, and the Revolution is no exception. Highlighted by the SpiraFlex weights that twist to create resistance and the Freedom Arms that offer 10 different positions for your workouts, this home gym can really pack a punch. You can effortlessly switch the weight resistance and actual exercises in a matter of seconds.
The Freedom Arms offer 10 different positions, and combined with the five-position foot harness, you can perform an array of leg workouts. The bench unlocks, allowing for rows as the bench itself slides along the rails during exercise. Plus, the optional preacher curl attachment enables you to work your biceps, as well.
SpiraFlex Technology
Say goodbye to normal weighted plates — with the flex packs on this machine, you are able to achieve resistance without gravity. SpiraFlex was developed by NASA to help astronauts that are in space stay in shape. The weights lock into place on the bar, and when you begin your exercise, they twist, creating resistance without using inertia. With this equipment, you can perform leg presses, leg extensions, a variety of shoulder workouts, seated rows, preacher curls, chest flyes, and presses. After adjusting the Freedom Arms, you are able to do lower body exercises as well.
Freedom Arms
The Freedom Arms on the Revolution are multi-positional and are able to adjust up to 170 degrees. This provides a proper range of motion for over 100 individual exercises. You can move one arm at a time to ensure you set them at the correct height and angle needed for whatever workout you are performing.
The best thing about the multiple positions and angles is that you're able to perform both flat and incline bench presses and flyes. You can easily switch to shoulder press and seated or standing front and lateral raises. Once you unlock the bench, you can also perform seated rows as the seat can move along the rails of the machine — of course, if you don't want the seat to move as you work, you can always lock it in.
5-Position Foot Harness
You can transform the Freedom Arms to work your legs by pairing them with the 5-position foot harness. This unlocks the ability to perform kicks and slides among an array of other workouts to add even more variety to your workout regimen. Just lower the arms all the way down, and attach the foot harness to the safety hook. Once secured around your foot, you are able to perform movements like glute kickbacks.
Leg Press Station
After the seat is locked into place, you can perform leg curls, presses, and extensions. This attachment is standard with the machine and comes with the purchase.
Preacher Curl Attachment
The preacher curl allows you to use the bench in a kneeling position to perform bicep curls like you would at the gym. Preacher curls place a strong emphasis on the negative portion of each rep, maximizing time under tension.
Vertical Bench Press
After making a few minor adjustments to the Freedom Arms and bench, you can target your upper chest thanks to the incline press movement. Simply move the arms to the proper angle that suits your size and stature to target your upper chest, and you are good to go. This is also helpful when you want to target your shoulders.
Accessories
While these products are not included with your purchase, Bowflex does offer the option to add additional accessories to your Revolution. You can add on the Machine Mat that goes underneath your equipment to protect your floors from scratches, and carpeting from wear and sweat during your workout. The SpiraFlex resistance plate upgrade, tricep rope attachment, and hand grips are also compatible with your home gym, and match perfectly with the accessory rack. This could be a serviceable option for those who have the space and the budget for the rack and additional accessories.
Product Specs
The Bowflex Revolution is not only versatile, but thanks to its folding capabilities, it can also be very compact. When fully extended, this product will take up a little over nine feet in length, just over three feet in width, and six feet in height. When folded, the length is cut in half to about 4.5 feet. This is huge for people who are limited on space or live in a small apartment. The Revolution weighs 336 pounds when fully assembled, but it does have wheels, meaning you can move it out of the way when you aren't working out.
Materials
The Revolution is forged from high-grade carbon steel that is built to last. As long as you provide normal upkeep (i.e., wipe away sweat and keep it away from the elements), this home gym could be the last one you ever purchase.
Weight Capacity
The weight limit for the standard Bowflex Revolution is 300 pounds. It also provides 200 pounds of resistance, while the upgraded version is bumped up to 300 pounds for upper body workouts, and up to 600 pounds for leg workouts. This is ideal for most recreational athletes, but powerlifters may be interested in equipment that allows for heavier lifts.
Delivery and Assembly
Bowflex offers free shipping and an option for in-home assembly by a qualified technician for $299. There are a lot of parts to this machine, including the 14 weighted plates and five snap hooks, among 24 others that need to be installed. This could potentially be difficult for users, which is why Bowflex offers an assembly option.
Warranties
Bowflex offers a 10-year warranty on the frame, and three years on parts. This puts the Revolution around average when compared to the rest of the market. Though some home gyms do offer lifetime warranties, which you will not find here.
Places to Buy
You can buy the Bowflex Revolution through Bowflex or via Amazon marketplace.
Company Information
For over 30 years, Bowflex has been one of the leaders in home gym equipment. They offer high quality products that can allow you to reach your strength and cardio goals. If you aren't happy with your purchase, you can contact customer service at 800-605-3369 within six weeks, and as long as your product is in its original condition, they will give you a full refund. For any customer service questions, simply provide them with your email and a representative will follow up with you.
Final Word
Bowflex has been one of the leaders in home gym equipment for 30 years, and for good reason. This particular home gym is great for those who want an all-inclusive piece of equipment that allows them to work every muscle group in the body. The innovation and versatility of the Revolution are what makes this product stand out.
Thanks to the SpiraFlex technology, you are able to create resistance without inertia. Since this machine uses pulleys, prevision in form is key, which could be beneficial for both beginners and experts alike. You can perform up to 100 different exercises with 400 different variations. The bench is adjustable and can slide along rails to transition between movements. If you are someone who is limited on space, the Bowflex Revolution can fold to save room and offers a lot of versatility you may not find in other more typical home gyms.
FAQs
Does the Bowflex Revolution fold?
Yes. One of the great features about this product is that when the bench is folded, the footprint is cut in half.
How long will the Bowflex Revolution last me?
The Revolution is warrantied at 10 years, but with proper care, it could last you for over 15 years. 
Where can I buy replacement parts for this equipment?
The best place to look for replacement parts is straight through Bowflex's website. You can also check out Amazon to get parts if they are ever out of stock through Bowflex.