The IWF Junior World Championships start this Friday, June 16th in Tokyo and runs for an entire week, and we've heard it from the folks at USA Weightlifting themselves: CJ Cummings may be gearing up to break another world record.
The whole contest is streaming live from the IWF website at this link right here from 9:30am Tokyo time on Friday, which is 8:30pm Thursday night.
If you're thinking to yourself, "Didn't CJ Cummings already break a world record at an IWF World Championship this year?" you'd be right; he competed at the IWF Youth Worlds this past April in Bangkok.
The 17-year-old athlete lived up to the hype, breaking his own Youth World Record clean & jerk with 185kg (407.9lb). He came second in the snatch with a 137kg (302lb) lift but first in his weight class with a total of 322kg (709.9lb).
USA Weightlifting CEO Phil Andrews said at the time,
We've been saying it for years now. CJ Cummings is a force on the international stage. That was evident today. His performance in Bangkok was incredible. We cannot wait to see what the future holds for CJ.
This Saturday, Cummings may attempt both the clean & jerk and total world records (youth category) in Tokyo. That said, his first priority is to win a medal and win the championships — and if he does, he'll be the first American male to win back-to-back World Championships at any level in decades.
What makes this all the more impressive is that Cummings, who the Wall Street Journal once called "The LeBron James of weightlifting," is 17 years old, and is competing in the Youth Worlds and the Junior Worlds in the same year, which have age limits of 17 and under and 20 and under, respectively.
Cummings still has three years of eligibility as a Junior.
https://www.instagram.com/p/BUdEl4XhunY/
Team USA is sending a total of twenty athletes to the Tokyo, ten of each sex.
Women's Team
Hayley Reichardt (48kg)
Megan Seegert (48kg)
Jourdan Delacruz (48kg)
Maddy Myers (63kg)
Meredith Alwine (69kg)
Jessie Bradley (75kg)
Jules Riotto (75kg)
Rebecca Walker (90kg)
Shala McMillan (90kg)
Kaitlyn Jarrett (+90kg)
Men's Team
Jacob Horst (62kg)
CJ Cummings (69kg)
Jordan Wissinger (69kg)
Mason Groehler (77kg)
Dale Loch (77kg)
Josh Piasecki (85kg)
Michael Cohen (94kg)
Dylan Cooper (105kg)
Zackary Burks (105kg)
Ryan Sennett (+105kg)
While there's obviously a lot of hype behind Cummings, a lot of these athletes are promising. In particular, Michael Cohen is the 2015 Junior National Champion, the 2015 Pan-American Youth Champion, and a multiple time champion of the Youth National Championships, even winning a bronze medal at the 2015 Youth World Championships. Garage Strength's Jacob Horst was the 2016 Senior National Champion and totaled 251kg at the American Open, and Ryan Sennett was the 2015 Junior National Champion and the 2014 Youth Pan-American Champion, at one point holding the American snatch and total record in the 16 & 17 year old category.
On the women's side, Kaitlyn Jarrett won silver at the 2016 Youth National Championships, Jessie Bradley won the 2015 American Open and the 2016 Pan-American Championships, and Maddy Myers was best lifter at the past two Junior National Championships and won the last two American Open Championships.
Reichardt, meanwhile (you can see her lifts at this year's Junior Pan American Championships above) was the first American woman to win a medal at a Youth World Championships in 2016 and she is a three-time medalist at the Junior National Championships, winning first place in 2016.  Jourdan Delacruz holds a Junior American Record with a 183kg total, set at the 2017 Junior Pan American Weightlifting Championships.
If you're wondering if Harrison Maurus is going to turn up, you'll have to wait. He's instead competing at the 2017 National Youth Championships, held in Atlanta from June 22 to 25, and the American Open Series II in Miami in July.
Timetable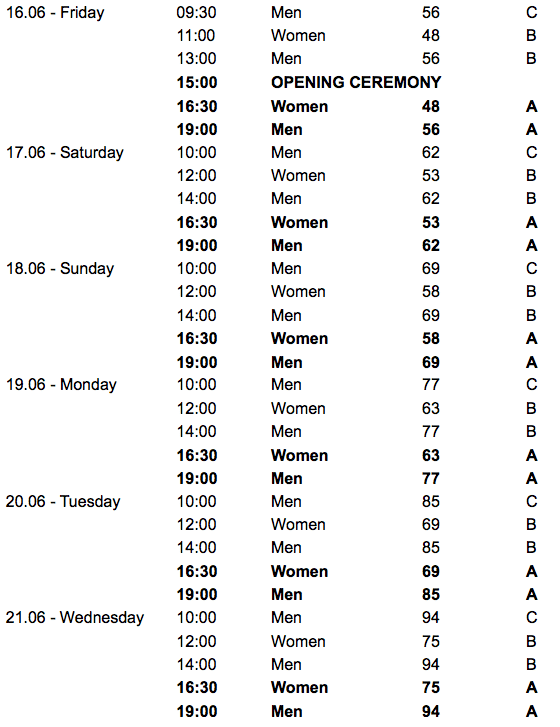 Note that all times are in Tokyo time. The whole event will be streamed by the Organizing Committee in Tokyo — remember to head to this link when you're ready to watch.
Featured image via @cj__cummings on Instagram.