Huge Supplements got their start in 2019 creating bodybuilding and fitness supplements that are a step above the rest. They do this by formulating supplements with extremely high doses that are higher than most competitors across the market. Although some of their supplements are simple in formulation, most supplements (like their intra-workout or their pre-workout) are stacked with an impressive ingredient list.
Huge Supplements Holiday Promotions and Discounts
This holiday season Huge Supplements is offering some pretty solid discounts on their entire supplement line. You'll receive 20 to 30 percent off your entire purchase starting on November 18 to November 27. If you've been interested in trying out Huge Supplements' various products — like their fat burner, Exterminate — this would be an excellent time to try a new supp at a lower cost. While they offer some more basic products like creatine and BCAAs, Huge also provides some more unique products, like their product Defend, which is an organ and cycle support supplement.
Up to 30% Off Sitewide
Huge Supplements Black Friday Deal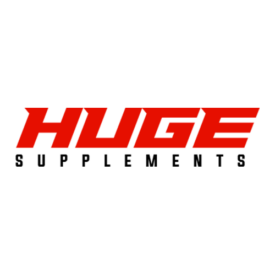 Huge Supplements Black Friday Deal
Huge Supplements is offering 20 to 30 percent off your entire purchase this Black Friday. Mo coupon code required just add it to your cart and save big.
Our Favorite Product — Huge Supplements Wrecked
One of our favorite Huge Supplements products is their pre-workout formula called Wrecked. Wrecked contains 17 potent ingredients to potentially deliver focus, pump, energy, and recovery. It has about three cups of coffee's worth of caffeine, recovery-focused ingredients like the amino acid tyrosine, and pump-inducing ingredient beta-alanine, which may help with blood flow while you work out. It also comes in delicious and unique flavor choices like Bomb Popsicle, Raspberry Mojito, Rainbow Burst, and Peach Rings. It costs around $2.50 per serving before the Black Friday discount.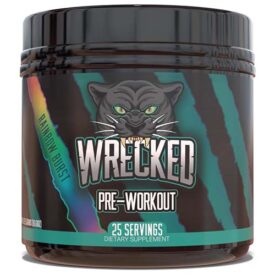 This product packs 17 ingredients at high doses, including 8,000mg of citrulline, 3,500mg of beta alanine, 250mg of caffeine, and 3,000mg of betaine anhydrous. Plus, you'll find 1,500mg of tyrosine and 197mg of Himalayan pink sea salt, as well.
Final Word
This is the perfect time to stock up on your Huge Supplements favorites or to try a new product you've been curious about as Huge Supplements doesn't offer this sort of discount any other time of the year. Their products have some of the highest dosages we have seen across the market, and they tend to have potent and well-stacked formulas. Starting on November 18th, you'll get your hands on 20 to 30 percent off their supplements, and you won't want to wait, because they will sell out quickly. Try our favorite supplements like their pre-workout Wrecked, or their creatine monohydrate pills.
FAQs
Is Huge Supplements running a Black Friday or Cyber Monday deal?
This year, Huge Supplements is offering 20 to 30 percent off all of their supplements for Black Friday & Cyber Monday starting on November 18. There is no guarantee they will run another sale like this during the year, so it is the perfect time to monopolize on the lowest prices for your favorite supplements.
Why should I pick Huge Supplements over other brands?
Although there are a plethora of supplement companies out there, Huge Supplements is known for their potent and highly-dosed ingredients. They have some of the highest dosages we've come across on the market, and they offer a vast array of supplements.
What is the best supplement from Huge Supplements that I should try?
The best supplement to buy is the one you're most interested in. It can be overwhelming to pick new supplements or to add to your current stack, but it's best to think about what your needs are and to find a supplement that best fits your pursuit to get to your end goal. Some of their supplements we are most fond of are their protein powder, pre-workout, creatine pills, and fat burners.