Kaged was founded as a means of creating and providing ultra-premium, health-focused products that could create results for athletes and gymgoers alike. Their products are extremely diverse and fall under categories, such as Sports Nutrition, Protein, Health & Wellness, Hydration, Weight Management, Amino Acids, and Hormone Health.
Kaged has a wide variety of supplements available, including not just one, but four different pre-workouts, a variety of five different protein powders, and tons of post-workout supplements to support recovery (such as creatine-HCl and glutamine). Although a bit more expensive than other brands on the market, Kaged offers high-quality products that ditch artificial processed sugars and artificial flavors.
Kaged Holiday Promotions and Discounts
This Black Friday, Kaged is offering a sweet deal starting on Black Friday and running through December 4. When you use code BARBEND30, you'll save 30 percent off sitewide and score free shipping, as well. This is the perfect opportunity to stock up on your favorites, like their Clean Meal meal replacement supplement, their vegan protein powder, or their creatine-HCl.
30% Off Sitewide + Free Shipping

Use code BARBEND30 to score 30 percent off the entire Kaged website. You'll also get free shipping when you order between Black Friday and December 4th. 
Our Favorite Product — Kaged Pre-Kaged Pre-Workout
Without a doubt, one of our favorite products from Kaged is their pre-workout supplement Kaged Pre-Kaged Pre-Workout. This pre-workout is designed to boost energy and endurance, provide explosive pumps, and sharpen focus — plus, it's third-party tested, banned substance-free, and friendly for plant-based lifestyles. It contains an array of pre-workout favorites like 6,500mg of l-citrulline, 3,500mg of a 2:1:1 ratio of BCAAs, 1,600mg of beta-alanine, and 2,500mg of betaine.
Kaged Pre-Kaged Pre-Workout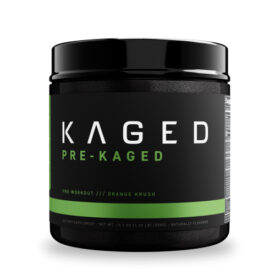 Kaged Pre-Kaged Pre-Workout
This pre-workout supplement comes in a 20-serving tub and provides L-Citrulline, L-Leucine, and L-Valine, to name a few, per 20-calorie scoop. There are seven flavors available including Grape, Fruit Punch, and Krisp Apple.
This pre comes in Orange Krush, Berry Blast, Pink Lemonade, Fruit Punch, Krisp Apple, Cherry Bomb, and Grape flavors. It will normally cost you around $2.25 per serving, but with this sweet Black Friday deal, you'll save major bucks and only spend around $1.60 per serving.
Final Word
Kaged has been delivering high-quality supplements to the public since 2015. This holiday season, you can try Kaged Supplements for the first time, or stock up on all of your favorites from this brand with peace of mind that you're getting the sweetest deal of the year. With 30 percent off sitewide and the addition of free shipping, you won't want to waste a second when picking out the perfect supplements for your stack.
FAQs
Is Kaged running a Black Friday or Cyber Monday deal?
Kaged is offering 30 percent off their entire website including their supplements and apparel. When you use code BARBEND30, you'll receive a 30 percent discount, as well as free shipping on your order.
Why should I pick Kaged over other brands?
Kaged is a high-quality supplement brand that is third-party tested, avoids artificial flavors and processed sugars in their ingredients, and provides optimally dosed supplements. They recently underwent a reformation of their brand from Kaged Muscle to Kaged Supplements, as their brand supports a lot more than just muscle growth.
When will the Kaged holiday sale be running?
Kaged will be running their Black Friday sale starting on Black Friday, November 25, and going until December 4, giving you a little over a week to snag this deal.