Being large and ripped are mandatory prerequisites for professional bodybuilders, but it's those who present the most aesthetic package that typically walks away with the money, accolades, and glory.
In bodybuilding circles, being "aesthetic" refers to a combination of size and conditioning, muscle shape, and symmetry. Think about broad shoulders that taper into a tiny waist or spinal erectors that outline the coveted "Christmas tree" shape of the lower back.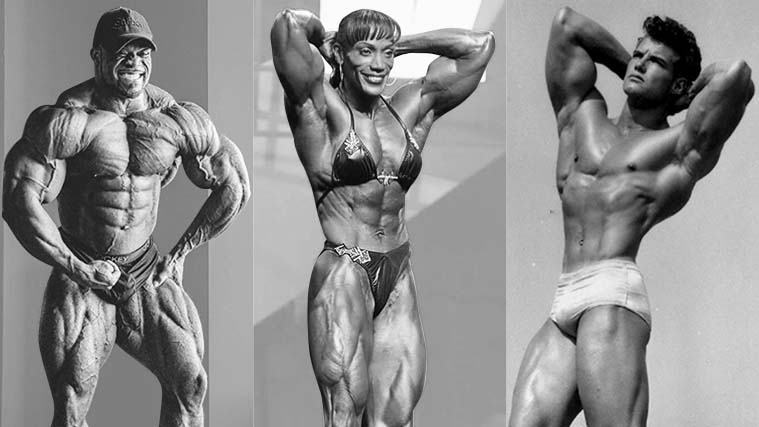 Generally speaking, you can't train aesthetics. A bodybuilder can make certain body parts larger and get leaner to reveal a more impressive physique. Still, many traits that create a visually pleasing body are genetic — picture Arnold Schwarzengger's biceps peak or the general flow of Lee Haney's torso muscles.
We bet that you, the reader, picture a particular physique athlete upon hearing the word aesthetics. And that's what the list below is about, highlighting bodybuilding icons who, win or lose, embodied the word "aesthetic."
Steve Reeves
Steve Reeves was a pioneer of bodybuilding and fitness. He won several bodybuilding titles in his competitive career, including Mr. America, Mr. World, and, in 1950, Mr. Universe. After his onstage career ended, Reeves went into acting. He's most well-known for his portrayal of Hercules in two films.
View this post on Instagram

Reeves made it a priority to keep his physique proportional. In his book Classic Physique, he wrote that he felt his neck, upper arms, and calves should be the same size in circumference. He also thought that the measurements of each thigh combined should equal his chest measurement. Holding himself to that kind of standard is why he is remembered by so many admirers today. Reeves passed away in 2000 at the age of 74.
Arnold Schwarzenegger
Arguably no bodybuilder is more well-known than Arnold Schwarzenegger. A lot of people know him as the former Governor of California, a laundry list of blockbuster hits (Terminator, Commando, Total Recall), and, more recently, as an activist and online influencer (he has 22.1 million Instagram followers). But before he was any of those things, Schwarzenegger was a champion bodybuilder, made famous for his role in the cult classic film Pumping Iron (1977).
Despite his mainstream appeal and A-list popularity, fans don't look back at Schwarzenegger's bodybuilding career with rose-colored glasses. The man deserves every ounce of hype. He won the Mr. Olympia title seven times and was crowned the "Most Perfectly Developed Man in the History of the World," by the Guinness Book of World Records. Although he gets some flack for his relatively underdeveloped legs, the "Austrian Oak's" upper-body development was simply unmatched. He stood onstage at around 235 pounds and 6'2″, sporting a 57-inch chest and 21-inch arms. Even by today's standards' prime Arnold could stand toe-to-toe with anyone in the Classic Physique division.
Frank Zane
Say the word "aesthetic" to a bodybuilding fan, and odds are that they conjure up an image of the legendary Frank Zane. Standing 5'11" and weighing 190 pounds, "The Chemist's" size never prevented him from winning the Olympia, not once, but three times (1977-79).
Few bodybuilders today can replicate Zane's look. His combination of muscle density and conditioning helped him look statuesque. When looking at a black and white photo of Zane, the man is almost indistinguishable from a marble statue. Aesthetics aside, Zane is most known for popularizing the vacuum pose, wherein a bodybuilder aggressively sucks his or her abdomen up into their rib cage.
Lee Haney
Haney was to the 1980s what Schwarzenegger was in the 70s — that is, a bodybuilding machine that proved to be unstoppable. Haney accumulated eight consecutive Olympia titles (a feat only matched by Ronnie Coleman). What made his run all the more impressive was the quality of his competition. Haney routinely competed against the likes of Lee Haney, Rich Gaspari, and Samir Bannout (a former Mr. O himself).
Haney's upper body was unmatched, and his midsection compared favorably to rivals such as Rich Gaspari and Lee Labrada. His legs were proportioned and striated as well. Haney's aesthetics were evident from all angles, which is why he resigned as Mr. Olympia from 1984 until his retirement in 1991. Some historians recognize Haney as the last champion before the era of the "mass monster" when aesthetics weren't considered more of a priority.
Cory Everson
Cory Everson is the first dominant women's bodybuilder thanks to her string of six consecutive Ms. Olympia titles from 1984 to 1989. Many fans in that era thought she presented the perfect combination of muscularity and feminism. Her shoulder to waist ratio was featured prominently in several photoshoots and videos throughout her career.
Even after Everson walked away from the sport of bodybuilding, Everson was cast in movies such as Double Impact in 1991 with Jean-Claude Van Damme and Natural Born Killers in 1994. She was also a producer and star of ESPN's BodyShaping, where she showed viewers how she developed her physique to look the way it did.
Flex Wheeler
Ken "Flex" Wheeler's proportions from head to toe earned him the nickname "The Sultan of Symmetry." Flex was never the largest competitor onstage, but his wide back and tiny waist kept him in the running for any title he competed for. He won the 1993 Iron Man contest and followed that up with a victory at that year's Arnold Classic, his first two pro contests ever.
Flex's symmetry and aesthetics were prominently displayed in every pose he performed. He is considered one of (if not the) greatest bodybuilders never to win a Mr. Olympia title The closest he came to winning the Olympia was second place in 1993, 1998, and 1999. However, his four career Arnold victories are why fans consider him one of the greatest of all time.
Lenda Murray
Many of the women's bodybuilders competing today consider Lenda Murray the standard-bearer of their sport. Besides the eight Ms. Olympia titles that she possesses, they look at the physique itself as a source of inspiration.
View this post on Instagram

When she was at her best, Murray could win any pose against any competitor. Her arms were muscular, but they didn't overpower her shoulders. Her back was wide, but her abs were always tight. Murray had great lower body development as well. The outer sweep of her quads didn't negatively affect the way her calves looked. She walked away from the stage in 2004, but her physique back then is still compared to stars currently competing over 15 years later.
Dexter Jackson
Dexter Jackson is known as "The Blade" for his conditioning, but also the symmetry and shape of his body disrupted an era of mass monsters. He held his own against the great Ronnie Coleman during his reign as Mr. Olympia, and he even defeated champion Jay Cutler in 2008 to take the Sandow Trophy with him to Jacksonville, FL.
Jackson's physique stood out because he held his poses long enough for the judges and fans to admire him from top to bottom. He never trained to get bigger, just better. If his shoulders got bigger, his arms had to match. If his quads got better, the hamstrings had to come up as well. Jackson accumulated 29 pro victories — the most of any men's competitor in any division — before retiring in 2020.
Shawn Rhoden
Shawn Rhoden didn't burst onto the scene like so many champions before him; his rise to the top was more of a slow burn. Rhoden had to work, work, and work more to make his presence known. After earning his IFBB pro card in 2009, Rhoden didn't win a pro show for the next three years. He placed first at the 2012 Tampa Pro — a relatively competitive show in the FBB Pro League — and surprised many by finishing third at that year's Mr. Olympia. Once he arrived, the fan's eyes stayed on Rhoden
Rhoden didn't have a standout body part — he had a standout physique. That said, "Flexatron" looked absolutely stellar in the abs and thigh pose. His ultimate victory came at the 2018 Mr. Olympia in Las Vegas, NV, when he defeated seven-time champion, Phil Heath. Unfortunately, that was his last onstage appearance. Roden was banned from the Mr. Olympia after facing alleged charges of sexual assault. Rhoden passed away in 2021 at the age of 46.
Andrea Shaw
When the Ms. Olympia contest returned in 2020, the judges wanted the emphasis to be more on shape and less on size. At that year's competition, the judges determined Andrea Shaw brought the best combination to Orlando, FL. She won the 2020 Olympia and has been the person to beat ever since.
Shaw was slightly larger in 2021, but her aesthetics weren't affected. As a result, she won both the Rising Phoenix and Ms. Olympia titles with perfect scores. Whether it's a mandatory pose or one she created during her individual routine, Shaw's physique appears to flow perfectly.
Brandon Curry
There are only three men who can say they won the Arnold Classic and Mr. Olympia in the same year — Ronnie Coleman (2001), Dexter Jackson (2008), and Brandon Curry (2019). In 2016, Curry was asked about possibly competing in the 212 division. Over the years since, he got bigger and better, but his trademark shape and symmetry were never affected.
View this post on Instagram

Curry's silhouette as he stands at the entrance to the Olympia stage makes fans anticipate seeing his physique that much more. The knock on the Tennessee native was his legs, but he had even improved those significantly, and the result is a body that has placed either first or second at the Olympia for three straight years (2019-2021).
Chris Bumstead
The man who many consider the modern champion of aesthetics is the three-time Classic Physique Olympia winner, Chris Bumstead. "C-Bum" has competed at the Olympia level since 2016, and each year he got better. His arms were considered a weakness, but he focused on making them bigger to match his torso. The back of his thighs is as detailed and ripped as the front.
Bumstead has dominated the division he competes in since winning his first Olympia in 2019, and fans have asked repeatedly that he jump into an Open show so he can test the waters. As of this writing, his focus is solely on keeping the title he owns in his possession.
Featured Images (left to right): @brandon_curry, @themsolympia, @stevereeves_official on Instagram