From their start in 2010, Quest Nutrition has grown from solely making protein bars to multiple types of protein-focused foods. Quest Nutrition was founded on the premise of setting out to create protein-loaded foods that help limit the amount of sugar people are consuming on a regular basis, along with increasing dietary fiber.
By now, chances are you've tasted a Quest Protein Bar at one point or another, although, maybe you haven't tried all of the flavors. After all, protein bars are slightly expensive, so it can be a little daunting to switch flavors when you find one that matches all your asks. For this reason, we've been putting all of Quest's protein bars to the test.
In this review, we took a look at all of the Quest Protein Bar flavors and broke down our favorites. Below, you'll find a close look at each bar's taste, texture, nutrition, price, and the practical pros and cons of consuming Quest Protein Bars on a regular basis.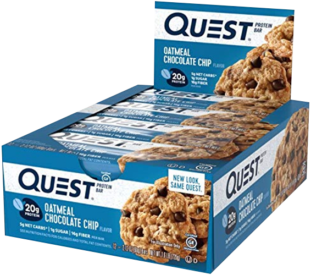 A high fiber soy free protein bar that delivers over 20 grams of protein and minimal sugar.
Quest Protein Bar Flavor Review
Birthday Cake: 8.8/10
I'm a big birthday cake fan, so when Quest announced and dropped this bar last year I was super pumped. The taste reminded me of something you'd get from a birthday cake flavored ice cream. Each bar was decently sweet and fulfilled the birthday cake asks very well, but did have a slight synthetic-esque taste, yet it wasn't off putting. As a bonus, the texture of this bar has sprinkles and a nice frosting that breaks apart with each bite.
Blueberry Muffin: 9/10
The blueberry muffin flavor was interesting, and in a flavor-filled way. These bars offer the promise of real bits from blueberry muffins, which is clearly evident throughout each bar as you bite down on blueberries and little muffin crisps. Every bite was loaded with a blueberry muffin focused flavor, which was great since blueberry pastries are often a tough flavor to tackle.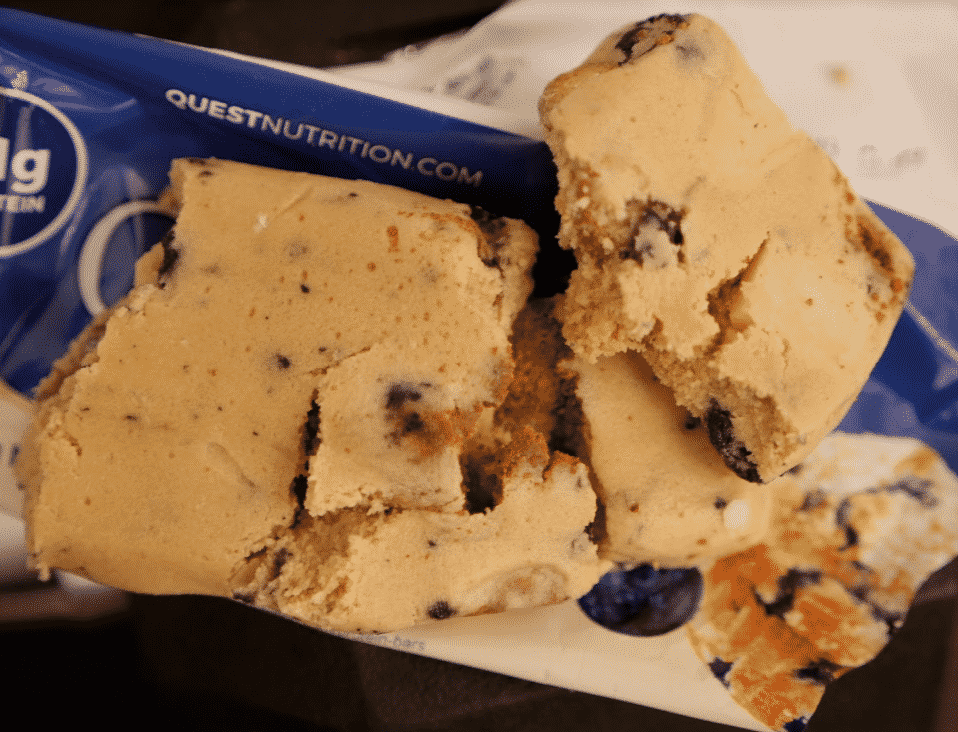 Rocky Road: 9.3/10
Rocky road was potentially my favorite flavor of all the Quest Protein Bars we reviewed. This bar was the perfect mix of chunky marshmallow and chocolate goodness, along with a texture that made me feel like I was indulging in a candy bar. This bar did a very good job at not giving off an oily feeling to it, which made the texture all that much better.
S'Mores: 8/10
The Quest S'Mores bar is good, don't get me wrong, but it's never a bar that "wows" me. For example, the blueberry muffin bar takes you on an exploration of flavor, and while the s'mores bar is definitely good, it's just not a heavy hitter. In my mind, there are two types of s'mores, one you make around a campfire, and one you make in the microwave. This protein bar fell somewhere in the middle of these.
Oatmeal Chocolate Chip: 9.2/10
I have to admit, I may be a little biased on this bar because oatmeal is one of my absolute favorite foods. If you attempt to combine an oatmeal chocolate chip cookie taste and throw some protein in it, then I'm an instant fan. This bar does an excellent job at providing you with the subtle sweetness of the chocolate chips, but also keeps the sweet taste relatively limited due to the oatmeal-esque texture.
Apple Pie: 6.4/10
In Quest's defense, apple pie is a lofty flavor to tackle when you're trying to minimize sugar content. Yet, that variable alone doesn't make a bar taste good. The apple pie bar is okay, and that's the best way to describe it. Does it taste awful? Not at all, but it's not a bar that I'd buy a box for. This protein bar comes with a synthetically sweet taste, and in my opinion, it's a little off putting when I associate it with a true apple pie flavor.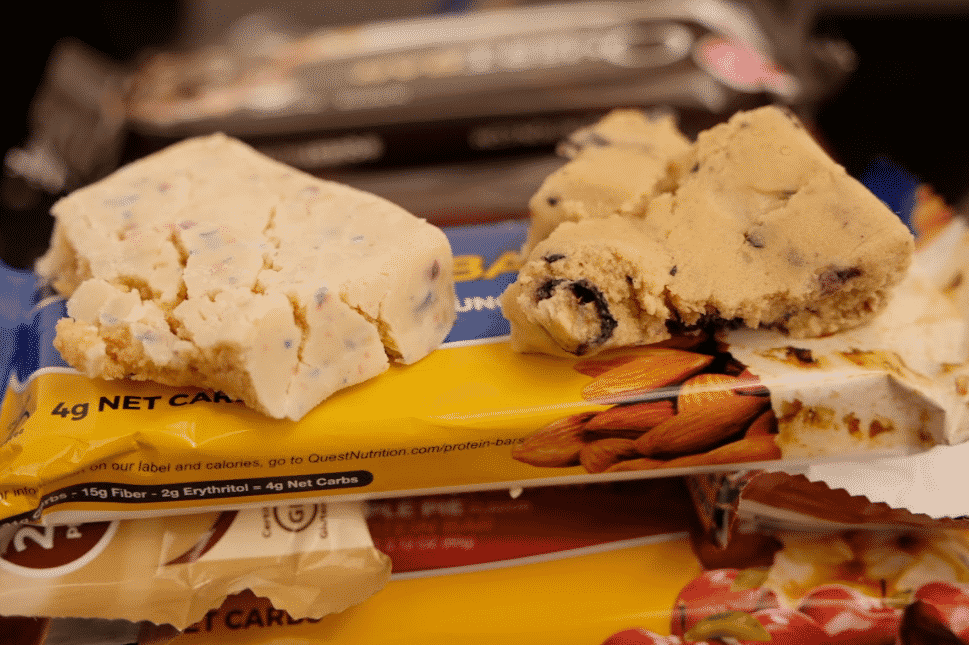 Cinnamon Roll: 8.6/10
Cinnamon roll flavors can go two ways, and that's either very good or very bad. In my opinion, I like cinnamon flavors in foods like this because cinnamon can be made sweet without adding extra sugar, so generally cinnamon flavored protein bars taste pretty good. The cinnamon roll Quest bar was pretty solid, and I'd compare it to a cinnamon roll that you made in the morning, but are eating in the afternoon (it's sat out for a while). All around decent.
Mocha Chocolate Chip: 7.9/10
This protein bar was pretty solid all around, and I really have no gripes against it. The mocha flavoring was on point and it didn't stray that close to being overdone, which I was fan of. Also, the chocolate chip bits were a nice addition for a little extra flavoring and texture. If you're a mocha fan, then this bar should do the trick to scratch your itch.
Vanilla Almond Crunch: 7.4/10
If you asked me to describe this bar in one word, then I'd give you a very strong "okay". Was it tasty, sure, but it wasn't a bar that I'd buy on a recurring order basis. Don't get me wrong, I love vanilla and almonds, but for whatever reason I felt like this bar fell a little flat when it came to its flavoring. Then again, I may have a personal bias, as I love vanilla and hold it to a higher regard because it's a loftier flavor goal.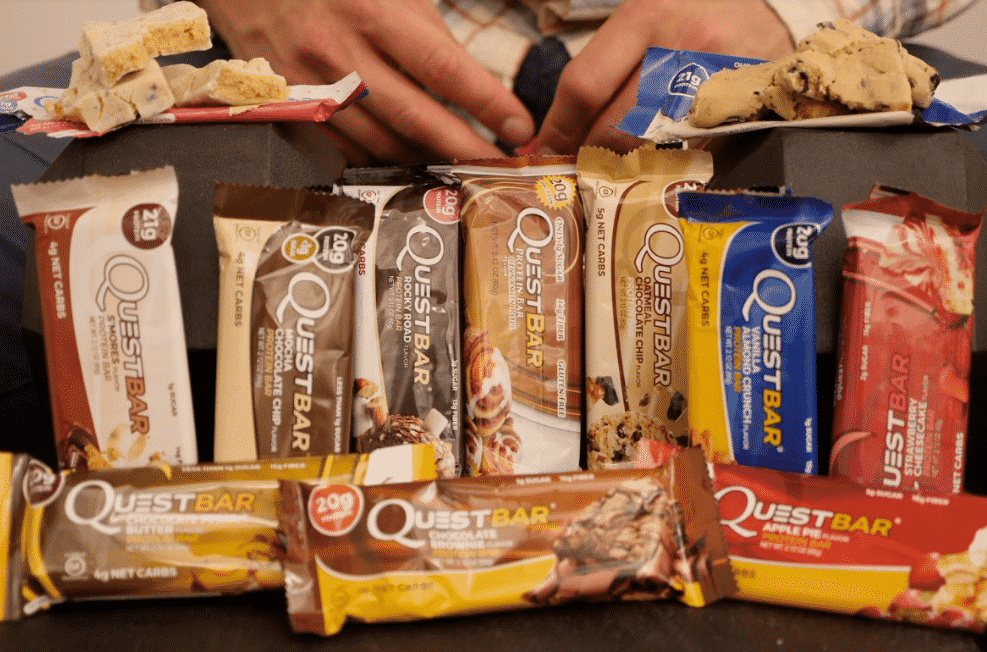 Chocolate Brownie: 9/10
Oh yeah, this protein bar was good. Imagine a chewy brownie, but with a subtle sweetness and chunkier bite, and that's what you get with this protein bar. It did an exceptional job at providing sweetness and giving a texture that I'd compare it to a brownie that's a little more on the dense side (like you cooked it a bit too long). If you're a brownie fan, then I'd recommend checking out this bar.
Chocolate Peanut Butter: 7/10
Out of all the protein bars, I think this one surprised me most, and not in a good way. One of my favorite treats is chocolate with peanut butter on it, so when this bar missed the mark on resembling something close to that, it was a little depressing. The bar is good, but I feel like it's overrun by the synthetically sweetened taste and the dense fiber, which in my opinion, docks what's normally a solid flavor a few points.
Strawberry Cheesecake: 6.8/10
Cheesecake, one of the toughest flavors to tackle when it comes to a limited sugar protein treat. Other brands and bars have tried to tackle this flavor, and honestly, I feel like they all taste similar. These bars are good, but the cheesecake flavor is so different in the respect in how this bar delivers its sweet taste compared to the real thing that it kind of turns me off. Obviously, I know it's not real cheesecake, but if you're going to try, then it should come close.
Cookies & Cream: 8.8/10
This bar is one of my consistent go-to's when traveling. If you're a cookies and cream fan, then I think you'll be a fan of this bar. It has cookie chunks in it, which gives this chewy bar a nice dense and crisp texture. For those who've had cookies & cream brownie type treats, then I think you'll find this bar to very similar.
Quest Protein Bar Texture
Texture fans, get ready.
One consistent positive attribute that I enjoy with Quest Protein Bars are the way they deliver their texture and flavors. Every flavor they have comes with textured components that aim to make the flavor pop. For example, in the blueberry muffin bar you have blueberries and muffin bits, which add a little chew and a "real food" impression when consuming the bar.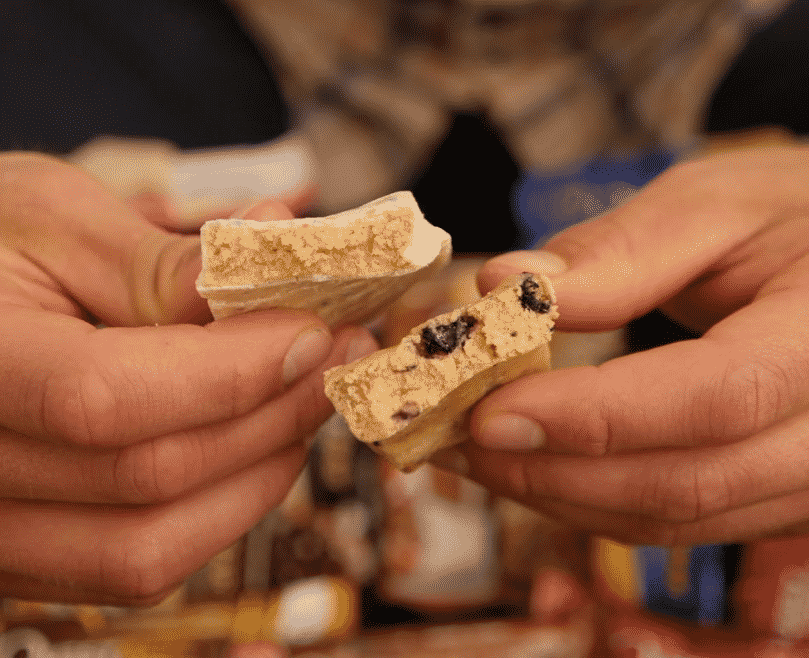 In all of the bars, I really enjoyed the texture they tried to provide. Since these bars are lower in sugar content, then I feel like texture can play a large role in providing you with the impression you're eating a sweet treat. Granted, some of the flavors have limited chunks in them, but none of the bars come with none, so if you're not a texture fan, then you may have some issues.
Quest Bar Nutrition and Ingredients
In terms of nutrition, Quest Protein Bars are pretty consistent across the board. From the bars in this review, there was a variance between 170-210 calories. For fat, all of the bars ranged between 4.5 grams – 10 grams, and for carbohydrates 20 grams – 22 grams. The protein was pretty consistent across the board with 20 grams – 21 grams. In respect to fiber there's roughly 12 grams – 16 grams, and for sugar 1 gram – 3 grams.
The nutritional information and ingredients below is for the Birthday Cake Quest Protein Bar.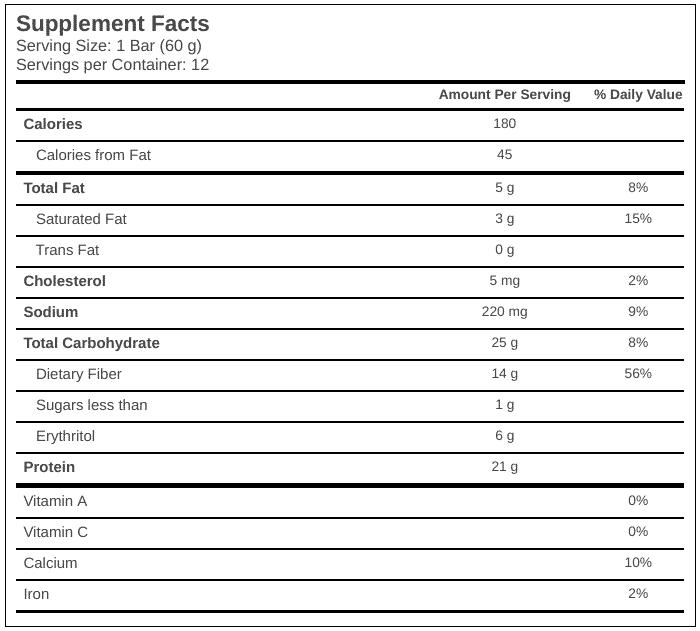 Quest Protein Bar Ingredients
One thing to note about Quest Protein Bars is that they're not the most "natural" products on the market in terms of ingredients, but they do fair pretty well. Below, we've included the ingredients from the Birthday Cake protein bar.
Protein blend (milk protein isolate, whey protein isolate)
Soluble corn fiber
Water
Erythritol
Almonds
Palm kernel oil
Natural flavors.
Contains less than 2% of the following: Sodium caseinate, sea salt, gum arabic, spirulina extract (color), red cabbage extract (color), turmeric extract (color), radish extract (color), sucralose, sunflower lecithin.
Quest Protein Bar Pros
In my opinion, there are a couple pros that come along with Quest Protein Bars. First, they have a decent macro profile and minimal sugar. If you're on-the-go and need a snack that covers 20 grams of protein and keeps your sugar low, then Quest can be a good option. Also, they have a higher fiber content, which can be beneficial for satiation.
Second, I thought the bars tasted pretty good from an overall point of view. Each bar has a solid texture to it and additional bits of flavor, so texture lovers will like these protein bars. The bars do a pretty good job at getting their desired tastes across, granted, some did fall a bit short.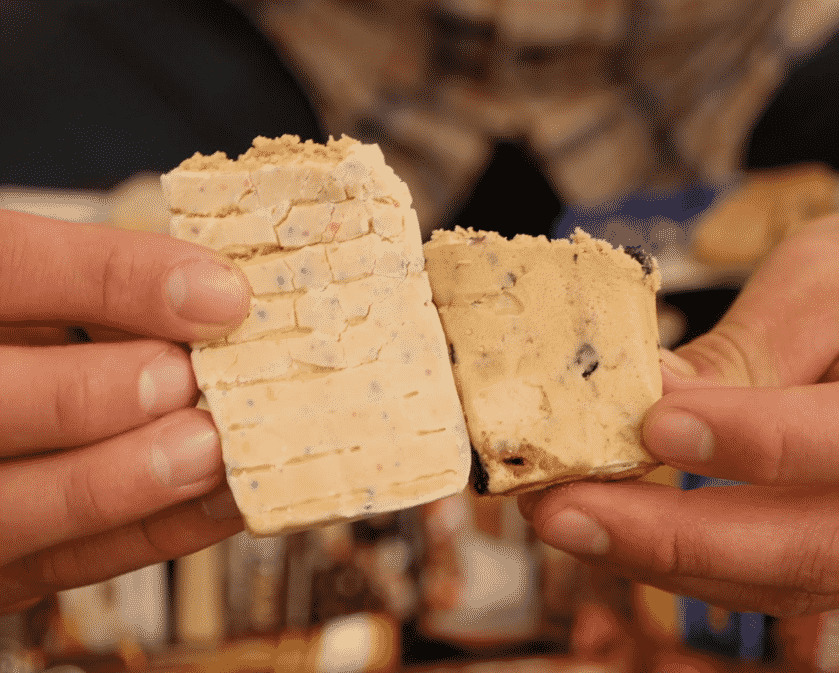 Third, they travel well and are readily available in multiple locations. One thing Quest does well is make their bars available in multiple locations, so if you're out-and-about, then there's a good chance you can find your favorite bar at a quick pit stop.
Quest Protein Bar Cons
The cons that come along with Quest Protein Bars can be a bit subjective, but one thing I noticed is they can upset your stomach at times. For some, the higher fiber and sugar alcohol content may cause a little stomach discomfort, but that's going to come down to personal preference.
In addition, like most protein bars (designer foods) they can be a tas expensive at times. If you live in a more urban area, then you may be asked to pay $4.00 for one bar, which is pretty expensive in my opinion.
Price
In terms of price, Quest Protein Bars are pretty consistent with what you'll find across the board for your standard protein bar. Below I've attached some basic price ranges for their bars. Keep in mind, ranges will vary based off of different retail outlets and where you live.
| | |
| --- | --- |
| Quest Protein Bars | Price Range (Varies) |
| Individual Bar | $2.50 – $4.00 |
| Quest Protein Bar 4-pack | $7.00 – $9.00 |
| Quest Protein Bar 12-pack | $20.00 – $25.00 |
Wrapping Up
All-in-all, I like Quest Protein Bars and the bars I tried in this review. For the past couple years, these have been my go-to when traveling, so it was great putting all (most) of their flavors to the test. If you need a bar with a decent macro profile and higher fiber content, then Quest Protein Bars are a good choice. Granted, I'd pay attention to how these bars impact your digestive system to avoid stomach discomfort.
If you're on-the-go and need a protein heavy snack quick, then reaching for a Quest Protein Bar could be a good choice.