Buying a treadmill for your home can bring a lot of excitement and motivation to exercise more. But if your treadmill has too many buttons or makes too much noise when you run, you may end up dreading your new toy and turning it into your clothes rack.
If you want a treadmill you can easily use at home and feels like one you would find at a commercial gym, continue reading our in-depth review of the Sole F85 treadmill.
Main Takeaways
This treadmill has a strong motor and steel frame which allows even tall and heavy runners to use it comfortably.

The console is user friendly with a big and bright display and has standard features with some modern upgrades.
It's easily foldable and portable.
Sole F85 Treadmill Highlights
The F85 provides the high quality and power most users would expect from a commercial gym treadmill. Its 4.0 horsepower motor and steel frame enables runners to hit high speeds on a smooth and stable surface. While it only includes10 pre-installed workouts, its Bluetooth compatibility can satisfy those who prefer some modern features on their treadmill. It lets them listen to their music through the console's speakers and upload and store their workout data on their smart devices.
Sole F85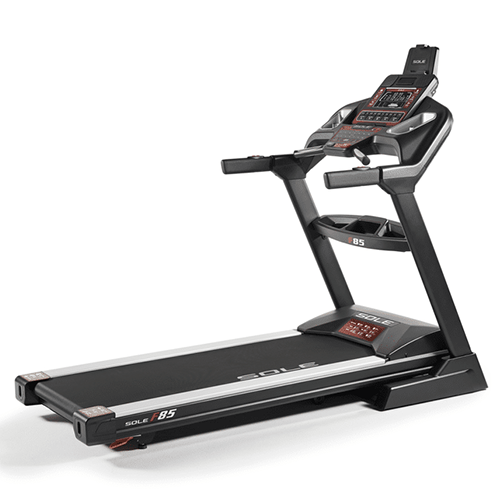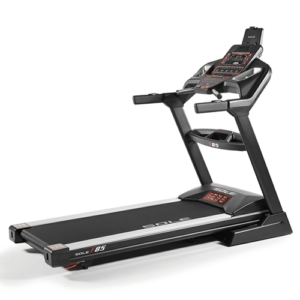 With a 4.0 horsepower motor and an all-steel frame, this treadmill brings the quality expected from many commercial gyms into your home. It provides runners plenty of running space and is still foldable.
Who Should Buy the Sole F85
Avid runners who want to hit high speeds and inclines.

Big and tall users who want to

incorporate running into their training

as this treadmill is both strong and wide.

People with smaller

home gyms

, as this treadmill folds up to save space.
Who Shouldn't Buy the Sole F85
Runners who want more pre-programmed workouts.

Tech-savvy users who might prefer a more modern interface like a touchscreen monitor.

Folks who live in small apartments or who don't have space to fit a wide treadmill.
Price
Customers can find the Sole F85 at different prices. Amazon has the treadmill listed at $5,750 through other vendors, while Sole Fitness offers it at a special sale price of $1,999.
Overall Build and Quality
With an all-steel hand-welded frame, the Sole F85 is constructed to handle a wide variety of users. This treadmill has fewer plastic components in comparison to other treadmills making it much more durable. Users can adjust their incline and speed ranges with quick select buttons on the console and the handrails.
Features
The Sole F85 balances basic features with modern upgrades. Buyers get some essential features like pre-programmed workouts and a user-friendly display while also enjoying tech gadgets like a chest-strap heart rate monitor and a Sole Fitness app that can transfer data from the treadmill to any of their devices.
Incline range
The Sole F85 has an incline range of 0 to 15 — which increases by increments of 0.50 — allowing a runner a standard yet a wide range of variance.
Speed range
With a stronger motor, this treadmill allows runners to increase their speed slightly higher than some other treadmills. While some provide the option to go up to 10 miles per hour (mph), this treadmill will allow runners to reach speeds of 12 mph.
Included workouts
This Sole F85 includes 10 classic workouts that are pretty standard in most treadmills. There are six programs avid treadmill runners might be used to. These include a manual setting that allows users to control both the speed and incline, a session that simulates going up and down a hill, and an interval training setting that can benefit weightlifters looking to improve their metabolic conditioning.
The treadmill also includes programs that focus on calorie-burning, increasing endurance, and lower body strength training. Users must enter their information such as age and weight when they start a new program to generate workouts that best fit their needs.
The Sole F85 also offers four customizable programs, two of which are quick start settings. This allows two different users to save their data on the console and makes it convenient for them to hop into their runs without entering their information all the time.
The other two programs can be used with the heart rate monitor. Once a user enters their data, the treadmill produces a workout to help them reach their heart rate goals.
Display
The Sole F85's display is bright and user-friendly. Runners can easily read their speed, incline, time, distance, calories, pulse, and pace on a 10.1" screen. The color of the screen will depend on the model you buy. Older models have a vibrant white back-lit screen. If it's one of the latest models, you should have a color screen. Either way, you'll get a display that is wide and easy to read.
Speakers
The Sole F85 features Bluetooth audio speakers. Users can connect their devices to listen to their music through the speakers on the console. This is a nice bonus for anyone who doesn't want to use headphones while running on a treadmill.
Fans
This treadmill has one cooling fan with one speed, which can be angled up or down depending on the runner's preference.
Heart Rate Monitoring
The Sole F85 allows users to monitor their heart rate in two different ways. They can either use the pulse grips on the treadmill or the included compatible chest strap. With its two heart rate programs, users can use Bluetooth to transfer their data to and from the treadmill for a more consistent and accurately tracked metric.
HDMI, USB, and Other Inputs
The newer models feature a USB port, whereas older models don't. If you're someone who wants to use your phone to listen to music or watch tv while you run, you might want to get one of the latest versions of the F85 so you can keep your phone fully charged.
Water Bottle, Cup Holders, Tablet and Phone Holders
The Sole F85 offers tons of storage space. There are two water bottle holders on top of the console and an area for users to hold their tablet or book. Below the console, there is a shelf where users can store their keys, towel, and even a small bag.
Product Specs
The Sole F85 is built to serve many users and to be long lasting. With specs such as a 4.0 hp motor and a wider running surface than most treadmills on the market, the Sole F85 is designed to give runners both big and small a comfortable running experience.
Motor Size
The Sole F85 has a stronger motor than some other treadmills on the market. While treadmill motors can range from 2.75 hp to 3.75 hp, the Sole F85 has a 4.0 hp motor. This allows the treadmill to run at higher speeds for longer. Sole Fitness also adds zinc-coated flywheels to their motors to keep them cool and running longer. The flywheels also allow users to run on a vibration-free surface.
Running Area
This treadmill sports a wide running surface. While some treadmills offer a width of about 20 inches, this treadmill is 22 inches wide. With a 22 by 60 running surface, this means more space for runners to run comfortably.
Weight Capacity
With its all-steel frame and 4.0 hp motor, the Sole F85 can take a lot of weight. Whether the user is walking or running, this treadmill can support up to 400 pounds and won't slow down or shake.
Folding Options
Users can fold this treadmill if they need more floor space. Sole Fitness designed this treadmill with easy assist folding and release lever that runners can use to unfold the treadmill. Once the lever is pulled, the hydraulics system allows the treadmill to unfold itself.
Footprint While In Use vs. Folded
With more running surface, this treadmill will take up some space. Its 33"x 80"x 58" footprint will not be the most suitable for smaller areas even when folded. It's folded footprint is 72"x 47" inches.
Electrical Requirements
This treadmill requires a 110 volt/15 amp outlet. Even with its strong motor, users can still plug the treadmill into their wall outlets at home.
Warranties
Sole Fitness offers lifetime warranties on the frame, motor, and deck while covering electronic and parts malfunctions for up to five years. They also provide labor coverage for two years.
Belt Information and Roller Size
The treadmill has a belt that is strong but smooth. Its two-ply belt is made of two rubber layers, a thermoplastic protection sheet, and a nylon backing. The rubber layers add to the belt's durability, while the thermoplastic sheet prevents the belt from over-stretching. The nylon coating helps the belt to glide smoothly over the deck and rollers.
Sole Fitness designed this treadmill with 2.75" rollers. Large rollers can help extend the life of your belt and prevent wear and tear over time. It should also offer a smooth and quiet running surface.
Cushioning and Feel
With two-ply belts of four layers, the Sole F85 provides its runner with a thick cushioned running surface that can reduce foot impact by 40%. It's Cushion Flex Whisper Deck feature and it's large rollers allow users to run on a treadmill that is both quiet and comfortable even if they're running at their top speed. Combine these features with a good pair of running shoes and you should have comfortable running sessions that won't cause a lot of damage to your feet.
Workout Apps and Compatibility
With Bluetooth compatibility, Sole Fitness now allows users to transfer their workout data from their F85 treadmill to their devices. Users can download the free Sole Fitness app, which offers basic data tracking, or use compatible apps such as Fitbit, Record, Mapmyrun, and Apple Health.
Subscription Options
The Sole F85 does not offer any subscription options. Besides their fitness app, which can help you track your metrics, Sole Fitness doesn't provide any videos or downloadable content you can use with its treadmill. If you want to watch some tutorials while running, you can always stream workout videos on your tablet which you can place right on top of your display.
Places to Buy
The Sole F85 treadmill can be purchased right off of the Sole Fitness website. You can also find it on Amazon.
Company Information
Sole Fitness has been engineering both commercial and home gym treadmills for decades. They also produce ellipticals, exercise bikes, rowers, and climbers.
Return Policy
Sole Fitness offers customers a 30 day trial with a money-back guarantee. If they are not satisfied, buyers can submit a Return Merchandise Authorization form right on Sole's website within 30 days.
Contact
There are a few ways to contact Sole Fitness. They can be called at 866-780 SOLE (7653) and emailed at [email protected]. Customers can also contact Sole Fitness by submitting a form on their website.
Final Word
The Sole F85 brings power and the standard features you might expect from a commercial treadmill into your home. While it's included workouts might not satisfy all customers, its Bluetooth upgrades and steel frame makes it easy for runners to use for a long time.
FAQs
Is the Sole F85 more expensive than other treadmills?
That depends on its model. Generally speaking, the price of the Sole F85 is a bit higher than some other standard treadmills on the market but they won't have such a powerful motor or strong frame. Older models of this treadmill may cost you a little less since they probably won't have some of the upgrades the more recently produced treadmills have. It's a good idea to shop around when thinking about buying this treadmill since some sites have it priced higher than the Sole Fitness website. Just make sure you know which version of the F85 you are buying.
Is the Sole F85 easy to move?
The Sole F85 weighs 300 lb but it is easier to move with the transport wheels once it's folded. This treadmill is equipped with four wheels for portability. There are two located at the front end and two that are engaged once the treadmill is folded. 
Does the Sole F85 require a lot of maintenance?
It's a good idea to clean your treadmill at least once a month. Sole Fitness recommends using a soft cloth or paper towel with water to wipe the frame and the edges of the belt area. A light soap and water solution can be used to clean the top of the belt with a nylon scrub brush. You can re-lubricate your belt with a silicone-based conditioning but you can expect to get over 1000 hours of running time before it's necessary. They also recommend vacuuming the inside of the black motor hood once a year.