Jay Robb's Grass-Fed Whey is the most-reviewed grass fed whey protein on Amazon. It's a whey isolate, meaning that it's very low in fat and carbs, and it's usually made from cows that aren't treated with recombinant bovine growth hormone (rBGH). However, the label states that "there are times when the world supply runs short" and they need to use conventional dairy.
In any case, we picked up the chocolate flavor to try and find out why it's such a popular product.
Jay Robb's Grass-Fed Whey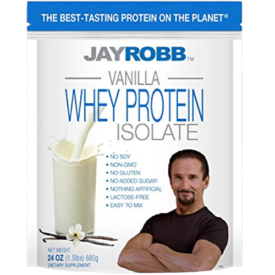 Jay Robb's Grass-Fed Whey
An ultra low-fat whey isolate that's free of soy and artificial ingredient.
Jay Robb Whey Protein Nutrition Facts
One scoop contains 110 calories, 25 grams of protein, one gram of carbohydrate, and zero fat. That's a very impressive protein-per-calorie ratio.
There's not much to talk about with regard to micronutrients. Unlike most whey protein powders I've seen, it has no iron and very little calcium (3 percent of the RDI per serving). It's not particularly high or low in sodium (it has 6 percent of the RDI per serving) but it does have zero cholesterol, which may be important for some consumers.
Related: best protein powders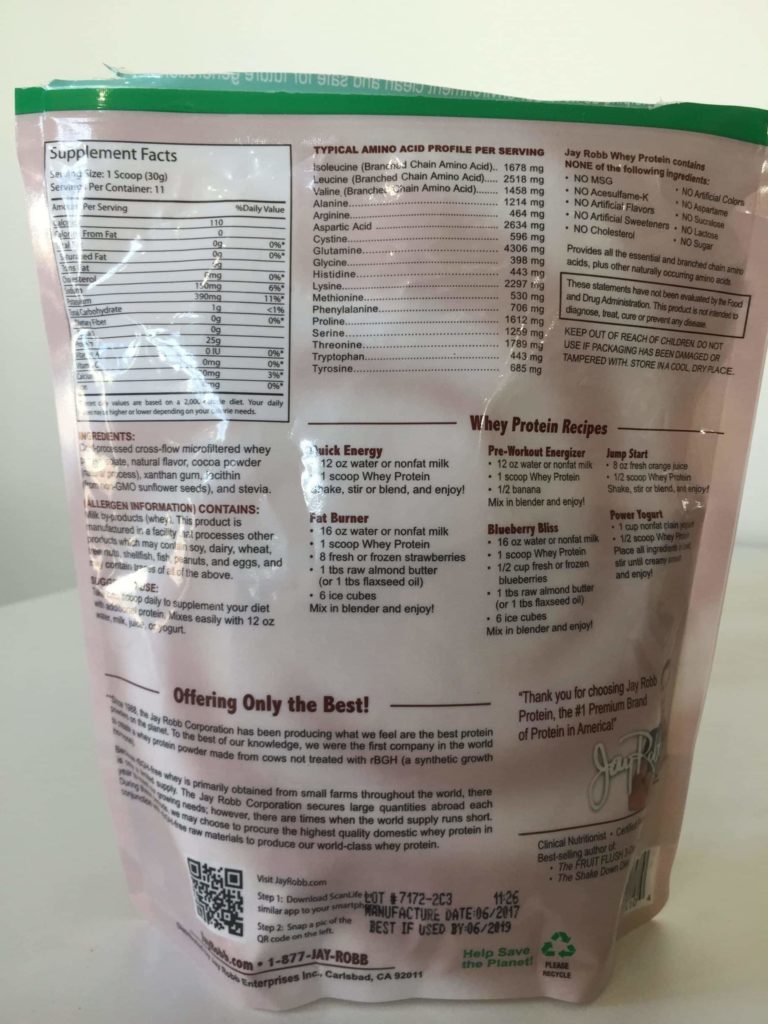 Jay Robb Whey Protein Ingredients
The first ingredient is cold-processed, cross-flow microfiltered whey protein isolate. It doesn't say it's grass-fed on the bag, but we called them up and confirmed that it does indeed come from grass-fed cows.
The other ingredients are natural flavor, cocoa powder that's been processed without alkali or acid, xanthan gum, lecithin from non-GMO sunflower seeds, and the natural sweetener stevia.
Jay Robb Whey Protein Benefits and Effectiveness
Does it matter that it's cold-processed? That means the whey hasn't been denatured, but this doesn't really mean much — we denature protein when we consume it anyway, and it actually makes protein more digestible. But there's a market for un-denatured whey protein and if you prefer it, this product has you covered.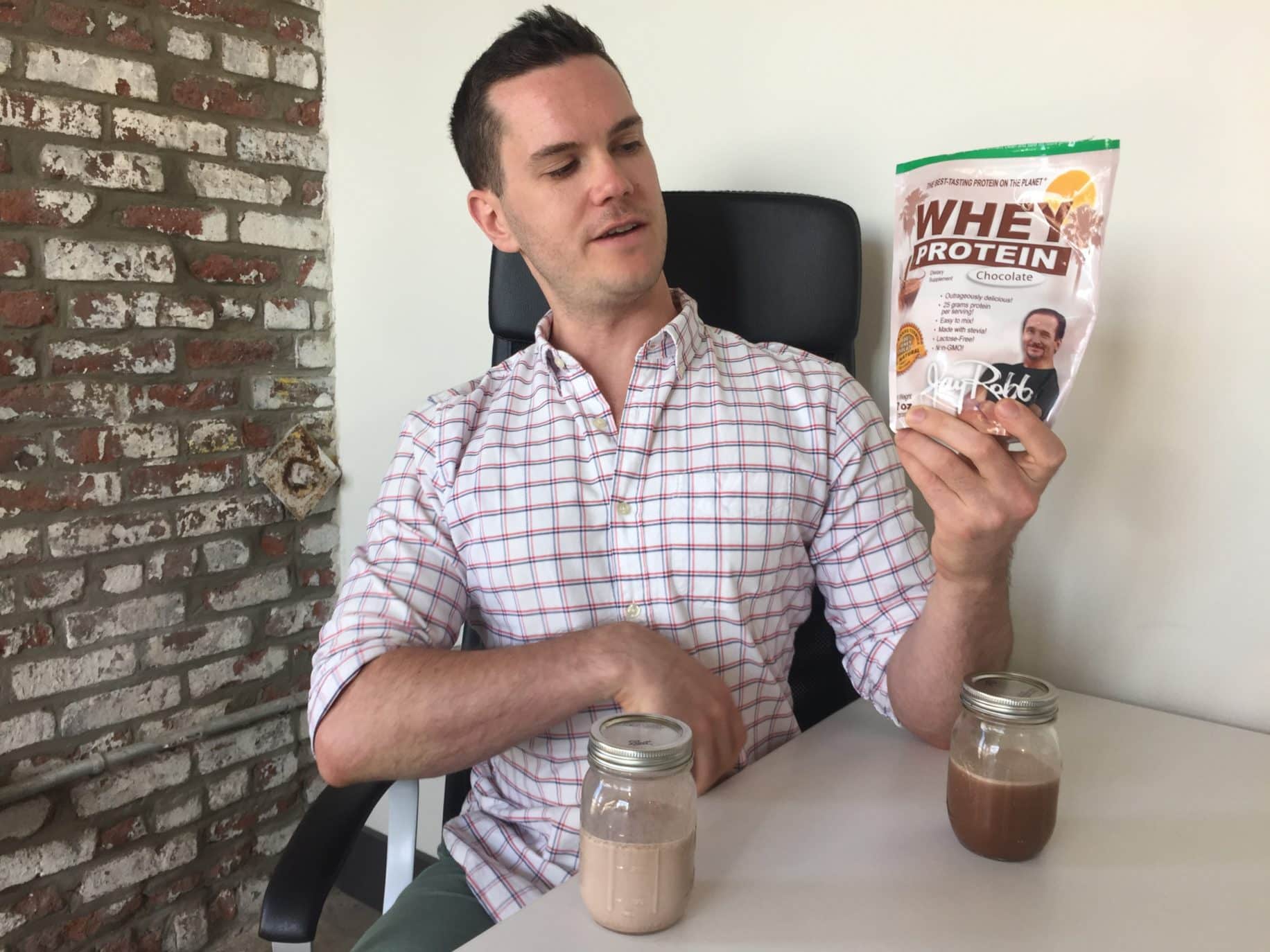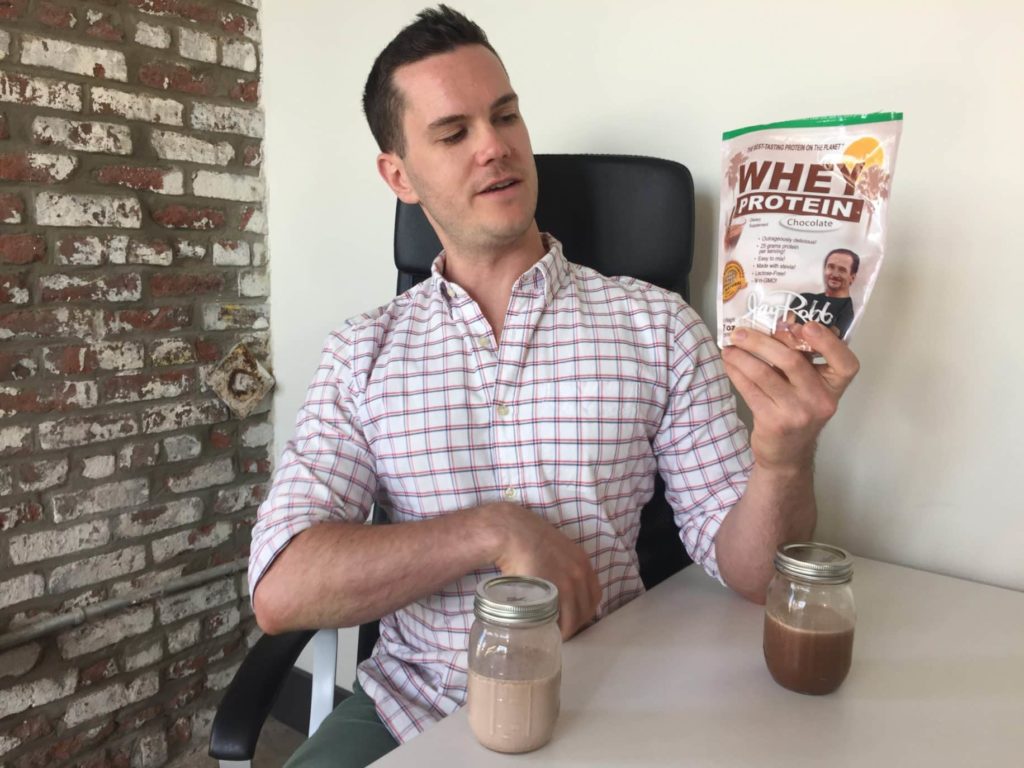 Does it matter that it's grass-fed? Probably not from a nutrition standpoint. The health benefits of grass-fed dairy are confined to the fat, which is removed from whey isolates. But it probably indicates healthier, happier cows, which may be a priority for you.
But this is a reasonably priced, high protein whey isolate with no fat and next to no carbs. There are no artificial flavors, sweeteners, or colors, plus there's no lactose or soy.
It's a quality product but unlike a lot of "natural" whey proteins, it contains xanthan gum, a thickener and stabilizer that can cause digestive issues in some people. This is a very small percentage of the population, but it's worth pointing out that there are also no digestive enzymes in this product so if you have a stomach that's sensitive to gum, lecithin, or powdered protein, this may not go down too well.
It's also made in a facility that processes soy, wheat, tree nuts, shellfish, fish, peanuts, and eggs, so if you have extremely sensitive allergies then this may not be for you.
But if you don't? It's pretty high quality.
Jay Robb Whey Protein Price
I bought 12 ounces for $22, which provides 11 servings for $2 each. That comes out to 8 cents per gram of protein. If you pick up a 24oz container the price drops to 7 cents per gram of protein, and an 80oz bag costs $117 and gives you 5.8 cents per gram of protein.
So at about 7 cents per gram of protein, it's about middle of the line — perhaps slightly above average — for a grass-fed whey isolate. It's cheaper than SFH, Wild Whey, and Reserveage, but more expensive than the grass-fed wheys from Nutrabio, Legion, and Bodylogix.
Jay Robb Whey Protein Taste
The "natural flavor" in this protein must have elements of "creamy" in it because this protein has a distinctly milky chocolate type flavor. Even when mixed with water it tastes more like milk chocolate than dark chocolate, but in either case it's pretty mild.
Mixability
I was really impressed with how well it mixed. It just took a few shakes in a mason jar.
The Takeaway
I can see why Jay Robb's protein is one of the most popular grass-fed proteins. It's not too expensive, it has no artificial flavors, it's non-GMO, and it's free from soy and lactose. It's tasty and it mixes well. If your stomach is sensitive to gum or if you have extremely sensitive allergies than it's not for you, but if gum and allergens aren't an issue, this is a solid product.
Other Great Protein Powders Reviews
Related Best Protein Powders Content
Jay Robb's Whey Protein
Per Serving: $1.74