With the 2020 World's Strongest Man less than 3 months away, the field of competitors is starting to come into focus. The competition, originally scheduled for May 20-24, was postponed because of safety concerns surrounding the COVID-19 pandemic.
WSM is now being held from November 11-15 in Bradenton Area, Florida. The qualifying rounds will be on Nov 11-12 and the finals will take place on November 14-15. It has been reported that the competition won't allow spectators and will be held completely indoors, but the logistics of the event are (very) subject to change.
Also subject to change is this list of athletes, who have confirmed to Julian at World's Strongest Fan that they've been invited — but travel restrictions may apply. We'll report back when we know for certain, but it looks like these men will be hoisting logs and carrying frames in Bradenton: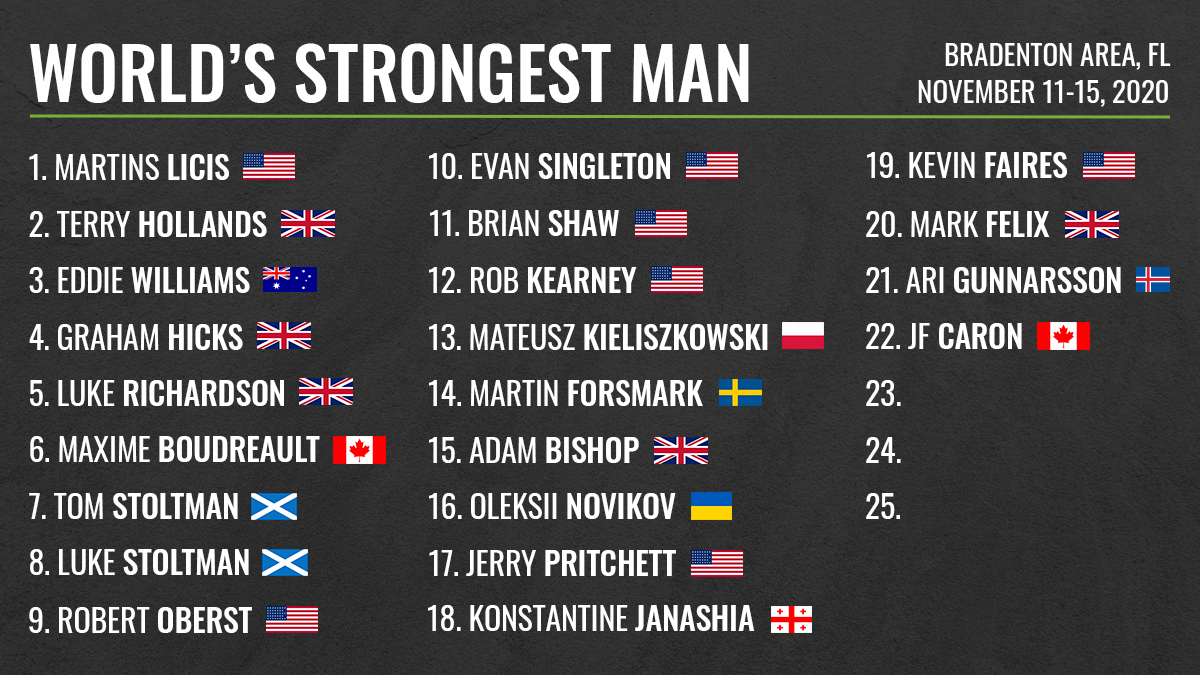 In the event of a drop out, the alternates for the event are currently:
Charles 'Trey' Mitchell III
Ole Martin Kristiansen
Eythor Ingolfsson
Supervising and running the event:
Presenter: Eddie 'The Beast' Hall
Head Referee: Magnús Ver Magnússon
Tournament Director: Colin Bryce
This year's field will consist of only 25 competitors that will be winnowed down to 10 finalists, as reported by Julian at World's Strongest Fan. Before 2019, the WSM field started at 30, but it appears that 25 may be the starting number of competitors moving forward.
It comes as a bit of a surprise that Trey Mitchell III is currently listed as an alternate given the fact that he finished 8th in 2019's WSM. The reason behind this is that 2020 WSM qualification is based on 2019 qualifier events, and Mitchell finished 8th in the 2019 American Open. With all the uncertainty and potential travel restrictions, there's still a good chance Mitchell will ultimately be 1 of the 25 competitors.
Trey Mitchell III was also notably excluded from the list of athletes announced to be competing at Brian Shaw's new strongman competition, "The Shaw Classic." The legendary American strongman had been teasing this event for a while and finally announced a group of 9 competitors to take him on including Zydrunas "Big Z" Savickas and Mateusz Kieliszkowski. The Shaw Classic is slated to take place at Brian Shaw's home gym in Colorado on December 12th.
As for the 2020 WSM, there are at least three spaces still available and, again, it's not confirmed that all the athletes will be able to make it to Florida. The following are some high-profile strongmen who could round out the field of 25:
Wesley Claborn
2019 America's Strongest Man
Jean-Stephen Corabeuf
2019 Australia's Strongest Man
Vytautas Lalas
With 'Big Z' not competing Lalas could join the field as a representative from Lithuania
Cheick Al-Hassan Sanou 'Iron Biby'
The Burkinese Strongman recently posted an unofficial push press record of 260kg or 573.2lb
Rauno Heinla
The Estonian Strongman recently posted an unofficial deadlift for reps record of 400kg/882lb for a smooth 6 reps.
Ivan Makarov
Ivan is an up and coming Russian strongman whose on record as saying, "I want to set a world deadlift record and win the WSM, then I will calm down"
Based on these athlete's instagram accounts, training for November's competition is in full throttle. While Martins Licis, Brian Shaw, and Mateusz Kieliszkowski are podium favorites, new competitors like Maxime Boudreault and potentially Iron Biby will definitely be on everyone's radar. Despite the postponement of the event and the likelihood of no spectators, the event will be as competitive as ever with an impressive group of athletes.
An earlier version of this article implied Zydrunas Savickas is from Latvia. He is in fact from Lithuania. We regret the error and have made the appropriate correction
Featured image from Wikimedia Commons, Author: Rogue fitness, licensed under CC BY-SA 4.0