Day Two of the 2023 World's Strongest Man (WSM) contest in Myrtle Beach, SC, was filled with drama, triumph, heartbreak, and strength. The three events featured in order on the day were Conan's Wheel in the morning, the Kettlebell Toss in the afternoon, and the Stone-Offs in the evening.
Ultimately, 10 of the 30 strongmen in the field advanced to the 2023 WSM Final, where the strongest among the strongest will contend to dethrone two-time reigning WSM champion, Tom Stoltman. Here is the 2023 WSM Final roster:
2023 World's Strongest Man Final Roster
Check out a recap of the action from Day Two of the Qualifying Stage below.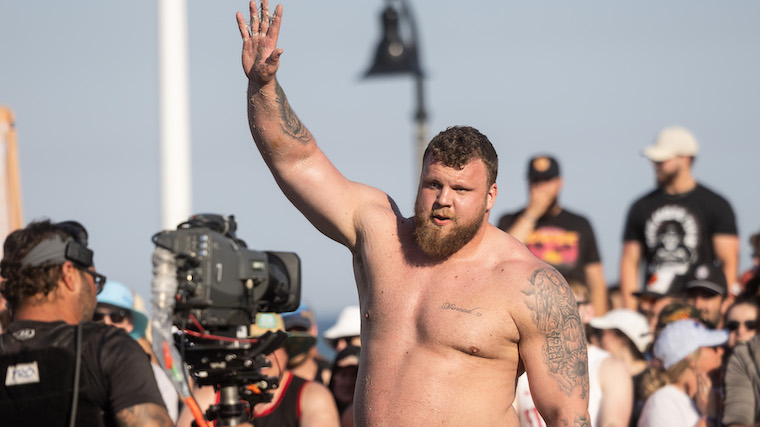 [Related: 2023 World's Strongest Man Live Results and Leaderboard]
2023 World's Strongest Man Day Two Recap
Three events comprised Day Two of competition. The results and highlights are detailed below.
Conan's Wheel
Athletes attempted to traverse a 440-pound apparatus around a circumference for the farthest distance possible without dropping.
Group One
Pavlo Kordiyaka — 742 degrees
Pa O'Dwyer — 722 degrees
Bobby Thompson — 649 degrees
Konstantine Janashia — 633 degrees
Eddie Williams — 614 degrees
Tom Stoltman — 598 degrees
Group Two
Oleksii Novikov — 897 degrees
Gavin Bilton — 557 degrees
Luke Stoltman — 545 degrees
Kristján Jón Haraldsson — 524 degrees
Fadi El Masri — 70 degrees
Thomas Evans — 69 degrees
Group Three
Mitchell Hooper — 636 degrees
Mathew Ragg — 628 degrees
Aivars Šmaukstelis — 575 degrees
Mateusz Kieliszkowski — 538 degrees
Spenser Remick — 470 degrees
Graham Hicks — 425 degrees
Group Four
Jaco Schoonwinkel — 713 degrees
Kevin Faires — 636 degrees
Rauno Heinla — 572 degrees
Gabriel Rhéaume — 476 degrees
Brian Shaw — 411 degrees
Adam Bishop — 292 degrees
Group Five
Eythor Ingolfsson Melsted — 629 degrees
Evan Singleton — 589 degrees
Trey Mitchell — 523 degrees
Paul Smith — 518 degrees
Mark Felix — 470 degrees
Jean-Stephan Coraboeuf — 143 degrees
The 440-pound Conan's Wheel tasked athletes to traverse the apparatus around a circumference for the farthest distance possible. It was a showcase for the Ukrainian strongmen's work capacity as Novikov and Kordiyaka scored the farthest and second-farthest distances, respectively — securing both event wins.
Hooper leveraged his leader's advantage of going last in the turn order to dig deep and move the apparatus just far enough to beat Ragg's runner-up distance. Schoonwinkel displayed his rookie luck as more of a professional's skill as he racked up an event win in Group Four.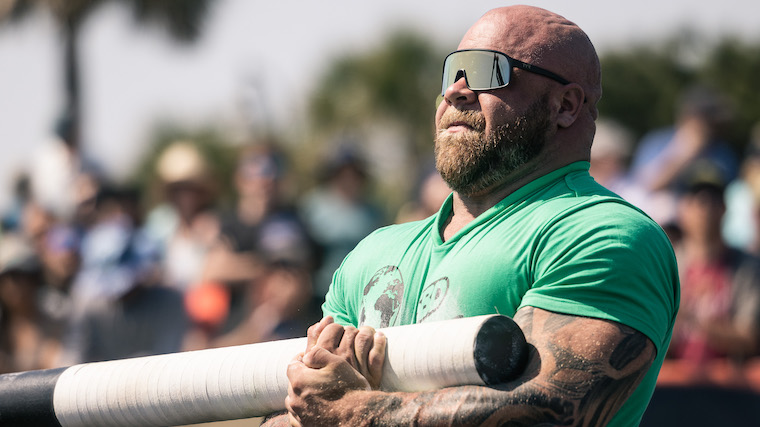 Ingolfsson Melsted scored the farthest distance in Event Five to tighten up the leaderboard between Mitchell and Singleton heading into the Kettlebell Toss. Mitchell gave it his all to eclipse Singleton's distance, but Singleton's effort held the line.
Kettlebell Toss
Athletes attempted to toss seven kettlebells with the top bell weighing 68 pounds over a 15-foot bar in the fastest possible time.
Group One
Pavlo Kordiyaka — six in 18.09
Konstantine Janashia — six in 19.93 seconds
Tom Stoltman — six in 21.99 seconds
Pa O'Dwyer — six in 31.71 seconds
Bobby Thompson — six in 35.67 seconds
Eddie Williams — six in 36.40 seconds
Group Two
Gavin Bilton — six in 19.9 seconds
Luke Stoltman — six in 49.35 seconds
Kristján Jón Haraldsson — five in 15.57 seconds
Thomas Evans — five in 28.68
Fadi El Masri — four in 20.61 seconds
Oleksii Novikov — one in 9.56 seconds
Group Three
Mateusz Kieliszkowski — seven in 32.44 seconds
Mitchell Hooper — six in 17.18 seconds
Mathew Ragg — six in 21.96 seconds
Aivars Šmaukstelis — six in 25.41 seconds
Spenser Remick — five in 24.31 seconds
Graham Hicks — four in 20.51 seconds
Group Four
Brian Shaw — seven in 48.45 seconds
Jaco Schoonwinkel — six in 47.32 seconds
Adam Bishop — six in 32.29 seconds
Kevin Faires — five in 34.09 seconds
Rauno Heinla — five in 44.51 seconds
Gabriel Rhéaume — three in 14 seconds
Group Five
Trey Mitchell — seven in 34.42 seconds
Eythor Ingolfsson Melsted — six in 27.66 seconds
Evan Singleton — six in 28.81 seconds
Mark Felix — four in 42.66 seconds
Jean-Stephan Coraboeuf — two in 23.65 seconds
Paul Smith — one in 28.62 seconds
The tosses for Group One were blazingly fast despite none of the six athletes converting the seventh kettlebell. Kordiyaka displayed that in a moving event, he is unparalleled at the top level. A score of six kettlebells in just over 18 seconds was enough to secure the overall group win by a substantial 4.5 points.
Novikov had the group win hard-locked before the event began, hence a single kettlebell converted paired with celebration. The battle was the tight scores between Luke Stoltman, Bilton, and Evans, and which two would reach the Stone-Off. Stoltman and Bilton delivered in their heats, but Evans didn't have the same experience in the event, and it cost him his WSM Final debut.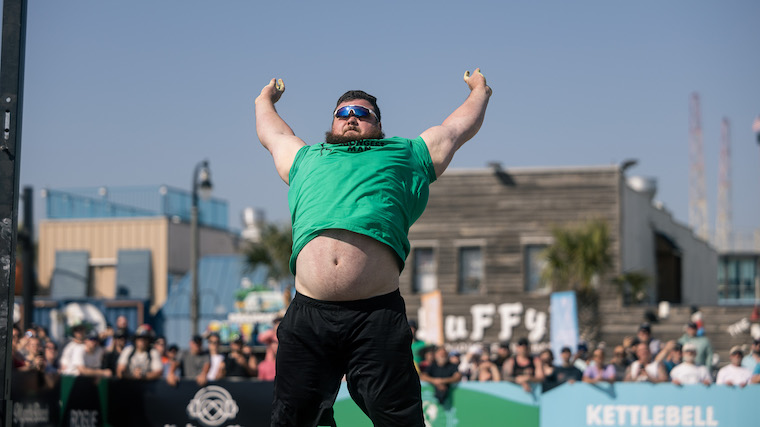 Kieliszkowski was effectively eliminated from the competition entering the event — sitting in last place in his group. However, with the pressure off him in one of his best events, he became the third man in WSM history to convert all seven kettlebells, joining Brian Shaw, Mikhail Shivlyakov, and, a few hours later, Trey Mitchell.
Shaw's WSM career could produce hours of footage of his dominance in tossing events. This day was no different, and he ran through his group with a quick seven-kettlebell run. Schoonwinkel's lead entering the event meant he only needed to score six kettlebells to take the overall group win, and he succeeded.
One of the most surprising performances on Day Two was Trey Mitchell's kettlebell toss. Historically a weaker event for him, his training paid dividends as he ran a flawless heat, scoring all seven kettlebells — enough to fend off Singleton and place "T-Rex" into the Stone-Off against Ingolfsson Melsted.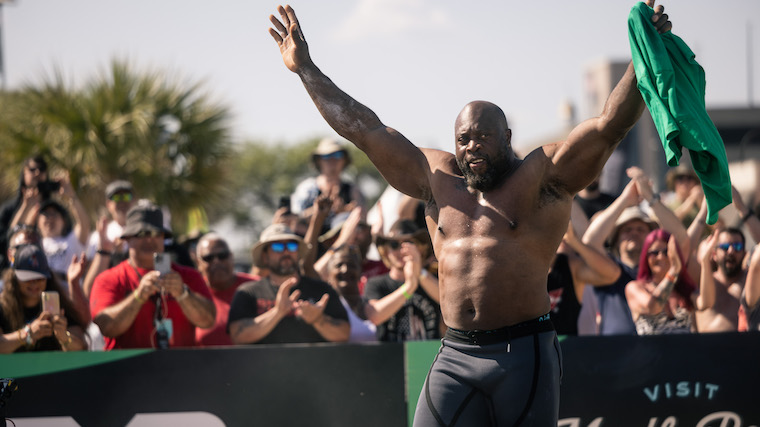 Notably, the Kettlebell Toss marked the end of Mark Felix's legendary WSM career. He is a hall-of-fame caliber strongman who appeared in 18 WSM contests and never failed to stun the audience with how competitive he remained well into his 50s. At 57, he is the oldest strongman ever to compete at the WSM.
Stone-Off
The highest stakes event of the competition every year is undoubtedly the Stone-Off. Every head-to-head heat sends one athlete to the Final and eliminates the other from competition. The drama in Myrtle Beach lived up to the expectations the event has built over years and years of highlight-worthy moments as competitors lifted six stones, scaling from 120-200 kilograms.
Tom Stoltman def. Bobby Thompson
Group One saw Bobby Thompson suffer a hamstring injury against Tom Stoltman. Thompson initially appeared to injure his hamstring in the Log Ladder on Day One. It was clearly exacerbated when Thompson attempted to lift the third stone.
Luke Stoltman def. Gavin Bilton
Group Two featured a warrior's clash between Luke Stoltman and Gavin Bilton. Stoltman is an impeccable stone-lifter — something that arguably flies under the radar. Bilton was a house in the event, looking strong til the very last moment when he simply didn't have enough time to hoist the final stone again.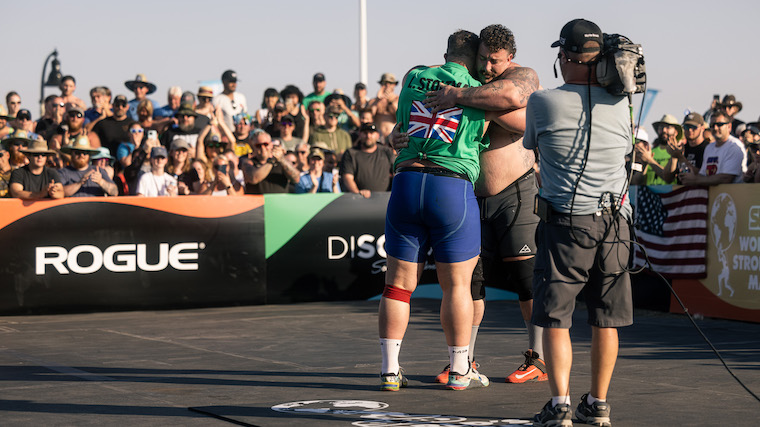 [Related: Seated vs. Standing Shoulder Press: How to Know Which One Is Right for You]
Mathew Ragg def. Aivars Šmaukstelis
Group Three let Ragg continue his impressive WSM debut run against the juggernaut that is Aivars Šmaukstelis. Though the Latvian put up a decent bout that carried the heat to multiple reps on the final 200-kilogram stone, Ragg's advantage of lifting second paid off for him.
Brian Shaw def. Rauno Heinla
The most jaw-dropping performance in the five Stone-Offs had to be Rauno Heinla, whose engine just seemed to never burn out. Going against Shaw and having to lift first is a burden no strongman ever hopes to encounter, particularly not with their competition life on the line.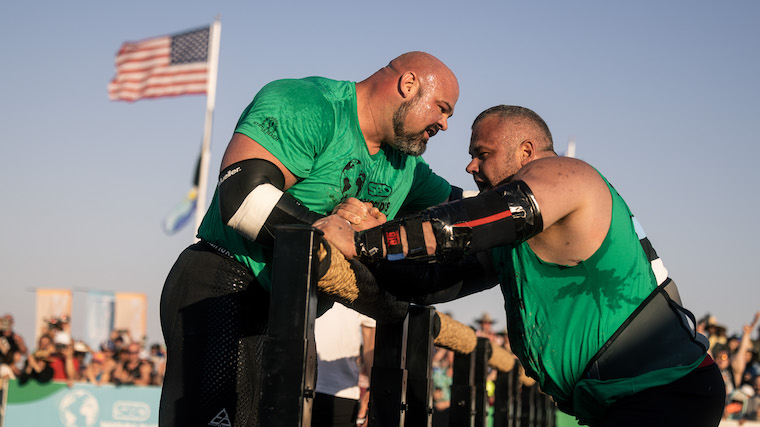 Heinla lifted the 200-kilogram stone a staggering six times before having to tap out. No one in the crowd expected him to press Shaw to the limits like that. Shaw, who could lift heavy stones forever, certainly earned his way to the Final in his last WSM appearance in a Stone-Off that will not be forgotten anytime soon.
Evan Singleton def. Eythor Ingolfsson Melsted
Ingolfsson Melsted tested Singleton in an arena Singleton did not have much experience in. However, the American's intense focus was undeterred by the Icelandic strongman's steady pacing through to multiple reps on the sixth stone. A Final-worthy performance by Singleton in Qualifying secured him his first career trip to the WSM Final.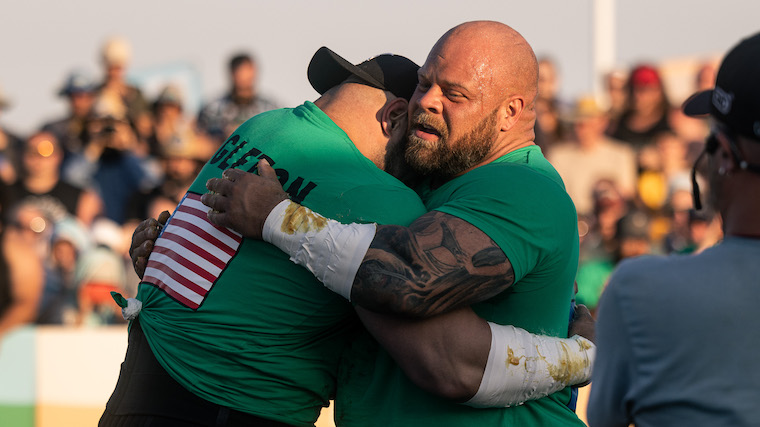 [Related: Mark Felix to Compete in Final World's Strongest Man Contest in 2023]
The Final Approaches
The Fingal's Fingers will kick off the two-day WSM Final on April 22, 2023, at 8:00 a.m. The Finalists have a rest day on April 21 to recover from the Qualifying stage and prepare themselves to try and dethrone Tom Stoltman. Stoltman, on the other hand, seeks to claim his third consecutive title to tie the legendary Bill Kazmaier.
Featured image courtesy of World's Strongest Man