One year ago, Sean Demarinis was facing a very hard time walking, let alone carrying a 900 lb yoke. During the last event of America's Strongest Man 2017, he had suffered a potentially career-ending injury, while attempting to load the final keg over bar in a keg loading medley. He had detached his quad tendon from his kneecap, and ruptured two quad muscles, developing something called compartment syndrome, where pooling blood creates intense pressure and "suffocates" the muscle.
If this isn't treated quickly, the pressure can result in catastrophic nerve damage and demand the total removal of the affected muscle. There was a big possibility that his strongman days were over. Fast forward to this year, September 30th, 2018, and Sean winning his fourth consecutive title as America's Strongest Man in the 105 kg/231 lbs weight class. This year was the two-day competition's heaviest year ever.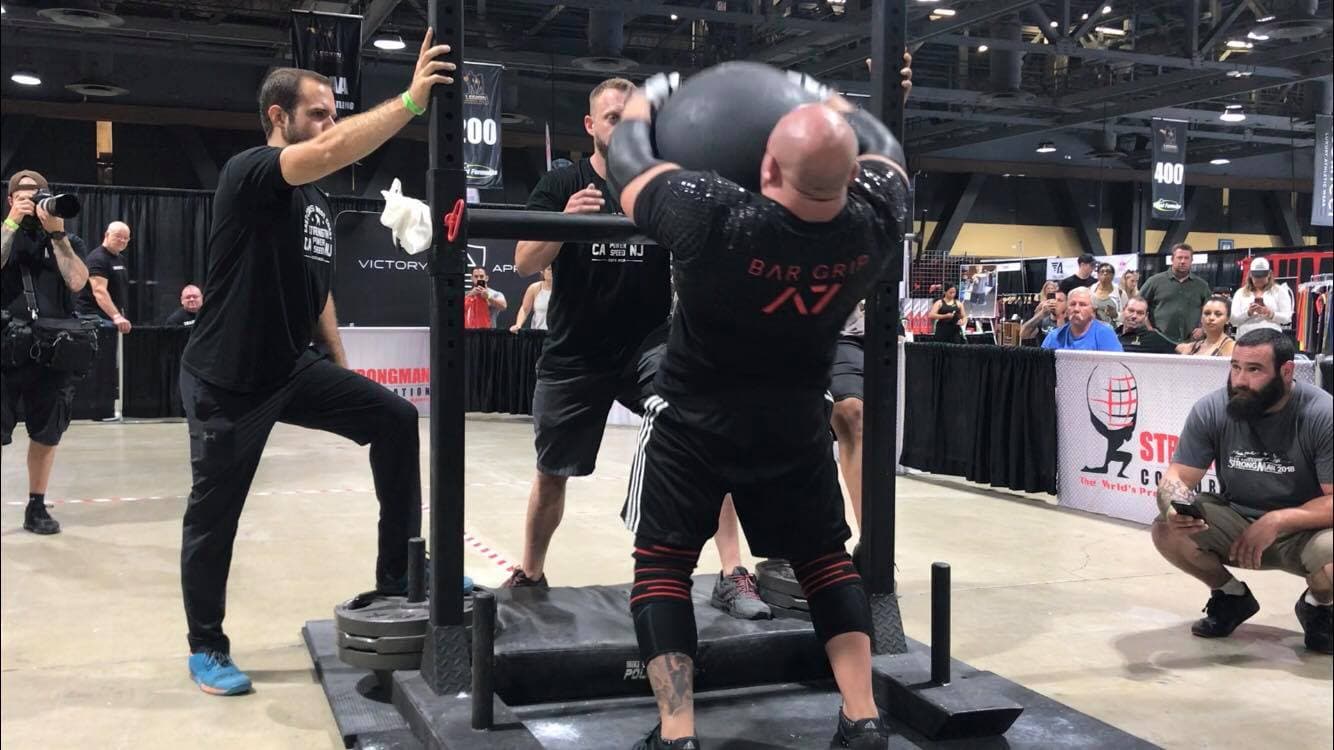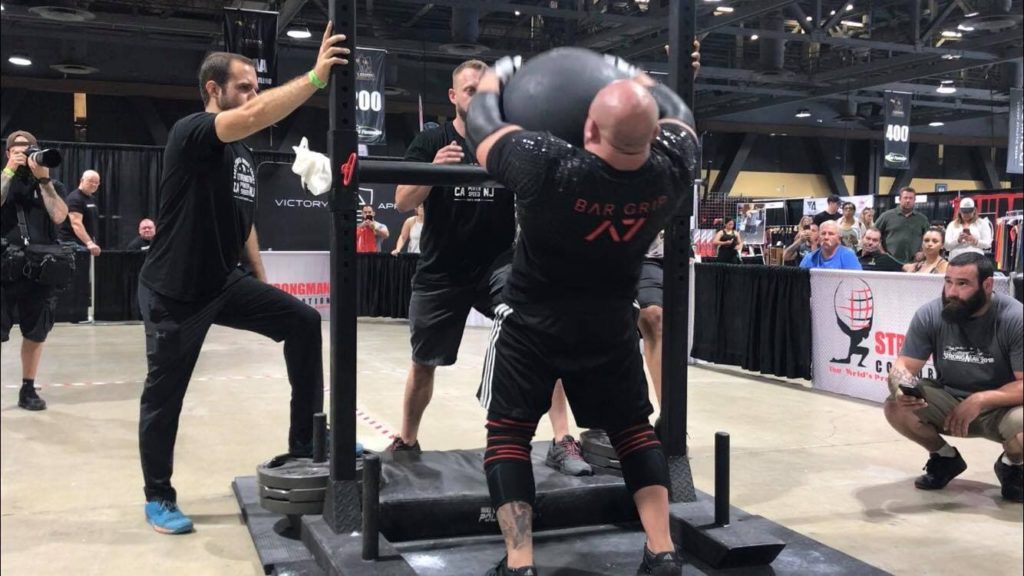 Every year, a handful of elite professional strongman, and starting in the last two years, professional strongwomen, gather to battle it out for the title of America's Strongest Man and America's Strongest Woman (America's Strongest Woman had existed prior in the form of amateur competition and briefly as a subset of Strongest Woman in the World). This competition, while somewhat modest in scope compared the Arnold, or World's Strongest Man, challenges athletes over two intense days of lifting, and is a display of athleticism that gets missed by the mainstream. It is promoted by Strongman Corporation, who also put up the total $15,000.00 in prize money for the athletes; currently one of the biggest payouts for strongmen and strongwomen outside the Open Men's division.
The competition featured some incredible feats from athletes who are sometimes overshadowed by the big-dogs of strongman like Brian Shaw and Eddie Hall. The men's 105 kg class is where some of the most impressive strength competition in the world is happening, as is the nascent women's Pro class. This year, ASM/ASW was featured in the Legion Sports Festival in Long Beach, CA, over the weekend of September 29th. The relatively small scale of the competition makes it a unique opportunity to get up close and personal with some unbelievable competitors.
"It was literally the most insane thing to witness"
These athletes are not only strong, but some of the grittiest, most determined individuals in strength sports. Demarinis beat out a class stacked with brutally tough people. Terry Rady, who came in second, badly hurt his foot four weeks prior to the event, after he dropped a 152kg/335 lbs log on it. Rady said it "totally killed moving events," though he trained moving events anyway. A week after his foot injury, he found out he had AFib (Atrial Fibrilliation, an irregular heartbeat condition that can lead to potentially serious complications). He said, "A broken ticker isn't going to stop me from spending money to go be an idiot in front of average joes."
Aaron West, another experienced 105 kg pro, tore his bicep during the competition on the first event – he completed the competition, which included an axle deadlift and a farmer's carry, both of which he completed with said torn bicep, "It was literally the most insane thing to witness," said Rady.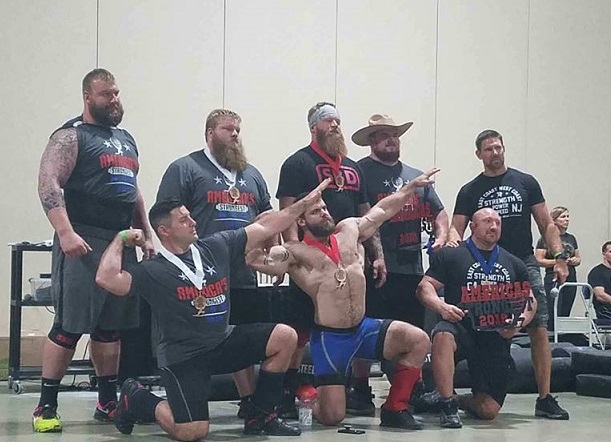 The professional strongwoman division itself is barely three years old, and featured three weight categories: 82 kg +, 82 kg, and 64 kg. Kristin Rhodes, arguably one of the most accomplished female strength athletes alive, won the heavyweights and set records while doing it; Brooke Sousa came in second and Cori Butler in third. Powerlifter-turned-strongwoman Ashley Crawford, who came in second at Strongest Woman in the World, won the 82 kg class with Sarah Cogswell and Kristal Renaudette in second and third, and experienced competitor and powerhouse Rachel Pyron won the 64 kg category, with Jessia Kite and Laura Anderson in second and third.   
America's Strongest Man is the country's biggest competition for the middleweight men, but it's also a great opportunity for new heavyweight pros to test themselves. Trey Mitchell took first, Jacob Fincher in second, and Wesley Clayborn in third. Mitchell and Clayborn, as well as fourth place finisher Dylan Lockard, loaded a 227 kg/ 500 lb Stone of Steel, a never-before done feat.
ASM 2018 was the heaviest ASM competition ever. The weights moved included a 900 lb yoke for the 105 kg men and an 1,100 lb yoke for the 105+ class. All weight classes had the option of loading a lighter stone for higher reps and fewer points, or a heavier stone for more points. Third place finisher Nicolas Cambi loaded the heavier 190kg/420 lbs stone three times; only three other people in his division loaded it all and only for one rep.
"I don't think people truly understand strongman at this level, this is the elite of the elite, and every single person at that show doing those weights has a screw loose in their head," said Rady. Rady went pro this year, after winning his division at the amateur world championships run by Strongman Corporation at the Arnold Sports Festival in 2018. Rady finished in second only a  point and a half behind Demarinis, and their 900 lbs yoke race was a sight to behold (Demarinis won that event. On a healed ruptured quad). Whether you agree with Rady or not, it's certainly true that at a contest like ASM, you are going to see some things that defy all logic and crush old standards of normalcy for the the human body.
"I knew I could if I had too."
The women's division also saw some record setting. Have you ever deadlifted an axle? It's not just that the grip is difficult, even with federation-allowed straps. The bar has no flex in it, and the extra thickness of the bar means the center of the weight is farther away from you – it makes the lift harder in a way that puts extra demand on your back. Not one, but FOUR women pulled over 227kg/500 lbs from the floor, conventional. Two 82 kg women pulled 229kg/505 lbs, and 82 kg+ Brooke Sousa and Kristin Rhodes pulled 247 kg/545 lbs and 256 kg/565 lbs respectively. Rhodes' 565 lb pull was a world record on the axle, regardless of weight division.
Rhodes, who secured her eighth ASW title this year, said of her deadlift, "I felt I was capable of 550. It was last man standing. My body went into lift mode and I stayed focused. [You have to] take every jump starting at 295 lbs. 30 lb jumps. I looked at the sheet that had all the jumps listed. Jump 10 would be 565. The judge kind of chuckled, and said 'no one was going to go that high'. In my mind, I knew I could if I had too. Focus and perform. Deadlift had been my nemesis for years. I have worked really hard to correct form, and to pull this was the result of lots of work."
The 64 kg women enjoyed some big moments too – from the blistering fast yoke and farmer runs, 66kg/145 lb log press, and 91kg/200 lb stone loading, event, America's strongest lightweights pushed each other the whole time. There were difficulties and highlights beyond just injuries. Jessica Kite, second place winner, endured a brutal weight cut, but also came away from the weekend engaged to be married.
She noted the camaraderie that grows beyond competitors: "There is so much dedication that goes into strongman to get to the pro level – it's always the best time surrounding yourself with people that understand it all and are just as dedicated."
Rachel Pyron, who took first, also highlighted the community behind strongman.
"I am so, so grateful for the other lightweight competitors, and the support across the field at every contest. [it was] very well run – amazing staff from East Coast West Coast Strength Speed/Conditioning, Patrick Rogers, and James Deffinbaugh[Deffinbaugh is also a 231 class pro] with the scores".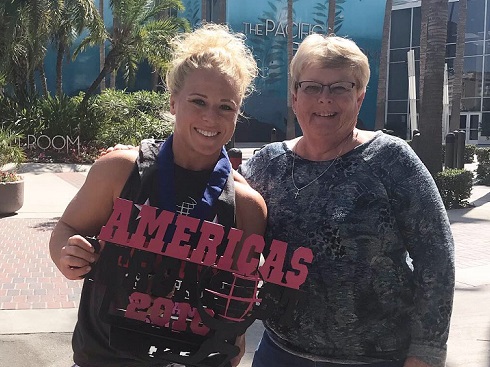 On her own performance, she said:
"I honestly had very little expectations for this contest as I had put so much of my focus into training for Strongest Woman in the World in Norway in July. I pretty much missed most of training throughout September due to a trip to Alaska – which I certainly don't regret…I think the forced time off was certainly needed. I have been fighting a back injury…since 2016 and my deadlift…has cost me, a great deal at every contest since I started strongman."

Pyron hit a personal best with a 355 lb axle deadlift. If there's one thing you can definitely say about competitions like this, is that you should never underestimate the power of a compelling environment to create big moments for competitors and spectators alike.
"I now have hope again"
Demarinis's post injury surgery was successful. "Eight weeks and I was walking again with no brace, and starting to get my range of motion back. Four weeks after that, I was squatting 135 lbs again, which was a huge accomplishment for me, mentally and physically. I now have hope again." At ASM 2018, Demarinis hit lifetime PRs on many lifts, including his 7.56 sec 408 kg/900 lbs yoke run, and 351.5 kg/775 lbs axle deadlift.
What Demarinis accomplished with his complete comeback is not a only a testament to his own toughness, skill, and determination, but also speaks to something special about strength sports – what they can do for the individual, and for the community. Athletes like Demarinis show us that there is more to personal achievement than just being talented and showing up – it takes incredible drive, hard work, and optimism. Demarinis, and women's 82 kg winner Crawford, both train out of East Coast West Coast Strength, who helped run ASM 2018, which is also training home to the first Arnold Pro Strongwoman champion, Liefia Ingalls. Many top competitors train together, and demonstrate that if that if you want to achieve remarkable things, you should surround yourself with people who are driven to do the same.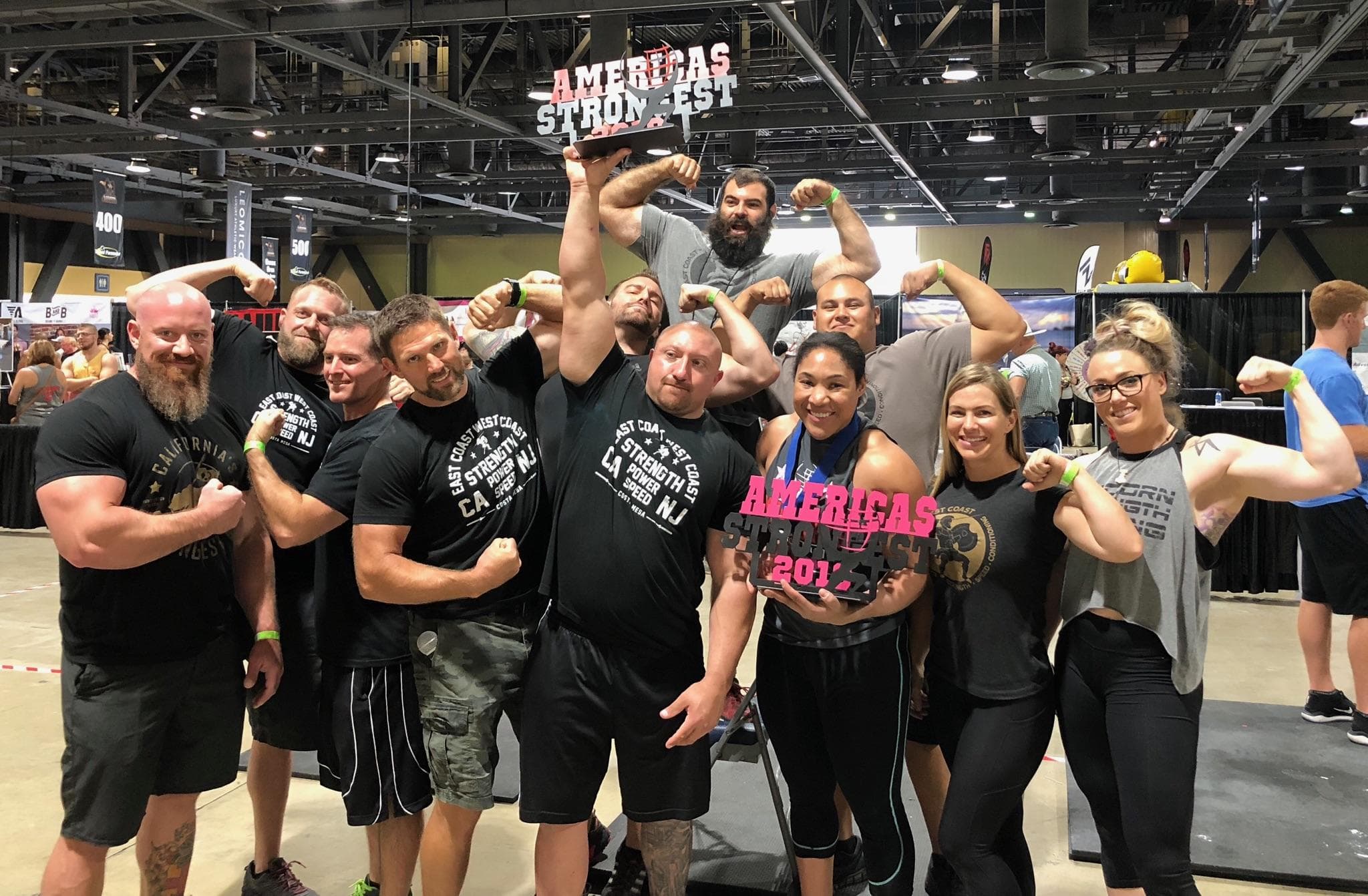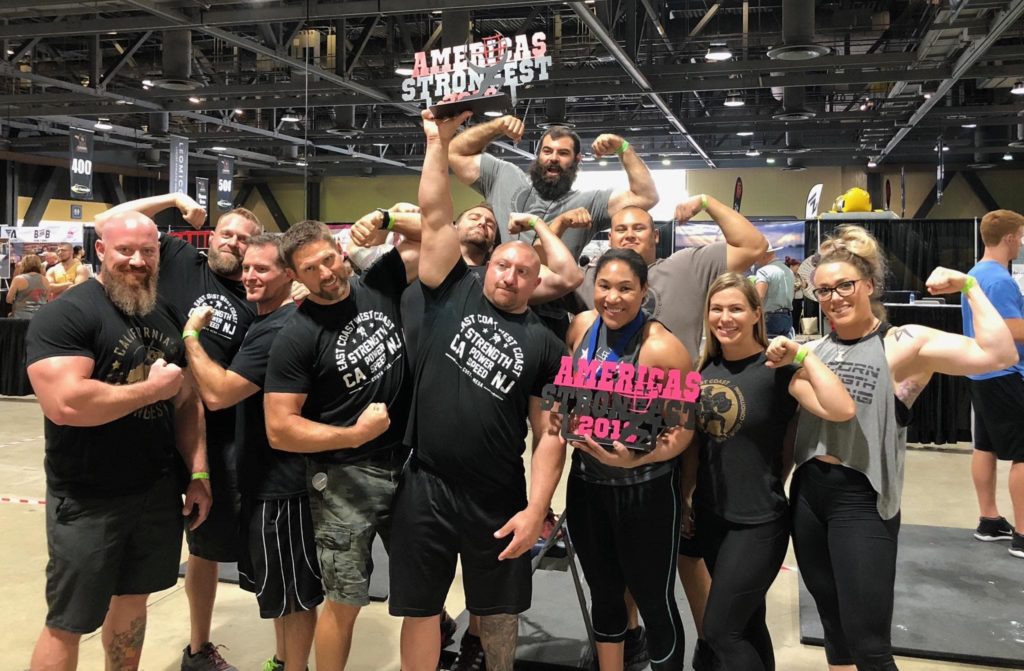 "All in all, this was one of my best performances and most meaningful win to date! I'm extremely thankful and happy to be back to my old capabilities, and currently injury free," Demarinis said. "Special thanks to all my training partners, friends, and family that continue to provide support and encouragement. I can say without a doubt, I would not have nearly the success I've had and continue to have without the team of people around me."
The America's Strongest series continues to showcase breath-taking lifts by its determined athletes; the contest serves as a backdrop for momentous personal challenges and triumphs. Consider adding ASM to your "must-see" competition list. Elite competitions don't happen every day, and every one of them is a unique opportunity to be inspired by the best and witness historic lifts in action. At America's Strongest Man & Woman, that title is truly earned.
Editor's note: This article is an op-ed. The views expressed herein and in the video are the author's and don't necessarily reflect the views of BarBend. Claims, assertions, opinions, and quotes have been sourced exclusively by the author.