Everybody gets hungry when they don't have time to prepare a nutritious meal. Meal replacements aim to fix that issue by providing a balance of protein, carbohydrates, fat, fiber, and micronutrients that can help to tide one over until mealtime.
Living exclusively on meal replacements isn't recommended, but there's no reason to dismiss them as a means to get in some calories and vitamins before the next meal comes along — after all, the nutrition profiles are almost always better than what's available over the counter at the local gas station. We looked at dozens of different varieties to land on the following best picks.
Editor's Pick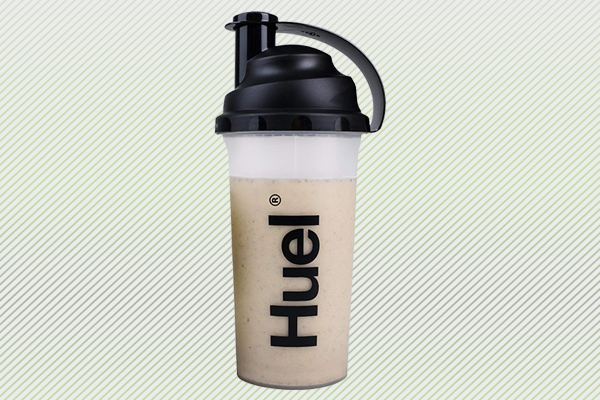 Huel
One of the best things about Huel is that the serving size is adjustable: one can mix up a good 500 calories to approximate the nutrition of an actual meal, or there's the option of just using one scoop for a low calorie snack. It's packed with a huge variety of micronutrients including Omega-3 fatty acids, which is all the more impressive given that it's vegan-friendly.
Pros
Huel contains a good dose of Omega-3 fatty acids while remaining vegan-friendly.
The ingredients list is quite simple: it's mostly oats, pea protein, flaxseed, brown rice protein, sunflower oil powder, medium-chain triglycerides, flavoring, and the vitamins and minerals.
A serving contains a great balance of protein, carbs, and fats.
Huel is available in a gluten free version.
Cons
All flavored varieties contain the artificial sweetener sucralose, although an unflavored version is available.
There are no digestive enzymes or probiotic bacteria, which some prefer in their meal replacements.
Best All Natural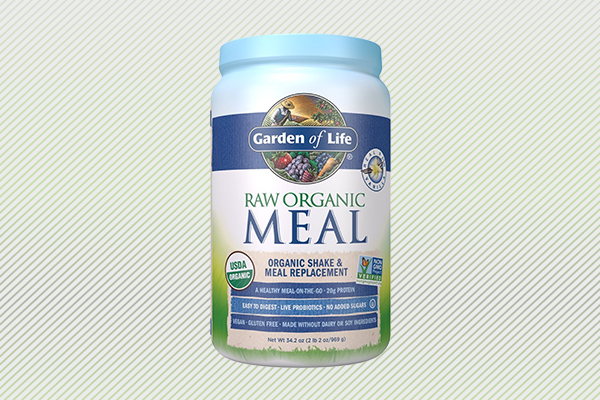 Garden of Life Raw Organic Meal
For those who prefer meal replacements with no artificial ingredients, Garden of Life has produced a good product that's available in four flavors. The protein is derived from a huge variety of plant-based forms including chia, lentil, and pumpkin seed, plus all the vitamins and minerals are naturally derived from powdered fruits and vegetables. To top it all off, there are added probiotic bacteria and digestive enzymes, which may improve digestive health.
Pros
One scoop contains dozens of natural plant-based sources of nutrients like Brussels sprouts, cabbage, raspberry, spirulina, and more.
Unlike many competitors, Garden of Life contains probiotic bacteria and digestive enzymes, which could improve nutrient absorption.
There's a serious hit of fiber, here: 28 percent of the recommended daily intake per 115-calorie serving.
Cons
With 20 grams of protein, 1 gram of net carbs, and 1.5 grams of fat, this doesn't quite replicate the macronutrients of a balanced meal.
A serving is relatively low in calcium and magnesium, with 4 and 6 percent of the recommended daily intake respectively.
Best for Weight Loss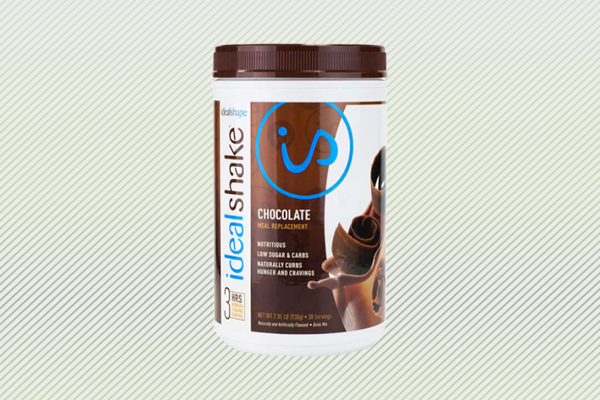 IdealShape's IdealShake
IdealShake is jam packed with a huge variety of vitamins and minerals including including Vitamin D and magnesium, plus it contains four digestive enzymes that may improve nutrient absorption. What makes it great for weight loss isn't just the fact that there are only 100 calories per scoop, but it also contains Slendesta®, a potato extract that may increase satiety.
Pros
Each serving provides over 50 percent of the recommend daily intake of over a dozen vitamins and minerals.
This has a protein/carbs/fat ratio of 11:10:2.5, which is a more equitable split than you see in some competitors.
IdealShake contains an extra dose of potato extract, which may help to boost satiety.
Cons
The product contains artificial sweeteners — and some find it to the taste remarkably sweet. This can be helped by simply adding more water to your shake.
At 100 calories per scoop, this is very low calorie for a meal replacement.
Best for Women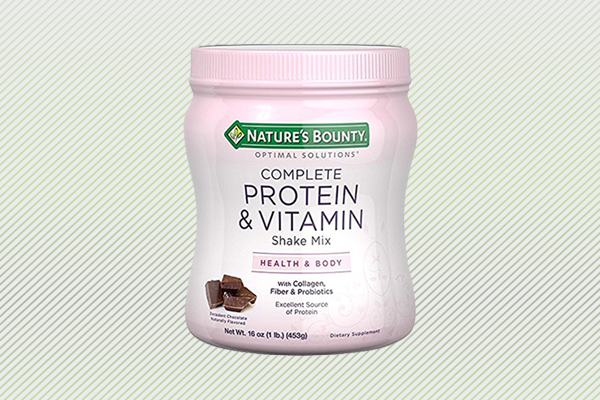 Nature's Bounty Vitamin & Shake Mix
Nature's Bounty has produced a remarkable meal replacement that's low in calories and full of vitamins. The product also includes a particular emphasis on biotin and collagen, which are often valued by female consumers for potential benefits for hair and skin, plus there are probiotics and digestive enzymes for digestive health.
Pros
The Vitamin & Shake Mix has a variety of both micronutrients and ingredients that may improve digestive health.
The product contains no artificial flavors or sweeteners.
Nature's Bounty's shake is great value for money.
Cons
While there are a lot of vitamins, this product doesn't have many minerals, besides 23 percent of the recommended daily intake of calcium.
There are just 120 calories per serving, so consumers looking for a good deal of calories may want to consider more than one scoop at a time.
Best for Keto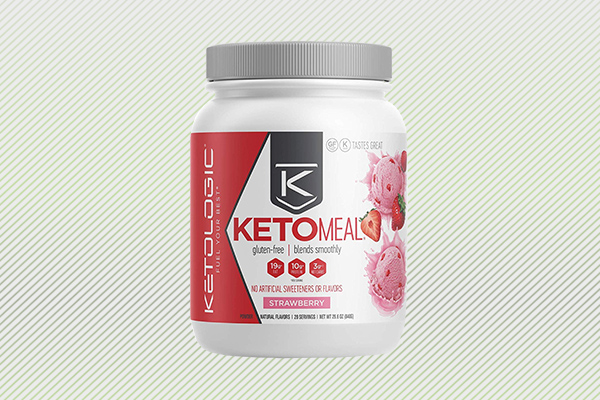 KetoLogic Keto Meal
With ten grams of fat, ten grams of protein, and 3 grams of net carbs, this is a keto friendly meal replacement that also delivers a significant amount of vitamins and minerals. It's available in four flavors and the formulation is soy free and heavy on coconut fat and medium chain triglycerides, which may be useful for providing energy.
Pros
Keto Meal has a great macro split for the ketogenic diet.
The product includes medium chain triglycerides, which are often preferred by people following a keto diet.
Each serving delivers at least 25 percent of the recommended intake of a slew of nutrients including magnesium, zinc, copper, and Vitamin D.
Cons
Keto Meal doesn't include exogenous ketones like BHB, which some prefer in keto supplements.
The product is made with sugar alcohols and gums, which can cause digestive issues for a small minority of people.
What to Look for In a Meal Replacement
Here's how we landed on our list of the best meal replacements.
Micronutrients
This term refers to the vitamins and minerals present in the product. Ideally, a meal replacement will provide about two dozen of them in a good balance of vitamins and minerals, including the harder-to-obtain nutrients like Vitamin D, Vitamin K, magnesium, and calcium. Some meal replacements also provide Omega-3 fatty acids, which have some links to reduced inflammation.(1)(2)
Macronutrients
Many meal replacements out there are high in protein and low in carbohydrates and fat. (Those are the three "macronutrients" we consume.) We didn't penalize these too harshly, as many just want a low calorie shake that will keep them full and provide some nutrients. But ideally, a meal replacement will deliver all three, roughly equal parts protein and carbs with a lower amount of fat.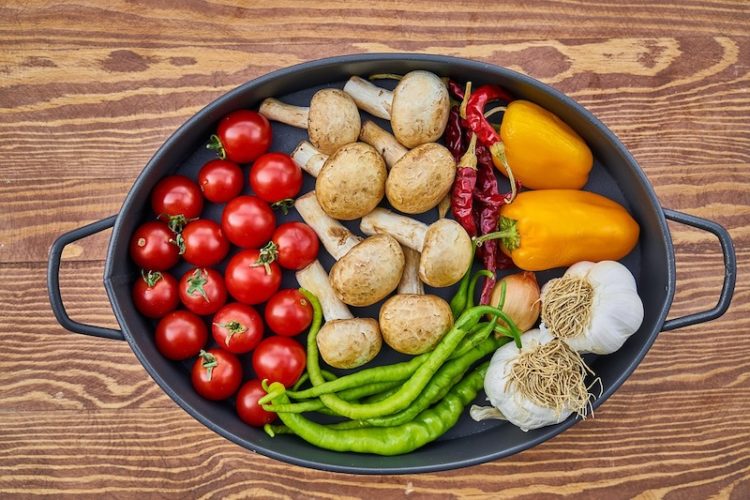 Digestive Health
Macronutrients and micronutrients are the most important component, but some meal replacements include probiotic bacteria (like the kind found in yogurt and sauerkraut) and digestive enzymes, which may help to increase nutrient absorption and lower the risk of experiencing indigestion.(3)(4)(5)(6)(7)(8)
Sweeteners
There are strong opinions on both sides of the artificial sweeteners debate — there's plenty of evidence that they're harmless, and there are also studies suggesting they may cause issues with insulin and appetite.(9)(10)(11)(12)(13) We didn't penalize the inclusion of artificial sweeteners, but their presence is noted in case you have strong feelings either way.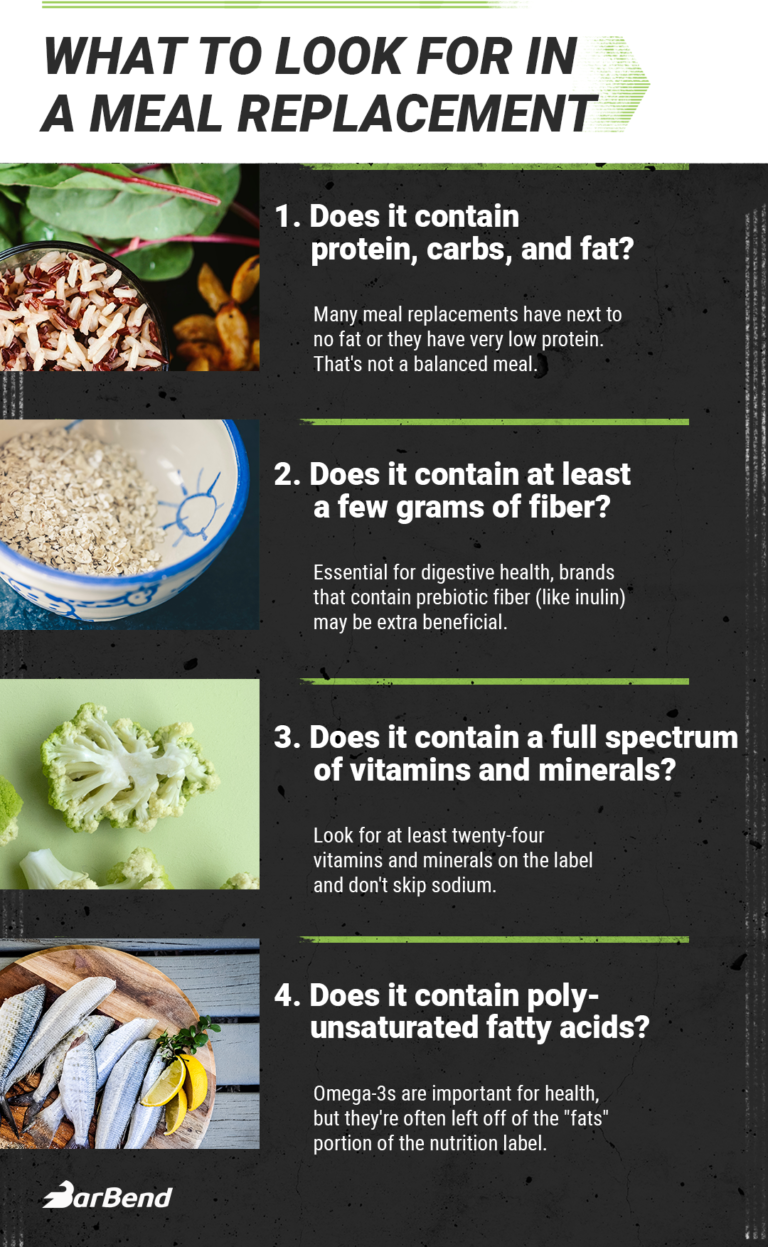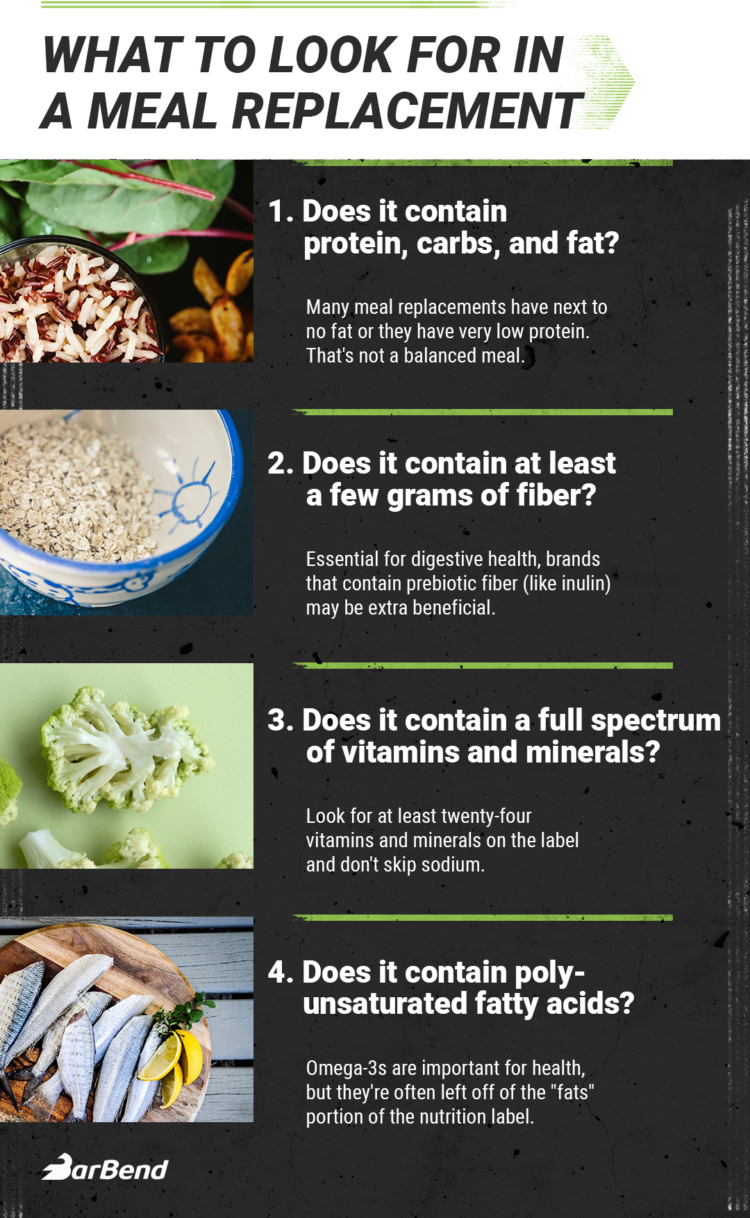 BarBend Tips
Whether they're being used for weight gain or weight loss, it's a good idea to work out how many calories your body burns in a day. If a chosen meal replacement is just 100 calories, for instance, it may be prudent to increase or decrease calories in other meals so that you're reaching your ideal number — if calories dip too low, it can negatively affect energy levels and body composition.
If a meal replacement is very low in calories, there's nothing wrong with combining a shake with some fruits or vegetables to help with satiety and add some nutrients to the plate.
Tempting as it may be, it's important to not exclusively drink meal replacements. They can be handy for one or perhaps two meals per day, but it's still important to consume whole foods — there are plenty of healthful ingredients, such as phytonutrients, that aren't technically vitamins or minerals and don't have a recommended daily intake set by the FDA. Most cruciferous vegetables, for example, contains indole-3-carbinol (which might help to balance estrogen), isothiocyanates (a powerful antioxidant) and glucosinolates (which have links to lower risk of heart disease).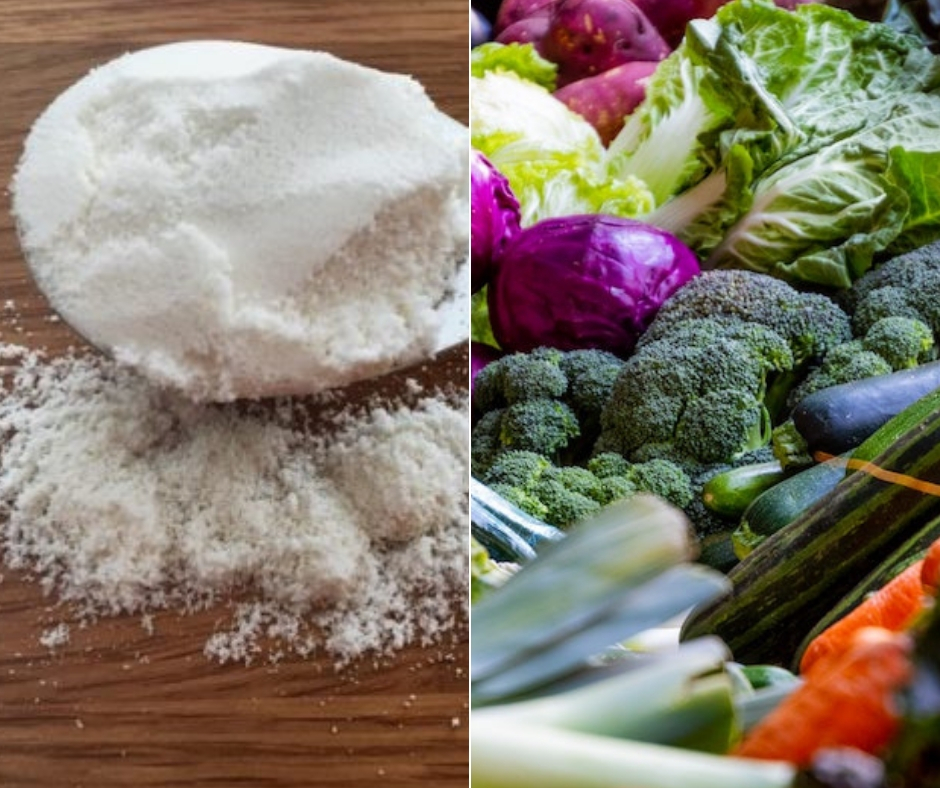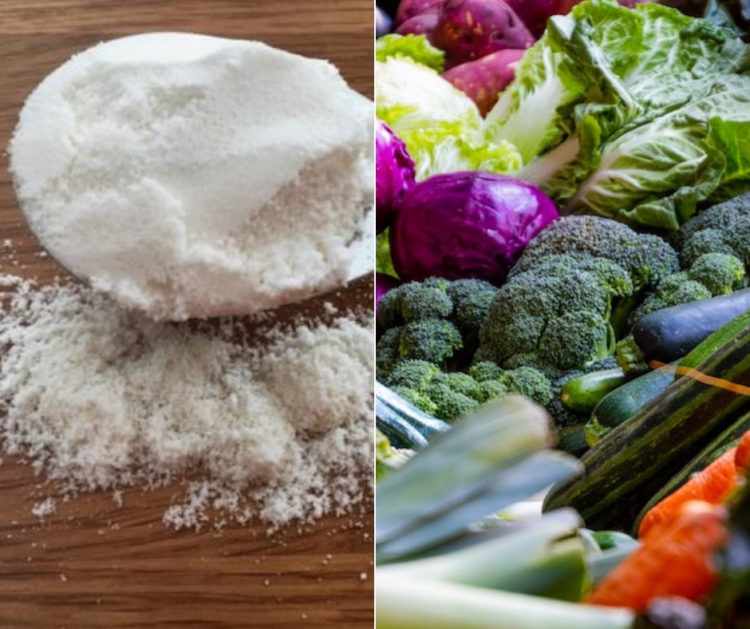 Wrapping Up
Meal replacements don't deserve to be avoided because they're not "real food." They can be a fantastic way to control calories, increase nutrient intake, and balance macronutrients, plus they save a lot of time and effort with meal prep. Moderation, as always, is key: don't neglect whole foods, but remember that well timed supplements like these can be a great way to help with diet adherence.
References
1. Maroon JC, et al. Omega-3 fatty acids (fish oil) as an anti-inflammatory: an alternative to nonsteroidal anti-inflammatory drugs for discogenic pain. Surg Neurol. 2006 Apr;65(4):326-31.
2. Rajaei E, et al. The Effect of Omega-3 Fatty Acids in Patients With Active Rheumatoid Arthritis Receiving DMARDs Therapy: Double-Blind Randomized Controlled Trial. Glob J Health Sci. 2015 Nov 3;8(7):18-25.
3. Carvalho, B.M. et al. Influence of gut microbiota on subclinical inflammation and insulin resistance. Mediators Inflamm. 2013;2013:986734.
4. Pavan R, et al. Properties and therapeutic application of bromelain: a review. Biotechnol Res Int. 2012;2012:976203.
5. Tursi JM, et al. Plant sources of acid stable lipases: potential therapy for cystic fibrosis. J Paediatr Child Health. 1994 Dec;30(6):539-43.
6. Bassinello PZ, et al. Amylolytic activity in fruits: comparison of different substrates and methods using banana as model. J Agric Food Chem. 2002 Oct 9;50(21):5781-6.
7. Peroni FH, et al. Mango starch degradation. II. The binding of alpha-amylase and beta-amylase to the starch granule. J Agric Food Chem. 2008 Aug 27;56(16):7416-21.
8. Stremnitzer C, et al. Papain Degrades Tight Junction Proteins of Human Keratinocytes In Vitro and Sensitizes C57BL/6 Mice via the Skin Independent of its Enzymatic Activity or TLR4 Activation. J Invest Dermatol. 2015 Jul;135(7):1790-1800.
9. Nettleton JA, et al. Diet soda intake and risk of incident metabolic syndrome and type 2 diabetes in the Multi-Ethnic Study of Atherosclerosis (MESA). Diabetes Care. 2009 Apr;32(4):688-94.
10. Pepino MY, et al. Sucralose affects glycemic and hormonal responses to an oral glucose load. Diabetes Care. 2013 Sep;36(9):2530-5.
11. Ma J, et al. Effect of the artificial sweetener, sucralose, on gastric emptying and incretin hormone release in healthy subjects. Am J Physiol Gastrointest Liver Physiol. 2009 Apr;296(4):G735-9.
12. Ma J, et al. Effect of the artificial sweetener, sucralose, on small intestinal glucose absorption in healthy human subjects. Br J Nutr. 2010 Sep;104(6):803-6.
13. Ford HE, et al. Effects of oral ingestion of sucralose on gut hormone response and appetite in healthy normal-weight subjects. Eur J Clin Nutr. 2011 Apr;65(4):508-13.