We all have different goals when it comes to our physical health and appearance. In addition to exercise, what we put in our bodies can make a world of difference. Protein shakes are a popular way to appease an appetite while loading up on the valuable protein content needed for training and general health. Not only do shakes often have loads of protein, but they can have other nutritional benefits that allow the customer to choose a shake that fits their needs. With so many different options that all offer unique formulas with protein from various sources, it can be a bit overwhelming deciding which shake to go with. We've looked at the top brands to help with this decision-making. Read on to find out more.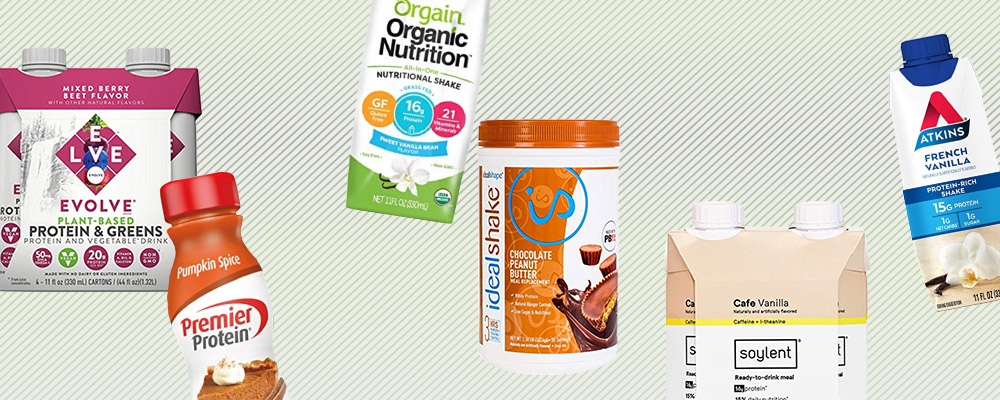 Editor's Choice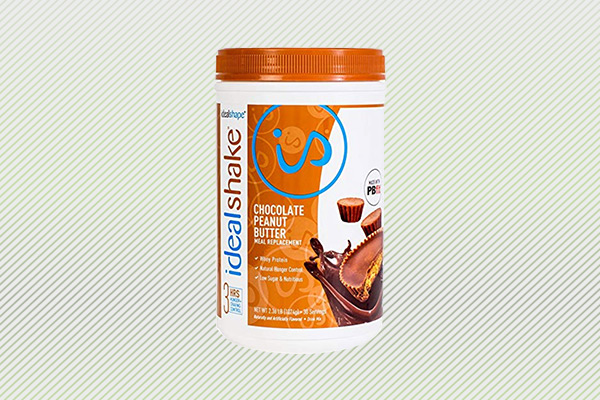 IdealShake Meal Replacement Shakes
Pros: 
Dietary fiber. With five grams per serving, this energy shake provides valuable dietary fiber to the diet. This is key when considering this a meal replacement. Dietary fiber has been shown in studies to aid in weight loss and in preventing obesity. (

1

)

Flavor Varieties. This brand offers more variety of flavors than most competitors. They include chocolate, chocolate peanut-butter, cookies 'n cream, mint chocolate chip, mocha, salted caramel, strawberry, and vanilla.

Whey protein. Whey protein is among the highest-quality sources of protein due to its amino acid content and the fact that it is relatively easy to digest. Consuming whey protein helps the body create protein more so than other sources of protein, such as soy and casein.

(

2

)
Cons: 
Manufactured with nuts. Those who have sensitivities or are allergic to nuts may need to find an alternative. This is processed at a facility that has nuts present.

Could have more protein. This shake has 11-12 grams of protein per serving. Some competitors have almost twice that. Depending on the needs of the customer, this may be ample but also may be insufficient. 
The Contender
Premier Protein 30g Protein Shake
Pros:
Soy free. This shake derives most of its protein from a milk protein blend, rather than from soy. Perfect for those who are sensitive to soy or are trying to limit their intake.

30g of protein. Premier Protein's shakes have one of the highest amounts of protein per serving available. The 30g tally almost doubles some of its most likely competitors.

160 calories. For those hoping to achieve their weight loss goals, this product may be hard to pass on. Most of the 160 calories in the shake come from protein, not sugar or fat, as those two respectively only make up 1g and 3g of the formula.
Cons:
Milk-based. While this product really goes the mile in terms of packing in protein, it may not be the solution for people who are sensitive to dairy or lactose intolerant, or are simply trying to avoid dairy. 

Not thick unless chilled. This drink is best served when chilled overnight. If not stored at a cold enough temperature, the drink will be less shake and more liquid, making it feel less filling.
Best Bargain
Atkins Gluten Free Protein-Rich Shake
Pros: 
Low carbohydrates. Those familiar with the Atkins diet may know the mantra of lowering carbohydrates wherever one can. One of the great things about this shake is that it has one of the lowest carbohydrate counts among the leading brands, with between one to three net grams, depending on the flavor variety.

Flavors. Atkins offers one of the biggest selections of flavor varieties among the most popular protein shakes on the market. Flavors include: french vanilla, milk chocolate delight, cafe caramel, mocha latte, cookies & cream, strawberry, and dark chocolate royale.

Value. These shakes may be hard to stop drinking but they are certainly not hard on the wallet. A twelve-pack of these can be bought for the cost of lunch at a fast food joint. Perfect for those shopping on a budget.
Cons: 
Contains carrageenan. Carrageenan is a naturally-occurring thickener usually derived from red seaweed. Though it is found in many milk and nut milk products, some people's gastro-intestinal systems are sensitive to it.

Some flavors are sweet. Depending on the flavor purchased, users may find the product to be quite sweet. Though this may make for a great-tasting shake, it might be difficult for it to act as a meal replacement, as it may end up feeling less filling.
Best for On-The-Go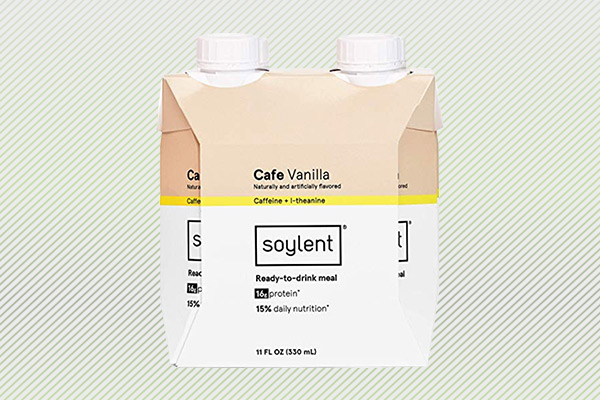 Soylent Ready-to-Drink Meal Replacement Shake
Pros: 
Beet sugar. Soylent uses disaccharide extracted from beets. This source of calories and energy is processed differently than refined sugars. This helps prevent the spikes in energy associated with sugary drinks.

Plant protein. This shake achieves its high protein content using soy protein, which is low in unsaturated fat and has a high content of vitamins and fiber. Perfect for those who are trying to cut back on animal protein or who have cut it out altogether.

Sunflower oil. This ingredient is a polyunsaturated fat which contains 500mg of omega-3 fatty acid per bottle. Omega-3 is an "essential fatty acid" because bodies can't produce it itself. People often take omega-3 supplements for weight loss, as some believe it suppresses hunger.
Cons: 
Complex formula not always easy on the stomach. This product can take some acclimating to when adding to a daily diet routine. The formula has lots of ingredients that are rich in various nutrients – any combination of these may cause some stomach disruption for new users.

Cost. Though it is a great source of protein for meal replacement, those shopping on a budget may have some pause before splurging. This product has one of the highest costs per unit or per ounce. 
Best Organic Shake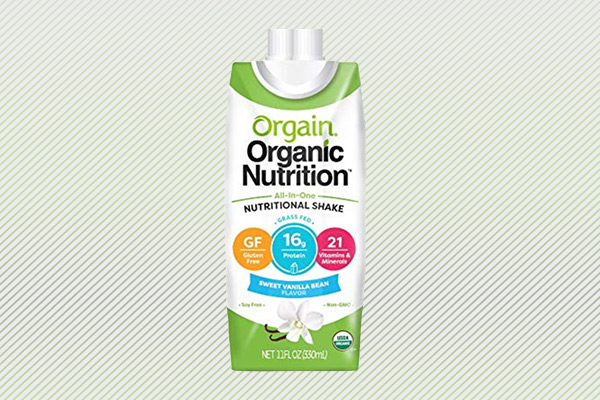 Orgain Organic Nutritional Shake
Pros: 
Free of artificial colors and flavors. Orgain strives to offer as natural of a protein shake as possible, forgoing any artificial flavors or colorings. Many competitors rely on artificial colors and flavors to create a sweeter and more "appealing" looking drink.

Organic protein. The protein in every one of these shakes is certified organic, meaning the USDA has declared that it was cultivated in an approved manner. Perfect for those shopping for truly certified organic protein products.

Money-back guarantee. Though most users will probably be satisfied with this shake, the manufacturers are so confident in this drink that they have a full money-back guarantee if not satisfied. Unlikely as it is that a customer will act on this offer, it is relieving to see the faith the producers have in their product.
Cons: 
Whey protein. Some of the protein contained in this shake is derived from whey. Whey is a common source of protein but can cause digestion issues for some people.

Higher sugar than powder version. Though not terribly high in sugar for a protein drink, it has a higher sugar content than the powdered offering from Orgain. While it makes the drink taste better, people who are looking for the lowest sugar content might find other options that fit their needs better.
Best Vegan Drink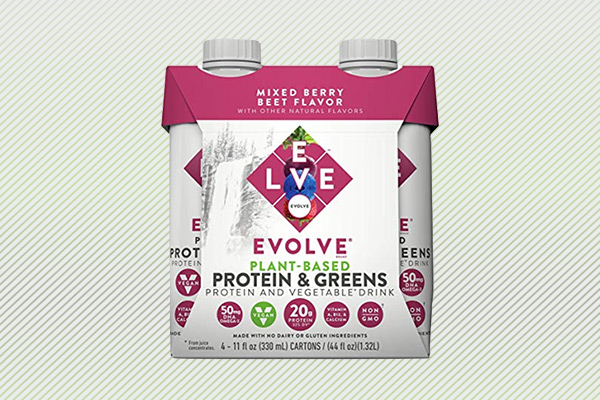 Evolve Plant-Based Protein & Greens Drink
Pros: 
Made from real vegetables. This drink is made of juice concentrates of several different vegetables:

kale, beets, carrots, & spinach. Not only are those vegetables rich in vitamins, they provide a nice dose of fiber, around 4 grams

Soy-free & dairy-free. This drink provides non-dairy protein without utilizing soybeans. People who are hesitant to have too much soy but still want a plant-based shake should consider this beverage from Evolve.

Flavors. Not only is this drink mostly derived from vegetables, but it has interesting flavors – both plant-based and non-plant-based – to match. Look out for all of their varieties: mixed berry beet, carrot lemon ginger, toasted almond, mellow mocha, ideal vanilla, & classic chocolate.
Cons:
Contains stevia

. This product derives some of its flavor – namely its sweetness – from stevia. Though it is a common sweetener, some people try to avoid it.

Taste not for everyone. As it is a plant-based drink, some of the flavors might not taste like some users expect. Many will find them tasty on their own, but for those expecting this drink to taste like a milk-based protein shake, they may be surprised when taking the first gulp.
How We Picked
Protein shakes are a great food choice for a myriad of reasons. They are loaded with protein, vitamins, and the types of fatty cells people are trying to integrate more of into their diets. However, that doesn't mean each protein shake will help achieve everyone's goals the same way. There are several different factors we kept in mind when evaluating the top shakes in the market. Here are the qualities we looked at when testing the shakes.
Taste
If these protein shakes are to become a vital part of a diet, or even more, a meal replacement as some brands advertise as such, then the taste needs to stand up as something that drives customers to want to continue using them. Some of the leading brands have multiple flavor options that can either give a picky eater an array of choices from which they can find a suitable shake, or can give users plenty of options so as not to get bored. Along with the flavor profile, the consistency of the shake can make a big difference. Some people will prefer a thick, almost doughy texture to really make the drink taste and feel like a meal replacement. Others may opt for something that is more liquid and thus easier to finish quickly.
Type of protein
There is no set way protein shake manufacturers use to source their protein content. Some producers utilize milk-based proteins, which have long been a popular choice for those trying to get more protein in their diets. For those who are sensitive to dairy or generally prefer plant-based foods, there are a plethora of options. There are soy-based options along with other brands that utilize peas and other vegetables for their protein content. People have sensitivities or simply have preferences for the types of organic material they are putting into their bodies, but thankfully there are protein shakes for a wide range of dietary inclinations.
Additional nutritional benefits
When shopping for a protein shake, often times it is the most appealing aspect of the drink is not the protein itself – its the additional nutrients that will be consumed alongside it. These can be vitamins and minerals that aid in digesting the protein and directing the composite cells to the parts of the body that can process them most efficiently, or rather vitamins and minerals that have proven to be positive for holistic health on their own. Look out for drinks that are high in certain fatty acids; these can be a crucial part of a diet for those trying to practice keto or Atkins.
Calories & carbohydrates
People shopping for protein shakes usually have a goal in mind; this can be simply loading up on as much protein as possible during the day, limiting sugar and carbohydrates, or just a cheap and easy way to get energy during the day. Products that are flavored can have more sugar and thus more carbohydrates, as the flavor can be derived from natural sources of sugar-based sweetness. Alternatively, some shakes use other types of sweeteners, such as stevia, which have their own fans – and detractors. All products will have some carbohydrate content, it is just up to the preference and needs of the consumer as to how much they are willing to have accompany their protein shake.
Tips
Not sure which protein shake is right for you? Here are some things to consider before making your purchase:
Are you following a strict diet? Most protein shakes will be a key component of certain diets, whether it be Atkins, keto, or even intermittent fasting. If you are following a particular diet or lifestyle, the amount of calories and the type of protein the shake manufacturer sources from might give a slight edge for one over another. The shakes that have the highest content of protein might work for those hoping to either load up on tons of protein or simply want to get their protein fix taken care of quickly. Vegetarians or vegans may opt for a plant-based protein shake, as they can be a tremendous way to get non-meat protein.
Do you prefer plant-based flavors? Certain producers of protein shakes only make their product in sweet flavors such as chocolate and vanilla. These can be overly sweet for some users, and not feel like an actual meal replacement. Those hoping to have a protein shake in the morning for breakfast or as a way to get key vitamins and minerals that typically occur in fruits and vegetables, then there are options that provide a fruity or green taste profile to go along with the natural nutrients that exist in those plants.
What is your budget? Depending on if these protein shakes will be an occasional meal replacement when you are running late to work and don't have time to pack a lunch, or if these will be a daily if not multi-daily pass time, you may look at the prices with very different colored glasses. Some of the top brands carry a heavy price tag that might make some customers hesitate to buy a whole 12-pack. These products often are some of the most beloved, but no one wants to be spending a lot of money on something they aren't happily benefitting from. Make sure you are getting everything you want from your protein shake and that it is helping you achieve your goals; some of the more affordable protein shakes can still be a great option that will leave customers happy.
References
Anderson JW, Baird P, Davis RH Jr, Ferreri S, Knudtson M, Koraym A, Waters V, Williams CL. Health benefits of dietary fiber. Nutrition Reviews. 2009; 67(4):188-205.
Devries MC, Phillips SM. Supplemental protein in support of muscle mass and health: advantage whey. Journal of Food Science. 2015; 80 Suppl 1:A8-A15.