Many assume that all kettlebells are created equal, but that's not entirely true. In fact, a kettlebell can be as unique as the way you train, and finding the perfect fit can ensure you get the most out of your kettlebell workouts. At the surface, kettlebells all look similar in design, but as you read on you'll learn there are multiple factors that make each kettlebell unique.
We've tested and assessed many models to help land on our top picks. To remain consistent, we performed similar tests for every individual kettlebell: assessment of the kettlebell's construction and durability, how the kettlebell's handle feels, and price. So which are the best kettlebells on the market right now?
Best Kettlebells
Editor's Pick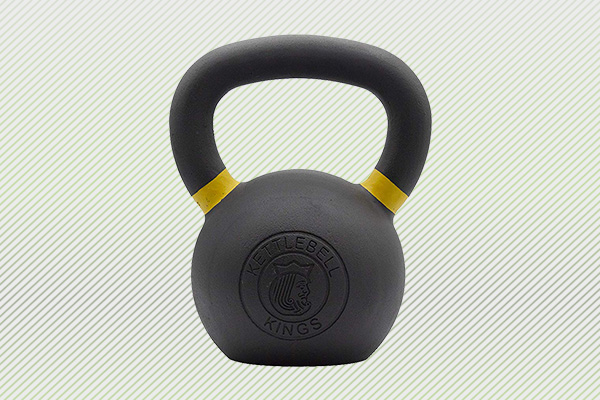 Kettlebell Kings Powder Coated Kettlebell
The Kettlebell Kings Powder Coated Kettlebell comes with a lifetime warranty, which makes it one of the best options on the market for going the distance for your investment. Additionally, we like the powder coating of the bell, which takes chalk very well and supports grip without it and the single-cast casting process.
Kettlebell Kings Poweder Coat Kettlebell
Lifetime warranty and durable single-cast iron construction
Power coating is great for resisting rust and taking chalk. 
Flat bottom finish for ease of use in-between sets and reps. 
Best for Recreational Workouts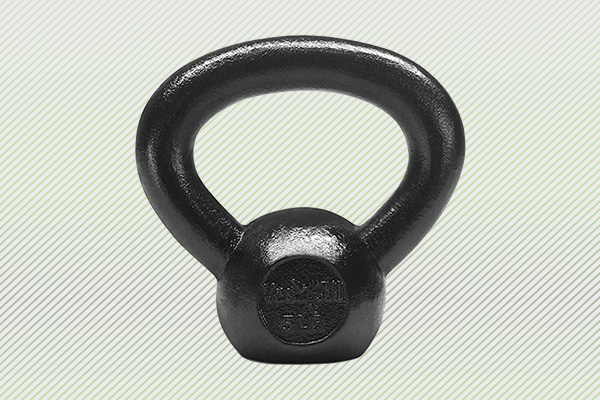 Yes4All Solid Cast Iron Kettlebell
The Yes4All solid cast iron kettlebell is the perfect bell for any level fitness enthusiast. This kettlebell offers a solid cast design void of welds and seams. Additionally, this kettlebell has a slightly wider handle and flat bottom for ease for use in every setting. 
Yes4All Kettlebell Pros
Solid cast iron construction with no welds, seams, or additional pieces. 
Flat bottom finish and relatively smooth outer coating. 
Wider handle that works well with and without chalk.
Best for Home Use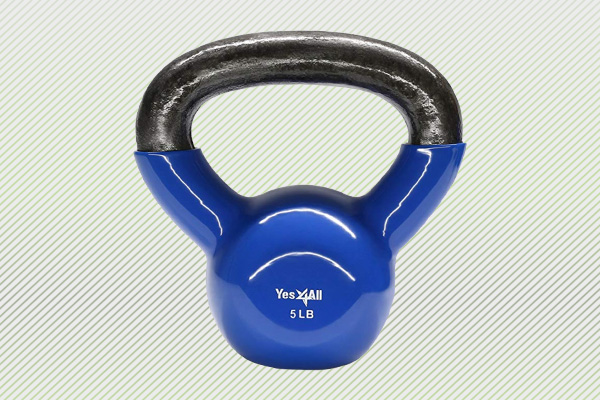 Yes4All Vinyl Coated Kettlebell
The Yes4All Vinyl Coated Kettlebell is our favorite pick for enthusiasts working out in their homes. This kettlebell has a thicker vinyl coating and slightly wider, smooth handle for every level fitness enthusiast. In terms of drop tests and nicking floors, we think this kettlebell is a solid option for those trying to save their floors.
Yes4All Vinyl Coated Kettlebell Pros 
Smoother and wider handle is great for newer fitness enthusiasts.
Thick vinyl outer is great for in-door use to prevent floor nicking.
Cost efficient option for kettlebell beginners. 
Best Durability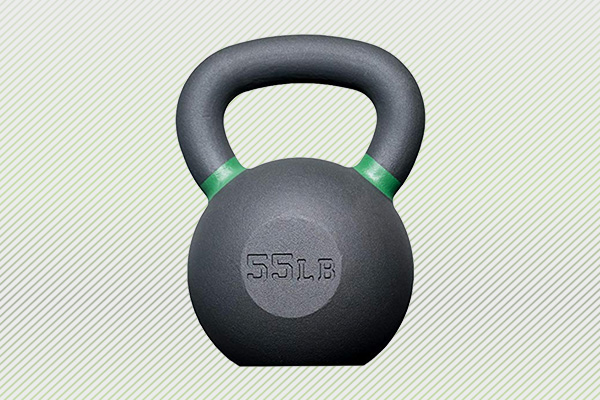 Rep Fitness Kettlebell
The Rep Fitness Kettlebell is an awesome choice for the serious fitness enthusiast. This kettlebell offers a single-cast construction and chip resistant coating for long-term durability. On top of the durability, this kettlebell has a flat bottom finish and color coated ring to indicate its weight. 
Rep Fitness Kettlebell Pros
Single-cast iron construction and chip resistant coating. 
Flat bottom finish with handle that performs well with and without chalk. 
Cost efficient option for the durable construction. 
Best Price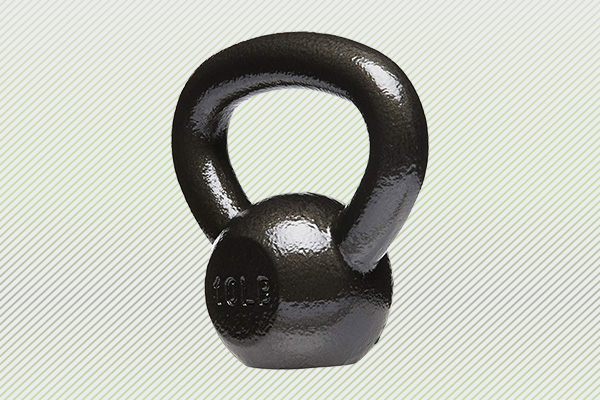 AmazonBasics Cast Iron Kettlebell
The AmazonBasics Cast Iron Kettlebell is the perfect bell for the quality driven shopper that wants a fair price. This kettlebell is created with a strong single-cast iron and has a smooth surface to accommodate for every type of user. 
AmazonBasics Cast Iron Kettlebell Pros
Strong cast iron construction void of welds and additional pieces. 
Wider handle for ease of use with every type of fitness enthusiast. 
Cost efficient option. 
Best for Beginners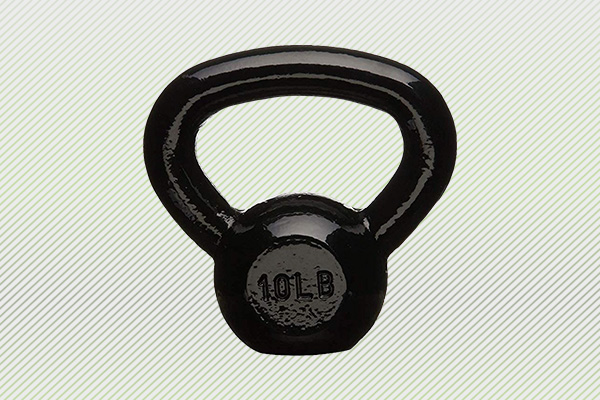 AmazonBasics Enamel Kettlebell
The AmazonBasics Enamel Kettlebell is our favorite kettlebell pick for the true beginner.  This kettlebell comes with a slightly wider handle, so a beginner can easily get a decent grip from every angle. In addition, the surface is covered with an enamel, so the bell is smooth, but provides some grip. 
AmazonBasics Kettlebell Pros
Enamel finish makes this kettlebell smoother than others on the market. 
Decent grip with and without chalk. 
Cost efficient option for the true kettlebell beginner. 
How We Tested The Kettlebells
In terms of durability, we looked at multiple characteristics. For example, there are multiple ways to cast kettlebells, and often a bell's casting process will correlate to its long-term durability. Additionally, we looked at a kettlebell's coating, as this, like the casting process can be a signal for long-term durability with both grip and chipping on floors. By accounting for factors like this helped us assess the potential life of a kettlebell, so you can be ensured your money will go the distance.
On top of durability tests, we looked at the performance of every kettlebell. These are versatile pieces of workout equipment, so they need to perform well in multiple settings with both chalk and non-chalk users. Every handle's coating and diameter can have an impact on grip, so we spent extra time assessing their ability to support long duration use.
Lastly, we assessed a kettlebell's price. Let's not beat around the bush here, investing in your own home gym equipment is a pretty big deal and you obviously want the most for your money. By taking the above two characteristics into account and comparing them with price, we tried to identify the benefits of each kettlebell for the money you'd be putting into them.
FAQ
Q: What does single-cast mean?
BarBend: Single-cast means the kettlebell was cast once its construction. Ideally, you want a kettlebell that has single-cast construction because it suggests durability and its weight will be more evenly distributed.
Q: What does it mean when someone asks, "does the kettlebell take chalk?"
BarBend: Taking chalk entails the kettlebell's ability to work with chalk. A lot of kettlebell enthusiasts will chalk their hands to promote grip and since there are multiple finishes on kettlebells, it's good to know if the bell performs well with chalk!
Wrapping Up
At the surface most kettlebells appear somewhat similar in design, but when you dig deeper they can differ pretty dramatically.
The main thing to consider before making any investment in strength equipment is how it will mesh with your lifting style. With so many kettlebell uses and workout needs, then we're confident you can find your perfect kettlebell on this list, or at least gain a better idea of what to look for.