If you're looking to run through exotic locations around the world right from your living room, the NordicTrack Elite Treadmill is a great option. This tread is one of NordicTrack's most advanced pieces of equipment, and is compatible with iFit for immersive virtual training. With a screen you can rotate, an incline/decline of -5 to 40 percent, and Bluetooth connectivity, we found this treadmill to be as high-tech as they come.
The NordicTrack Elite's rotating touchscreen display comes in both 32- and 22-inch sizes. And thanks to its touchscreen capabilities, it's easy to navigate and check your stats even when you're sprinting. The treadmill comes equipped with a 30-watt sound bar, transport wheels for easy maneuverability, and an extra-long 60-inch running deck. With such high incline capabilities and interactive workout class opportunities with iFit, the NordicTrack Elite is one of our favorite treadmills — but all of this modern technology definitely comes at an above-average cost.
Main Takeaways
The Elite Treadmill has one of the highest incline levels we've ever seen at 40 percent. Plus, it goes down to -5 percent decline, as well.

The treadmill has a rotating HD touchscreen display that can accommodate virtual training via iFit.

With iFit, you can choose from live and on-demand workouts shot around the world — from Mount Fuji to Mount Kilimanjaro, and even

Mount Everest

. You'll receive one month of iFit for free to get you started. 
NordicTrack Elite Treadmill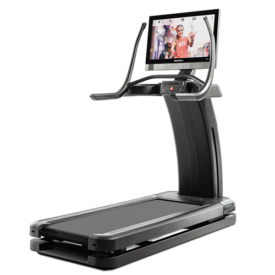 NordicTrack Elite Treadmill
The NordicTrack Elite Treadmill is a great option for those who want to follow trainer-led runs and workouts from the comfort of their home. It offers and industry-leading incline up to 40 percent and can decline to five percent. Two touchscreen pivot display size options — 22-inch and 32-inch — allow you to follow along with trainers both on and off the tread.
NordicTrack Elite Treadmill Highlights
There's no doubt that the standout feature of the NordicTrack Elite Treadmill is its extremely high level of incline. Climbing from -5 percent decline to 40 percent incline, this is the largest range we've seen from any treadmill (a total of 45 degrees). We also appreciate the fact that the 22- or 32-inch screen is touchscreen and rotatable, which pairs nicely with the iFit workouts — some of which you can do on the floor.
While the treadmill works with Bluetooth heart rate monitors, it doesn't have any heart rate monitoring built-in, so it's not a good choice if you're looking for that baked into the actual product. Still, the treadmill works with Android OS and Bluetooth, including headphones. It has a safety lanyard, a laminated deck suspension with comfortable reflex cushioning, and a speed range of zero to 12 mph.
We would say one of the biggest negatives of this treadmill is the price. At around $3,499 to $4,499, depending on whether you get the 22-inch or 32-inch touchscreen, it's not the best option for someone on a budget — though if you have the money to spare, we do think its high quality build and modern tech make it well worth the cost.
Who Should Buy the NordicTrack Elite Treadmill
Someone who wants to run some serious hills. With an incline/decline range of -5 to 40 percent, the Elite Treadmill does a great job mimicking steep uphill and downhill runs.
Someone who appreciates scenery. The on-demand classes aren't just shot from any old gym, but in locations around the world, so you can feel like you're in New Orleans or even Australia in the middle of your home.
Taller athletes who need a large running deck of 22 by 60 inches.
Who Shouldn't Buy the NordicTrack Elite Treadmill
Someone on a budget. With a minimum equipment cost of about $3,499 for the treadmill with the 22-inch screen, you can definitely find cheaper alternatives out there. Even if you opt for a monthly payment plan, the lowest monthly cost is still $98 for 39 months, which can really eat into your wallet.
Customers who want a foldable treadmill. Not only does this treadmill not fold, but it is also quite large, so if you're short on space, you'll likely want to look elsewhere.
Price
The price of your NordicTrack Elite Treadmill will change based on whether you get one with a 32- or 22-inch screen. Prices are subject to change, but currently, the 32-inch screen treadmill costs around $4,499, and you can save $1,000 for the 22-inch screen treadmill, priced at around $3,499. Those 10 inches are pretty costly.
If you don't have thousands of dollars to spare for a treadmill upfront, NordicTrack offers a monthly payment plan. You'll pay $124 a month for 39 months for the 32-inch option or $98 a month for the 22-inch option in a period of a little over three years. Your TD Fit loan will have 0 percent APR, so no interest will accrue.
Aside from the cost of the equipment itself, you'll also have to pay a shipping fee around $299. But keep in mind that this shipping fee includes a delivery to the room of your choosing (not just your front porch), along with assembly. No one wants to have their treadmill stolen by pesky package thieves, so at least the near $300 delivery fee will save you that hassle.
Now let's talk about memberships. To be frank, you don't need to buy an iFit membership to use the NordicTrack Elite — although it comes with a 30-day free trial. However, if you don't renew your membership at the end of the 30 days, you won't have access to the virtual training component of the Elite tread. To save the most on iFit, sign up for a three-year membership, which boils down to about $24.97 a month (which is $899 upfront) and saves you over $500 versus the month-to-month plan that's $39 per month.
Overall Build and Quality
The Elite Treadmill measures 81 long by 38 inches wide and 80 inches high, so it's quite large. The product itself weighs 520 pounds, which is also pretty heavy for a treadmill, but again, that's where that in-room assembly comes in handy. However, if you want a treadmill you can move around and hide away, this probably isn't the best option for you, even with its transport wheels. That being said, this treadmill is powerful, featuring a large 3.6 CHP motor that supports the heavy incline range. It can support runners weighing up to 300 pounds, which is standard across the industry.
Features
The feature that stood out the most to us when it comes to the NordicTrack Elite Treadmill is its incline range. From -5 to 40 percent, this is the largest incline range we've come across on a treadmill, making it a great option if you like to run up and down hills. It has a pretty standard speed range of zero to 12 mph, which should be enough for most runners. Plus, the treadmill works with iFit, a streaming service that offers over 16,000 live and on-demand classes. What sets iFit apart is the fact that some of its workouts are shot in exotic locations, from Tanzania to Mount Fuji, so you can feel like you're seeing the world while getting your cardio in. If you have wanderlust, you'll love running on the NordicTrack Elite.
Incline range
The NordicTrack Elite Treadmill has a large incline/decline range from -5 to 40 percent, which means you can not only run up hills, but also run down them. Even just walking can benefit strength athletes, and the more hills, the better. This is as much range as we've seen from a treadmill.
Speed range
Run anywhere from zero to 12mph on the Elite Treadmill. To make your runs even more challenging, add a weighted vest.
Auto-Adjustments
The coolest thing about the speed and incline is that they can auto-adjust during iFit workouts. Let's say you're doing an iFit workout and the instructor tells you to speed up. Instead of having to adjust the speed manually, the treadmill will do the work for you. All you have to do is set your speed and incline preferences, and you're good to go. Of course, you can slow things down manually if they get too intense, or speed them up if you want more of a challenge.
Workout App
iFit (which again, you can try free for the first 30 days) provides access to over 16,000 live and on-demand classes. You can either take the virtual classes on the treadmill itself using its rotating touchscreen display, or on the iFit app. One of the coolest features iFit offers is destination workouts in exotic locations, from the Blue Ridge Mountains of the Carolinas to the English Channel. You can choose from a variety of different types of workouts in addition to runs, including HIIT, yoga, and strength training. There are also cycling and rowing classes, if you have other pieces of NordicTrack equipment, like the NordicTrack S22i bike or the NordicTrack RW900 rowing machine.
Display
Depending on which model you choose, the Elite Treadmill may have either a 22 or a 32-inch HD touchscreen display. One thing we liked about the display in particular was the fact that it rotated. Because the iFit app offers floor workouts in addition to runs, it was easy and fun to rotate the screen, so we could see our instructors up close and personal while we completed other workout series, ranging from HIIT workouts to yoga. We like to pair our floor workouts with exercise mats, as well. With the rotated screen, that's all we need to construct an ideal home gym.
Speakers
The Elite Treadmill comes with a 30-watt sound bar perfect for blasting music or any of iFit's classes. That's an option if you don't have a sleeping baby at home. Otherwise, just connect your Bluetooth headphones and skip the speakers.
Fans
Do you find yourself sweating a lot? It may be because you're getting stronger. The harder you're working, the more metabolic heat your body is producing, which sweat seeks to cool down. If you're working up a sweat on your Elite Treadmill, you'll appreciate the AutoBreeze fans, which should keep you cool throughout your workout.
Heart Rate Monitoring
There's no heart rate monitoring built into the Elite Treadmill. Rather, if you want to monitor your heart rate, you'll need to use an external Bluetooth heart rate monitor, which you can connect to the Elite Treadmill wirelessly.
HDMI, USB and Other Inputs
The treadmill does not have an HDMI or USB port for you to charge mobile devices or plug-in headphones. Everything is wireless, which brings us to our next point…
Bluetooth and Audio Options
The Elite Treadmill is compatible with Bluetooth headphones and heart rate monitors. That means you won't have to use plug-in headphones while running, which can be a bit of a nightmare. Instead, just make sure you're using the right type of workout headphones for you. No one wants an AirPod falling out during a particularly taxing run. In addition, you'll need a separate heart rate monitor to connect to the machine through Bluetooth if you want to track that stat. There's no built-in heart rate monitoring, unfortunately.
Water Bottle, Cup Holders, Tablet and Phone Holders
Place a cool beverage on a spacious tray built into the treadmill's left side. There's also enough room to place your smartphone there, as well.
Product Specs
First off, you should know that the NordicTrack Elite isn't foldable due to its high range of incline. So if you want a treadmill you can tuck away, it may not be your best bet, even with its transport wheels. Aside from that, this treadmill has a powerful 3.6 CHP motor — strong enough to support that 40 percent incline. If you'd like a larger running deck, the Elite offers a deck that is 60 inches long compared to the 55-inch industry standard. The NordicTrack Elite has a maximum weight capacity of 300 pounds as well, which is fairly average, but still worth noting.
Motor Size
The treadmill is powered by two DC 3.6 CHP incline and decline motors, which are strong enough to raise the running deck by up to 40 percent, and down to -5 percent.
Running Area
The running deck on the Elite Treadmill is 22 by 60 inches, making it a bit larger than the industry average and some other treads we have reviewed — many decks are 55 inches long, and those five inches make all the difference for taller folks.
Weight Capacity
Runners under 300 pounds can use the NordicTrack Elite Treadmill. This is a standard weight maximum for treadmills.
Folding Options and Dimensions
The Elite Treadmill's large build and high incline capacity means it does not feature folding capabilities — so this treadmill may not be a good option if you want to store it out of sight. Rather, it's only a good option if you have a large amount of space, as the treadmill's dimensions are 81 inches long by 38 inches wide and 80 inches high.
Electrical Requirements
Plug the NordicTrack Elite Treadmill into any 110-volt outlet, which is standard in most homes.
Warranties
The NordicTrack Elite Treadmill comes with a 10-year warranty on the frame, a two-year warranty on parts, and a one-year warranty on labor. However, if you want more protection, you can buy an extended warranty or maintenance plan for around $570 to $580. These plans will extend your warranty by three years.
Places to Buy
You can buy the NordicTrack Elite Treadmill, along with other treadmill options, bikes, ellipticals, home gyms, and rowers right on the NordicTrack website. If you don't feel comfortable making this large of an online purchase, you can book a virtual showroom appointment by calling 1-888-308-9616.
Company Information
NordicTrack offers a 30-day return policy. You can contact the company over the phone at 1-888-308-9616 for sales, or 1-833-680-4348 for support. Sales is available from Monday through Saturday from 6amto 10pm MST, while service is available the same hours Monday through Friday. You can also live chat sales in the same hours from the NordicTrack website. Or, contact the company via its social channels on Twitter, Facebook, Pinterest, Youtube, and Instagram. The last option is to email NordicTrack at [email protected].
Final Word
If you want a crazy incline of -5 to 40 percent, a 32 or 22-inch rotating touchscreen display, and virtual training options through iFit, the NordicTrack Elite Treadmill is an ideal choice for you. This is one of the more high-tech treadmills on the market, and it has a high price tag to match.
It's worth noting though that if you're short on space, the lack of folding capabilities here may be a dealbreaker. This treadmill also can't support anyone who weighs over 300 pounds. Though if you're a taller athlete, its long 60-inch running deck may come in handy for your lengthy stride. Overall, if you are keen on taking virtual classes, looking to crush some serious inclines on a modern treadmill, and willing to drop the cash to achieve all of this, the NordicTrack Elite may just be your match.
FAQs
How much is the NordicTrack Elite Treadmill?
The NordicTrack Elite Treadmill costs either around $3,499 if you buy the model with the 22-inch display, or $4,499 if you buy the model with the 32-inch display. You will also have to pay about $299 for the shipping and assembly fee.
Is the NordicTrack Elite Treadmill any good?
The NordicTrack Elite Treadmill is solid. It has a large incline/decline range from -5 to 40 degrees, a max speed of 12 mph, plus a built-in touchscreen display for workout classes. While it's not foldable, it is still a solid option for runners under 300 pounds who have the right amount of space.
How long does the Nordic Elite Treadmill last?
The manufacturer's warranty on the NordicTrack Elite Treadmill is 10 years for the frame. If you want to extend the warranty on your treadmill, you can add an additional three years, making the treadmill's life 13 years minimum.
Can you watch Netflix on the NordicTrack Elite Treadmill?
It is only possible to watch Netflix on the NordicTrack Elite Treadmill if you access administrator mode and download the Netflix APK. For most people, it will be easier to watch Netflix on a separate phone or tablet while running on your NordicTrack treadmill.