If you think you don't need to take a pre-workout supplement before you hit the weights, the track, a HIIT circuit, or whatever your exercise of choice is, well, you're right. You don't need a pre-workout to perform well. But taking a pre-workout supplement like Kaged Muscle Pre-Kaged can help you focus and have more energy throughout your workout.
We've tried Kaged-Muscle's intra-workout BCAAs but we wanted to try Pre-Kaged, as well, which we found to be very well dosed in all the most popular pre-workout ingredients. It's formulated with more than two dozen ingredients — including citrulline, BCAAs, and creatine — all selected to help your body perform at a high level throughout each workout. Plus, it comes in seven different flavor options, so chances are good you'll be able to find one you like.
Main Takeaways
This formula features ingredients like creatine, taurine, citrulline, and BCAAs designed to help boost energy and focus, foster muscle growth, and extend workout durations.
Pre-Kaged is vegan-friendly, third-party tested by Informed Sport, and verified for safety.
The powder comes in seven different flavors and mixes easily into water for efficient consumption.
Kaged Pre-Kaged Pre-Workout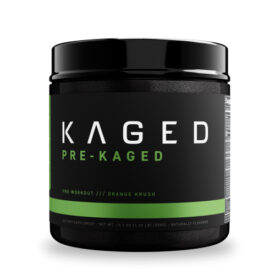 Kaged Pre-Kaged Pre-Workout
This pre-workout supplement comes in a 20-serving tub and provides L-Citrulline, L-Leucine, and L-Valine, to name a few, per 20-calorie scoop. There are seven flavors available including Grape, Fruit Punch, and Krisp Apple.
Kaged Muscle Pre-Kaged Highlights
Pre-Kaged is a solid all-around pre-workout supplement that contains many of the ingredients we're accustomed to seeing in these products at a reasonable price point. The creatine and BCAAs should help with muscle retention, and there's a healthy dose of caffeine that can help boost energy. There's also taurine and tyrosine present, which may help with focus. Since this product contains caffeine, it may not be the best choice for those who work out later in the day.
With such a wide variety of ingredients, this product is at the higher end of the average prices for pre-workouts, but for the dosages and blends of ingredients, we think it's worth the price tag. We've broken down these highlights below to help you decide if this product could be right for you.
Who Should Buy Kaged Muscle Pre-Kaged
Anyone looking to take their workout to the next level in terms of energy, muscle retention, and focus will appreciate the creatine, caffeine, taurine, tyrosine, and BCAAs in this supplement.
People who exercise early in the morning and may want a pre-workout that contains caffeine.
Athletes who want coconut water powder in their pre-workout to potentially help with hydration.
Who Shouldn't Buy Kaged Muscle Pre-Kaged
Anyone just starting to exercise more may want to establish a baseline of fitness and begin building muscle and stamina first before incorporating a pre-workout.
Anyone who needs to exercise in the late afternoon or evening should likely avoid Pre-Kaged, as its 274mg of caffeine can negatively affect sleep if taken too late in the day.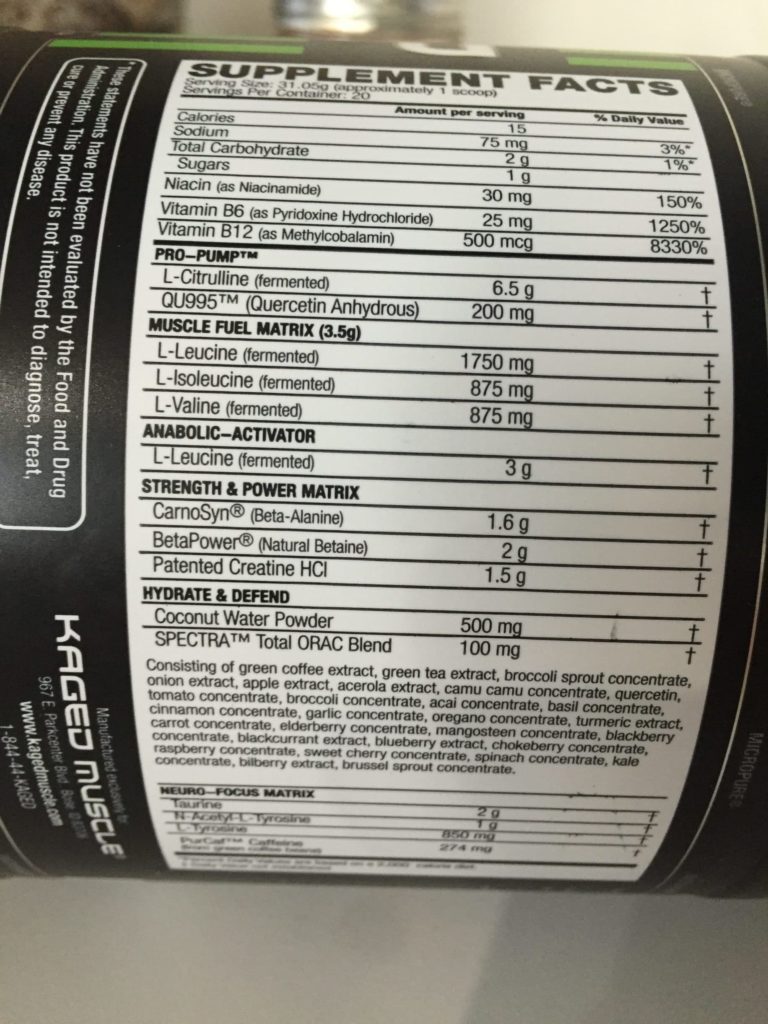 Kaged Muscle Pre-Kaged Overall
This pre-workout formula may help provide athletes with extra energy to hit a workout harder and keep at it longer, which in turn could lead to more gains, enhanced endurance, and improved cardio performance, too. With citrulline, creatine, BCAAs, coconut water powder, tyrosine, and more, Pre-Kaged certainly has a very robust ingredient list. However, it's far from the cheapest formula you can buy for this very reason.
Price and Buying Options
As noted, Pre-Kaged is not cheap. Whether you buy it directly from Kaged Muscle or from Amazon, it costs $39.99 for a bottle of Pre-Kaged powder. And as each bottle has 20 servings, that's $2.00 per serving, which is on the high end of the pre-workout price spectrum.
Formulation
The Pre-Kaged pre-workout formula contains robust blends of ingredients, which include Niacin, Vitamin B6, Vitamin B12, L-Citrulline, Quercetin Dihydrate, L-Leucine, L-Isoleucine, L-Valine and a whole lot more. Here are a few of the bigger ingredients and blends broken down. We were particularly impressed by the dosages in this product. A lot of pre-workouts have citrulline, beta alanine, betaine, and taurine, but they tend to under-dose them. Pre-Kaged has pretty generous amounts of all of these ingredients, particularly the citrulline.
Citrulline
Pre-Kaged contains 6.5g of citrulline, which may increase blood flow, and help with power output and endurance during workouts. It's found in nature in legumes, organ meat, and watermelon, and is also produced in the body, and this pre-workout provides a generous dose.
Creatine
The 1.5g of creatine used in Pre-Kaged is Creatine HCl. The HCl means hydrochloride, an acid salt that may help make the substance easily soluble and quickly absorbed into muscle cells, thus helping you build and retain muscle fiber. Creatine may also help increase athletes' ability to improve power output in the gym, and this dosage is double what comes in one dose of Kaged Muscle's standalone creatine hydrochloride supplement.
Caffeine
Pre-Kaged packs a whopping 274mg of caffeine into their formula, which is almost three times as much as you'll find in one cup of coffee. While that may just provide a solid energy boost for some, it may cause unpleasant jitters for others, which is something you'll want to consider before buying this product.
Tyrosine
The one gram of N-Acetyl-L Tyrosine and 850mg of L-Tyrosine are both included in this blend to potentially help with focus. A proper dose is anywhere between 500mg and 2,000mg before exercise, so Pre-Kaged's number hits that mark.
Niacin
Niacin is known for its potential to help turn carbs, fats, and proteins into energy your body can use, and Pre-Kaged includes 30mg of niacin (which is 188 percent of your recommended daily intake) — this may help provide energy during intense workouts.
Beta-Alanine
Pre-Kaged contains a typical dose of beta-alanine — 1.6 grams. This amino acid is one of the most common pre-workout ingredients due to its ties to improved performance, especially for sprinters and lifters.
Antioxidants
The formula also contains a hefty dose of antioxidants that can contribute to enhanced overall health by combatting the free radicals that cause oxidative stress in muscles during exercise and can contribute to serious disease development in the bigger picture. These antioxidants come in the form of a greens powder of fruit, vegetable, and herb extracts and concentrates.
Flavors
Because this formula comes in seven flavors — Cherry Bomb, Pink Lemonade, Fruit Punch, Berry Blast, Krisp Apple, Orange Krush, and Grape — there's plenty of variety to choose from. I tried the Krisp Apple flavor, and it was somewhat tasty, but it's very strong, very sour, and had a slightly bitter aftertaste. That's understandable given it contains branched chain amino acids, which are naturally bitter. I think it'll go down easy if it's mixed with at least 3 cups of water.
Blends
These individual ingredients are grouped into six categories (or blends) designed around and named for their potential effects we just discussed.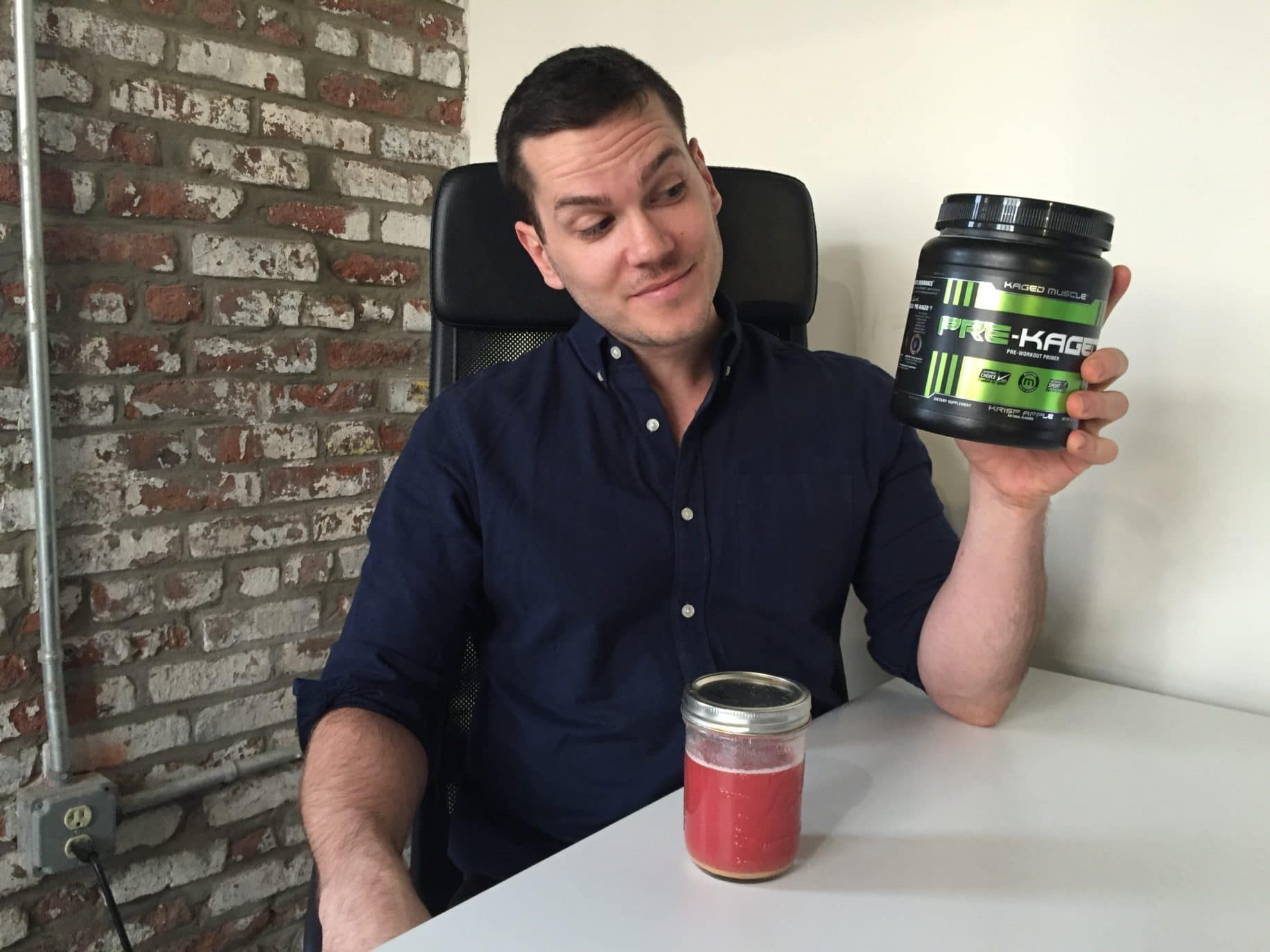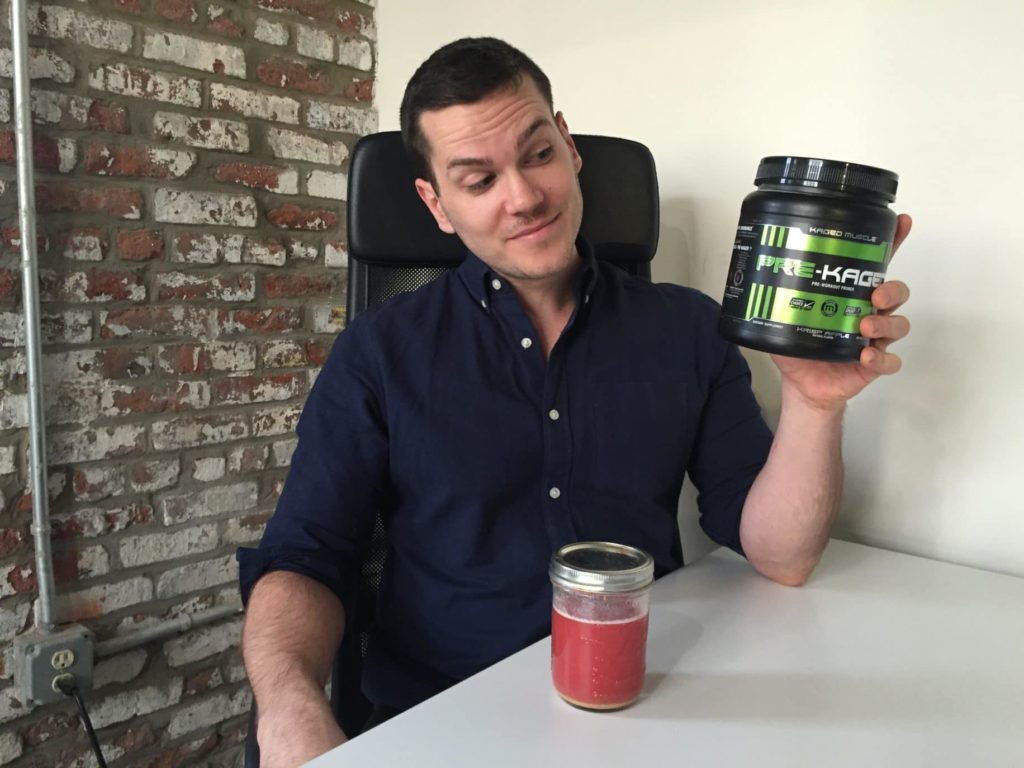 The Neuro-Focus Matrix has the caffeine — 274 milligrams, or a little more than you'll find in 2.5 cups of coffee — plus taurine (2g), and 1.85 grams of tyrosine from two sources.
Pro-Pump has citrulline (6.5g) and quercetin (200mg).
The "Muscle Fuel Matrix" is a 3.5-gram blend of the branched chain amino acids leucine, isoleucine, and valine
The "Anabolic-Activator" section has an extra three grams of leucine. (That's 4.75 grams of leucine all together)
The "Strength & Power Matrix" has beta alanine (1.6g), betaine (2g), and creatine HCI (1.5g).
The "Hydrate & Defend" blend has coconut water (500mg) and a 100-milligram blend of greens called SPECTRA™, which contains dozens of concentrated vegetables and herbs including broccoli, spinach, turmeric, and oregano.
What To Consider Before Buying Kaged Muscle Pre-Kaged
One thing you need to keep in mind along with the benefits of Pre-Kaged is that this is a potent formula that may be too potent for many people — especially beginners — at least if taken in full dose. Outside of that, you'll also want to weigh the product against your individual goals and budget before deciding if it's right for you.
Ingredient Variety
This pre-workout has a particularly robust ingredient list. It contains most ingredients people look for in pre-workouts — caffeine, beta alanine, citrulline, tyrosine, taurine, betaine, creatine, B-vitamins — and a lot of ingredients people may not typically look for, like the greens powder and the BCAAs. If you don't need or want all of these ingredients, you can definitely find smaller ingredient lists out there for consideration.
Price
You can pick up 20 servings for $39.99, so it's about $2.00 per serving. That's pricier than most pre-workouts, which average at 80 cents to $1.50 per serving. However, Pre-Kaged is a combination pre-workout, BCAA supplement, and (low dose) greens powder, plus it's better dosed than most of its competitors. If these aspects aren't a priority for you, however, you can definitely find less expensive options out there that can still be effective.
Flavor
If flavor is a priority to you, Pre-Kaged has seven varieties, all of which are objectively tasty. You'll definitely want to find a flavor you can stick to if you're going to implement a pre-workout into your everyday supplement regimen.
Final Word
Taking a 30-gram dose of Kaged Muscle Pre-Kaged pre-workout supplement blended into about 20 ounces of water about 40 minutes before the start of a workout can help make the most of your session. It may help you feel more energized, allow for higher power output, and solid muscle retention.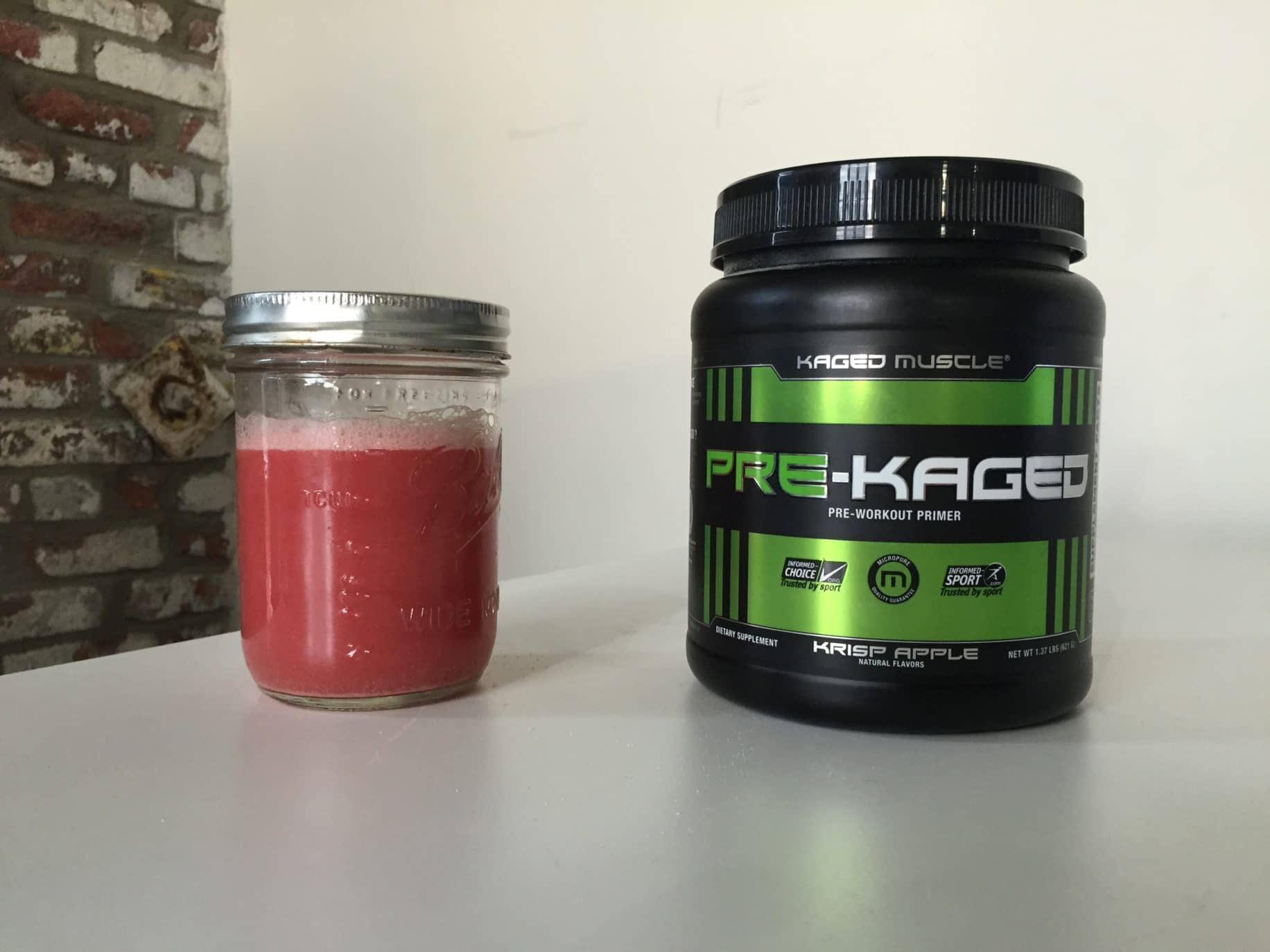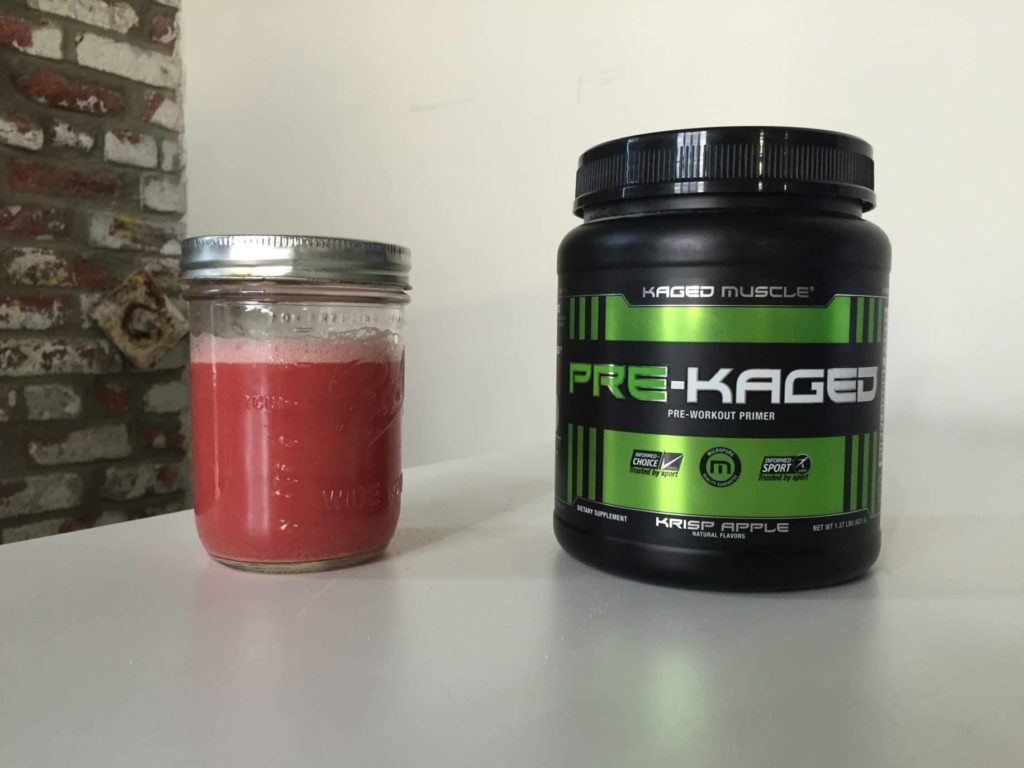 All told, Pre-Kaged is a very effective supplement. It contains just about every ingredient most people look for in pre-workouts — caffeine, beta alanine, citrulline, betaine, tyrosine, taurine, betaine, creatine, B-vitamins — and a lot of ingredients people don't usually look for, like the greens powder and the BCAAs.
It is pricier than some competition and the caffeine content is high enough that you may prefer a different product or a diluted serving if you're sensitive to its effects. But in our opinion, the price is completely justifiable for such a versatile, innovative product.
FAQS
Is Pre-Kaged pre-workout safe?
Yes — the only negative "side effect" often reported is a surplus of energy leading, followed by standard caffeine effects like irritability and poor sleep later. If you're sensitive to caffeine, however, this does have a fairly high dosage, so that's something to be aware of.
When should I take Pre-Kaged?
As its name implies, this product is best consumed directly prior to a workout. Ideally, you can take this supplement about 40 to 45 minutes before a workout for optimal results.
Why is Pre-Kaged so expensive?
As with their other supplements, Kaged Muscle did not try to make low cost a part of the plan when formulating this supplement, and thus many of the base ingredients they use are quite pricey. The ingredients list is also quite long, so you are paying for the variety, high quality, and solid dosage of all of these ingredients.