The holiday season is in full effect, and the time to find gifts for your loved ones is coming to a close. For this article, we're not talking about just any loved ones, like your Aunt Tracy who only asks for sweaters, no we're talking about the strength athletes in your family. You know, the family members who eat the most at holiday meals, and continually get criticized by the same Aunt Tracy for their "life habits" and "how much time they spend in the gym." 
Well Aunt Tracy, we have good news, and bad news. The bad news is that there will be no less time spent in the gym this year, sorry…third favorite aunt. Now for the good news, we've made a comprehensive guide to help you shop for the strength athletes in your family. Who knows, maybe after reading this, you'll move up to number one aunt.
Below we've broken down the strength sports into individual sections, then sorted through pieces of equipment commonly used within each, along with popular options we've reviewed.
Weightlifting
Powerlifting
CrossFit/Functional Fitness
Strongman 
Lifting Shoes
Additionally, we're making shoes a separate section, as every strength athlete could technically use a pair (if they choose).
Weightlifters
If you have a weightlifter in your family, then there are a couple pieces of equipment you could think about getting them. Below we'll cover belts and knee sleeves because these tend to be slightly more expensive than wrist wraps, which a weightlifter won't usually mind purchasing on their own.
Belts for Weightlifting
A weightlifter will often look for a belt with a tapered, or contoured back, which means the belt is built a little thicker in the back and skinnier in the front. This is to provide a weightlifter with the means of staying mobile, but also receiving support around the torso. One of our favorites that we've reviewed is the Eleiko Weightlifting Belt. It's used by many weightlifters, and complies to the IWF's belt regulations for competitions. In addition, the BarBend weightlifting belt could be a good pick, as it's also measured for IWF standards.
[Check out our Rogue Fitness Nylon Belt review for an in-depth analysis!]
Another option you could look for are nylon belts; they're often a little softer and preferred by those who find that leather belts pinch. These belts offer slightly less support, but are much easier on the wallet. Rogue Fitness offers a few variations of this belt, which come in 4″ and 5″ options. Also, Harbinger has a pretty big variety of nylon belts, and their 4″ belt tends to be a decent option for price, versatility, and durability.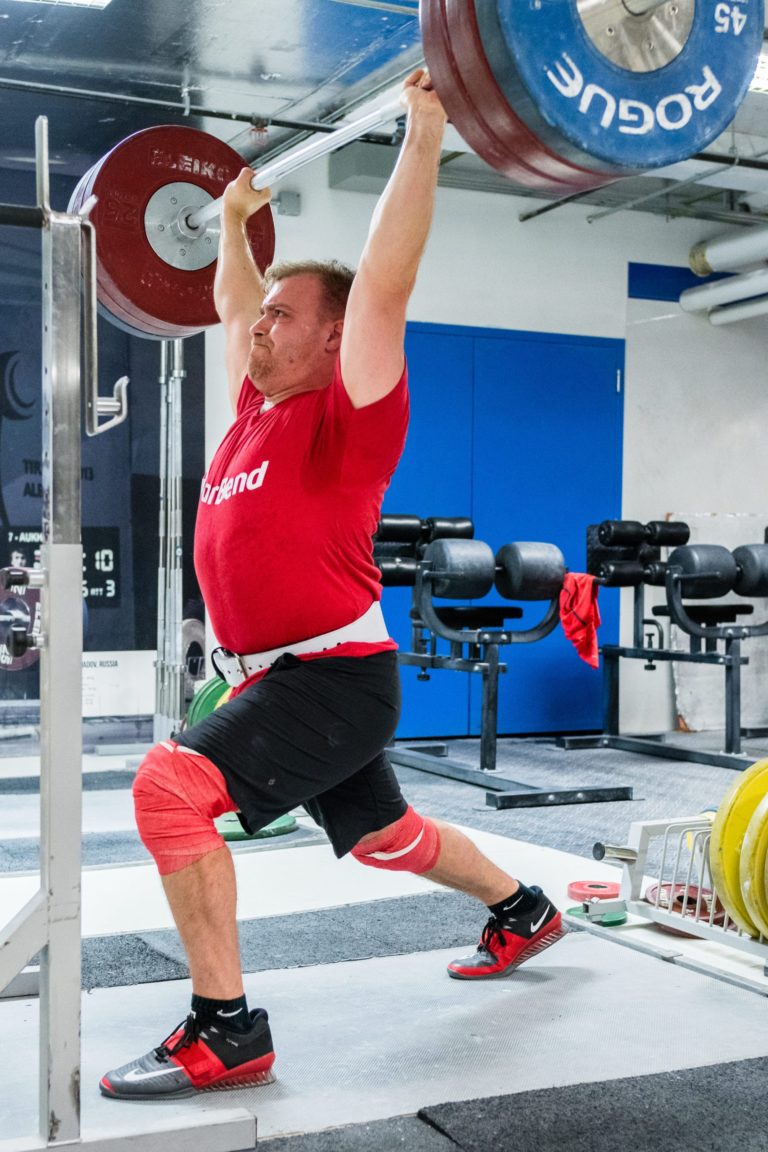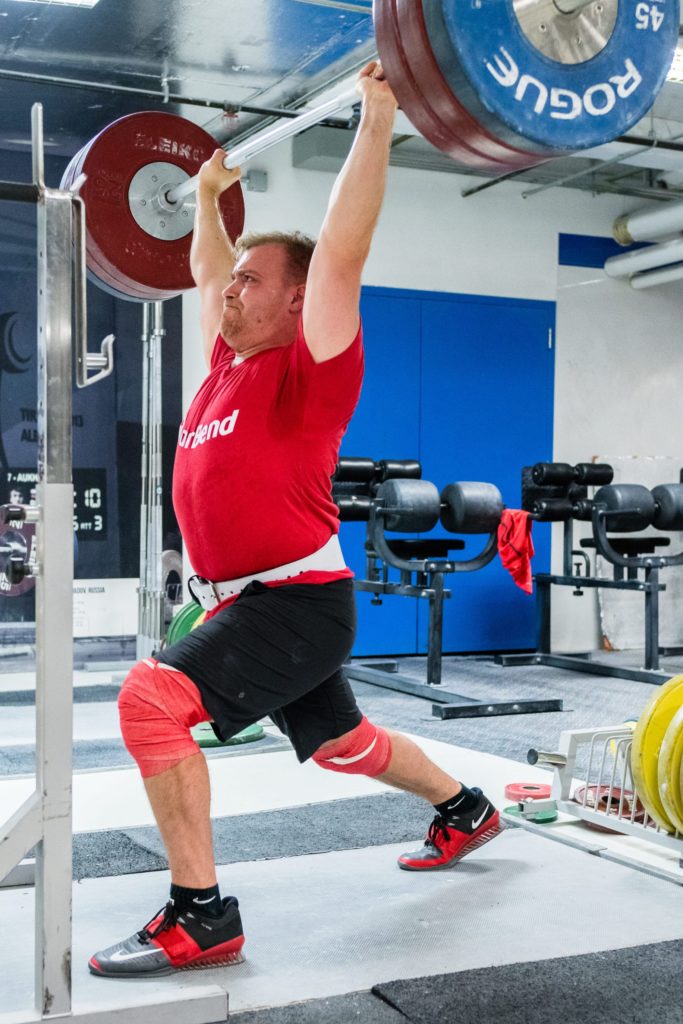 Our advice: Ask the weightlifter how much support they prefer in the squat and Olympic lifts, and what they use now, as this can give you a great idea of what to look for.
Knee Sleeves for Weightlifting
There are a ton of sleeves on the market, and a weightlifter will choose their favorite pair based on the preferences that accommodate their lifting style. Typically, a weightlifter will reach for sleeves for support and joint warmth without hindering their mobility. For this reason we have a few things to keep in mind when searching for sleeves.
Neoprene is the material that composes most sleeves, and comes in varied levels of thickness (3mm being the lightest, 5mm being moderate, and 7mm being the thickest). A popular knee sleeve for weightlifting is the Rehband 7mm Knee Sleeve (check out our review here). Then, another good option is the Eleiko 7mm Knee Sleeves. Both of these sleeves are IWF compliant for competition and provide stability without limiting mobility.
[Want more knee sleeve options than what's provided above? Check out our in-depth best knee sleeves review!]
Our advice: Ask the weightlifter what they prefer in a sleeve, then from there check three things. Check the sleeve's neoprene level, what their description states they're good for, and look for IWF compliance (measurements of a sleeve approved for IWF competition).
Powerlifting
Powerlifting is tough. There's a ton of equipment a lifter can use for the sport, and everyone has their own preferences. On top of that, if they compete, then they have to match a federation's requirements for equipment. Below we'll look at belts, knee sleeves, and knee wraps. We're not going to cover wrist wraps in this article.
Belts for Powerlifting
Belts for powerlifting will be slightly different from those used in weightlifting. A powerlifting belt will most likely not have a taper, and will be much more rigid. These belts are designed to keep a powerlifter safe by allowing them to brace and resist torso flexion.
For the avid powerlifter, we have a couple good belt recommendations. First, the Rogue Ohio Leather Lifting Belt is a good pick, and was one of our favorites to review. This belt is composed of a finished leather, and provides a fair amount of support evenly around the torso. Another good slightly stiffer option we've reviewed is the Schiek Model 6010 Double-Prong Competition Belt.
If you're looking for stiffer leather option with a lever, then we recommend checking out the Pioneer Fitness 13mm 4″ Suede Lever Powerlifting Belt. This is a solid option for anyone who needs a very rigid option for training and heavy sessions. Another option is the BarBend Double Leather Power Belt. This belt is designed with no frills, a single prong, and a lot of stability.
[Durable, stable, and made in the USA. Check out the BarBend Double Leather Power Belt.]
Our advice: Ask the powerlifter if they compete, then if they prefer prong or lever belts.
Knee Sleeves for Powerlifting
Sleeves for a powerlifter will differ from those of a weightlifter similar to belts. A powerlifter will often reach for a stiffer sleeve, because their main goal is support compared to remaining fully mobile. This can get tricky because not all sleeves are created equal, and different sleeves have different federation approvals.
One of the most popular sleeves for the powerlifter that wants a stiff, durable, and competition approved sleeve are SBD Knee Sleeves. These sleeves are approved in pretty much every federation, which includes the IPF and USAPL (two of the larger federations). Another good competition approved knee sleeve that's slightly less rigid is the Rehband Knee Sleeve.
[Check out our in-depth review and thoughts on the popular SBD knee sleeves.]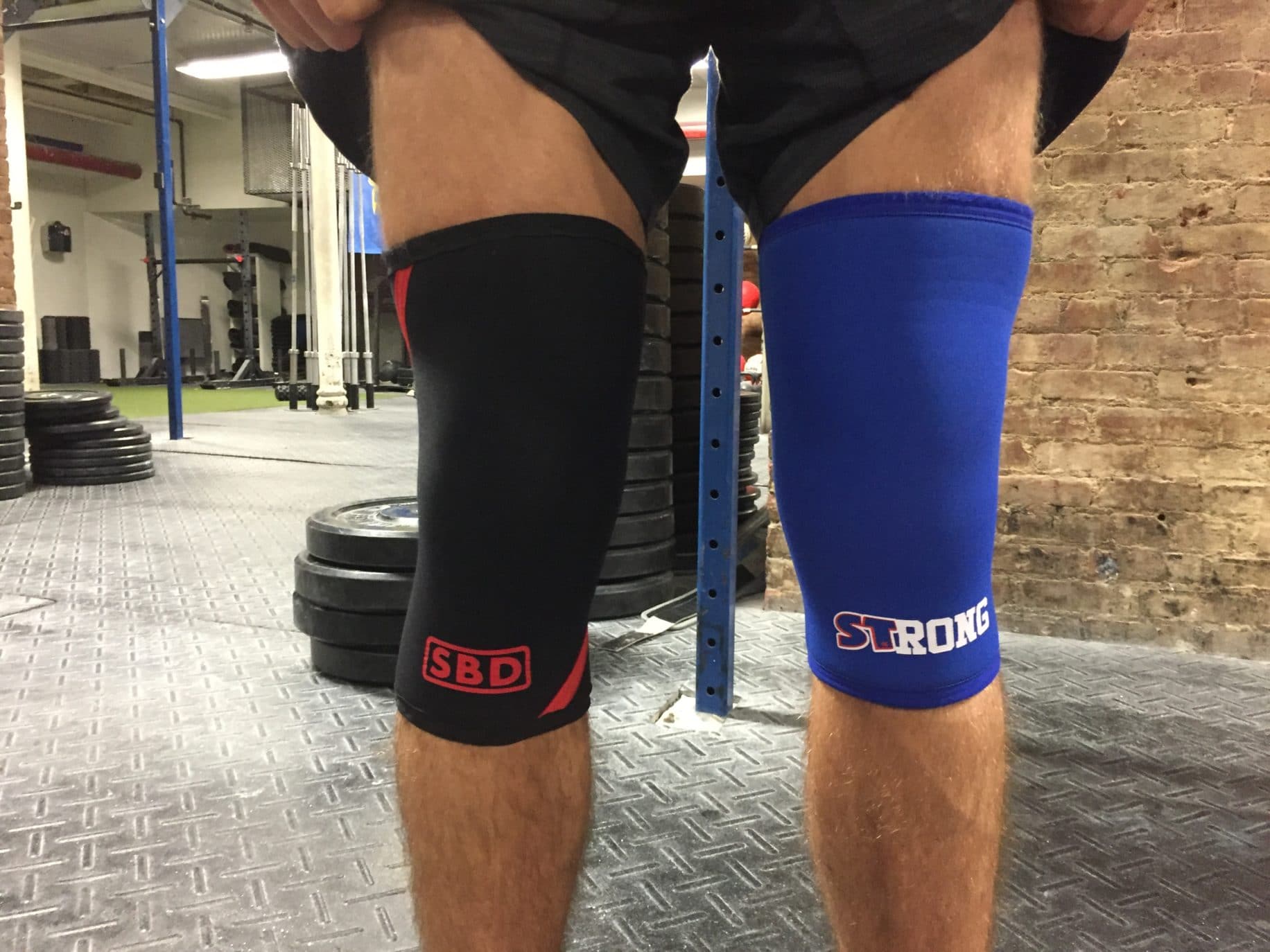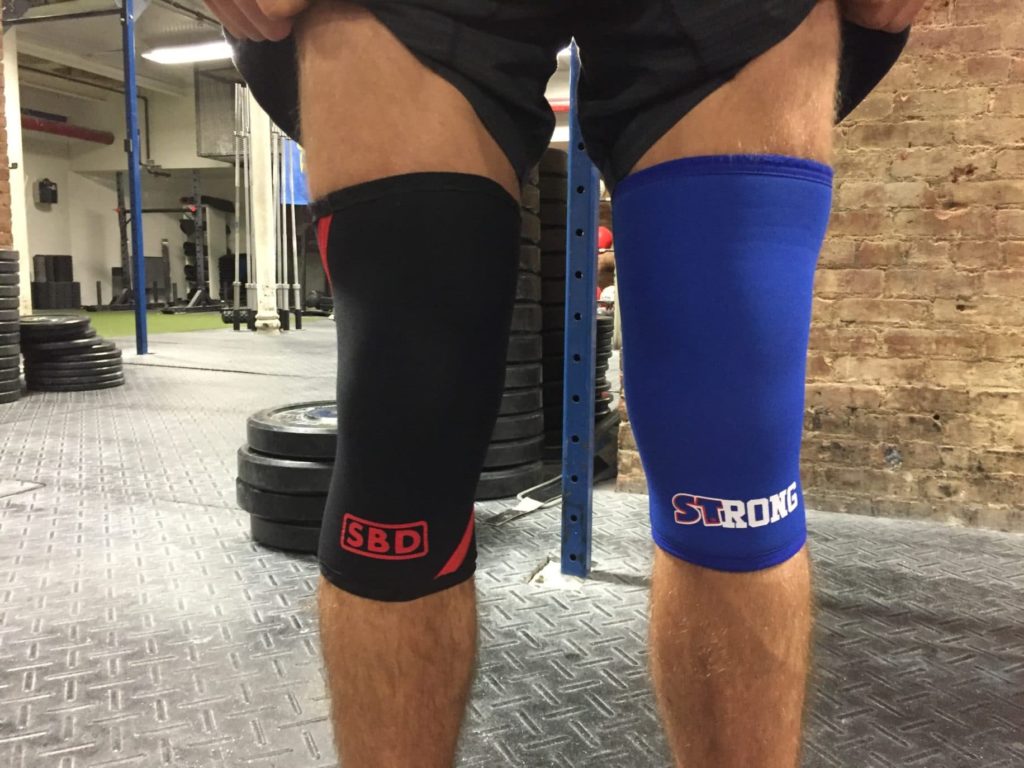 Another decent option for rigidity that we've reviewed is the Bear Komplex 7mm Knee Sleeves. These sleeves have USPA approval, and have a slightly different design compared to the above listed sleeves. And if you want to get a sleeve that offers maximal support, then we'd recommend checking out the Slingshot STrong Knee Sleeves. One thing to note about these sleeves is they're not competition approved and are often compared to a light knee wrap.
Our advice: Ask the powerlifter what they want to use the sleeves most for: Training or competition.
Knee Wraps for Powerlifting
Wraps are another option for powerlifters who compete, or like a tight knee wrap for heavy sessions. When looking into knee wraps we'd recommend asking the powerlifter what they already use. These can be a little more tricky than sleeves because different wraps will be approved by different federations. In addition, wraps are often used for maximal loaded sets, so a powerlifter will typically have their preferred choice.
CrossFit/Functional Fitness
Functional fitness athletes will benefit from multiple pieces of equipment. This athlete might be the most tricky to shop for because this strength sport encompasses so much variability in workouts. Below we'll cover belts, knee sleeves, and gloves.
Belts for Functional Fitness
A functional fitness athlete's belt preference will most likely closely resemble what a weightlifter would prefer. They need a belt to allow for mobility, provide some support, and not slow them down in-between movements. Often times, this athlete will benefit best with a nylon belt because they're easy on the torso, and allow for quick loosening/tightening in-between sets. We like the Rogue Fitness Nylon Belt for this, and the Harbinger Nylon Belt options. These are the types of belts you'll most often see in CrossFit boxes.
[Which belt is best for functional fitness? Read our list of the best lifting belts!]
https://www.instagram.com/p/BcusQlyAg44/
Another less traditional option we've reviewed for the functional fitness athlete is the Schiek Model 2004 Lifting Belt. It's a nylon option, but has Schiek's signature cone design to support an athlete's mobility. Let's say the functional fitness athlete in your family likes to train weightlifting often, then you'll most likely want to consider one of the tapered belt options. The Eleiko Weightlifting Belt and Unbroken Designs 4″ Belt are both decent options for this.
Our advice: Ask the athlete if they prefer a soft more functional feeling belt, or a stiffer, slightly more rigid option.
Knee Sleeves for Functional Fitness
A functional fitness athlete's preference in knee sleeve will generally be a lighter option compared to other strength athletes. These athletes require a sleeve to support power, strength, and possibly more cardio based movements. For this reason, a sleeve that provides light support is often best, as they can easily be rolled down and not get in the way of different exercises.
[How did the ExoSleeve 7mm Knee Sleeves hold up to our performance tests?]
For a softer, slightly more mobile sleeve, then we recommend checking out the ExoSleeve 7mm Knee Sleeve. It has a four panel design, and provides a light support, but still had 7mm neoprene. In addition, you could check out the Emerge 7mm Knee Sleeves. These are designed similar to the Rehband sleeves, but cost a fraction of the price. We like them for functional fitness because they provide some support, while costing less.
Our advice: Look for sleeves that are designed to match needs like: Mobility, functionality, and versatility. Most sleeves will list this information on their page.
Gloves
This type of equipment is beneficial for support and hand protection. When performing things like rope climbs, kipping pull-ups, or toes-to-bars, then gloves can be useful. They're often most useful for the newer, or slightly less serious functional fitness athletes who want their hands protected from a ton of calluses. Gloves designed for functional fitness specifically will have a slightly different design than your standard lifting glove.
Strongman
Strongman athletes have multiple pieces of equipment that can benefit them in both training and competition. In this article, we'll cover belts, knee sleeves, and elbow sleeves. There's much more equipment that this athlete could use in their sport, but these tend to be the bigger three.
Belts for Strongman
This athlete will benefit from a belt that provides with with a lot of stability, while also providing some versatility. For many athletes, you'll see them use a larger nylon belt, which is designed to cover a larger surface area of the torso. In addition, this type of belt won't pick the torso as much due to the material used.
We have a couple strongman recommendation starting points. First, is the Spud Inc Pro Series Competition Belt. This belt is 4″ wide and has Spud Inc's 3-ply design to offer support. Another decent option could be the Rogue Fitness 5″ Nylon Belt. It's slightly thicker than the regular 4″ option, and is decent on the wallet. Our last recommendation is the Rehband 7730 Back Support. This is the largest option of the three we listed, and will cover the a lot of surface area on the torso.
Our advice: Ask the strongman athlete if they prefer a wider or skinny belt for training and competition.
Knee and Elbow Sleeves for Strongman
Sleeves for strongman competitors are designed to provide them support through both static and dynamic movements. It's hard to give a definitive answer for what's best overall because strongman as a sport is so varied, and competitors will all have their own preferences.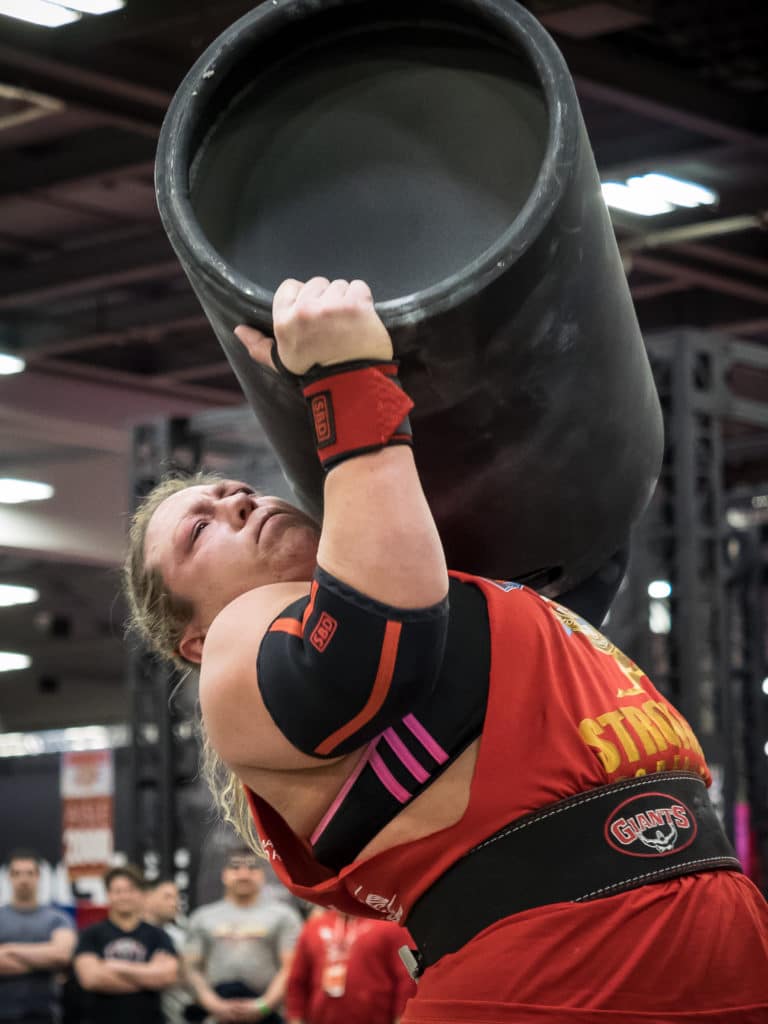 In terms of elbow sleeves, Inzer is a popular option, and so are Rehband Strongman 7791 Elbow Support sleeves. A sleeve will vary depending on what type of support an athlete would like, along with how much they can limit one's mobility. Knee sleeves for strongman competitors will typically be a little on the stiffer side, as these competitors tend to be a little heavier, and move heavy weight multiple in both static and dynamic movements. Your best bet is to look for sleeves that are 7mm thick, and have a reputation for strongman competitors.
Our advice: Ask the athlete what they prefer, as this category will vary pretty largely.
Lifting Shoes
Christmas is a great time to shop around for shoes for multiple reasons. First, multiple companies are dropping new models and colorways, so older options are getting reduced if money is an issue. Second, they tend to be a little more expensive, so Christmas is a decent time to justify your new purchase of lifting footwear. Lastly, shoes tend to last a while, so your purchase will last the athlete a long duration, so it's win win for them, and you…Aunt Tracy.
[Before reading on, make sure to check out our best lifting shoe guide to find the perfect pair.]
Keys to Successfully Shopping for Shoes
Heel Height
Every lifting shoe will have a varied heel height, which will influence how they feel in power and strength movements. The average heel height on most lifters in .75″, and this works for a wide variety of folks and lifting styles. Some shoes offer a 1″ heel like the Adidas Leistung 16 II and some go as low as .65″ such as Adidas Powerlift 3.
If the athlete in your family is taller (longer legs), or loves to do weightlifting, then you may want to look into a 1″ heel. Conversely, for the athlete who loves powerlifting (low-bar squatting), look into a lower heel, or stick around .75″.
Our advice: Ask what sport they practice most, the what type of squat style they like, and assess the length of their legs.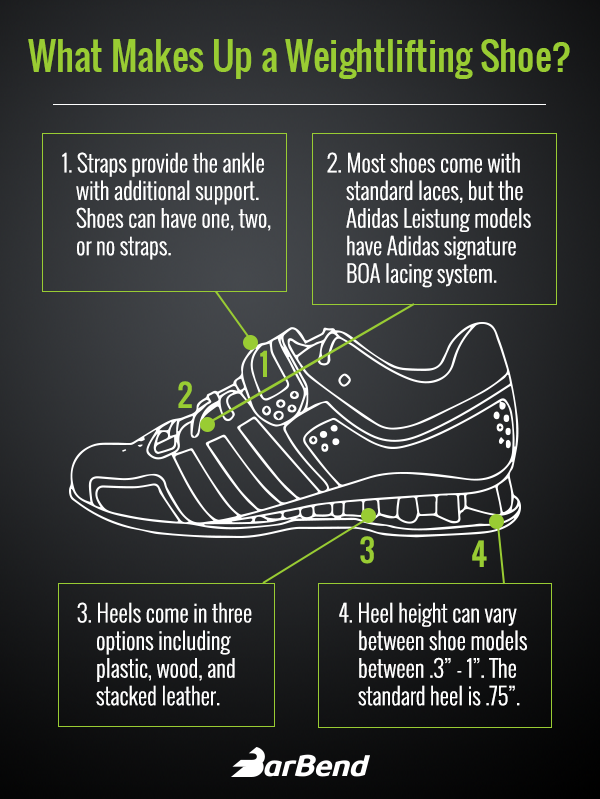 Heel Type
What's a seemingly pointless detail is a pretty big aspect for most athletes. The type of heel will influence a shoe's weight, feelings, and in some cases, performance. Some popular heel types are TPU, wood, stacked leather, and high density EVA. If you're new to lifting shoes, then look for TPU options, as this material is durable, lightweight, and resilient to abrasion.
Other popular heel options are wood and high density EVA. Wood heels like in the Position USA Weightlifting Shoes are great for an athlete that likes their shoes to have the old school look/feel, and want to connect with the platform a little more. High density EVA is a solid option for the newer athlete, or athlete who may need the shoes for a variety of movements in a set, as it's slightly more forgiving with constant impact.
Our advice: Look for TPU or high density EVA first. But if you know for a fact the athlete in your family likes old school-esque things, then check out wood heeled options.
Final Word
Christmas and the holidays can be a great time to invest in new lifting gear. It can save an athlete from going into their own pockets during the year, and it gives you ideas for gifting options. One thing to always keep in mind when shopping, every athlete will always have preferences when it comes to their gear, so when in doubt: Ask.